Ram ; But how you became a ghost ? How they killed you Mohini ?
Mohini : Ram they put me in contstraints and beated me brutally , my whole body was paining only, Ram. I screamed a lot, but they didn't listened to me.
I begged before your Mom not to do this to me, but she was so cruel.Those guards  stretched me at the desert and piereced nails at my body . Then they started stabbing my hands, legs and all body parts and digged me under the desert . No one heard my scream , your Mom was also there Ram. She was ordering them to cut each of my body parts into pieces and a final attack was from your Mom only , she stabbed at my chest when my hands , legs were cut and I was bearing pain and pain only. She put the sand on my body Ram , I will never forgive her for this cruelty . Even if she didn't liked me she has no right to kill me like these, my pain was heard by none, but I believes God might be heard this. That's why I am in the form of a ghost now.
Ram : Don't tell yourself as a ghost,you are my soulmate and it's your soul only.
Mohini : You are talking like these because you loves me always whatever be my form. But world won't see our love, Ram.
Ram : You have powers now so you can kill me and make me also as a ghost. We will seek revenge together.
Mohini : I am not merciless like humans who kills innocent people.
Ram : I won't wonder why Mom hates you , she is my dad's second wife only. She wants me to marry the girl whom she suggested because through that she will get a palace.
Mohini  : What do you mean ?
Ram : She demanded to the girl's family only if they offers a palace she will fix the alliance.
Mohini : Your dad didn't said anything ?
Ram : Dad believes her blindly , Mohini . She wants it for my step brother- which means her son only. She was longing to tie the knot of that girl with my step brother only.But as I am elder my dad suggested that first I should marry and my alliance got fixed with them. She made dad to believe that you manipulated and trapped me in your love and I was with you. My dad also didn't trusted me as when I said my Mohini is not that much cheap who is cunning and money minded . You was staying away from me because you always feared if I will bring you to the palace the consequences will be worst. And it happened now. It's my mistake that I bought you to my palace at that time when dad was also not there, I wasn't able to stop my Mom she is the queen and every one has to follow her orders. I am sorry Mohini, I don't want to live in this world where my own dad doesn't trusts me , my family doesn't understand my feelings. So kill me too and give a relief from this guilt and pain.
Ram burst in tears , Mohini holds his hand .
Mohini : You need to live a long life, Ram. It's not the time for you to come with me .
She wiped his tears .
Ram : I swear I will also stand with you in seeling revenge. If I won't do it then I will never be able to forgive myself for not saving you.
Mohini : Ram , I am so fortunate to have your love in my life. Even at this state you are with me, Ram.
Ram : I don't see your external form, what I see is your heart's truth and tears. It's so pure and I am not that much merciless who can ignore it and go away. No more tears in your eyes too, Mohini. We need to show them the power of our Love .
He wiped her tears and held her very much closer towards him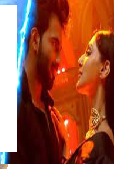 They both stared each other's eyes keenly. He lifted Mohini in his arms
Ram : Mohini, I am taking you with me to the palace, Are you ready ?
Mohini nodded her head.
AT THE PALACE
The arrangements for the marriage was going on. As soon as Ram entered , his dad , step mom, step brother assembled near him. They were shocked to see ghost Mohini . Mohini entered before step mom in normal form , blood was clotting from her lips
She was shocked to see this,To her more shock blood was clotting from Mohini's hands, legs. eyes.
Mohini :You and your guards killed me like these by cutting me into pieces and pieces. But now Mohini has returned as the horrible ghost who is thirsty of those human bloods who put her in constraints, who cut her body in parts and digged her burried her bleeding body into the soil .
Mohini turned to the extreme ghost form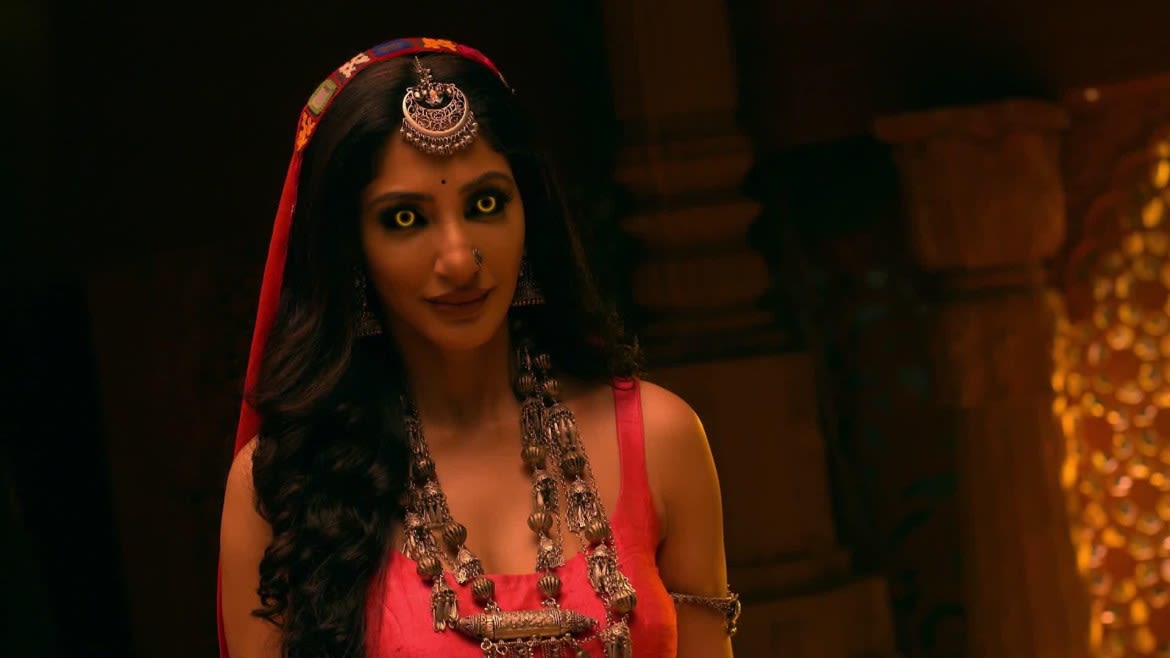 Ram : Mom I didn't expected that you are these much cruel to do this to Mohini. I won't forgive you for this .
Dad ; Ram what's this ?
Ram expalined everything to his dad. Meanwhile to their surprise another ghost appeared
Dad : Rani Padmavathi
Padmavathi : My son is right Maharaj. Save my son from this brutal lady , she is very much cruel than we two ghosts .  She only killed me 23 years back at the same way she killed Mohini now. I didn't came for revenge , my soul was wandering here and there because my death was not natural. It was a murder by your second wife Mrunal only. Whoever dies in this way will always be wandering ghosts they won't get salvation and peace until they seeks revenge. She killed my daughter in law too, Maharaj when you was busy in administration you didn't cared for your son's feelings. He was weeping for a little bit of love from any one in this palace. Mohini was his childhood friend who showered him care and when they grow up their relationship was on another level. You see her as a maid's daughter, but I see her as my son's love, my son's partner who poured love to him. Who made him happier.
Meanwhile step son stabbed  a sword at Ram's body  from behind and he fell down, Mohini screamed , she extended her hand to hold Ram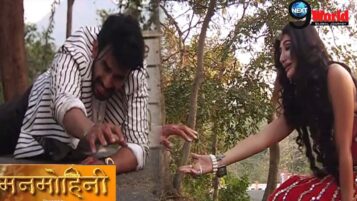 Dad : Ayan, what you did ? You stabbed your own brother.
Ayan ; I don't think as his brother, He came here with ghosts to kill me and my Mom . I won't allow him to live any more. I will make him also as  a ghost.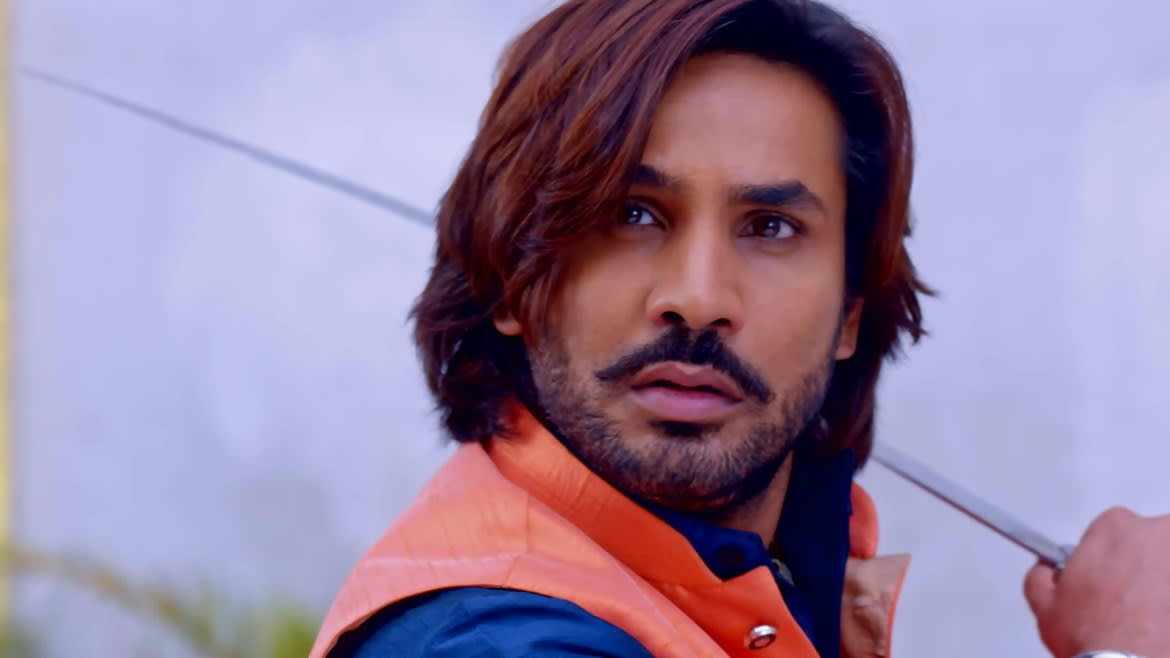 Meanwhile the girl who was the bride rushed near Ram , she made him to lie at his lap.
Ram : I am sorry Sia, I loves Mohini. Aaah
Sia : Ram , I am with you. Mohini and Rani Padmavathi, kill them .
Sia tied his wounded body with her dupatta and with the help of her parents she made him to lie down at a  bed .Raj Vaidya rushed there and he started treating Ram. On the other hand Padmavathi and Mohini used their powers and killed  step mom and Ayan. They both killed the guards who cut Mohini in pieces .
Padmavathi ; Maharaj all threats from your life has vanished away, now it's time for us to leave.
Dad ; Padma, I wasn't able to find truth , I am sorry.
Padmavathi : Sia is a good girl from heart .
Sia's parents were shocked with all incidents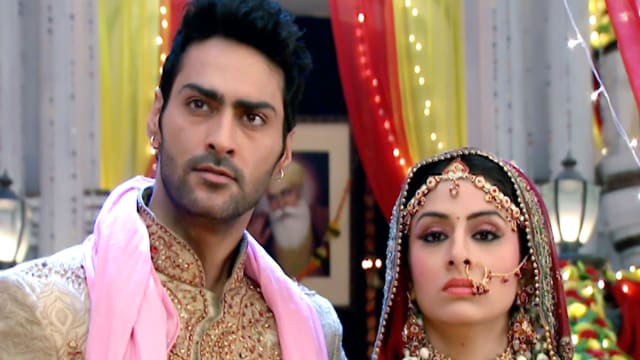 Mohini : That woman was very much greedy who demanded a palace, he demands were increasing only, they were already planning to kill Ram and make your daughter to marry her son Ayan only. Your daughter really loves Ram from heart and I knows it very well. Trust me I won't come any more. Just once for the last time I need to meet my Ram. Please allow me to do .
All of us agreed for this , Mohini went inside the room and looked Ram. Ram wasn't opening his eyes.
Sia : Nothing has happened to him. RajVaiyda has put medicines , bleeding is stopped ,but it will time for him to wake up.
Mohini gently came near Ram and recalled her moments with Ram. Then she kissed at his lips,he didn't realized and sensed it as he was in deep sleep only.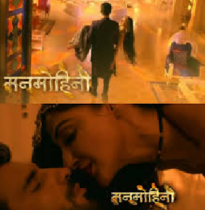 Mohini waved his forehead and her tears fell on them.
Mohini : When he will wake up, he will forget that he loved me to the core. I have erased his memory of mine from his conscious mind.
Sia : But Mohini
Mohini : I know how much you love him deeply, he have to accept and marry you Sia. You both should be prince and princess of this kingdom.
Sia : And you ?
Mohini : I will be waiting at heaven for you both , but you both have to live long life. You should love each other, be proud parents of your children, then you both should be king and queen,  then your children should become elder and they should be the next prince or princess and you have to be with them when they bring their partners , so much things are awaiting for you. You should love , live and enjoy all those moments together and when the time arrives both of your soul will have to reach there. I will be waiting for you.
Sia goes with Padmavathi's soul , all makes their send off with teary eyes.
Mohini reaches heaven and there she sees her parents soul.
Though they felt much sad for what Mohini faced, they were feeling relief at least in heaven they were able to unite with their daughter.
Mohini : Maa, Baapuji, You both left me alone.
Mohini's dad : We doesn't know that Ayan mixed poison in the milk which we drank together. But we didn't used powers to become ghosts and seek revenge as when we see you and Prince Ram loving each other we thought to remain silent. But attrocities of Ayan and his mom didn't stopped , you and Maharani gave them right punishment .
AFTER A WEEK
Sia and Ram gets married , they got blessings from their families
Sia and Ram  looked at a wall pic of Mohini at the wall
Ram : She looks like a royal princess, who is she ?
Sia thought : How can I tell you Ram that she has to be yours as well as this kingdom's princess ? What I deserved in your life is all because of Mohini only.
Sia : She is Mohini, infact Man Mohini- which means a beautiful girl with a beautiful heart . She saved our families from threat , Ram.
Ram : She was a brave girl,I guess.
Ram : She was extremely brave Ram. What's her story ?
Sia : Her tale is untold and it's a mystery ,those who knows her can only understand her inner pain for saving her love life.
Mean while a servant comes and tells that Sia and Ram has to go to temple for attending Puja .
Sia and Ram started travelling through desert, Mohini's soul appeared in the sky.
She was watching them silently and feeling happy as her heart's prince was happier and is leading a secured and beautiful life with his wife. Till now her tale was a mystery only.