Unlimited Love with Devakshi and AnuPre- Episode 6
Hello all!!!!
Scene 1
Prerna reminiscences her past with Bajaj.
http://https://th.bing.com/th/id/OIP.W9tdTvDvlx15HIYZex1Z5wHaEK?w=324&h=182&c=7&o=5&dpr=1.25&pid=1.7
(FB)
Sona and Prerna tease Bajaj!!!!


Bajaj: Both sisters are becoming very naughty.


Saurab too joins the sisters and tease Bajaj…


Suhana comes!!!
Suhana: Why are you teasing Mr.Perfect?
Sona: That's because, he is going to get married to prerna.
Suhana: Really? Then Mr.Perfect will stay here itself with me.
Bajaj: I will never leave you my doll.
He hugs suhana!!!
Sona: Achaa, come with me. We will do homework.
Suhana and Sona goes. Saurab too goes for work.
Prerna and Bajaj look into each other's eyes!!!


He comes near her…
Prerna steps back…
While stepping back, she falls on bed followed by bajaj. He falls over her…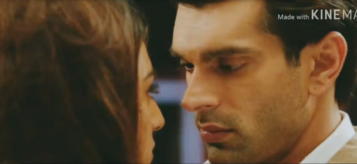 Prerna: Mr.Perfect is becoming Mr.Naughty it seems.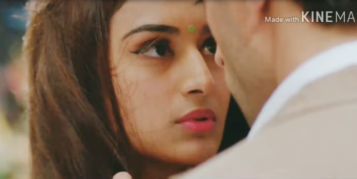 Bajaj: Anything for you my love.
Prerna: I'm very happy today. Dad accepted our love. I pray that your mom also accepts us.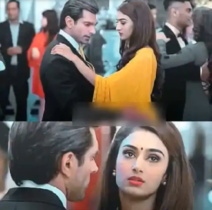 Bajaj: Sure, she will!!!!
Prerna: Thank you!!!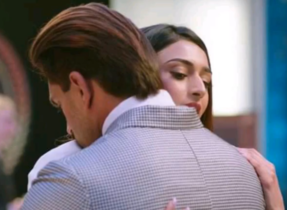 Bajaj: I should thank you for making my life brighter!!!
Prerna smiles…
Bajaj slowly caresses her face and they share a kiss!!!!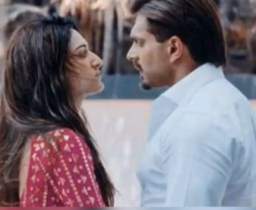 Bijoy calls them both!!!
Bajaj: Your dad won't allow us to romance it seems.
Prerna pinches him. They both laugh and go downstairs.
Asha: Bajaj beta, please ask your mom to come and talk with us for alliance.
Bajaj: Don't worry aunty. Mom will come to Kolkata tomorrow.
Bijoy: That's good.


Bajaj: Ok, then I will leave now. Have some work. I will meet you along with my mom tomorrow.
Bijoy: Take care beta. Bye.
Asha: Prerna go and leave him…


Prerna and Bajaj goes.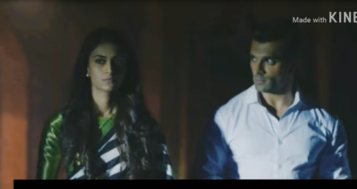 Bajaj: Are you nervous?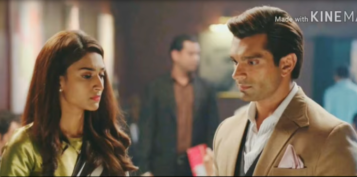 Prerna: Slightly. I should impress your mom nah?


Bajaj: Don't worry. You will ease it. Don't get nervous. Dream our life with a little baby like suha.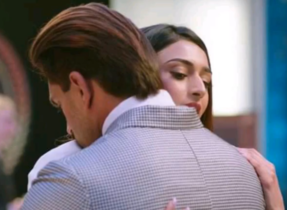 Prerna: You love suhana a lot, right?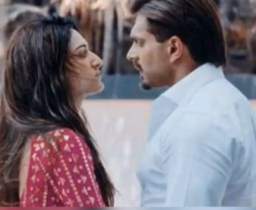 Bajaj: Yes, of course. I'm seeing her from baby. And also, I'm a father-figure to her.
Prerna: Thanks for taking care and loving my family a lot.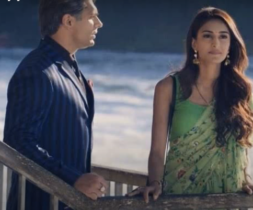 Bajaj: Always I will care for you my lady boss.
Prerna smiles and hugs him.
He bids bye and leave!!!
(FB ENDS)
Anurag pats prerna…


Anurag: What are you thinking? Have this coffee.


Prerna: No, I was thinking about…
Anurag: Bajaj right…
Prerna: How do you know?
Anurag: I'm your husband. I know all your feelings and moods.


Prerna: Thanks…
She lies on his shoulder!!!!
Scene 2
Mohini calls Komolika…


Mohini: Komolika, did you kidnap suahana?
Komolika: What? Suhana is kidnapped?


Mohini: Don't play with me. I'm pretty sure that you are the culprit. Please leave suhana.
Komolika: Aunty I swear that I didn't kidnap her.
Mohini: Then who else would it be?
Komolika: Who knows prerna do have more enemies and aunty ji why are you worried for prerna's family.


Mohini: I'm not worried for prerna. But I care for suhana. She has a magic. She is a very good girl. I beg you. Please tell me the truth.


Komolika: Auntyji, I didn't do anything. It might be bajaj.


Mohini: I pray that suhana returns home safely.
The call gets disconnected. Mohini tries again but komolika's phone get switched off. Mohini gets message in Gujarati Language.
Mohini wonders when did she go to Gujarat.
Scene 3
Mohini goes to Anurag…
Mohini consoles him.
Anurag: Ma, please tell me if this is a plan laid by you and komolika?


Mohini is taken aback.


Mohini: Anurag, your mom is not a criminal to kidnap a child.


Anurag: Ma, don't lie to me.
Mohini: I swear on god, I'm not involved in this.
Anurag: Then who could it be?
Mohini: It might be Bajaj.
Anurag: I have a doubt even on him. Come mom, let's go to prerna.
They go to prerna.
Anurag: Prerna, I strongly doubt that bajaj must be the culprit.
Prerna: No, he couldn't be.
Komolika: How can say that so firmly?
Prerna: Because, I know about him. He cannot harm suha.
Anurag feels bad when she supports bajaj.


Sona: Yes aunty, bajaj can never do this.
They turn back and see sona and dev.
Dev: I don't know why you sisters are supporting bajaj?


Sona: Because, he was with us for more than 10 years Dev. Just one mistake of him doesn't make him a culprit.
Prerna: Jeju, you know what, suhana trusted bajaj more than anyone.


Dev: So, he used her trust. He kidnapped my daughter.
Sona: Relax dev…
Dev: How can I relax sona. My daughter is kidnapped and you are supporting bajaj. What can I do now?


Anurag consoles Dev…
Prerna consoles Sona…
Sona sees Mohini.
Sona: Aunty ji, I beg you, please tell me where suha is? Ask komolika and tell me. I'm sure that she kidnapped her.


Mohini: No sona, komolika didn't do this. I enquired her.


Prerna: Ma, I know you don't like me. But please don't revenge a child for me.


Mohini gets stunned. She keeps her hands on both sona and prerna.
Mohini: I promise on god that I didn't do anything. Yes, I agree that Komolika had a plan to teach a lesson to suha. Even, I warned her not to do so. This was not her plan.
Everybody gets shocked hearing this.
Scene 4
Suhana is shown!!! Komolika come there and smile evilly.
She unfolds suha's eyes and mouth.
Suha: Aunty you??? Please leave me.
Komolika: Why should I leave you? I'm very happy to hear your plea. And bajaj is getting defamed outside. Prerna is crying. What a pleasant sound these are!!!


Suha gets shocked!!!


Komolika: Let the police finds you. Till then I'm going to play in prerna-anurag's life and will separate them in any cause!!!


I'm not going to disclose my plan to anyone. But definitely, this plan will bring me and Anurag together….


Komolika thinks herself as a bride sitting with Anurag and feels happy!!!


Komolika leaves!!!
Suha thinks of her memories with Bajaj and thinks everything is getting spoiled!!!!
Scene 5
Prerna: Sir, did you find anything about suha?


Police: No mam, we are trying.
Dev: Sir, what an irresponsible answer. She is a small kid. She can't get tortured like this. Please do hurry up.
Police: We are trying sir.
Police goes!!!
Mohini go to prerna.
Mohini: Prerna.
Prerna: Ma, tell me what happened?


Mohini: Actually, when I called komolika, the message tone I got was of gujarati!!!
Prerna: What Gujarati? But when did she go there?
Mohini: I don't know.


Prerna goes to sona, dev and Anurag. She tells this info.
Sona: I feel she took suha to Gujarat?
Anurag: But how can she go to Gujarat in short span of time.


Dev: It means, somebody Is helping her.


Prerna: Yes, even she might have play with this.
Bajaj: Yes, she might and she will play all dirty things to get back into Anurag's life.
Everybody sees Bajaj!!! Prerna sees him!! Bajaj and Prerna have an eyelock. He come to prerna but she goes beside Anurag. Bajaj realizes that she is not her prerna anymore!!!


Dev gets angry seeing him.
Dev goes to beat him!!!


Bajaj: Leave me Dev, Listen to me once.
Anurag holds Dev!!!


Sona: What you are going to tell us?
Dev: Sona, you are talking with him? Ask that culprit about suha.


Bajaj: First of all, I came to India only at the moment I called Prerna. Here is my ticket.
Anurag checks it!!!
Anurag: Why did you call her?


Bajaj: Because, I wished to see Prerna once and wanted to seek forgiveness.
Prerna: You don't deserve that. Get lost from here.


Bajaj: I can go from here. But please be careful with komolika and I do care for suhana a lot. She is like my daughter.
Sona: But she is in Gujarat it seems.
Bajaj: She may be anywhere. Even here watching you people cry…
Everyone gets shocked hearing this!!!
Bajaj: I'll go now and call me if you need any help!!!
Dev: Sona, come let's go to Gujarat and find her.


Sona: But where to find her in a big place.


Dev: By tracing her cell phone signal!!!
Anurag and Dev complain to police that they have a doubt on komolika and ask them to trace her call!!!


After some time,
Dev gets call from his PA Tina.
Tina: Sir, that call was recorded last at Rajkot.
Dev: I'm coming for you komolika!!!
Sona: Ok Dev, let's go!!! Prerna, you take care here.


Anurag: We will also come.


Dev: No, you be here. Somebody has to be here.
Prerna and Sona hug.
They leave!!!
Komolika sees this from far and smiles!!!!


Prerna and Anurag see each other.


!!!!To be Continued!!!!