Two hearts with one beat episode (26)

Warning: A non-numeric value encountered in /home/ftpusers/tellyu/public_html/wp-content/themes/publisher/includes/func-review-rating.php on line 212

Warning: A non-numeric value encountered in /home/ftpusers/tellyu/public_html/wp-content/themes/publisher/includes/func-review-rating.php on line 213

Sanskar was kissing Ragini passionately…he was trying everything to retrieve her …suddenly door opened and swara was standing fuming…whole family was standing behind her
Swara: what the hell.what is it Sanskar ..u missed our engagement to be with this girl…
Sanskar: shut up swara..
Swara: why should I …I can see…there I am waiting for u like.mad and u both r romancing…well this girl is like this only..such a b..
Thud….
Sanskar hand was still risen and his eyes were red due to anger…but it was Arjun who slapped swara…
Swara: uncle?
Arjun : not a word against my princess..( turning to Sanskar).what happened Sanskar
Sanskar: papa I got a letter saying Ragini was in trouble…when I came here someone locked the door….and Ragini came out coughing and she was weak…papa as there is no ventilation Ragini lost consciousness.Thats why I am.giving her respiration..
Janki: who would pick up here…
Sanskar: don't know ma. But we r okay…just Ragini…
Ragini stirs..everyone take her to her room…
She tells them that someone hit her on her head…
Sanskar: who must have done this..
Swara: my engagement is ruined…
Sanskar: Ragini is more important to me than that engagement..
He leaves from there angrily…
Elders follow him only dadi was left with Pooja and Yuvi ..while Mahi waited with swara….
Dadi: Laado this chudail locked u in that room…
Swara gets angry
Swara: haa so what will u do..I am.now engaged to Sanskar..
Ragini is shocked..
Dadi Yuvi and Pooja laugh…
Dadi: areh buddhu…..janki's son is engaged to Shekar' s daughter…which u r not..
Swara looks shocked..
Ragini : that means I am engaged to my Sanskar..
Swara: he is not Ur Sanskar…who ever he is engaged but I will be his wife
Ragini: still one thing is proved …I am the most important person in his life..
Swara: bullshit..
Ragini. : be ready to ready to apply it on Ur face…
Swara: I will prove right away that oh I am more Important.
Ragini : sure..
Swara drags Ragini and takes her to Sanskar's room..
Swara: wait here and watch..
She goes inside.
Swara: sorry Sanskar about all that…what to do..I love u so much..
Ragini rolls her eyes..
Sanskar : it's okay..
Swara: one thing Sanskar.. everygirl wants her husband to think of her as most important..please say that I am most important in Ur life.
Ragini(in mind) :chudail emotional black mail..
Sanskar : yes swara u r most important in my life after…
Ragini looks with interest..
Sanskar : my parents and Mahi..
Swara smirks ..Ragini feels bad..
She was. About to leave and swara thinks to insult her more..
Swara: and Ragini…
Sanskar : she is not important in.my life
Swara smiled widely..tears come to Ragini's eyes..
Sanskar : she is not a part of my life to be important. she is my whole life ..more than.my.life..my every thing..
Swara looks on shocked..her smile fades..
Ragini becomes happy…she gives flying kisses to him…
Swara: Sanskar I am Ur would be wife.how can u say that she is Ur life.
Sanskar: stop.it swara..don't behave as if it's a love marriage…everyone knows Ur blackmailing me..
Swara becomes quiet..Ragini goes from there happily..
Swara: so Ragini is more important than dream girl.
Sanskar:Yes..even if my angel comes.my Ragini will be more important..
Swara goes from there angrily..
Thanks
Next day everyone get ready for Pooja as they were going to start wedding works..
Rqgini was dressed in beautiful pink saree with blue blouse…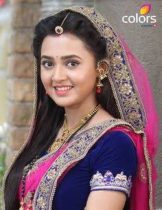 shewas looking awesome..Sanskar was awestruck with her beauty…
Sanskar( in mind) : I hope my angel.is as beautiful as Ragini
Janki: where is Rohit and swara
Yuvi: Rohit called…he won't be able to come as he had to go away on imp project..
Arjun: where is swara?
Janki: I don't know.. engagement mein sanksar was not there now swara is missing
Pandit: Janki ji.muhurat is passing let's start with Pooja..
Janki: but how Panditji.. Sanskar's bride is not there and Ragini's groom is also not there…
Panditji: no worries jankji..this Pooja should be done by a bride and groom..Ragini and Sanskar can do it
Janki : fine then..
Ragini and Sanskar do the Pooja…
Ragini( in mind) : thank u babaji.for helping me in every step…
Ragini and Sanskar perform.pooja as couple..dadi and Yuvi were very happy…
As Pooja competed and they were praying..swara comes from.behind…her body was bruised…she gets hold of Ragini' s hair and turns her around..and slaps Ragini…ragini falls on Sanskar..he balances her
Everyone was shocked to see swara's state….
Janki: swara what is this …what happened to u..
Arjun: why did u slap.my princess?
Swara: this girl is so cheap..to stop me from doing this Pooja with Sanskar she had hit me and locked me….
Everyone look shocked.especially ragsan…
Precap: Ragini's innocence and kidnap
Sorry for repeating precap

Warning: A non-numeric value encountered in /home/ftpusers/tellyu/public_html/wp-content/themes/publisher/includes/func-review-rating.php on line 212

Warning: A non-numeric value encountered in /home/ftpusers/tellyu/public_html/wp-content/themes/publisher/includes/func-review-rating.php on line 213