Aditya was feeling pain in his elbow .
Kavya : Aditya ,what happened ?
Aditya : Nothing . For performing with you I need to bear this .
Kavya : Show it. Oh God!! Such a deeper wound . I will dress up this wound
Aditya : These types of wounds are part of daily life.
Kavya : But how it happened ?
Aditya : That Vamp Girl Rithika's people was fighting with me . But they didn't know who am I …..
Kavya : I didn't get you.
Aditya took a pistol which he had kept hiddenly behind his body .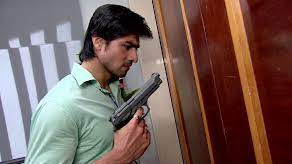 Kavya : Aditya what is this ?
Aditya : This is my identity. I am a Hooligan , much wanted name in the local set of goons who is a head ache for police team .
Kavya was shocked to hear this bitter truth
Aditya : What happened ? Now you don't want to give lift to me , right ?
Kavya : I will drop you because you helped me . Sit
Kavya wore the helmet and sat on the scooty to start it. Aditya sat behind her . While they were travelling both of them didn't speak anything. Finally when Aditya's spot was getting near he spoke up
Aditya ; That's the turn , I will get down here.
Kavya : I can drop you at your home entrance
Aditya : That's the dangerous place of goons like me . It's not home,it's called Adda. Woh hawai jahaz rikne wale adda nahi ,hum Gundon kee Adda hein . There girls from good family won't comes usual.So go back
Kavya : May I know what made you to become like this ?
Aditya : What will you do after knowing it ? Don't get scared, I won't do any harm to you. I will mess with those ones whom's contracts are given to me . Some minsiters, some business men gives the contract and tells me to beat their enemies and when I does it I will get payement for my work
Kavya : What ? Are you a contract killer ?
Aditya ; I haven't became that much, but I will simply break bones , teeth only.
Kavya : I never expected that a singer like you have this face too. Aditya please leave it.
Aditya : Once you have entered the world of underworld you can't go back .I started doing it from my age of 13 itself. Now I can't quit it. Today by singing with you was a nice experience .
Aditya extened his  hand towards her : Let's be friends, what you say ?
Kavya nodded her head in sign of No . Aditya held his hand back
Kavya : I know the rhythm of pure music, not the noisy fearful sound of bullets .After seeing it in your hand I can't be a friend of yours .
Kavya walked from there, Aditya felt disheartened with her words.
Next day at college Aditya was trying all ways to meet Kavya. But Kavya was ignoring him purposefully. At a point Aditya held her hand
Aditya : Why you are ignoring me Kavya ?
Kavya : Leave my hand Aditya
Aditya left her hand
Kavya : What you want , Aditya ?
Aditya : I asked a hand of friendship and if you can't give it then at least give a smile when I comes before you. Purposefully you was avoiding me and it was hurting .
Kavya : Aditya , you helped me in singing competition and I have thanked you . So it's over .
Aditya : It's not over Kavya . While singing what I see in your eyes was something different.
Kavya : You are misinterrupting things.
Aditya : Really ? I can understand after knowing my truth it's impossible for you to be friendly with me . But Kavya your friendly bond was so good to me. Just talk with me and smile . I will feel good.
Kavya : I can't pretend a fake friendship for your sake Aditya .
Aditya : And what I saw in your eyes, was that also fake ? You certainly was feeling something for me , I was able to sense it.
Kavya : That was just a fraction of second , a moment when I felt you are genuine , you are sweet. But within minutes I got back to the harsh reality of yours and now it's a broken dream only . It can never happen .
Aditya : Kavya !!!!
Kavya : Please leave me , and don't come to me, Aditya .
Aditya : Kavya I can leave this pistol. But I can't leave you because I really likes you Kavya
Aditya throw the pistol to a side and looked her
Aditya : Please talk with me, Please make me as your partner again . I don't want to hide anything from you and that's why I show you my real face. But I realized that world of those bullets can never give me peace wheras I will get it fully when your soothing music is with me . For me music means Kavya and Kavya means Music. I can't stop myself from hearing your soothing music . I really need it as it can make me better person.  Please Kavya give me a chance . Please
Kavya smiled and extended her hand towards him
Kavya : Now you can be my friend as I too like you very much . Infact after listening your wonderful voice I wish to hear it daily . Will you sing for me daily ?
Aditya : Sure
Kavya : Then held my hand
They both held their hands and shook hands with each other
Kavya : Let's make a beautiful composition today, what you say ?
Aditya : Done
Kavya started walking , but suddenly her leg slipped on the ground . But Aditya held her and saved her from felling down. They both had an intense eyelock
They both took back to their positions .
Kavya : Thanks
Aditya : Welcome.
They both went towards the gallery and sat on the steps .
Kavya : So here is the lyrics
Aditya : Fine , let me see it
That was the start of their bonding . Both of them started spending time together . Some times both had much musical conversations and at some time they had friendly sweet talks too. Both of them enjoyed having ice creams at streets . They used to feed each other whatever food they have together
As they were getting much close with each other Aditya was feeling some thing special in her. He decided to open his feelings to her .
Aditya thought : What if Kavya will stop talking with me ? And whatever I am feeling now is this love ? How could I express it to her ? I guess I should pen down my feelings  . Because before her eyes may be I won't be able to speak a single word.
Aditya wrote his feelings in a paper and kept it inside Kavya's book.
Kavya : So Aditya shall we do practice ?
Aditya : Kavya I have to make a urgent phone call. You please check the musical notes .I will be back soon
Kavya : Okay
Aditya went near the side wall and hide behind it to see Kavya's reaction. Kavya finds the letter when she opened the book. She started reading it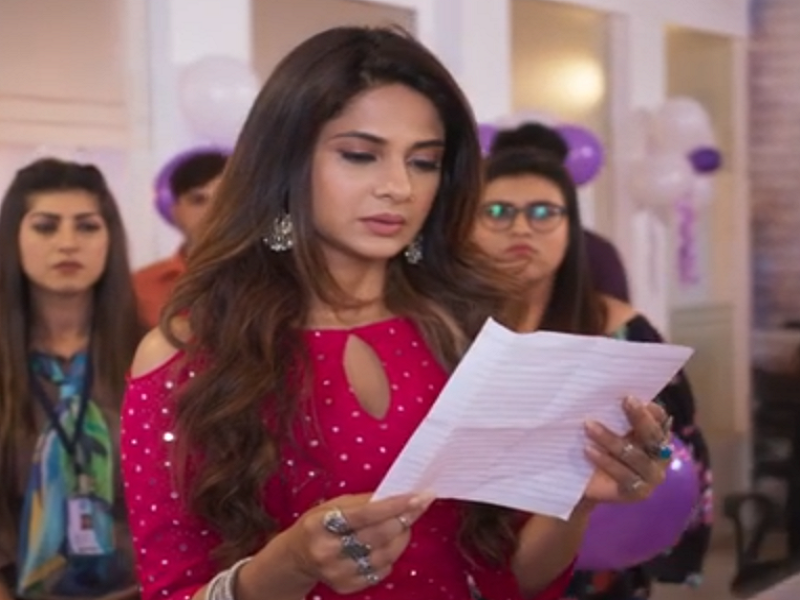 Kavya folded the letter after reading it and called Aditya
Kavya : I know there is no phone call for you Aditya . You don't need to hide any more . Come infornt of me .
Aditya came before her . He looked at Kavya's face and seeing her so much serious Aditya felt he did a big mistake
Aditya : I am sorry Kavya . I won't have done it .
Kavya : Of course . You should have done it in a different way .
Aditya : Kavya !!!
Kavya : What you thought ? I will accept this letter with so ease , what was you saying Music means Kavya and Kavya means music. And what's this ?
Aditya :Oh!!! Now I got it. You want me to sing and propose you .
Kavya : Before every one , before the whole college . Do you have courage ?
Aditya : Yes . At arts day I will sing the solo song which will be filling my heart's feelings towards you. It's my promise .
Kavya : And I too promise you that I will also sing for you that day which will tell what I feels for you.
Aditya ; That means you also ..
Kavya : Aditya !!! Please wait a little …..
Aditya : I will wait for that biggest moment Kavya.
Kavya blushed with a smile . They both looked each other romantically
And finally the much awaited Arts Day came
Kavya : Do well Aditya . I am sure you will rock it. I have bought something for you
Kavya gifted a small gramaphone piece to Aditya
Kavya ; As everything started with the rhythm of music in between us I find this as the better gift for you . I hope you liked it
Aditya : For the first time some one has realized my talent and has gifted it to me . I never imagined that I can also sing well. It happened because of you. This is the best and beautiful gift I had ever Kavya
Kavya : All the best Aditya . Do well in stage . I am deeply waiting to hear the magic of musical love from you
Aditya : And I am waiting to hear yours too Kavya
As the name for the performance was announced Aditya went to the stage . He took the guitar and looked Kavya . Kavya was smiling seeing him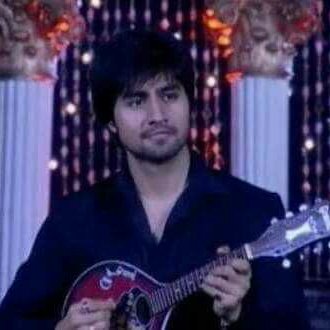 When he started playing guitar suddenly a team of police entered at the auditorium. Vishwanath said  : "You are under arrest for murdering minister's son , Aditya. "
Aditya and Kavya were shocked. The police team grabbed Aditya and put handcuffs on his hands.
Aditya : Sir I haven't done it.
Vishwanath : Don't try to hide it .You are the one who beated him in road , right ?
Aditya : Sir , it's true. But I haven't done his murder. I just got the contract to beat him only . Sir I did it few months back. Now I have stopped all of that and I am not doing any of those things , Sir .
Vishwanath : Do you think I am a fool to believe you ? Officers bring him to station.
Kavya : Sir Aditya is not a murderer. Infact when he was doing wrong things also he didn't did any murder . I know him .
Vishwanath : Whatever statement you wants to say you can say it in court .
The police men took Aditya with them . Kavya rushed behind them . She was shocked to see them beating Aditya brutally