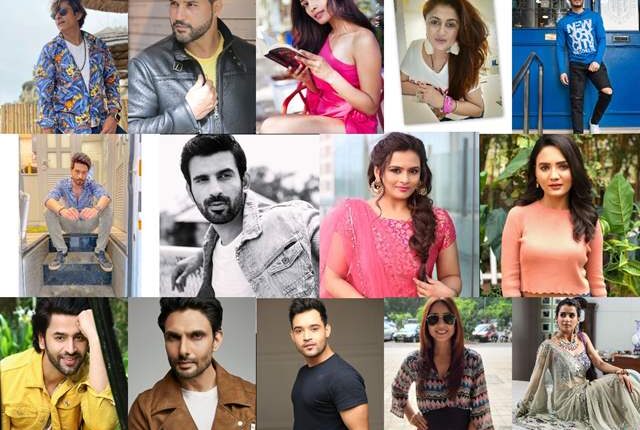 The time for Diwali has come. Remember just after Holi we all got in a lockdown due to rising cases of the pandemic and now we have reached Diwali and we are still stuck in our homes. But Diwali is a time to be spent with family and loved ones and eating lots of sweets.
But these TV actors, who are in Mumbai and have started shooting, will have to give travelling to their hometowns a miss. The shoots resumed after  a long period of three months and now no one can leave the shoots even if it is Diwali. Let's hear to what our stars have to say about spending time away from family on Diwali.
Not visiting family in Patna because of shoot: Rati Pandey
Like most of us, Rati Pandey feels that festivals are more fun if you are around family. But she is going to be all by herself this Diwali because of work. "I would have loved to visit my family back in Patna for Diwali, but I am busy shooting for my show 'Devi Aadi Parashakti', so I will not be able to go. I plan to have a small celebration. I will light some diyas around my house and do puja," she shares.
I will miss the mithais of Jaipur: Aniruddh Dave
Aniruddh Dave has been shooting for 'Lockdown Ki Love Story' and won't be travelling to Jaipur to celebrate Diwali with his parents. "Every year I go home, but this year, since I am shooting and my wife is also pregnant, I will not be travelling. I will miss the lights of Jaipur and the mithais and food items which are made there and are not available anywhere else," says Aniruddh, adding, "I will do the basic rituals and puja at home in Mumbai. I will light candles and diyas. One must understand that this Diwali is different. The definition of celebration has changed this year. One shouldn't party this year at all. I will do a video call with my close friends and family members on Diwali."
Will miss going to Delhi this year: Arun Mandola
Arun Mandola will be shooting the day before and after Diwali and says that for the first time, he will not be home for Diwali. The actor adds that nothing compares to 'Dilli ki Diwali'. "I will miss the amazing delicacies my mom prepares on Diwali, shopping and going to my friends' places to give Diwali greetings. This year we all should stay home and safe. I will celebrate with under-privileged kids so that I can make the festival special," he says.
Will have a virtual Diwali with family: Yesha Rughani
Yesha Rughani, who plays the lead role in 'Muskaan', says that this would be the first time that she would not be in her hometown Rajkot for Diwali. "I make sure that I visit home each year on Diwali, no matter where I am, but this year I decided to not travel because I have started shooting and I don't want to take any risk. Keeping in mind everyone's safety I have decided to stay in Mumbai," she says, adding that she would be celebrating Diwali virtually this year with her family. "I will celebrate with my sisters in Mumbai. We will make rangoli, decorate the house and have planned a dinner at home," says Yesha.
COVID and shoot keeping me away from Delhi: Simba Nagpal
Simba Nagpal, who is currently seen in 'Shakti – Astitva Ke Ehsaas Kii', says he will miss going back home for Diwali. "I would have visited Delhi, but due to the pandemic and shoot of my show, I have to be in Mumbai. My mom makes the best badam doodh, it is one of my favourites and I will miss that. Apart from that, I have re-decorated my house. I love going on long drives and for me it will be the best way to celebrate Diwali."
I will miss being pampered at home on Diwali: Reyhna Pandit
Reyhna Pandit has decided to stay in Mumbai on Diwali as she can't leave her shoot to visit her home in Srinagar. "I will be shooting during the day but I am off from work the afternoon before Diwali. So I will light up my home and go shopping. On the night of Diwali, I might visit a close friend's house or she might come over and we will have dinner together. I will really miss all the pampering that I get at home on Diwali and the food I get to eat. But this year, safety is our priority so I would enjoy some 'me time' this Diwali," she says.
Have two days off for diwali, will dress up and have mithais: Chandni Sharma
'Ishq Mein Marjawan 2' actress Chandni Sharma, who is from Himachal, says that she will miss the festive hustle-bustle of her home on Diwali, but would do her best to celebrate and enjoy the festival in Mumbai. "Luckily, I have two days off from shoot, so I will use this time to clean and decorate the house. I will also buy mithais as I don't want to diet on Diwali. Also, I am looking forward to dressing up in traditional clothes, I really enjoy that," she says. Chandni had earlier tested COVID-19 positive and says that she would take all precautions and stay at home. "I know what COVID can do to you and how weak one feels. So no matter how much I want to go out and celebrate I would stay home and would advise others too to stay
indoors and celebrate," she says.
I will miss home but will make the most of the festival: Shehzada Dhami
Shehzada Dhami, who is known for his role in 'Yeh Jaadu Hai Jinn Ka!', will have to skip
going to his hometown Ludhiana as he is shooting for the show. "I am going to miss my family a lot. I lost my father this year and this will be the first Diwali without him. I really wanted to go home, but it will not be possible due to work," says Shehzada, adding that he will be celebrating Diwali with his flatmates. "We will decorate our house and will light candles and diyas. I will eat a lot of mithais after doing Diwali puja. This year will be low-key celebrations, but I will try and enjoy it the best way possible," he says.
Will have celebrations over video call with family: Shivangi Joshi
Shivangi Joshi, who is not travelling to her hometown Dehradun this year for Diwali, says that she will join her family for celebrations over a video call. "I will be in Mumbai and because of COVID-19 we can't have any friends or relatives over. I want to light up my house with diyas, make rangoli and also prepare some sweets," says Shivangi, adding, "Meeting friends and Diwali parties will be missed this year. But safety and security is of prime importance, I hope everyone has realised that."
I will miss Diwali with family in delhi, but will celebrate at new home in Mumbai: Tarun Khanna
Tarun Khanna of 'Devi Aadi Parashakti' says that he had to cancel his plans to travel to Delhi on Diwali due to the pandemic. "Diwali is the only festival which I celebrate with a lot of vigour. This year also I was looking forward to celebrating with my brother, who lives in Delhi, but due to the coronavirus and other restrictions, I have decided not to go. Though I have been travelling to Delhi for work, travelling with family on the festival might not be feasible, so I will stay in Mumbai," says Tarun, adding that this year he has moved into a new house and will be celebrating the festival for the first time there. "Of course, there is nothing like celebrating with family," he adds.