Tumse hi… kaira & keesh Ff – Episode 5
Naitik : What are you saying bua.. Kartik and naira loves eachother..
Bua dadi :As if you would have given him too Gayu.. Let me make onething clear Don't forget that Gayu is elder…
Gayu : But you are elder than me.. and i thought you understand that i don't want to get married soon.. and as far as i am concerend…
Bua dadi : After all when did you start to talk on between elders..
Naksh : Gayu is right Dadi.. until she is ready.. none has the right to force her..
Dadi : lalla… please keep quite .. she is angry just because we took the decision without informing her… and she will be cool by evening..
Dadaji : Ha.. Naksh.. be quite..
Karishma : And you all please go to your rooms.. we will handle her..
———–:—-
GOENKA VILLA..
Suhasini ji was waiting for one of panditji's assistant.. as he comes.. suhansini greets him and talks to him about the sighania's.. She then handovers Kartik's kundali to him..
Akhilesh : Bhaisaab… What do you think about Mr.Mathur's son's proposal for keerti.. I think.. keerti should also move on in her life..
Manish : But.. she said she need time..
K-Dadi : Tgere is no need of searching a new allaince for Keerti.. she has already broken our respect infront of society.. now all we have to do is to make up the respect … I have asked aditya and he is ready to give her a second chance..
Manish :But maa..
K-Dadi : Manish.. please understand I am doing all this for keeeti's life…
Keerti was in her room telling stories to Luv-kush. She was quite happy and inaware about the storm which is going to blow on her life again…
And on a table near the room..Kartik & Shubham were discussing some business things..
Shubham : I think we should agree for Mr.Malhotra's proposal.. it will give us more profit
Kartik: Yeah you are right it is profitable if we choose Mr.Malhotra but its a same time risky.. as its our new project with a  london based country.. i don't think it will be a wose decission..
Shubham : What are you trying to say..
Kartik : To choose Mr.Kapoor's proposal over Mr.Malhotra's..
Shubham : But bhai..
Kartik : Shubham .. i have more knowledge in business rather consider to you..
Kartik goes from there.. Even though je didn't mean something like to make shubham feel low.. but shunbam was hell angry with kartik's words..
Shubham goes into his room.
He starts throwing things here and there in anger.. He couldn't control his anger..
Shubham : It was always you kartik.. you took everything from me.. i was always been you between all my happiness.. You took all my place.. and made me feel that i didn't even existed there..
Just then he hears a knock on the door.. He goes to washroom and washes his face.. and opens the door.. it was surekha..
Shubham : Ji chachi..
Surekha : Everyone has dined for dinner.. you also come fast..
Shubham :I am.. comming..
Surekha sees his room's condition..
Surekha : What happened to your room..
Shubham gets outside the room and closes it..
Shubham : Nothing it was a cockroach.. and you know how much i am afraid of cocrach.. Now.. Now lets go..
————-:——
SINGHANIA SADAN..
Naitik : Panditji said me that he will give the dates tomarrow itself..
Karishma : I hope there won't be any obstacles.. as you know Bua is already against it..
Naksh : Don't worry chachi.. As mumma saying the more the obstacles the more it will get good
Naira : I really wish that mumma.. was her..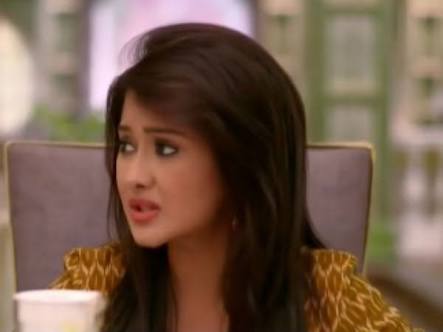 Gayu :Naira don't be sad… She is always with us..
Naksh : Gayu is right Naira..
Badi Dadi : Naira i have kept a pooja for you tomarrow at the temple so be ready at early morning..
Gayu's phone rings twice and both the time she cuts it.. It rings again..
Dadji : I think its a important call.. take it beta..
Gayu : Ji..
Shr excuses herself and goes…
Naira (thinks) : Why didn't gayu di take the phone infront of everyone..
Just then they hear a sound of a boy..
Boy : Nani… Naskh..
They turns to see Yash & Rose..
Naksh : Yash..!!!
They both goes and hugs eachother..
Naira : Hi.. guys.. What made you guys come this early..
Yash : As our little sister is getting married we thought that we should congragulate you..
Mishti :Yash bhai.. You are forgetting that i am your younger sister..
Yash : Nahi.. meri maa.. You are my little sister.
Yash & Rose takes blessing ftom the elders..
Yash : I heard that Dadi  made things difficukt here..
Bua dadj : Nahi.. yash.. whatever rukhmini said is true.. but they are not willing yo accept it…
Naitik : Leave all this… and come have dinner..
Rose : Gayi kaha hai..
Naksh : She is there… talking yo someone..
Rose : We will just come after meeting her..
Rose and yash walks to gayu.. and hear Gayu saying 'I LOVE YOU ' to the person on phone..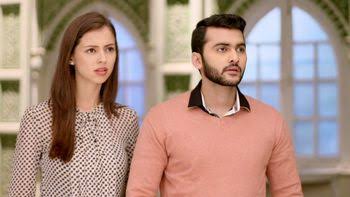 Yash : Did she just…
Rose holds his hand and he stands silent
She cuts the call and is shocked to see them their..
Gayu : Ya..Yash bhai.. Bhabhi.. wh..when did..you..two come..
Rose :We came a lot time ago..
Yash : Comeon.. Lets have food.. i am hungry..
Gayu :Ha.. toh chalo..