Tumse hi… kaira & keesh Ff – Episode 3
It was evening Badidadi , Dadi and krishma were waiting for the brides family..
Just them goenka family comes there except keerthi..
Sighania's invites them to the livingroom at they starts chating.. ( Nor Naksh & naitik and karthik meet before so they don't recoginise eachother..)
They talks for sometimes..
[Guys K Dadi refers to kartik's Dadi]
K Dadi : Ladkhi ko bula loo..
Badi Dadi : Karishmaa.. get her..
Karthik was showing no intrest..as he was always thinking about Naira..
Karishma goes and hold Naira … Naira was laughing at Gayu.. She gets shocked at looks at karishma chachi.. She takes Naira with her..Naksh & Naitika are also shocked to see karishma bringing Naira..
Naira was in tear.. but was also helpless.. as she didn't wanted to destroy her family's respect..
K Dadi : Kittu.. I have choosen her for you..
Kartik looks at her and gets shocked..
Kartik : Naira…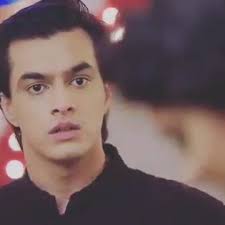 Naira also gets shocked hearing kartik's sound she also looks..
Naira : Tum..
She gets angry .
Naira : Was it your plan or were you really willing to get married to another women Mr. Goenka.. I loved you and you..
Karthik : So what was you doing Ms.Sherni.. you are also ready to get married to someone else..
Naira was about say something..
Karthik : Now.. dont tell me.. you were not intrested in this..
Naira : No.. i didn't..
Kartik : Then this.. new dress.. ao much makeup..
Naira : I haven't put make up..
All gets shocked and looks at them..
K Dadi : Kittu yeh kya ho raha hai??
Kartik : Dadi.  yeh Naira.. hai..
Naira : Papa.. ye hi hai kartik..
Choti Dadi : Duggu yeh sab kya ho raha hai..
Naksh : Choti dadi.. actually Naira loves someone.. abd you have brought the same man's relation..
All gets happy..
K Dadi : Toh.. meri kittu aur meri pasand same hai..
Shubham : That means irs fixed right..
Surekha holds him..
Surekha : Let the elders decide..
K Dadi : So its time for is to leave.. ( All looks at her..) We will see a good muhurat to get them engaged.
Naira was so happy..
K-Dadi goes to Naira ..
K-Dadi : Be ready to be our kittu's bride..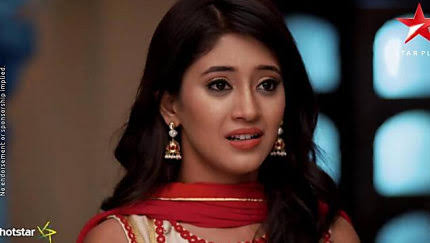 Naira : Ji Dadi..
K-Dadi : Toh.. chaliey .. phir milte hai..
They leaves..
———:
GOENKA VILLA..
Kartik keerti and shubham was in luv-kush's room . And luv-kush were sleeping..
Shubham explains everything that happend in Singhania sadan..
Keerti : That mean  you will have  a love + arranged marriage.. That is awesome..
Kartik : Kya awesome.. didn't you see dadi's face she was in anger and we also didn't realise.. we started to fight like old days..
—:
Dadi's room…
Surekha : Kya hua maaji you look tensed..
K -Dadi : Ofcourse i am.. Didn't you see how naira behaved.. she was fighting woth kittu like a kid.. i don't think she can hadle this family..
Surekha : Then why did you agree…
K-Dadi : Because i gave them a word.. keerthi is staying here making my word a joke.. and i don't want to repate it again..
———-:
SIGNHANIA SADAN
Dadaji : We are so angry at you Naira.. you should have told us.. that you love..
Naira : Dadaji.. i have informed Papa and Naksh bhai.. about it.. and at the moment when you said that.. there is a good relation.. and i thought it was for gayu di..
Gayu :For me… Oh.. that's why you kept congragulating me.. and …
Naira : Yes.. di..
Naitik : Just leave all this.. be happy that naira is geting engaged to boy of his choice..
Naksh : And he was a lot preparation to do..
Rukhmini enters..
Rukhmini : kya.. shaddhi.. None didn't inform me..
Choti Dadi : We thought we will inform you when things gets at a right place..
Rukhmini : Congragulations.. Gayu..
Gayu : Shadhi meri nahi.. Naira ki hai..
Rukhmini : What..Badi behen se phele choti ki shaadhi.. I thought you guys didn't make differences with Gayu and Naira..
All gets sad..
Gayu : Rukhmini dadi.. i am still studing.. and marriage and all i am not ready for such things.. and I know.. everyone here loves me as equal as they love Naira..