Tumhi Ho Bandhu Sakha Tumhi Review: Experience the strong essence of joint families
Tumhi Ho Bandhu Sakha Tumhi is a new offering by Zee tv which emphasizes on the strong relations in a joint family. The story is set in Agra and shows a joint family Pethawalas. While many couples wish to stay in nuclear families, the couple of the show will be seen in a joint one in today's times and also deal with the ups and downs on day to day basis. The head of the family is the grandma Sharmila, who keeps the family with love and unity. The family runs a sweet shop chain by name Pethawalas.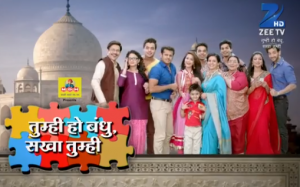 The family has strong roots of love and is always together no matter how the circumstances change. They are united and give warmth and sweetness when bonding with others. The family has more than 10 members, where Trilokchand and his wife Elaichi have raised their seven children – Amar Ayush, Ajay, Avni, Bhushan, Utpal and Mishri. They have given them their ethics, values, modern mindset and traditional roots.
Main Characters:
Sharmila Dadi: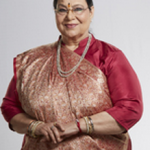 She is the eldest and the most life experienced member in the family. She is not strict and rude grandma like others. She is humble and a lovely lady. She aims to live happily and let others live happily. She keeps her late husband's memories alive in everyone's heart by her presence and good talk. She finds a great friend in Elaichi and does everything with her support. Dadi gives freedom to the young generation and does not pressure her mindset on them, making them enjoy their lives and go with their thoughts.
Bhushan: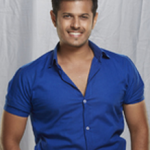 He is Trilokchand's son and is most loved by everyone. He wants his mum to love him more than his siblings. He is a romantic guy by heart and has given the Taj Mahal surprise to Shreya after they got married. Bhushan loves Shreya a lot and is supportive= e of her. He has accepted all his cousins as his own siblings. He believes in joint family and helps Shreya to be part of his family and adjust with them.
Shreya: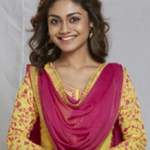 Shreya gets married to Bhushan and gets a big joint family, which she never thought of before. She is from a nuclear family and only child of her parents. She is most pampered by them and got everything before she wanted. She wants to get attention by everyone and is a gem at heart. She did not get used to share things, being the only child to her parents. She is not comfortable with joint family and her test starts after she stays in Pethawala family. She wants to live independent life and is possessive of her things.
Avni: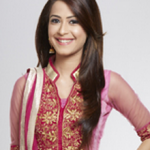 Avni is Bhushan's cousin sister and sweet natured girl. She always tries to keep everyone happy and does not share her problems with anyone, as it can sadden them. She has all good qualities and a multi tasker. There is nothing which she can't do, and she shares a good relationship with Elaichi. She believes that sharing is caring and loved by all for her generosity and simple mindset.
Amar: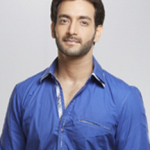 Amar is Bhushan's cousin. He is the eldest child of the family and is most mature. He tackles every problem with his maturity and skills. He is also fun loving and considers Trilokchand as his idol. He is successful in his profession and has all strong skills of a good businessman. He does not rest till he solves the problem by the root. He is Vinati's husband and helps her in realizing her mistakes by explaining her in his cute humble way.
Cast:
Madhu Malti Kapoor as Dadi
Tushar Dalvi as Trilokchand Pethawala
Aishwarya Narkar as Elaichi Pethawala
Neil Bhatt as Bhushan Pethawala
Sreejita De as Shreya Bhushan Pethawala
Vineet Raina as Amar Pethwala
Kabeer K as Ajay Pethawala
Neha Dangal as Mishri Pethawala
Ravgeet Singh as Ayush Pethawala
Dimple Jhangiani as Avni Pethawala
Neeraj Goswani as Ajju
Aalika Sheikh as Vinati Pethawala
Rehaan Khan Pathan as Samar Pethawala
Mahesh Tanwar as Utpal Pethawala
Chandni Bhagwanani as Sanjana
Story So Far: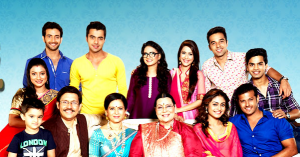 The story showcases bits of everyone's lives. Ayush wins state level boxing championship. Bhushan loves Shreya and wants to talk to his parents to get their nod to his love. He wants to marry Shreya soon and his father Trilokchand announces his marriage with someone else. Trolokchand believes arrange marriage will be good for Bhushan. Bhushan gets a shock and he thinks how to tell his dad about Shreya. Later, he comes to know that his family has chosen Shreya for him. He apologizes to Shreya and asks his family about Shreya. He gets engaged to Shreya. Trilokchand gets unwell and tells Elaichi that he is feeling ill. He shuts his sweet shop and gives leave to his staff. He gets a heart attack on the way to home and is taken to hospital.
Bhushan tells Shreya that his relation with his dad is not loving, he did not hug his dad since childhood. He says he admires his dad a lot and loves him. He gets a shock knowing his dad is in ICU. Shreya pacifies him and they go to see his dad. He tells his dad that he loves him a lot and gets emotional. His dad gets fine and they get him home. The marriage preparations start at home. Everyone look happy. Ajay's love interest Sanjana comes in the marriage functions and elders does not like her. Ajay scolds Sanjana and Dadi explains that no one can be judged by clothes. The wedding day comes and Shreya comes to know about the curfew in Agra. She gets sad as she wanted to marry on this date. Bhushan's family gets to know about Shreya getting upset and plan to make Bhushan and Shreya marry on the road. They make a mandap and families reach there. They come to know pandit did not come and get worried.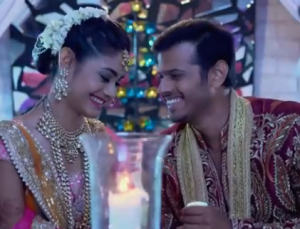 However, with some problems, Bhushan and Shreya get married. Bhushan gives Shreya a surprise and shows Taj Mahal to her from his terrace on their wedding night. A romantic moment follows. Shreya and Bhushan get a surprise of the honeymoon tickets. Bhushan tells Shreya's parents that they have decided to go to Manali. Shreya gets stubborn and asks Bhushan to change his plans. Bhushan gets angry and tears the tickets, cancelling their honeymoon. His parents explain him and Bhushan agrees to take Shreya to Goa. Avni gets a proposal and Trilokchand arranges the sweets to be sent to them. The siblings ask Avni is she is hiding anything. Avni meets the guy Shekhar and get to know each other. Shekhar finds out that Avni is always busy with her family and doing things for them. He asks her will she has any time for him in future and thinks about their alliance.
Our Take: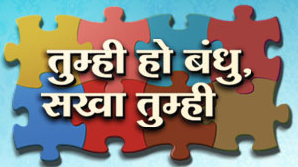 The concept is sweet and show good hearted joint families, where everyone is treated and loved equally. They respect their bahu Shreya as their daughter Avni. Th show brings non partiality towards daughter and daughter in law into light. The actors in the show do justice with their roles. Everyone has their own niche and connect with the audience on their levels. The title score of the show is moderate. The chemistry between the lead couple Shreya and Bhushan is good and worth watching in the show. Neil Bhatt and Sreejita De are the real stars of the show, who make their scenes rocking by their talented acts. The supporting cast is effective and justifies well, which makes the show look a neighboring home story. The show brings strong relations and how people treat close relations as their blood relations. It highlights the importance of joint families and also the merits.
Overall:
One can watch this simple homely show, if they are fed up by the evil schemes seen in all shows these days. It is a fair entertainment show and Zee Channel gives it a lift. The show is worth watching for those who like to see revenge free family dramas.
Our Rating:
3 out of 5
Feel free to post your reviews in comments below. All off-topic comments will be deleted.