Tujhse Hai Raabta RiKara RuMya ShivIka SS Part 2
Tujhse Hai Raabta…There's A Connection With You…Part 2
Gauri started staying in Oberoi Mansion.
In the morning…
Gauri passed by Omkara's room.
Suddenly she heard a sound from the bathroom.
Om:Shivay…please pass me the towel.Shivay…fast…
Gauri:Oh no.Guess its urgent.
Gauri took the towel and knocked the bathroom door.Om opened the door.
His eyes were closed because of soap foam.


Gauri realized it and took a mug of water and poured it there.Om was stunned.
Om:What's this Shivay?
All of a sudden Om held her hand and pinned her against the wall.

Gauri was stunned.
Om opened his eyes and was stunned to see Gauri.

They both looked into each others eyes.
Saathiya…Saathiya….

Om released her fast.
Om:I am sorry.I thought it's Shivay.
Gauri:I thought you need the towel urgently.So I came inside.Sorry for pouring water on your eyes if it was harsh.I did that to remove your eye discomfort caused by the soap.I will make it alright now.
Gauri wiped his eyes with the towel.Om was lost in her.
Saathiya…Saathiya….
Om:It's ok Gauri.I am alright.And thanks.
She smiled slightly.
Gauri:Ok…I am going.
Om:Ok.
Gauri went out.Om smiled.
Gauri realized that her dress also got wet while pouring water on Om's eyes.
So she changed her dress.She struggled hard to tie her suit's thread behind.Om who passed by saw it and went near her.
Om:Shall I help you?
Gauri:But…
Om:If you can help me why can't I help you?
Gauri was silent.
Om made her face the mirror.

Om tied the thread of her suit.She felt goosebumps.
Saathiya…Saathiya….
Gauri:Thank you Omkara.
Om:It's my pleasure.
He went out smiling.Gauri smiled.
After some time break fast was served.
Gauri:Wow this is such a tasty dish.I loved it.Which maid cooked this?
Om smiled.


Anika:It was cooked by Om.So give all the credits to him.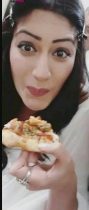 Gauri was surprised:Really Omkara?Do you cook?
Om:Ya.
Soumya:Om bhaiyya's favorite hobby is cooking.

Gauri:That's so nice.Must say …you are a great cook.
Om smiled.
Gauri:Do you make deserts too?
Om:Of course yes.Tell me which is your favourite desert.
Gauri:My favorite is black forest cake.
Om:I will make it for you.
Gauri:Really?
Om:Yes.
Gauri:Wow…I can't wait.
After break fast…
Om was busy preparing the cake in the kitchen.
Gauri entered the kitchen:Is it ready Omkara?
Om:Ya..almost.Just need final touching.More icing has to be added.


Om adorned the cake with more icing.
Om:Cake is ready…
Gauri:Wow!
Shivay,Anika and Soumya surrounded the cake with Gauri.
Om:Since it's made specially for our guest Gauri the first piece goes to her.
Everyone hooted laughing.Om fed the cake to Gauri.
Gauri:You took the trouble to make this yummy cake for me.So you also deserve a bite.
Om-Gauri smiled at each other.
Gauri fed a piece to Om.


All of them put icing on Gauri's face.

Everyone laughed.
Gauri joined Soumya's college.
After a few days…
Soumya arrived home happily with Gauri.
Gauri:There is a happy news.
Soumya:As I expected I am the topper in exams and next weekend in the function I will get the prize.
Shivay:Wow…
Shivay,Om and Anika hugged her congratulating her.
Om:In this happiness let us have sweets.
Om brought sweets.They all fed sweets to Soumya.
Unknowingly in that excitement Om fed the sweet to Gauri too.


Both of them became shy.
Soumya:I am so happy that I am the topper as I wished.Like I wish I will marry the most brilliant..intelligent and studious boy.
Shivay and Anika became dull as they knew that Rudra who loves Soumya is not extra ordinary in studies like Soumya wishes.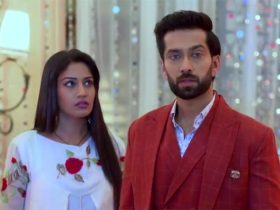 Rudra,Akshara and Naitik came to Oberoi Mansion to attend Soumya's prize distribution ceremony.Seeing Soumya Rudra smiled.But Soumya did not even smile.
Gauri:I am so happy that you came Rudy.
Rudra said looking at Soumya:How can I miss such an important function Gauri?Congrats Soumya.
Soumya turned off her face.
Naitik-Akshara:Congratulations Soumya.

Soumya smiled:Thank you uncle and aunty.
Om:Uncle…aunty…we will get ready and come .


Akshara:Sure.
All of them got ready for the function.
Soumya wore a white frock
,Gauri wore a silky pinkish gown

and Anika wore a pink gown.


Shivay,Omkara and Rudra were lost in the beauty of their girl.
Anika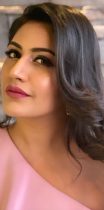 and Gauri blushed
while Soumya did not even notice that Rudra's eyes were on her.
Prize ceremony…
They announced Soumya name to come and receive the prize.
Shivay,Omkara ,Anika and Gauri hugged Soumya.


Rudra thought:Wish I could hug you and congratulate you Soumya.But you hate to even see me.Then how can I?I can only congratulate you in my mind.
Soumya received the prize happily.
They all clapped hands and cheered up happily for Soumya.


Soumya took the mike and said:Thank you so much.This moment makes me proud of myself.I promise that in the coming exams too I will bring good name to the college by scoring the highest numbers and topping.


Everyone clapped hands hard.
When Soumya came down Rudra went near her.
Rudra:You were really a shining star on stage.


Soumya put a lot of attitude and said:I know that I am the best.Being on this stage makes us a star.Those who have not entered the stage won't understand that feeling.I pity such people.


Hearing her taunt Rudra became dull,yet he smiled.
Rudra:I do understand that feeling when I see you on stage Soumya.That's enough for me.
Soumya gave him a sarcastic smile:Whatever!
She walked off.