Tu jaroori sa hai #Riansh (immj2) episode 35
In morning….
Ridhima opened her eyes and tried to get up but can't….then she saw her husband keeping his head on her belly and protectively holding her waist sleeping peace fully. She smiled at him and caressed his hairs lovingly.
Ridhima started thinking how her life changed since when vansh entered into her life. How he is taking care of her and her little-little things, otherwise She was only pampered by Aryan and sejal only…but now here is one more person who can do anything just for her mere smile, even he changed himself for her…
Earlier he was workaholic and a person who don't important to other things except his office….time is money for him…..and he never waste that for anyone…..but for her he started giving time to those things that she like….now he use to talk with her for hours with thinking about anything…..listen to her illogical things and spend time with her….
Everyone knew what is important of time for no. 1 business of India….how busy schedule must be for him but vansh is staying at home since two days as she asked to that….spending quality time with her. How can she leave a person who is loving her so much, yes she was hurt by his behaviour but for that she can never go aways from….because  LOVE IS " when nothing is ok and everything hurting you a lot but still want the same person over and over again"….
Ridhima: vansh today we completed a year…..Jaan today we will take our relationship to next step…now you don't have to control your desires. I know how hard for you to control yourself…..Jaan today I will tell you that I am ready for promotion….now I am ready to takeling responsibility of our child…..I know we are both are enough to love each other but there should one whom we love and care…then we will happily live with our family…now we also have family…there will one who will love us….today's day going to be best day of our life….where we give ourselves to each other and become one.
She was keeping her nail between the teeth and blushing like hell and her cheeks were red while thinking all this. She didn't realised when vansh get up from her belly and came to her ear.
Vansh with the husky voice "sweetheart are you thinking about our upcoming honeymoon days." And smirked at her. She was shocked and looked at him with wide eyes… Ridhima tried to change her facial expressions and hid blush but miserably failed….and said in low voice "nnn…nn…nnoooo…nn..no….nothi..ing…is…li..k.e…is…thi…this."
Vansh: come on Ridhima…I know you…and how your mind work….so don't try to hid things from me…tell me what were you thinking….you know we are friends too…so you can share what were you thinking like you discuss with sejal.
Ridhima smacked his chest and hid her face in his chest, hugging him tightly. Vansh laughed at her action and asked " so tell till where have you imagined…." Still hugging him, not able to meet his eyes she said " stop it vansh"
Vansh: look at me sweetheart…(she looked at him shyly) Did you imagined till here (saying this he kissed her lips and then moving to her neck then to her br*ast)
Ridhima gasped and clutched his shirt tightly, closing her eyes. Vansh turned their side take her neath. On his one hand Ridhima's head was resting and his other hand was on her thigh. Taking that hand he squished her br*ast and asked " did you imagined till here"
Ridhima with closed eyes " vvvaan…vannshhh…"
Vansh: hmm sweetheart…tell me…
Ridhima: van…vansh.
Vansh smiled and kissed her forehead and hugged her…..and then said " don't worry sweetheart I will not spoil your dream night……you are planning from many days for today's night….i will not put water at planning….Happy Anniversary sweetheart"saying this he smashed his lips to her. Ridhima was shocked and thought how come he got to know what she is planning.
Vansh: don't look at me like this….I know you better than you…..by the way I am very excited for today's night (winked)
Ridhima blushed and coming on his chest, keeping her legs on either side of his side she laid on him, keeping her head near his heart. He wrapped arms around her back.
Ridhima: Happy anniversary Jaan!!
Saying this she closed her eyes.
Vansh: Ridhima it's morning get up.
Ridhima: stay like this for more time….
Vansh: Ridhima!!!
Ridhima:hmm!!
Vansh: sweetheart can be repeat the thing that we had done on my birthday….
Ridhima: you and your fantasies….
Vansh: are you ready…
Ridhima: I am not going to repeat that role…..If you want something new then tell me…
Vansh: of course sweetheart!!
Ridhima keeping her head little up she looked at his face….on which he showed his thirty two.
Vansh: I also have some fantasies regarding shower….and pool….and many more.
Ridhima: for water is strictly "no"……don't forget today pandit Ji will come for pooja…. How can I forget that how you took my whole day….to fulfil your fantasy for office romance….today I have so much work…
Vansh: Ridhima!!! This is unfair….just a while ago you said yes….now you can't deny.
Ridhima: leave all this….from so many days I want to ask something….
Vansh: no!!! I will not answer any of yours question.
Saying this he turned his face like angry kid. Ridhima " vansh listen nah…"
Vansh: noooooo!!!!
Ridhima turning his face to her said " you don't want to celebrate today's night"
Vansh: but I want something in day also nah….what you thought about day…i will not going to give my whole day in "worship"
Ridhima: vansh!!
Vansh: sweetheart we can prepone things and then continue till next morning….
Ridhima gave a horrified look to him…thinking what he meant to say…" Vanshh"
Vansh mentally laughed at her thinking and thought to pull her leg more….vansh" sweetheart we are going to give this chance our relation after one year then….it should be justified….like one whole day…morning to morning"
Ridhima: shut up…
Vansh giving her naughty smile " I have more stamina….sweetheart you will love it…."
Ridhima: vansh stop it….
Vansh: what???
Ridhima: day by day you are becoming more and more shameless creature.
Vansh laughed…" Don't laugh….otherwise I will punch you…and then you will not able to show your 32."
Vansh made her lie on bed then picked up her in his arms…." What are you doing vansh?" He moved to bathroom….
Ridhima: put me down vansh….we will do nothing and…keep your fantasy with you only….I am telling you vansh if you touched me then I….I…I hit your manhood.
Vansh looked at her with big eyes and making her sit on table, Gave her toothbrush after applying paste on it….then picked his brush.
Ridhima: you brought me here for this…
Vansh shrugged his should " what have you thought …what we will do here"
Ridhima looked down in embarrassment " nothing"
Vansh widened his eyes and said " one minute….what were you thinking….you were thinking that we are going to ma…" Ridhima get up quickly and cupped his mouth before he say anything…..vansh removed her palm from his mouth…
Vansh: chhii ridhima….chhiiii…..how can you…chhiiii Ridhima….your mind is so corrupted…you always think about these things….in morning also you were thinking same…." Made a face…
Ridhima was totally embarrassed and not able to look up. Vansh was mentally laughing at her situation….vansh continued his teasing session " I never knew you are so much eager for our " suhagRaat"…Ridhima was blushing and embarrassed at same moment and playing with her fingers and ring….
Vansh: if you say sweetheart….i can manage our "sugar raat" in day also…..actually it is not bad idea let's make your thinking true…
Collecting all courage Ridhima looked at him and said " stop teasing me….i know you are also not saint….you are saying this, like you never thought about it….at least I am not like you who thinking about this from childhood."
Vansh: and my bad luck….that I am only thinking till now….look at you who's thinking will come true so early….
Ridhima: You are pervert vansh….
Vansh gave him naughty smile " since childhood….but you noticed now….tell me why you didn't meet me in my bachpan…."
Ridhima: now stop your wild thinking vansh…if I would have met you in your childhood then….I must called you "bhaiya"…that I don't want even you would have also didn't like….
Vansh: yeah!!! Of course I am your saiyan not bhaiya…..
____________________________________________
Ishani and Aryan was talking….
Ishani: so bye….stay happy.
Aryan with heavy heart " what will going to happen me….I am always happy. All the best for your bright future."
Ishani: thank you…now I should go.
Aryan: when will you come back…
Ishani: I dont have any reason to come back.
Aryan in mind " earlier she was always ready to stick with me…now I am asking so she is saying that she don't have any reason for coming…she forget me too soon…."
Ishani: what are you thinking aryan….
Aryan: nothing!!!  You have many reasons for coming back like your family, friends etc.
Ishani: if they will feel like to meet me then they will come there…
Aryan in mind: why are you not understanding….I can't come there….
Ishani in mind : I think you are not liking talk to me that is why you are again and again going to another world….Now my presence become this much annoying…
Aryan: As you wish….stay happy, bye.
Ishani smiled sadly and said "bye!!"
They moved in opposite direction…they were turning back and looking at retreating figure who is just looking straight and moving….it was their bad luck they are not turning at same time.
On the other hand….viyom called Angre and enquired about Ridhima.
Vyom: Ridhima I know he manipulated you by showing his vulnerability and you are too innocent to read his motive behind his action….but don't worry…now I am back nah…today I will make you free from him…you will be with me within twenty-four hours….and then we will happily live….and that insane will not even touch your shadow….just wait for some time more…before the night you will be with me MON CHERRY.
He laughed like maniach.
____________________________________________
Vansh was going to kitchen taking Ridhima in his arm in bridal style….
Ridhima: why is this much privilege today…..Apke iraade kuch nec nhi lg rhe…
Vansh: today you should not waste your energy in these useless things….you should keep your energy for night.
Ridhima's mouth opened and eyes widened ….then she mad a pout…..vansh " I am not doing this only for that…I am doing this because I love you….you always do things for me today….not today only, each Sunday I will do all your works and you will not allowed to put your feets on ground."
Ridhima smiled and kissed his cheeks " I love You Jaan"
Vansh made her sit on the counter and said " now I will make breakfast for you…"
Ridhima: but you don't know cooking.
Vansh: but I know how to make your favourite " coffee" and bread.
Ridhima: I love that…now my hunger increased listening this….
Vansh started preparing her breakfast. Ridhima was looking at him lovingly….he was looking handsome in white shirt and pant, sleeves rolled to elbow….
cherry on the cake his two more button of his shirt were open….showing his chest…..she was gawking at him, slowly getting down from the counter she moved to vansh and traced finger from his face to chest. Vansh closed his eyes and said " stop it sweetheart….let me do my work"
Ridhima: you do your work….I am doing mine.
Vansh: stop it right here otherwise consequences will not good.
Ridhima: let's see….
Saying this she started tickling…..soon vansh on the floor laughing like mad…" Stop it Ridhima…" And clutching her hand he also started atckling her….both were laying on the floor laughing and stopping each other from attacking…..After sometime they getup and Ridhima took the cup of coffee and toast…..and vansh again took her in his arms like earlier….After settling on the chair he made sit her his lap….both started doing their breakfast with sweet talks and laughs….they we're happily spending time with each other and enjoying single moment of their life…..sipping coffee with same mug and eatng same toast from different side…..and teasing other person.
____________________________________________
Vansh was shouting " I don't know anything….and I will not come there today…did you get that….Angre you can't manage things for single a day…"
Ridhima back to his study after getting ready…he saw vansh frustedly ruffling his hairs…he was tensed and angry. She knew why he is angry as angre called her when he was in bathroom….she walked to him and looking at her he forget his all anger and frustration….moved dreamily to her…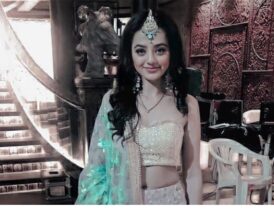 Vansh (in mind): who can say that this kiddo is my life…my wife…how can be one so cute and lovely at the same time….how soothing is her face and her chubby cheeks and rosy lips making me lose my control over me.
He encircled his arm around her waist and kissed her cheeks " sweetheart you are looking breath taking…" He whispered in her ear.
Ridhima: thank you jaan….(she too kissed him back) Pandit is calling us… let's go.
Both Reached in the hall and soon they are done with worship. priest asked Ridhima to give food to the beggars of one temple and some gifts to the priests of that temple…..Saying all this priest left the VR mansion.
Ridhima looked at vansh and said "vansh you can go to the office and I will go to the temple…don't worry"
Vansh: I have promised you to give my whole day to you then how can I go out leaving you on our most important day.
Ridhima: vansh I understand….you drop me to the temple and then go to your office.
Vansh: Ridhima temple is just opposite to the office and my meeting going to hold in 40 minutes…. and to go temple one hr is required….
Ridhima: okay!! Then you go to your office and I will go to temple…no ifs and buts..
Both left the home for their work….On the other hand Ragini gave money to the priest for sending Ridhima to a lonely place and Vyom played his card making vansh busy in meetings so that he can do his work successfully.
__________________________________________________precap: vansh came back from his office and called Ridhima but received no reply….then he scanned whole mansion and found Ridhima missing….
He become worried when he made a call on her phone and come to know that it is switch off…he cursed his his faith and today also he not with her wife like earlier…..last time she was away from him on the marriage and this time also he didn't found her the very next day of their marriage anniversary.