Hai friends sorry for not updating these many days. Let's go to the episode now
Episode starts
Mishti Abir and Rithu have a good time
Rithu sees cotton candy being sold on the other side of the road.
Rithu: Muma…..muma..
Mishti: Haan beta
Rithu: I want cotton candy..she points to other side of the road
Abir: I'll get it
Mishti: No Abir you be here I'll get it for her
Abir: As you order your highness
Mishti laughs and goes to get it. While others are very busy with themselves.
The hear a screeching sound and turn towards the direction. A car hits Mishti.Mishti is thrown into the air and falls down with a thud. The car too stops.
Rudra and Abir run there while Preesha takes the kids away
Rudra sees the car and is shocked to see the driver
Rudra: You….❓
Abir is with Mishti. He is frantically calling an ambulance.
Abir turns to the see the driver and is shocked
The driver is totally drunk
Abir: You…❓❓❓
(Guys..guys don't get irritated I'll reveal the you now)
Rudra shakes him
Rudra: Ritik…..what's gotten into you…❓
Abir: Captain..I can never imagine you like this
Meanwhile Ambulance arrives.Mishti is taken to hospital
Rudra: Why the h*** were to driving while being drunk..and you are not a person to drink like this Whats wrong
Ritik in a shaky voice: After Shivanya left me do I have another choice Rudra
Rudra: What..what happened to her
Ritik: She ditched me…I….can't…handle this…
Rudra takes Ritik with him. Scene shifts to the hospital
Abir is waiting impatiently while Mishti is being treated
Doctor comes after giving Mishti's treatment
Doctor: Luckily Nothing to worry Mr.Mehra
Abir: When Will she gain consciousness doctor
Doctor: We can't say anything now..
Abir: Can I see her
Doctor: Yes you can
Doctor leaves. Abir enters the room and sits with Mishti.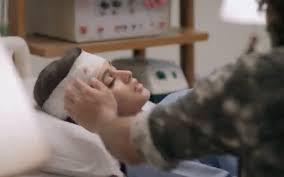 Tears are flowing down his cheeks as he sits by holding her hands
Preesha somehow manages Rithu with Karishma's help and finally puts her to sleep.
PRECAP: WHO IS SHIVANYA❓ WILL MISHTI REGAIN CONSCIOUSNESS ❓
HEY GUYS SORRY FOR A SHORT ONE. IM BUSY WITH EXAMS SO PLEASE TOLERATE FOR FEW MORE DAYS..I PROMISE TO UPDATE DAILY FROM TODAY.