Tu Jaane Naa – PAST (Part 18)
Episode starts
Mishti and Abir are welcomed home.
After the post wedding rituals they lead to their room
Preesha: Dont worry Rithu will be with me and Saaransh tonight. You both enjoy
Mishti and Abir enter their room and are surprised to see the decorations
Abir: Preesha has worked so hard
Mishti: Haan Abir
Abir pulls Mishti into a tight hug.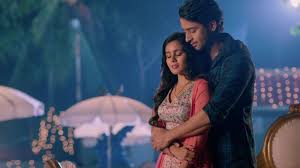 Abir: Sorry for so much delay my dear Mishti. This should have occurred in reverse
Mishti: Its all destiny Abir. Leave it. Please dont apologise
Abir: I wish I was there when you delivered Rithu. I wish I was there to hear her first word
Mishti: Dont worry you will have another baby to experience all this
Saying it Mishti winks at Abir and walks off breaking the hug. Abir then realises what she said and is overjoyed. He runs to her and lifts her in his arms
and takes her to the bed. The lights go off and Mishbir get romantic,
Kashmir
Ritik and Rudra load the sd card in their mobile and look at the pictures in it
They see picture of Shivanya with Kajal and Varun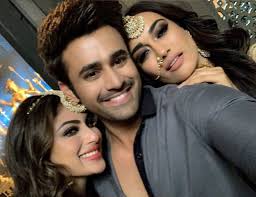 and picture of Rudra and Shivanya with Varun
Meanwhile Varun starts to torture Shivanya.
Flashback rolls on
Shivanya and Kajal are great friends. They fall in love with Ritik and Varun who are in the army.
Kajal and Varun are known for pranks while Ritik Shivanya Rudra and Preesha always get into trouble because of the pranks.
One day
Ritik and Shivanya are out for a romantic dinner. They get on the dance floor
Lag ja gale ki phir
 Ye hasin raat ho na ho
 Shayad phir is janam mein
 Mulakat ho na ho
 Lag jaa gale se
 Hum ko mili hai aaj
 Ye ghadiya naseeb se
 Je bhar ke dekh leejiye
 Hamako kareeb se
 Phir apke naseeb mein
 Ye raat ho na ho
 Phir is janaam mein
 Mulakat ho na ho
 Lag ja gale ki phir
 Ye hasin raat ho na ho
 Pas aiye ki ham nahin
 Ayenge baar baar
 Bahen gale mein daal ke
 Ham ro le zaar-zaar
 Ankhoon se phir ye
 Pyaar ki barsaat ho na ho
 Shayad phir is janam mein
 Mulakat ho na ho
 Lag ja gale ki phir
 Ye hasin raat ho na ho
 Shayad phir is janam mein
 Mulakat ho na ho
 Lag jaa gale se


Ritik bends down to kiss Shivanya
when his mobile rings. Its Varun
Varun: Captain…Ritik..I need the forces and you…Kajal has been kidnapped
Ritik: What..ok I will come
As Ritik disconnects the call
Shivanya: Ritik..this may be a prank. You know na how Kajal and Varun are. They very well know that we are alone after so long. You are back from your mission and I need you. Let their plan flop
Ritik too agrees and stays back with Shivanya.
The next morning
Kajal is found dead near the Nag Mandir where Ritik and Rudra searched for Shivanya. She was raped and brutally murdered by the local rogues.
Varun is enraged as he finds Ritik and Shivanya responsible for not being able to save Kajal.
Weeks later Varun gets all drunk and tries to molest Shivanya in rage. Shivanya tells this to Ritik and Varun is court martialed.
Reality
Varun: You guys killed my Kajal and also threw me out of army. Thats when I decided to torture you and then finally kill you both. Its time for your death
Varun grabs his alcohol bottle
Varun: From when the plan came to my mind I did not drink. Now Ill drink and then fulfill my revenge
When Varun's attention is away Shivanya manages to remove the ropes and runs away from there. On the way back she feels tired and falls down unconscious.
Ritik and Rudra wander in the regions around the Nag Mandir and finally find an Unconscious Shivanya
. Ritik runs to her and hugs her tight. Once she is into his arms he starts to weep
Precap: LEAP