FLASH BACK CONTINUATION 
AT OBEROI PRODUCTION HOUSE 
Archana : Excuse me I have an appoinment with Mr& Mrs. Omkara Singh Oberoi
Khanna : What's inside your bag ?
Archana : Nothing. Just an umbrella, a bottle of water and my purse.
Khanna : I need to check that.
Archana : Bhaiya why are you troubling me ? You really think I  am a terrorist ?
Khanna : Woh!!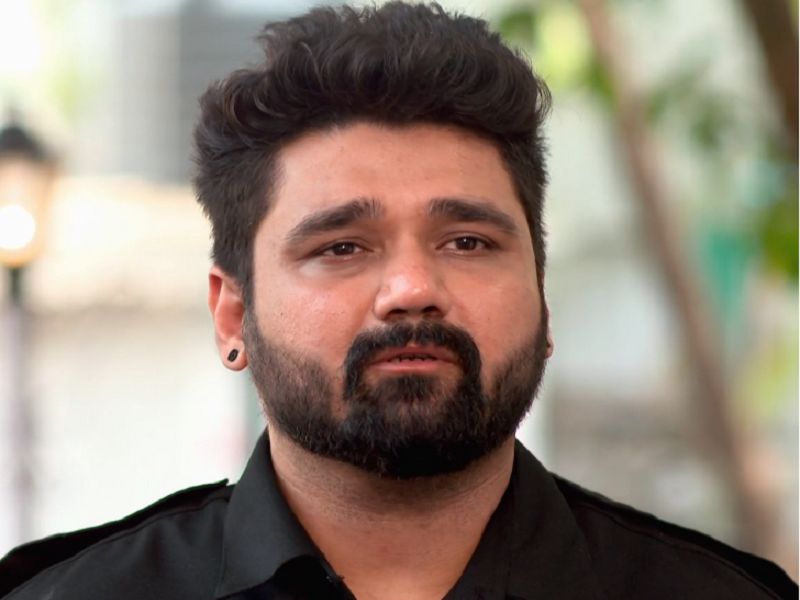 Archana : Please bhaiya please allow me to go inside. Archana gives a beautiful smile
Khanna ; Now don't look me at that way . You called me as bhaiya and I can't refuse you. Go ahead.
Archana : Thank you bhaiya
Mean while Rikara watches the whole scene at the CCTV photage and starts laughing .
Archana : Excuse me Mam
Gauri : Oh Archana Ji No need of any formalities . Just come in and have your seat.
Archana : Yeah
Omkara : Before getting to the work I am going to interview you.
Archana : Interview !! But Gauri Mam said it's audition.
Omkara : Of course. But thing is the production company's name is Oberoi production house and I am it's owner
Gauri ; And I am his business partner cum life partner
Archana : Ji I am ready .
Omkara : Archiee releax. First have your coffee and then tell me in detail where were you ?
Archana : I joined Pune film institute for acting course and after it's completion I was searching for some good roles and I got merely two or three opportunities.
Omkara : I am asking about your life.
Archana : Omkara woh .
Gauri : I think my presence matters a lot. Let me give you some free space. You can talk to your friend.
Archana : Not at all Mam. I am unable to share my personal issues at least now.
Omkara : I understand and respect your decision. But I am your best buddy and how many times I tried to contact you , but you didn't picked my calls. And what's that ?
Archana : My parents passed away.
Omkara ; What !!!
Archana : You heard it right. I was trying to over come struggles of life and see fate has stolen everything from me.
Omkara  : I am sorry Archana.
Archana : It happens sometimes Omkara , I am alright . She wipes her tears
Gauri ; Mmh. Archana Be brave. You need to travel a lot at this life. So be ready.
Archana : Yeah
Omkara : Archie have your coffee please. And yesterday I tried after picking your call.
Archana : Phone's battery went low. Omkara I am staying at a hostel and I need some money to pay the advance.
Gauri : Sure we can help you
Archana ; Mam first let me do my work. Once you find my work as worthy then only you have to give me the payment.
Gauri smiles and nods hear head
Archana starts giving the audition as per Gauri's instructions. Gauri felt so much deep in Archu's acting that tears started rolling down from her eyes.
Omkara : Gauri where you lost yourself ?
Gauri : I got my answers Omkaraji. She can definitely won millions of hearts
Omkara : You mean she is selected
Gauri : Undoubtedly she is my character Neha . No one can portray this one better than her.
Omkara ; Think well gauri . It's your biggest step in Television Industry. You are launching a new serial and Archiee didn't had very much prior experience
Gauri : I want involvement not experience. And it should come from heart. She is living in it. That's what I needed.
Rikara look each other's eyes
Jo naa keha sake tum plays
SCENE SHIFTS TO MAANAV'S HOME
Savita : Aye Maanav, where is your friend Archana ?
Maanav : She has went to Oberoi Production House
Savita : Oberois!!!!
Sachin : Aaayee. Dada has set the right girl . Now Archana Vahini  will get movies and see through her you will also get fame. This small house will become a big bungalow and we will buy three cars , gold ornaments, costly dresses aayee.
Maanav pinches Sachin's ears
Sachin ; Dada please leave me
Maanav : Sachu don't talk like these again . She is my friend and there is nothing else.
Sachin : Oh really then why she came to our home ?
Maanav : What ?
Maanav turns back and finds Archana standing at the entrance.
Savita : Beta your hand will get burn
Sachin : Dada , how long you will hold lamp like that only .
Sachin collides with Maanav's hand got burned a little at the lamp . Archana rushed inside and hold his hand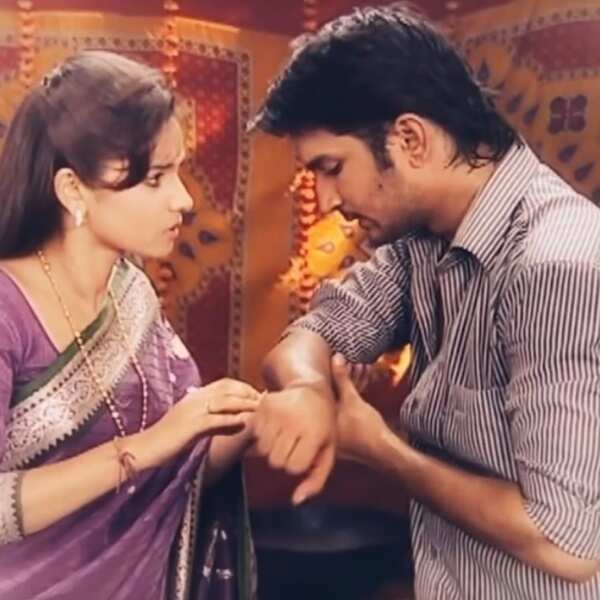 Archana : Today every one is celebrating Diwali and this night we are supposed to enlighten lamps only, not hands. Maanav why you are not taking care of yourself ?
Sachin : Crackers has burst out now
Archana : Crackers, Damn now he will do that also.
Savita : Haan beti. His heart is bursting like a cracker now. Just leave his hand and let him handle himself.
Archana ; Oh! I am sorry. Maanav please put medicine there. Mmh Aaayee I came here to give the advance.
Savita : Arrey !! My lovely doll my godess lakshmi just handover it to me soon.
Archana : Ji
Archana gaves a bundle. Aaayee Total Twenty Thousand  rupees is for your family.
Maanav; Archu advance is just Three thousand . And why you are giving the whole money ?
Archana : Maanav I got my salary today. I mean oberois selected me for the tv serial and they offered me this money.
Maanav : But Archana why you are giving whole amount ? You should have kept something for you
Archana : Maanav you did a big favor by offering a safe place for me to stay. And moreover you saved my dignity .This life is given by you and I am not able to find anything worthy for your personality. Because you are a gem and so special . This is just a small piece of gift only.
Maanav : But Archana
Savita : Arrey archu has given it with much love and respect. Why are you arguing with her ? She is the godess Lakshmi who put her feet at this auspicious occasion of Diwali
Beti give it to me.
Archana nods her head and handovers the money.
Maanav & Archana look each other's eyes and smiles
Maanav : Happy Diwali Archana. I wish this diwali may lit the lamps of success at your path and you always smile like this forever
Archana : Thank you and wish you the same Maanav. I hope to see you soon as a Top Hero in Bollywood
Maanav : One more thing. Please cut the word thanks from now onwards. You need not to thank me for each and everytime.
Archana : I will try Maanav
Pavitra rishta tere mere mann kaa plays
Scene shifts to Oberoi Production House
Khanna : Mam some one has send a parcel to you
Gauri : Parcel but why it came here ? It should have been at the home address only
Omkara : May be any special fan of you
Gauri : Omkaraji
Omkara : Just kidding only
Gauri smiles and opens the parcel. She finds a box in it. As soon as she opened it she started coughing and all of a sudden Gauri got fainted.
Om rushed towards her and made her to lie down at his lap
Omkara ; Gauri wake up . Gauri open your eyes . Gauri !!
PRECAP : A lady arrives at Oberoi mansion . On the other side Maanav gets hospitalized 
STAY TUNED FOR MORE UPDATES