TROUBLESOME LIVES AND UNENDING LOVE TALES – PART 33
AT VINOD'S HOME 
Vinod looks at his and Manjusha's  photo
Vinod : Why you left me Manju ?
Harshvardhan : Vinod, how long you will weep like a kid ? Those who left us won't come back. My wife left me and I have accepted that truth. I gave a peaceful death to her.
Vinod : What ?
Harshvardhan : Every one thinks she died in complication at her pregnancy. But fact is that I myself gave a peaceful death to her. Because she had no use in my life. I married her against my parents wish and my loyal little brother Yashvardhan also left home in support of me. She was from the rich family , I mean she was the daughter of former home minister and moreover her chaacha didn't have children . So he had written his property at her name. I made her to fall in love with me madly because I want to snatch that golden duck with me only. Even though my parents asked me to go out from my home , I always felt her family will be in favour of me. I waited until she was giving birth to our child. But her family never accepted us and I was a struggling person of the blo*dy middle class only. Yash was like a body guard for her and I didn't get a chance to finish her story. But as soon as the blast was happening in city years back each and every person of the city was shattered. All were running madly to save themselves and their beloved ones. That was the day when Yash bought Swethlana Kapoor who was injured at the blast and as well as he lost his leg while saving a person. That was the day when my wife give birth to girl . No one should felt any doubt on me so I handled my wife's pregnancy with the gynacologist and he agreed me to assist him as I am a reputed surgeon of the hospital. Then I mixed a sort of poison in injection and as soon as I injected my wife hold her last breath and I send her out. I paid that gynacologist not to utter truth. And one more thing I would have killed that baby also but people will feel suspicion on me. So I left that place and gynacologist said every one that Dr. Harshvardhan Rana is missing . Yash took my child with him and he bought up her. In the meanby time I used one more person- who is his life- Swethlana Kapoor. One of my pshycartist frined Dr. Upadhyay was telling me that Tej Singh Oberoi has demanded a help for mentailising Swethlana Kapoor. She was facing hyperactive behavioraul disorder that time. As she was lying unconscious at delhi hospital, I and the doctor who checked her fixed the chip inside her brain and made her as a puppet. But my saga of revenge hasn't gone away. Swethlana's dad – Jitesh Kapoor every one suspects him as the murderer of Pratap Singh Oberoi . But it's not true. Jitesh Kapoor who was the supervisor of my Mom's company once caught me red handed when I was hiding drugs inside the stock. I was restigated from my board exams for two years and I didn't get admission at any of the schools at Mumbai. My dad send me to Delhi boarding school and he paid huge amount for hiding my deeds. I was away from my family . Only Yash was showing concern who was so small and he didn't know anything about me. Mr. Jitesh Kapoor was later send off by my dad itself because he was unable to face that man. He then later joined with Oberois . I was silently watching everything. One of our servants who was very loyal to me used to tell everything while visiting me at boarding. And through him I started executing my plans. First he made rift among Kapoor brothers who were working together for Oberois. Rishikesh misunderstood that Jitesh has become money minded. Then one day it was my servant's friend  who wore mask at his face actually murdered Pratap Singh Oberoi and Jitesh was removing the knife from his chest. That same moment my servant guided Rishikesh to the store room . And he find that his brother is holding knife. Pratap Singh Oberoi is been dead.He rushed towards Kalyani Singh Oberoi and Tej Singh Oberoi and told that his big brother has committed the murder. He felt anger on his brother and at Oberois as no one listened him. Before going home he expressed his last wish of seeing his daughters and wife and he was send to Kapoor house. At that moment Rishikesh who was accompanying him got murdered by an intruger whose face was covered . Jitesh screamed in pain. Swethlana  and her sisters rushed there. Police arrested Jitesh. Swethlana was running behind him. He made a vow to her that she should destroy Oberois . I used her anger as the weapon , but now she is cured. Vinod., you can't imaginw how much I am expert in these kind of things. If you fail to do your task then I won't take much time to finish your story.
Ranveer : You can make plans behind the bars, Mr. Harsh vardhan Rana
Harshvardhan turned back and gets shocked to see Ranveer
Harsh : Inspector you !!
Ranveer : Everything is recorded Harsh. Shame on you that you are a brutal murderer. Now your games are over. Don't try to run away from police.
Ranveer and Harsh had a fight. He finally slapped Harsh and catches him. Harsh gets arrested by police. Vinod  also surrendered himself to the police as he forced Manjusha dfor abortion without her consent .
Tej gets to know everything from Ranveer
AT POLICE STATION 
Tej ; I was mad in making Swethlana as upnormal for taking revenge only. Moreover I was against Shivaay's growth also.
Ranveer : Paapa in the mean while Prinku also got attacked and I thought it was you only. But now it's proved that Harsh's loyal dogs had done that.
Tej : Ranveer, how is Jhanvi ?
Ranveer : She is fine . I will recommend for your bail.
Tej : I deserve this punishment beta and trust me now I realize how fool I am to ruin my own family.
After a week the verdict was heard ,Tej got released from jail. He went to Kapoor house
Tej : I am really sorry Mrs. Kapoor. Your husband was a great man. We all did mistake , we can't return his life. Moreover whatever I did with your daughter Swethlana is totally unacceptable. I am sorry Swethlana . I know my words are not sufficient to rectify my mistakes but still I am appologizing from heart. Please forgive me.
Tanuja : Mr. Oberoi, past is past. Finally my husband's soul got justice. Our children had separated the barriers of our families. Rudra loves my daughter Sowmya.
Tej : Ranveer told about that to me. I am so happy for them.
Tanuja : I hope from now onwards there won't be any shadow of darkness at our lives.
Tej : Yeah
AT OBEROI MANSION 
Anika : Bade paapa, dadi, Shivaay badi maa sab aayiye. Bade paapa aa gaye. How was your business trip ?
Tej : Business trip ?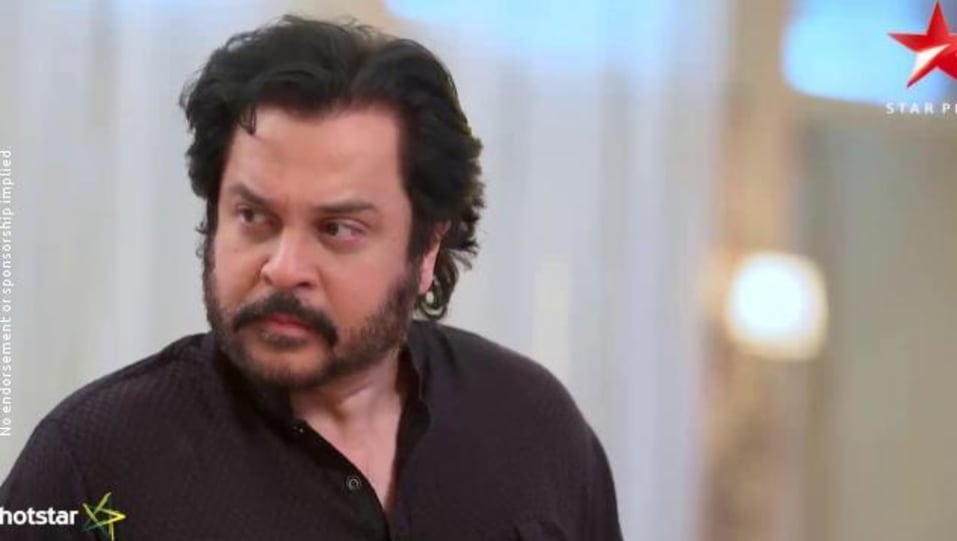 Anika : Haan Shivaay ne bataya thaa aap business trip pe gaye the naa
Tej : Maine kaafi kuch seekh liya beti. Kaisi ho tum ?
Anika : Mein toh junior billu ka wait kar rahi hun
Tej :Kya ?
Anika : Haan Bade paapa, mein Maa banne waali hoon.
Tej : Anika sacch mein
He hugs her and give blessings to her.
Gauri ; Paapa
Tej : Gauri , I am sorry beti .Uss din joh bhi maine kaha
Gauri : Paapa please, it's over. Aap aayiye naa, Maa aapka wait kar rahi hein
AT TEJVI ROOM 
Tej : Jhanvi
Jhanvi ; Tej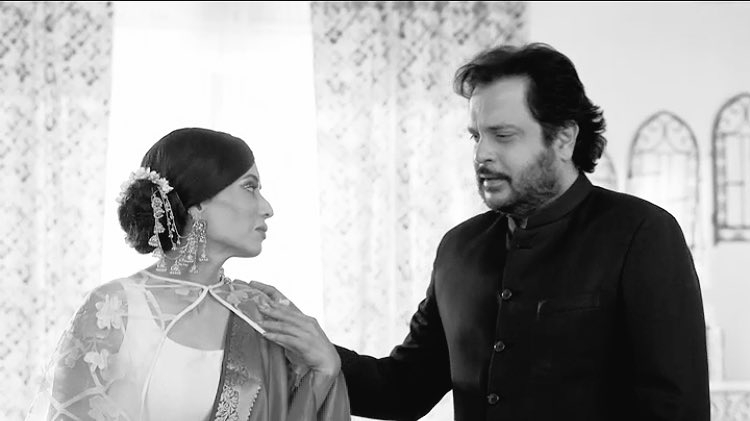 Tej : I am sorry Jhanvi
Jhanvi : Bas, Tej. Your eyes speaks your heart's truth and I believe you.
Tej ; Will you gave another chance for me ?
Jhanvi : We are husband and wife- Tej. There is no choice of asking chance. Our relationship is eternal and I can't see no more struggles in it. No more ego clashes, no more fights, all we need is love only.
Tej : Jhanvi
Jhanvi : Tej
They hug each other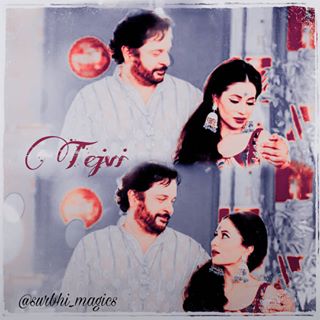 AT RIKARA ROOM
Gauri : Omkaraji, please go and talk with your Paapa
Omkara : Itna aasaan nahi hein Gauri. Mujhe waqt chahiye
He walks away. Gauri feels sad
AT GUEST HOUSE 
Yash : I can't believe that bhaiya did these much crimes
Naresh : Beta all happened because of me. After Pulkit and Harsh's mom's demise I married your mom and Harsh always felt her as a step mother only. But she never treated him like that.
Yash : I feel sad about Suhani . Better she should never get to know truth.
Naresh : Beta now everything is solved please think about what I said. Pulkit needs Suhani .
Yash : Please Paapa. I already said this. No more arguments on it. I have some work
He walks away .
Swethlana : Yash
Yash : Sam tum yahan
AN : THIS UPDATE IS SHORT ONE AS MY HEALTH IS NOT MUCH WELL. WILL GIVE LONG UPDATE NEXT TIME