TROUBLESOME LIVES AND UNENDING LOVE TALES – PART 29
AT OBEROI MANSION
Kalyani : What can I tell you puthar regarding this ? I won't forgive Tej for doing this.
Pinky : What if he realizes his mistake ? Now he is been isolated from family and he is behind bars. I think Maata rani will give him some good thinking and may be he will appologize to us. If that happens then what about bringing him back ? Maaji I saw a dream like that at early morning. Woh kehate hein naa Alsubah dekhne waale sapne sach hote hein. Sakthi Ji pehale jab iss baare mein baat kee toh mein bhi gusse mein thi. But later I thought with a calm mind and I guess family is incomplete without it's members. So let's hope for the best. What you say ?
Kalyani : What about you Jhanvi ?
Jhanvi : I need to get the full truth Maaji. After that only I can tell any decision.
Kalyani : Let's see what happens.
Pinky ; Jethaniji, Aapka joh bhi decision hein I am with you always. Just that I expressed my view only.
Jhanvi ; Pinky it's so good to see your concern towards me. I mean you never makes me to feel that I am alone. Infact my family is with me,but some how feels like I am lonely and at those moments you cheer up me a lot. Thanks Pinky
Pinky : Thanks Kyun ? Oh My Maata Aap ne hi to mera welcome kiya thaa iss family mein. Tabh mujhe kuch pata nahi thaa. Lekin aapne jiss tarah responsible aur caring bani woh dekhkar mein bhi thodi koshish kar rahi hun, Bas.
Kalyani : My Daughters are the real queens of this Oberoi house. I am proud to say that you are not my bahus, but my daughters.
She holds them and hugs both of them
AT MEHRA HOUSE [ NIGHT 12  PM]
Some one knocks the door .
Vinod ; Who is knocking the door at this time ?
Manjusha opens the door and finds an unknown man.
Vinod : Who are you ? Why you came to my house at this midnight ?
" Too many questions. Open this brief case .This is for you ."
He handovers a  brief case to them .Vinod opens it and finds bundles of currency notes.
Manjusha : Itne saare paise
" This is just 60 lakhs only. But you have to stand with me doctor. Notes are original. Yours and my enemies are same. Just that I have a long list and you have only one in it. "
Vinod : I didn't get you
" I want to destroy Oberois and Kapoors. That's my intention. You have only one enemy Archana Kapoor. "
Manjusha : We want to kill that Maanav also. Already we executed a plan. Actually we sprayed posionous gas at the seats of car which they are travelling. They might be travelling back to their homes as shoot gets completes and on the way itself their love story will get a end card.
" You both are damn fools. Inspector Ranveer Singh Randawah was also present at Oberoi Studio. You think you both can easily escape from him ? "
Vinod : That inspector is dangerous, He once put me in jail. What to do now ?
" I have replaced seats of the car and now they are safe. So that Ranveer won't gets a doubt on you."
Vinod : But who are you ?
" I am Doctor HarshVardhan Rana , Yashvardhan Rana's second big brother. "
Manjusha ; Yashvardhan – is that guy whom Swethlana is getting married ?
Harsh : Yes. But Yash doesn't knows I am still here. Some believes I am dead and some thinks I am missing.
Vinod ; But why are you helping us ?
Harsh : I have a rivalry with Kapoors and Oberois. It's an old story and I am back in action for the revenge. I made friendship with Tej and manipulated his mind so well because I knows he is greedy and I exploited this part much well. You will get to know me more soon. Keep it . I will be back with the plans . And don't tell any one that I came here. I hope you got me.
Vinod  : Ji
He walks away.
AT GUEST HOUSE 
Yash : Suhani how was your exams ?
Suhani : It went well. This time I studied better .I hope I will get good marks.
Yash hugs her
Swethlana : Suhani I have bought your favourite vanila ice- cream .
Suhani : Aww Mumma you are so sweet.
Swethlana feeds her.
Suhani : By the way Mumma tomorrow Parents meeting hein. Iss baar aap aa rahi hein naa mere saath ?
Yash : Mumma kyun ?Hamesha mein aata hoon
Suhani : No Paapa. All are asking me why my Mumma is not coming at my school for any functions. I am fed up saying Mumma will be coming. Some said my Mumma run away because of my Paapa's ..
Suhani cries
Swethlana : Suhani beta what happend ?
Suhani : They tells Paapa can't walk properly , that's why Mumma run away from him.
Swethlana : Bas beta bas.Don't believe in those type of sayings.
Suhani : I know Mumma , my Paapa is strong. Once I punched that Raunak for saying this before my Paapa. That time Class teacher warned and Paapa also scolded me. Later I never did that. But I feels bad.
Swethlana ; Suhani don't worry. We are coming to your school. Let me see who is mocking Suhani's parents
She wipes her tears. Suhani smiles.
Yash : Sam just stand with her. I want to take a click of this moment.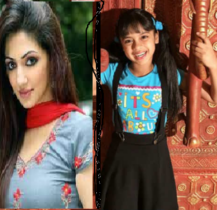 She agrees and the both smiles and poses for the photo.
NEXT DAY AT SCHOOL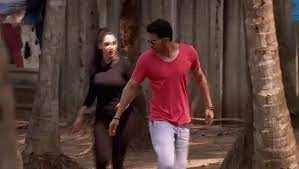 Class teacher : Oh So this is your new Mom, Suhani ?
Swethlana : Please Mam , don't talk like these infront of a child.
Class teacher : Oh Really !! A handicapped person with a hanging wife. Too sad.
Swethlana and Yash  gets upset with her words .
Swethlana : I agree it but I am not a merciless person like you who haven't any sense of humanity. Mam you are a teacher who is actually the role model of a generation. Whatever children learns from school it's their basic and if you keeps these kind of behaviour they won't respect their fellow beings. So please don't use these kind of words
Class teacher : I feel pity on you Lady that you are with this guy. Listen my advice and just break up.
Yash : Mam we are here for parents meeting. We want to know about our daughter Suhani's academic matters. So please talk about that only.
Class teacher : Well she has scored 90 % at the last mid-term test . She is the first  rank holder. But there is a bad habit. She punches other students if they say anything on her dad.
Suhani : But Mam I already said sorry and bear the punishment also before my Paapa last month. After that I never did that.
Class teacher ; Here I am the teacher and you are a student. You are lying before your parents and teacher
Suhani : No Paapa , I didn't punched any one. Please.
Class teacher ; Then what about the report given by Raunak Mehta ?
Swethlana reads it.
Swethlana : It's written that suhani punched his nose.
Suhani : Mumma, Paapa it's not true. Please believe me.
Raunak : She is saying true. She didn't punched me later. It was my mom who asked me to report like that .
Yash : Beta Raunak
Raunak : I am sorry uncle. Last time whatever I said about you was not right. I accepts my mistake , my dadaji told me it's not right. The report which I given here is been instructed by my Mom only. Our class teacher is my Mom. Actually every time I comes class first. But thing is it's not with my hard work, my mom used to give me question papers earlier and I prepares for it. That's all. This time Mom didn't get the papers of Mathematics. My marks came less in Maths. When total mark sheet got prepared Suhani came class first . She studies well and she deserves it uncle. And I got fifth rank this time instead of first. My mom was finding a reason to send Suhani from here . But I don't want it uncle. Because she is my best friend. Though she punched she put the bandaid and said sorry to me. Many a times she helped me at my studies , she shares her sandwitch with me. I don't want her to go.
Suhani : Raunak!!
She rushed near him and they share a friendly moment
Yash : Children's hearts are so pure . They never lies till they are children. As they grows up this society makes them to do so many things. Childhood is the best state of life. It won't come back. During those times parents, teachers , friends influence them a lot. What we gives they believes it and gives the same to us . So please don't spoil children.
Swethlana : And Mam you can inspire students by narrating moral stories which moulds their pesonalities rather than mocking any one personally. It's really hurting.
Class teacher : I am sorry, I won't repeat it. I was blind in my son's love and I want to give him everything as best. I mean Suhani is topper in studies and I was scared much.
Suhani : Raunak is good in sports but I am zero in it. But Raunak always says me I can make it better. Just like Raunak can also improve in studies. Hey naa Raunak
They shares a Hifi.
Yash : Yes bacchon. Tum donon ke dosti ke liye mere taraf se Cake
Raunak and Suhani : Wow
Yashlana smiles.
Yash : Inn bacchon ne woh kar dikhaye joh bade log bhi nahi karte.
Swethlana : Aap inse kuch seekhiye Mam. Bachon ke mann mein galatiyan mat bhar deejiye
Class teacher : I am sorry, I will not do it again.
AT HEAD QUARTERS MUMBAI
Ranveer : That means you doubts if Vinod has did any complication with the car ?
Bhavya : Sir he is a forensic doctor . So he knows how to use small things.
Ranveer : But thing is that accident happened long back. Now that car also got damaged. So we get hard to find a clue.
Maanav :Ranveer kuch toh milega .
Bhavya ; Sir I think again we can check the spot . May be
Archana : I hope we get any clue
AT ACCIDENT SPOT
Bhavya ; Sir I got a bottle . It was digged inside the soil near that side tree.
Ranveer : Bhavya this can't be destroyed. It's a chemical. If this bottle gets broken the chemical will spread and whoever smells it he will die within 3 hours.I have seen these type of thing in an earlier case. Creosote chemical can affect a person's eyes, nose, breath. It was mixed with carbon dioxide and that's why Commissoner was not able to drive properly. Because through the air duct he and his wife were smelling this poisonous chemical. And the reaction of chemical started gradually which lead this accident.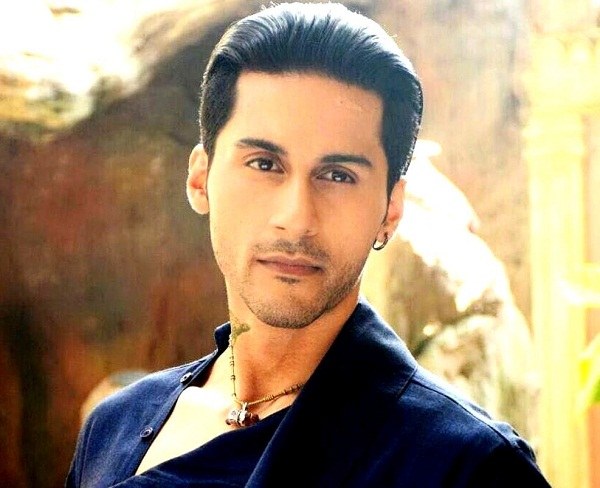 Bhavya : Sir this Forensic expert's mind is so crooked. Why he is utilizing his brain for destroying people ? If he has used his inelligence in a good way then it will be a help for saving nation.
Ranveer : Who cares about country now a days Bhavya ? Every day we get across with these kind of cases and criminal minds. Any ways Archana with this thing we can't arrest him as court will enquire about the car we can't produce it. It happened long back and the car also got destroyed. But don't worry certainly this guy will be trapped in any case. And we will catch him.
Bhavya : Yeah Archana ji. Don't bother about anything.
Archana : Thanks a lot Ranveer.
Maanav : See you guys later, Bye
Ranveer & Bhavya ; Bye
AT THE ROADSIDE 
Maanav : Chalo Archu tumhara ghar aa gaya
Archana : Oh !! Itni Jaldi
Maanav : Why it's late night . You have to be at your home
Archana was still on thoughts only. To cheer up her Maanav pinches her cheeks
Archana ; Aah!! Maanav
Maanav : Don't make any sad face. I loves your smiling face. So please smile Archu
Archu looks Maanav's smiling face
Archana : Before your smile I feels my all pains are vanishing. Your caring eyes and simple smile gives me much relief Maanav. I feels I should hold you like these till morning.
Maanav ; This will be tough as my jaws are paining. How long I can show you my teeth ?
Maanav laughs.
Archana : You makes everything as so funny , won't you ? I seriously said Maanav
Maanav : I know you said it from heart. Bas Just want to make you smile more I made this silly joke .
Armaan hold each other's hands and looks each other.
Maanav : When you are with me I feels to live this life in a new way Archu. Every moment I should keep you in my arms and you should render your feelings through your beuatiful eyes . And I would love reading them .
She shyily kept her eyes down and Maanav kept his hand on her waist. She kept her hand on Maanav's back. They completely melt in love .
Pee loon plays…
https://www.youtube.com/watch?v=8AfzAKbsznw
AT UDAY'S HOME 
Avantika : Bhai where is my Short top ?
Uday : Kaunsi top ?
Avantika : Bhai you gifted me that red dress on last month .
Uday : Mmh. Avantika ….woh Actually Chali gayi ..
Avantika : What ? Uske kyaa haath- pair hein ?
Uday ; Actually my friend took it with her
Avantika : Oh!! So interesting , A girl friend for you!! You didn't told me this
Uday : Sara is my friend only, Dont use the word Girl friend.
Avantika : Okay, Sara , Bhai she was that girl naa who came to your clinic and told you that she has illness which was not true.
Uday : Yeah Sissy.
Avantika : Oh so now this patient is much important to you. That's why you gifted Red top to her.
Uday : I will buy another one for you.
Avantika : But I want the same one .
Uday : Haan toh I will buy the same red colour top again.
Avantika : Bhai relax, I was kidding only. By the way you have given that to a special person now I don't want a copyright on that.
Uday : Why are you tagging special ? See she is just my friend .
Avantika : Okay, okay.Chill.
Uday : Accha leave it. Tell me how was your day ?
Avantika :As usual. But a strange thing happened.
Uday : What ?
Avantika : My boss asked me to take interview of that Attitude Superstar Jathin
Uday : You mean Jathin Sinha
Avantika ;Yeah bhai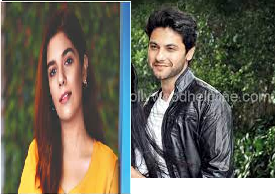 Uday : Wow He is a good actor.
Avantika : Oh No! Only you people says he is good actor. He keeps repeatedly doing action movies only. Not any varities
Uday : You prefer watching romantic movies only , that's why you don't like him. Anyways how was the interview ?Avantika : Bhai Thing is he is not that much arrogant as that' s what I was expecting. He is nice guy. Infact I find a puppy there. Her name is Noobi.
Uday : Is it ?
Avantika : Interesting thing is he remembered me because once I saved Noobi. And today Noobi and I became good friends .
Uday : Wow Great. When will be the article coming.
Avantika : It will be by this weekend bhai. I am so tired with the hectic schedule. Please mere liye coffee bana deejiye.
Uday : Sure , Abhi  naa koyi movie dekhte hein . Dadi ko bhi leke aawon.
Avantika : Yeah bhai
AT BEACH
Avantika : Why you called me here Amith ?
Amith : I am returning this paper – Do dil bandhe – This lyrics is yours
Avanthika : But Amith you bought it from me 2 years back saying that this is for fiancee. And you sang it in Yash's engagement also.
Amith ; Bhavya not understands me anymore Avanthika . And what the meaning I keeping this song with me. So I am returning it
Avanthika : You know the full lyrics it's in your heart. Now what's the use of giving me this paper back ?
Amith : I don't know Avantika , what should I do. Only this month end is the time period. If I proved I haven't cheated her then she will be back. Else she will leave this city. I don't want  that.
Avanthika : Did you get any proof ?
Amith : How can I find the girl  who is behind spoiling my life ? I don't remember anything clearly. I mean some thing was mixed in my juice and I fell unconscious. That  video shows she and me in a bed. I mean I am not in my clothes and she also
Avanthika : I got it Amith. It's so disgusting to hear and what Bhavya could have feel while watching this ?
Amith : Someone purposefully did it. This was shown on the LCD projector at the moment when we were going to excahnge rings and she was shocked. What she believed is the thing which she saw with her eyes. Trust me I am not like that.
Avanthika : But now world believes in proofs. We need to get answers so that Bhavya can believe you again. I am a reporter and I have connection with so many people. Let me enquire from my side and once we finds will catch her and ask what she wants .
Amith : You will help me Avanthika ?
Avanthika : Sure Amith. There is no question of not helping you.
Amith : Thanks a lot Avanthika , you are my true friend.
He hugs her.Avanthika gets emotional as that hug was so special to her.
AT AN OLD FACTORY 
Harshvardhan kidnaps Suhani and brings her to the old factory room. She gets scared of seeing him
Harsh : Suhani  have these cookies
Suhani : Mujha apne Paapa ke paas jaana hein. Chod do mujhe.
Harsh : Today onwards I am your Paapa. You have to obey me.
Suhani : No, My Paapa is Super hero . He is not a Villain like you
Harsh laughs crookedly. Suhani gets more scared.
AT POLICE HEADQUARTERS 
Yash : Suhani  is missing Bhavya
Bhavya : What ?
Swethlana : We were with her at school .After attending PTA she was playing with her friends at the ground. We  were watching them. One of the school attendor bought coffee to all parents. We felt like we were sleeping for a while. Something was mixed in coffee.And once I opened eyes Suhani was not there.
Bhavya : Did you ask school authorities, her friends ?
Yash : We already done that. Bhavya Ji I am feeling much fear.
Bhavya: Ranveer sir is on the way.Actually he went for an investigation. Do one thing register missing complaint. I will inform nearest police stations and control room. He hould be in this city only. Thing is Archana's life is also on threat. That forensic doctor is on revenge mode. May be he would have kidnapped her.
Swethlana : Yash that means we have to inform every one to be alert. Archu is in our family now. So he will be trying to do any harm for Archu.
Yash : Yeah, Let me call Maanav.
AT JATHIN'S HOME 
Jathin starts reading Avantika's poetries which were published on her blog.
Jathin : She writes it with so much depth. Meeting you was one of the best moment of my life, Avantika Ji. Till now I haven't sit with much patience in any of the interviews. But yours was different. I felt I myself was talking rather than as an actor. He looks the selfie which they took together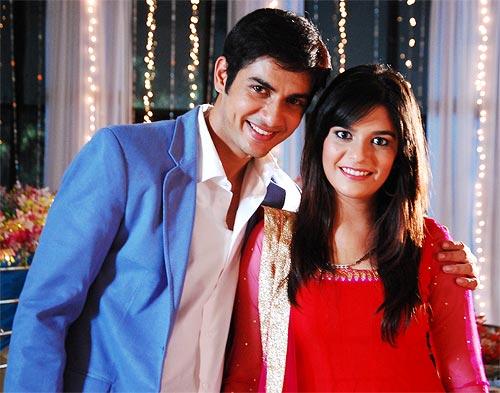 Jathin : This was entirely amazing. I think after a long gap I have smiled well off screen. At industry I have to maintain arrogance because paparazzis won't stop peeping in personal life of celebrity. You didn't raised any personal question and it was highly a standard interview. Thank you for making my day.