TROUBLESOME LIVES AND UNENDING LOVE TALES – PART 21
At Village , Aurangabad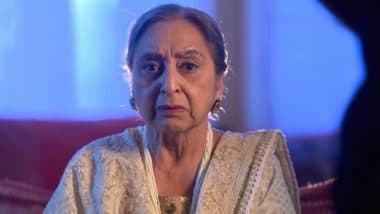 Jhanvi comes to meet Kalyani Singh Oberoi who was running an Ashram at husband's native place.
Kalyani : Jhanvi Puthar
Jhanvi : Maaji aap yahan kyun rehte hein ?
Kalyani : What kind of question is this Puthar ? You know naa tumhare Sasurji kee Yatra yahin se shuru huyi. When we were levaing this village we were just aspiring dreamers only. Else was my husband's effort who put the step towards Oberoi mansion , Oberoi Industries at Mumbai . I use to take care of households and we were trying much hard to give everything as best to our sons Tej and Sakthi. We never let them to know how much financial terms were lacking , because we want our kids to study at the top school of city and all those days it was our combined effort and understanding which lead the life. He always took care and loved me and our sons.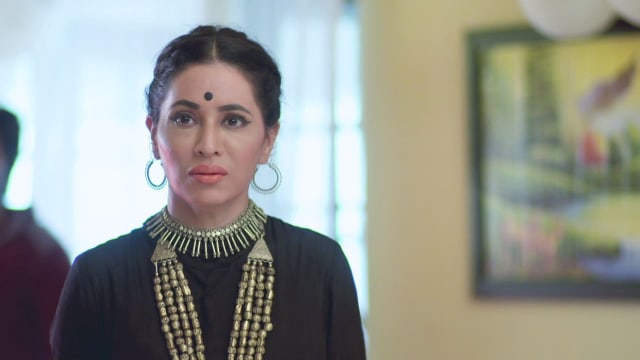 Jhanvi : Aap donon mein bahut understanding hein Maaji. Perhaps that is what Tej and me miss now.
Kalyani : Kya huwa puthar ?
Jhanvi : He defeated me in each and every angle Maaji. I am standing with my family against Tej.
Kalyani ; What ??
Jhanvi : Why Tej was not able to understand family values and love , Maaji ?
Kalyani :Did he again cheated you ? Kahin Swethlana ke saath affair ?
Jhanvi ; Maaji truth is much  bitter and hard to accept. I have controlled my tears now. Because I want to show Tej that I am not weak.

Kalyani : Tum bataogi kee sahi mein kya huwa hein ?
AT OBEROI MANSION
Shivaay tells Omru not to disclose things before Anika as she is pregnant and she won't be able to handle this harsh reality. Omru nods their heads.
Shivika Room
Anika was lying on bed. Shivaay sits near her and gently touches her forehead.
Anika : Shivaay
Shivaay : Tum soyi nahi abh tak
Anika ; Mujhe thoda sir mein dard hein.
Shivaay : What ? I will call the doctor.
Anika : No it's okay. I have applied balm on head. Aap mujhe apne baahon mein sula deejiye Please, I will feel good
Shivaay nods his head. He kisses her forehead and makes her to sleep at his chest
Oh Jaana plays …
After a while Shivaay finds that Anika has slept, he makes her to lie down at bed slowly. He lies beside her and looks her keenly. Shivaay was not able to look her face longer since the vast inner pain was almost on the verge to break down. Shivaay turned on the other side and wiped the drop of tear .
He got up from bed and sat on the sofa. Shivaay recalled words of Tej and immensly break down in tears.
Shivaay : Mera apne kehane waala koi nahi hein. Mein ek laawaris hoon.
He looks Anika and finds that she was rolling in bed.
Shivaay : If I will stay here it will disturb Anika. I am not able to control myself.
Shivaay walks away from room and gently closes door. He walked towards the exit and takes the car. Meanwhile Gauri who was bringing water from kitchen finds Shivaay walking towards the exit of home gets doubted.She calls Shivaay bhaiya , but Shivaay lost in thoughts didn't heard her. Shivaay starts the car quickly.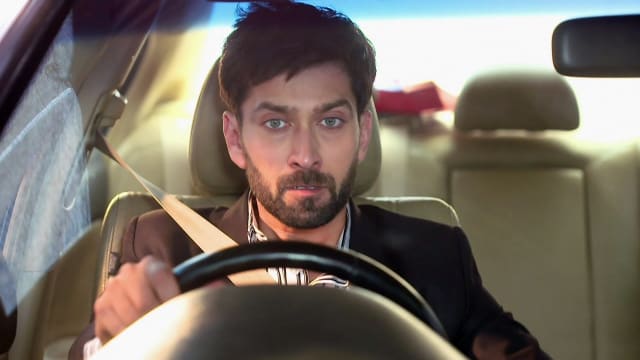 Gauri rushed inside Rikara room

Gauri : Omkaraji, Shivaay bhaiya kahin jaa rahe hein
Omkara ; Kya ? Kahin Shivaay ko kuch
Gauri : Jab se aap theenon ghar pe aaye hein Aap mein se kisi ne kuch nahi kaha. Raat hein isliye maine bhi zyada kuch poocha nahi. But for sake of god please tell me Omkara : All I can say is you keeps praying to Sankarji for his return to home safely. I will be back with Shivaay
Gauri ; Mein bhi aapke saath awungi.
Omkara ; No please stay here. May be Anika bhabhi will get tensed is she wake up from sleep. So please
Gauri nods her head. I can understand, Omkaraji. Please come back soon with bhaiya.
Omkara : Sure
Gauri : Take care Omkaraji
They hug each other.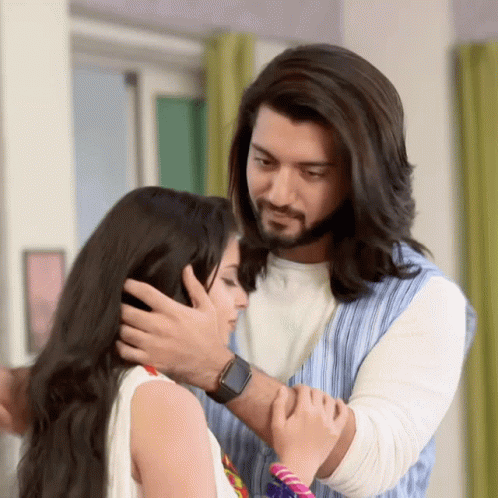 Om leaves. Meanwhile Gauri heards a noice from Rudy's room . She rushed towards the room and finds Rudy had breaken the photo frame of Tej. He has also thrown the gifts and dresses given by Tej.
Gauri ; Devar ji what is happening ?You three brothers are scaring me. At least you please tell me what happened ?
Rudra soabs in tears and explains things to Gauri. Gauri holds and tries to console Rudra.
Gauri : Rudra, I never expected this day for our family. Mere baare mein Paapaji kyaa sochte hein iss se mujhe koi farq nahi padta. But Shivaay bhaiya toh iss pariwar se hein, mein toh bahu hoon naa
Rudra : Unka koi haq nahi hein aapke baare mein aur bhaiya ke baare mein iss tarah baatein karne kaa. Aap bahu nahi mere liye toh aap didi hein, iss ghar ki beti hein. Aap kaise paraya ho gayi iss ghar se ?
Gauri : Abb hum kar bhi kya sakte hein Rudra ? Mujhe toh Maa kee chinta hein
Rudra ;Mom abb tak nahi lauti
Gauri : Matlab
Rudra : Chote paapa said that they are on the way to home. They haven't reached yet.
Gauri : No rudra. I didn't get any phone call.
Rudra :  Let me call chote paapa
AT AURANGABAD 
Dadi : Jhanvi I respect your courage and feels proud to say that you are my daughter in law.
Jhanvi : Maaji I raised my voice against your son. Though it was right but I am feeling much hard to stand against Tej. Because I still love him.
Dadi : He should get to know what all things he had lost by doing this ? For that definitely this punishment is necessary Puthar. I am with you it's for our family and this time you are right.
Jhanvi : Pata hein maa aapka aanchal hee hein jiss mein mujhe lagta hein kee mein apne saare pareshaaniyon ko doobne doo.Aap mujhe advice deti hein toh mujhe bahut sukoon milti hein Maaji.
Jhanvi and Dadi hug each other.
Dadi ; Tumhne bataya kyaa tum yahin pe ho ?
Jhanvi : No Maaji
Dadi : Bata do Puthar. Sab log tension mein honge.
Jhanvi nods her head. She calls Sakthi and informs the same.
AT BACKYARD OF OBEROI INDUSTRIES 
Omkara : Thank God Shivaay you are here . Aise bina bataye raat ko tum chale kyun Shivaay ? Mujhe tumhare phone trace karna pada , Ranveer ko bhi msg bhej diya hein maine. Abb toh tum bhi ghar aa jawon Shivaay. Mom dadi se milne gayi hein. Ranveer unko bhi leke aate hi honge.
Shivaay ; Kiske ghar ?
Omkara : Tumhara ghar, Oberoi mansion.
Shivaay : Om, Ho naa ho yeh sach hein naa kee mein kuch bhi nahin hoon. Meri journey iss mitti se start huyi tab yeh industries itnaa bada nahi thaa. Maine baut koshish kee isse ek empire banane mein aur abb dekho yeh mujhse door hote jaa raha hein. Mein isska hissa nahi hun. Iss mitti mein mera koi haq nahin hein.
Omkara :Bas Shivaay, tumhare woh guts kaha hein ? You just put a slam on Tej Singh Oberoi's face by giving him suitable reply, you not need to worry about that.
Shivaay : Jab Anika ko baat ka pata chalegi and hamare bacche ko jab usse pata chalega kee uska baap ek laawaris hein
Omkara ; Kya bakwaas hein yeh sab. Shivaay tu hamari jaan hein, bhai hein. Tu nahi hein toh kuch bhi nahi.
Shivaay ; Mujhse raha nahi jaata Om, Anika ko saamne dekhte hee mein aasuvon ko rok nahi paa raha hun. Maa ko sambhal liya maine, but Anika ko, Mein bahut Kamzor pad raha hun.
Omkara hugs Shivaay and pats his back.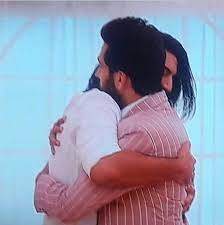 Omkara : Jitna rona hein naa aaj tu ro le Shivaay. Lekin bas aaj kee raat tak hein yeh rona. Kal naye subah aayenge toh tum bilkul nahi ro loge, kyunki tum hamare liye Hamesha THE GREAT WALL of SSO ho and koyi bhi usse thod nahi sakta. Inn aasuvon ko apna strength bana lo Shivaay. Zakhm sabko dikhta hein, lekin dard kisi ko nahi. Uss dard se bhi ladkar jab tum zakhmon ko khud marham lagawoge toh tujhe ek nayi zindagi dikhayegi, Ek nayi duniya. believe me you will live your life in real sense from now onwards.
Shivaay : Om I am not a philosopher like you to say big things. But whatever you said now I understand that I am a fighter and I can't lose at any cost. So I will fight.
Omkara pats Shivaay's shoulder and smiles
Omkara : Yeh hein mera takkarbaaz Bhai. Koi nahi hara sakta tumhein Shivaay. Ghar chalo please