TROUBLESOME LIVES AND UNENDING LOVE TALES – PART 15
AT KAPOOR HOUSE

Swethlana : Your train tickets, you  will chat with phone only, won't you look at me ?
Sowmya looks Swethlana

Swethlana : I am sorry , I should not have slapped you at your birthday ……
Sowmya : Aapka haq hein mujh par. Didi can I say something
Swethlana : Yeah sure
Sowmya : Didi for a change as Maa said I am ready to leave. But I also need a promise from you
Swethlana : What's that ?
Sowmya : Didi you should stop doing planning, revenges and all sins. Please surrender yourself to the police team.
Swethlana : Now I get you it's you who have stolen evidence papers from my table's drawyer, won't you ?
Sowmya : So you want to beat me, didi ?
Swethlana : Not at all. But I am thinking of what you have said now. Maa was also discussing the same to me.
Sowmya : Didi for the sake of Maa please leave these things. What all stories which I heard in childhood I don't want to know it again. Past is past and we need to look forward for bright future . For that we have to make present as secure and good.
Swethlana : Now I realize my sister has become so much matured. I didn't expect you should convince yourself so soon.
Sowmya : Just a request, I just want to see Rudra. I swear afterwards I won't meet him again. I promise didi
Swethlana : Okay I am ready to surrender myself to the police just because my sister has moved on. If you break the promise then you know me better than any one.
Sowmya : Trust me I won't disappoint you.
They hug each other. Tanuja watches them and smiles.
AT OBEROI MANSION 
Ranveer ; Why don't you understand things Rudra ?
Rudra ; May be Swethlana is the criminal but definitely Sowmya is not like that.
Bhavya : Oh really , then why she stayed in oberoi mansion  for 7 months ?
Shivaay : That's a valid point.
Omkara : Shivaay kabhi kabhi joh dikhte hein naa woh sach nahi hota hein
Shivaay : So you are in favor of Kapoors , won't you ?
Omkara : I don't know but Sowmya definitely can't cheat any one. Just think if she really wanted to destroy oberois then she would have done it with so much of ease while living with us. But she was so gentle and sweet towards every one.
Shivaay : Fine Om. But why she lied to us ?
Omkara : May be she should have scared of revealing her identity since we are oberois and she is Kapoor.
Shivaay : At least she should have told this to any one among us as she was a good friend of every one. Specially Rudra's . They both studied at the same college.
Rudra : I don't know much about Sumo
Shivaay : You just said about love angel and evidences only, now revealed that love angel is none other than Sowmya. One second! Do you already know that Sowmya is from Kapoor family ?
Rudra : Woh Bhaiya
Ranveer : Shivaay bhaiya , I have some thing to show. This is a letter written by Sowmya. At this letter she has written that she was helpless as Swethlana forced her to stay here.But when Swethlana came to know that Sowmya is unable to execute plans she insisted Sumo to return home.
Rudra : How dare you read my personal letter, Ranveer
Ranveer : I am sorry, but you are mistaken. We are doing our duty only.
Bhavya : Actually I was at Kapoor house acting as a servant there, to check what all activities they are planning. I came to know that Sowmya really likes you and one day while cleaning her room I find this letter. I just captured a photo of that one and what Ranveer Sir reading is the highlighted part only. Trust me I have nothing to do with you and her personal lives.
Ranveer : Yeah Rudra
Shivaay : Rudra you have hidden these much big thing from us ?
Rudra : Please don't ask any more questions.
Shivaay : Rudy don't behave like a child , You don't know that it's the matter of saving our family and you have started hiding things from your brothers.
Rudra : No bhaiya.
Omkara : I think he should need time.
Shivaay; Om he is hiding from his brothers. What's wrong with him ?
Omkara : Let me talk with him
Om moves closer towards Rudy and keeps his palm on Rudy's cheek.
Omkara : Rudra I don't know how you sees Sowmya but what I know is she is much important to you. As per assumptions Sowmya can't be wrong and we both knows that. But at this time our family is under threat. Back to back attacks happened at our family members and all fingers are crossed towards Kapoors. I know just because sowmya is born there she can be a criminal doesn't makes any sense at all. But we need to talk with her. It will help in our investigation. So please make a phone call to Sowmya. Every doubts will be clarified.
Rudra nods his head.
Mean while a lady comes towards the etrance of oberoi mansion. Khanna blocks her.
Khanna : Mam now you can't get in.
Tanuja ; Tell Shivaay that Mrs. Tanuja Kapoor and her daughters  has arrived.
Khanna gets shocked . He informs the same to Oberois.
Ranveer ; Shivaay bhaiya , Om and Rudra please stay alert. Criminal might be holding weapons , Bhavya keep your position .
As soon as Kapoors enters Bhavya points out gun towards Swethlana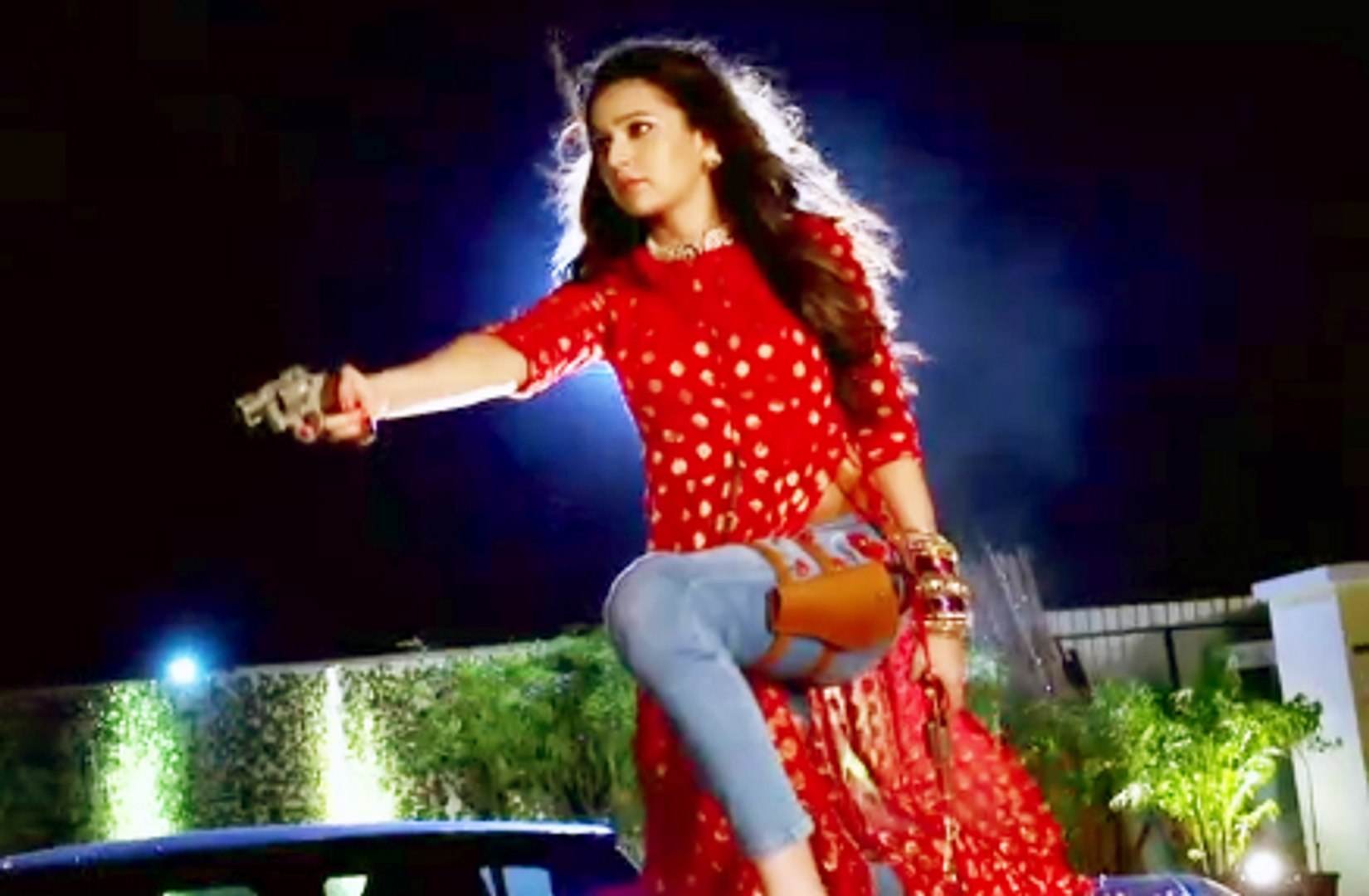 Ranveer ; Don't move Swethlana  Kapoor without much late just tell where you have hidden Forensic Expert Vinod  ? We have got evidences against you
Swethlana : Have you checked it thoroughly ?
Bhavya : What ?
Swethlana  : Aap police waale hein mein aapko kyaa sikhawungi,
Tanuja : I just want to say that Swethlana has accepted her crimes. She is with me as she wants to surrender herself at the police. Swethlana, Sowmya !!
Rudra stares Sowmya
Ranveer : What about the forensic doctor ?
Swethlana : He and his wife went away as I said them that I can't offer no more money to him as I have drop out them from every plan. I released them yesterday itself and may be they might be at their home.
Bhavya : Our officers are there and they hadn't get any information about them. Swethlana don't mess with police.
Tanuja : Excuse me , whole Kapoor family is here and I do accept that my daugher have made so many plans to destroy oberois and now she wants to live her life in a new way. That's why at my instruction she has decided to surrender herself to the police. Please hold your gun back.
Ranveer ; Bhavya , she's right. Mrs. Kapoor the case will be discussed in the court tomorrow. For now we are taking custody of Swethlana Kapoor.
Bhavya ties handcuffs on Swethlana's hands. Tanuja's eyes became teary while Swethlana looks her and signs her to stay strong
Sowmya hugs Swethlana and cries.
Swethlana : This is the last time you are going to meet that Rudra. Remember my words , I have kept my promise of releasing myself from the world of crimes and now it's your turn to keep the promise, Sowmya. Say good bye to him and put an end to this.
Sowmya moves close towards Rudy and looks at him.
Rudra holds Sowmya's hands tightly and stares at her
Rudra ; Why Sowmya , why ? Why you came to my life when every one knows Oberois and Kapoors can't get unite then why ?
Sowmya : Rudra, Maine tumhein sacche dil se chaaha hein , Yes I Always loves you my Cutiepie Rudy , this is my heart's words . Jab tumhein chahne lagi tabh mein bhul gayee mein Kaun hoon ? That moment I was just your Sumo and You was just my Rudy only. What's my fault , Rudra ? Before things could get late I myself went out from this home because I can't do whatever revenge stories which I heard from my childhood. I don't want to know anything. I am sorry for breaking your heart . But I can't be back to your life. I just want to say always I love you forever and ever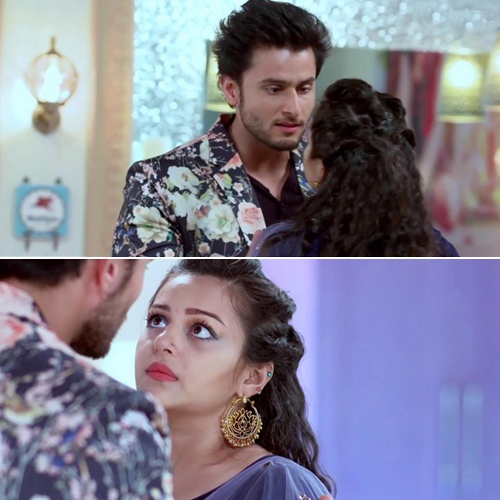 Sowmya hugs Rudra and weeps in tears
Rudra : Sumo
Tanuja : Sowmya your train is getting late. You need to leave.
Sowmya : Ji
Rudra : Sumo , Sumo !!
Sowmya signs Rudy to smile always
Sowmya walks away without looking back. In between Bhavya stands infront of Sowmya, Bhavya holds Sumo's hands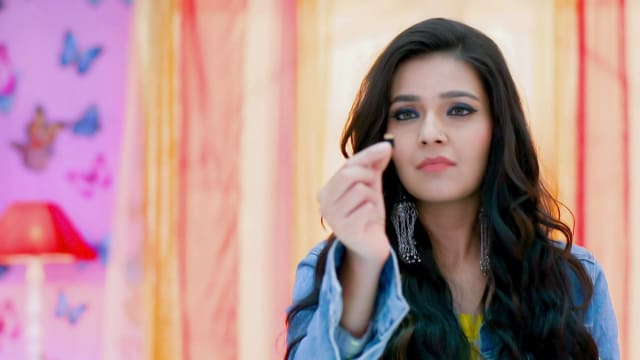 Sowmya : Inspector Bhavya aapka kaam maine aasaan kar diya. Evidences mile hein, Meri didi bhi custody mein hein aur saare ke saare dushmani bhi aaj khatam ho rahe hein. Aapne cctv photage joh kharab kar di jiski wajah se mein apni hee didi ke drawyer se evidences nikaal paayi.
Bhavya : I am sorry , but I too did a mistake. Your personal letter to Rudra
Sowmya : Mujhe pata hein. I have seen you taking photo of that and I realized you are not a servant . Just that I don't have guts to say directly to Rudra about myself I wrote that one. I need a help from you.
Bhavya : What's that ?
Sowmya handovers a book to Bhavya .
Sowmya : Please do whatever you can . You will get to know what I need.
Bhavya ; Sure I will try my level best.
Swethlana : Sowmya behind me you was doing these much things and I wasn't aware of any thing. Anyways leave this home soon. Kapoors can't stay here so long.
SCENE SHIFTS TO PRISON 
Bhavya : I am asing about this man Swethlana Kapoor ? Where is he ?
Swethlana gets shocked to see her diary and Yashlana pic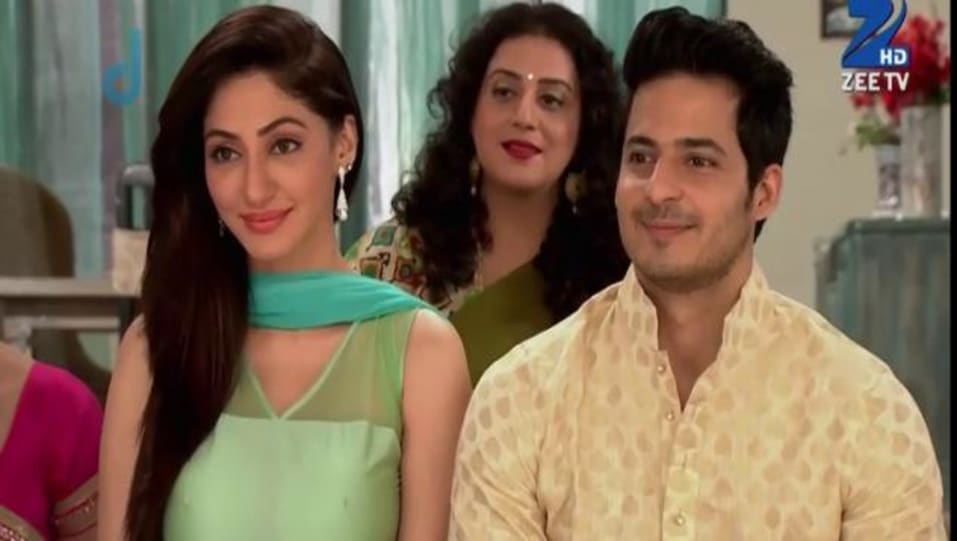 Swethlana : He is my Ex- lover . That's it.
Bhavya ; I got to know about that thing from your diary.
Swethlana : You are peeping too much in my personal life. He has nothing to do with this case.
Bhavya : Your sister Sowmya gave this to me. Actually the book which she given was nothing your diary only. Just that the cover page was changed. By the way Why Yash and you  left each other ?
Swethlana : Life line hospital records 2010 will say the answers.
Bhavya ; Yeah I came to know that a blast was occured and many people were wounded and some of us dead also . May be Yash
Swethlana ; I haven't seen him after that year. When I rushed to hospital the autorities informed that his body was completeley destroyed after the blast and no one will be able to recognise him.
Bhavya : That means he is not alive.
Swethlana : No Yash is with me at my every breath, every sense, every moment he is with me.
Bhavya : This is your emotional wordings only, Swethlana.What law believes is the evidence and I am with the proof. This is Yash's death certificate.
Swethlana : What !! [Shocked]
Bhavya; Swethlana it's too late. Now nothing is with you. I know you are surrendered but exactly what had happened years back that's important. Kaun karwa raha hein tumse yeh sab ?
Swethlana : The fire of revenge in me, That's all.
Ranveer : You can't fool the police team just like the way you fooled your own family. Mrs. Tanuja never insisted you to take revenge against Oberois.
Swethalana : My Paapa made the vow to destroy Oberois and I was doing that. Now I have left the whole is it enough ? Believe me no one is doing anything behind me.
Ranveer : Swethlana Tell the truth what happened years back ? Come on speak up
Ranveer holds the pencil tip towards Swethlana's eyes. Swethlana starts breathing fast.
Ranveer : From your diary we got a drawing of pencil. You might have drawn it years back at 2004 when you was 14 years old . Why you feels weird while seeing pencil ?
Swethlana closes her eyes.
Bhavya ; Swethlana truth can't be hidden always. Tell what you know about the pics ? Pencil, Chocolates, Yashvardhan's photo – What's the connection in them ?
Swethlana keeps her hands at her ears and tightly closes her eyes.
Swethlana : Jis kaam ke liye mein zinda thi woh nahi kar paayi , isliye mujhe marna hai . I have to do it.
Bhavya ; Swethlana !!
Swethlana removes her necklace and takes the locket. She presses the locket with her thumbs and it turned out a blue liquid. She poured the liquid inside her mouth. Bhavya hold her hand
Bhavya : No swethlana don't do it.
Swethlana starts coughing and she faints.
Ranveer : My god her face is becoming pale. This is certainly poison. Bhavya take her to hospital immediately. We can't lose her at any cost.
AT RESTAURANT 
Manjusha : What's wrong with that Swethlana kee baachi ? Arrey we were started making medicines even after we missed the chemical formula . But all of a sudden she released us and said she is going to surrender herself to the police.
Vinod : I won't leave her so soon. She offered me more money and without giving that she won't get peace of mind.
Manjusha : But Vinod she has been got arrested. Now what can we expect from her ?
Vinod : Usse naa sahi lekin uski maa aur behan toh hein.
Manjusha : What do you mean ?
Vinod ; Now we have to use them as the puppet just like the way Swethlana used me . First of all we need to leave this place soon. Police might be searching for us.
AT MAANAV'S HOME 
Savitha : Happy that now my beta is fit and fine.
Sachin : Kaise nahi rahenge fit ? Vahini ne itna khayal joh rakha dada kee
Savitha : Toh mein kya kar rahi thi ?
Sachin : Aap bas pohe banakar chali gayi thi. Baaki pohe ko khilwana , saath mein pohe ko khaana aur pohe ko lekar ghoomna- phirna
Savitha : Pohe ke saath kaise ghoomte hein ? Kuch bhi
Sachin : Yeh toh aap Pyaare pohe se hi pooch lo, matlab aapke bade bete se
Savitha : Maanav yeh kya bol raha hein ?
Maanav : Aayee nothing. He is just taunting me and Archana.
Sachin : Aayee ki kasam I was not taunting you I was just praising you only .
Maanav : Enough Sachu, Make some tea for us.
Sachin ; Why me , dadu ? Vahini toh…
Maanav : Mehmaan hein ghar mein
Sachin : Yeah , so I have to make tea.
Savitha ; Haan do something good for me.
Sachin : Oh hello what's good in making tea ?
Savitha : You are making tea for Great Woman Savitha Deshmukh who is a gem of million. Hey naa, Bahut punya milega
Sachin smiles and goes inside.
Savitha : Maanav my beta Now I won't let you go anywhere . You have to be at home.
Maanav : Aayee I am committed to my work. I need to go , Gauri Mam kaa order hein. I am also working in that serial .
Savitha ; That means You are in Oberois serial.
Maanav : Yeah Aaayee, Thanks to Archu and Gauri Mam
Archana ; Why you are thanking me ? Gauri mam selected you because of your talent only.
Maanav : Whatever she came to know me because of you naa that's why I said thanks to you.
Savitha : Mein kehti thi yeh Mahalakshmi hein abb toh mein isse iss ghar ki lakshmi bana hi lungi. Tum kuch nahi bologe Maanav
Archana : Aaayee Woh
Savitha : Chup !! Sab jaanti hun mein. Tu chori -chupe kab tak aankhon hee aankhon se baatein karoge ? Jaise hee tum logon kaa show khatam hoga mein acchi see muhurat nikal lungi
Maanav : Aaayee aap bhi naa
Savitha : Beta iss ghar mein khushiyan aa rahe hein . Sachin MBA kar raha hein, tujhe achi offer mile hein aur Archu ghar mein aayegi . Mujhe aur kyaa chahiye ?
Archana : Aaayee mein iss laayak hun kyaa ? Mein aur Maanav ? Aap mere ghar ke baare mein jaanti hein naa ?
Savitha : Tere ghar mein kyaa huwa iss se mujhe koi matlab nahi. You are my daughter in law. Naa My Daughter.
Archana smiles ….
Maanav : Aaayee aapne toh meri dil kee baat kahi
Savitha : Maa hun beta
Maanav and Archana looks each other and smiles ……
Mean while Armaan gets messages at their phones .
Maanav : Show's title has been fixed
Archana : Yeah I too got the same . Show's name is
Maanav ; Pavitra
Archana : Rishta
Armaan ; Pavitra Rishta –
Armaan look each other's eyes….
Sachin : Tea for you both
Savitha : Oye Sachu why are you stalking them they are love birds let them free. Go inside I will tell you how I was looking damn cute during my young days
Armaan laughs and Maanav holds Archana towards his shoulder
Pavitra rishta title track plays….
SCENE SHIFTS TO OBEROI PRODUCTION HOUSE
Gauri : Anika didi aapko aane kee kyaa zarurat thi ?
Anika : Hamare husbands Investigation pe full on hein. Mein kamre mein rest karke bore ho gayi. Isiliye aaj sochi kee zara dekhun meri behan kyaa kamaal karti hein
Gauri : Look they have arrived.
Anika : Hi Maanav , Hi Archana
Archana : Hi didi
Gauri : Guys have you see the promo ?
Armaan nods their heads in sign of No
Gauri : Have A Look, Here it is our Show's First Video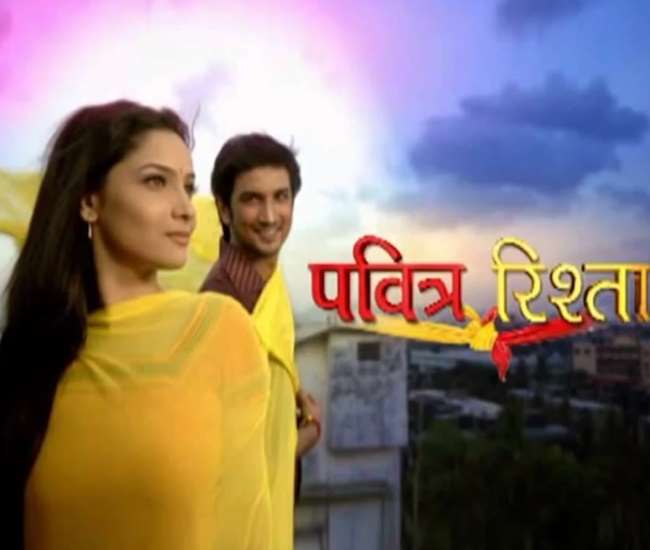 Armaan wacthes them and gets excited.
Maanav: Mam it's so beautiful.
Archana : Even though it was shoot in hospital , editing is fabulous. It looks so amazing.
Gauri : So now Maanav all okay naa ? Are you ready ?
Maanav : Yeah Mam .
Meanwhile Gauri gets a phone call.
Omkara : Gauri ,  you bhabhi , maanav and  archana has to come  City hospital right now . It's important.
Gauri ; But Omkaraji
Anika : Is there any problem ?
Gauri : Omkaraji says we all need to go City Hospital.
Anika : What ?
AT LOYOLA COLLEGE 
Sachin : Hello why you always looks so sad-wad ?
Girl turns back and looks Sachin
Sachin gives a smile
Shravani : Mind your own business Sachin. Don't irritate me
Sachin : Okay baaba. I am leaving. When you feels to talk just call me , I will be at the canteen
AT CITY HOSPITAL 
Tanuja : What have you done to my daughter as part of enquiry ?
Bhavya : Mam we still don't understand why Swethlana tried to drink poison?
Tanuja : I won't leave any one if anything will happen to my daughter.
Archana : What happened , Inspector ?
Omkara : Archiee Your elder sister Swethlana tried to drink poison. She swallowed one drop of it which is really hazardous .
Archana : What ? Badi di ?
Tanuja : Who is this girl ?
Archana : Badi maa It's me Archana
Tanuja : I don't know any Archana . I have two daughters only -Swethlana and Sowmya.
Archana : Badi maa mein Archu hoon aapki archu.
Tanuja : Archana Kapoor already gone somewhere. One officer named her as Archana Mehra. That's her identity.
Sowmya : Maa please this is not the right time to show anger. Years after whole Kapoor family is united. Sad that moment is not right.
Sowmya looks Archu. She recalls her childhood when Archana used to play with her
Archana : Angel bata do what happened ?
Tanuja stares Sowmya .
Sowmya turns her face from Archu
Sowmya  : Doctor hasn't said anything. We are waiting for the reports. Please sit at the chair  Choti Di , I mean Archana Mehra Ji
Archana looks Sowmya and Tanuja with teary eyes.
Maanav holds Archu's hand.
Maanav : Believe in God , Everything will be alright
Archana nods her head.
AT DELHI 
Yash is sleeping. He gets a dream of past incident
Swethlana : Bhaiya My Paapa is working as Accounts Officer at Oberoi industries.
"Oh Really! Why can't he start an independent business firm?
Yash : Bhaiya I told you naa Sam's family is not able to invest much money . They are middle class.
"Any thing can be achieved if you use a cunning mind . '
Swethlana : I didn't get you
Yash can't sleep properly as he finds Swethlana been trapped somewhere in dream
Yash screams : Sam, Sam!!!
He wakes up soon .
Yash : Aah It was a night mare only.
PRECAP : THROW BACK – KAPOORS VS OBEROIS