FLASH BACK CONTINUES ….
AT OBEROI MANSION 
Anika : Yeah I know it doctor . I will be arriving soon
Gauri : What happened Bhabhi ?
Anika : Just a check up for the safety of baby and his mom
Gauri : Aww !! So Chachi will also accompany the baby , hey naa
Gauri kisses at Anika's stomach. Meri pyaari bhabhi aur bacche ko kisi ki nazar naa lage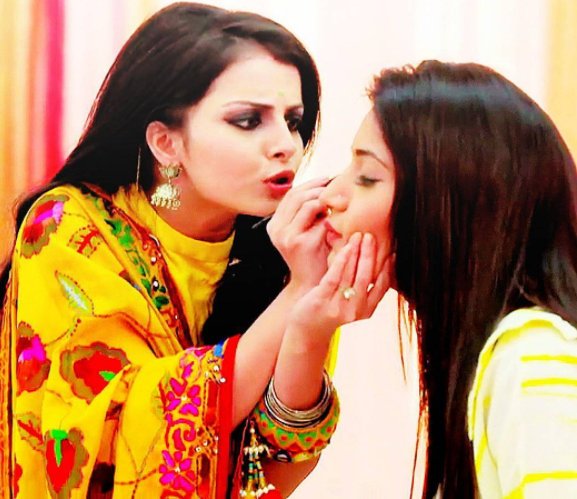 Anika : I am really happy that now chaachi is gonna take care of junior billuji very much
Gauri : What happens if it's junior Anika ?
Anika : I swear my husband won't be able to handle Two Anikas beside him. If it's Junior Billuji then I will be able to love Bagad Billa and My Chotu Cute Billuji more and more . I am so excited.
Gauri  and Anika smiles and hug each other.
SCENE SHIFTS TO HOSPITAL 
Archana : Gauri Mam and Anika didi you both here ?
Gauri : Actually we came here as part of a check up for Bhabhi.
Maanav : Why ? Is she alright ?
Anika : I am fine Maanav. A new guest is arriving shortly. That's why I checked up whether I am fine and fit . If I will be fit then only he can be fit naa
ARMAAN : Matlab!!
Gauri : Guys !! I am going to become Chaachi
Archana : Wow that means Anika didi is pregnant !!
Anika smiles and nods her head
Maanav : Congrats Mrs. Oberoi, Now you have to be very careful regarding your health. I am also eagerly waiting to see the new guest.
Archana : Congrats Didi
Gauri : This is for both of you
Maanav  : What's that Mam ?
Gauri : Full payement in cash.  Keep this brief case with you.  Once Maanav gets the recovery you both need to shoot for my serial.
Maanav : But Mam you selected Archana and I …..Archu do you made any recommendation ?
Archana ; Not at all. Trust me I didn't discussed about this thing.
Maanav; Then why are you hiring me, Mam ?
Gauri : Maanav I have seen your talent. Actually you was committed to a project right ? But this accident occured so soon and you were not able to join there ?
Maanav : Mam how you came to know about this ?
Gauri : That film's director is my friend. Actually he helped me lot during the initial days. He said he and the preoducer were ready to pay one crore for you as you agreed to do stunt scenes without a dupe and also for losing weight to transform as the character. It's not an easy job. You have put courage to do a risk.
Archana ; What ? Maanav you didn't told me these all things . Please I again remind you don't do anything which can put your life in risk .
Gauri ; Archana don't worry about that. As fracture occured Maanav won't be able to do stunt scenes even after he gets a recovery. It will take time for him for taking varied roles and accepting challenges. But till that time he can't be sit like an idol in home naa , that's why director insisted his name and also send few vidoes to me featuring Maanav's acting skills. And I have decided that now you both are playing Siddharth and Neha at my serial . It's a deal.
Maanav ; Thanks a lot mam for trusting me. But kindly take this money back. Mam I will come with Archana after my recovery. And once work gets finished certainly we will accept our salary. But now we don't need this.
Archana ; Yes Mam ,Already you given money to me. Now whole payment will be accepted after our work only, please.
Gauri : But Archana and Maanav you both deserve it . So please don't refuse it.
Maanav : Mam if you trust in our talents then kindly take back. We can't keep it right now.
Anika : Gauri I think they are right.
Gauri nods her head.
Anika ; Take care Maanav , Archana will see you soon. Gauri let' s go
Gauri : Yeah bhabhi. Bye Maanav and Archana
ARMAAN : Bye Mam
Anika takes Gauri to the lobby.
Anika : What we can do is settling the bills.
Gauri : Nice idea bhabhi. We can pay the whole expenditure for Maanav's treatment . It will help them a lot. They will feel low if we directly offer money .
Anika : Exactly.
SCENE SHIFTS TO ARMAAN
Nurse ; Mrs. Oberis have paid all the bills and has rendered medicines . They have given this card is for you both
ARMAAN : What ?
ARMAAN READS THEM
Dear Maanav and Archana
We know why you are refusing money. But we also feels to help you . That's why we did it. We are waiting for you both.
Archana : Mmh Mrs . Anika and Gauri singh Oberoi both are having good hearts.
Maanav : They really cares us so much.
Archana : That's true. Today is so good for me. My sowmya's birthday and now this lovely gift of surprise, Mrs. Oberoi becoming mom
Maanav ; Everything is so beautiful. Hey naa
ARMAAN SHARE AN EYELOCK
AT OBEROI MANSION [RIKARA ROOM]
Omkara turns the album and looks at  a photo
Gauri : Omkaraji this is
Omkara : This was clicked at last year while her birthday was celebrated was here. I miss sowmya calling me as bade baal waale bhaiya
Gauri : Woh toh hein. I too miss her. Don't know what happened to her .She is not picking phone calls .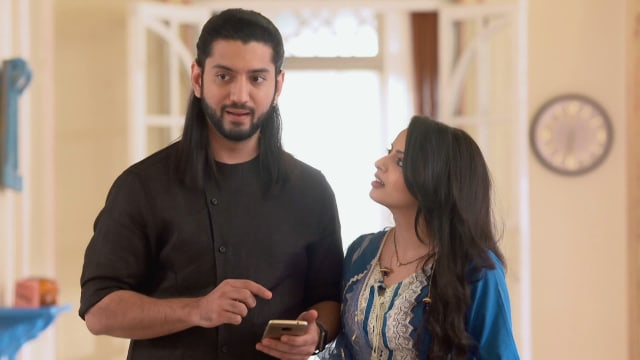 Omkara : May be she is busy ,She went for higher studies and now she may be in fixing her career.
Gauri : I wonder where is she actually . She is not active in any social media. Always she use to update status and all
Omkara : Gauri how do we know what's her stand right now ? May be she has involved in her own priorities .
Gauri : It happens , but I really wish she could be here. How cute naa when she freezes our Romeo Rudy
Omkara ; Yeah that's nice. They were just like Tom and Jerry . I mean face to face always they never fails to taunt each other but I have seen them so attached when  a problem arrives.
Gauri : You mean they are in love ?
Omkara : I am not sure about it. But Rudra definitely likes her as her presence matters to him . I can see that in his eyes. Rudy has pasted a big wall paper of Sowmya in his room . I saw today he was looking so much gloomy. And I guess he miss her badly .
Gauri : Let him take time. We can't do anything until we confirms it .
Omkara : Yeah that's true.
AT RUDRA'S ROOM
Rudra touches Sowmya's pic and smiles " Happy birthday my Love Angel Sumo , I have made protein shake and parathas for you. You loves it naa , sumo at least please pick my call. Just once. Please sumo ."
"Rudra '
Rudra ; I know it's my dream only. You can't be here naa sumo
"Rudra turn back It's me somwya . "
Rudra turns behind and finds Sowmya
Rudra : Sumo why are you standing near the door , Come naa
Sowmya gets in and closes the door.
Rudra ; Sumo I am so happy . Finally you came here naa . I will tell O and Shivaay bhaiya
Sowmya ; Please Rudy. Don't do that. I came here just to see you. I told you earlier I can't be with you.
Rudra : But Sumo no one find you getting in ?
Sowmya : Om bhaiya and bhabi are at their room only. Shivay bhaiya and bhabhi has went for outing. No one find me .
Rudra : Why you are doing this ? Just like an intriguer what's the necessity of meeting me ?
Sowmya : I don't have answers for your questions. I am unfortunate to lose you. I shouldn't have arrived here but my heart didn't listened to me . That's why I came here to see you.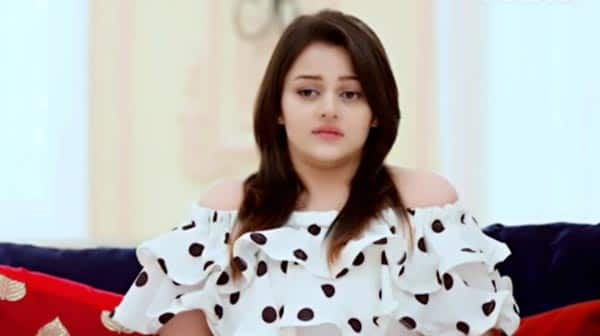 Rudra ; Sumo you also miss me ?
Sowmya ; I am sorry for giving pain to you . But I am helpless
Rudra : Many more happy returns of the day My Love Angel. May you longlive and all your sadness may leave you soon.
Sowmya : Thanks Rudy .Rumya wipe each other's tears. Don't be a cry baby Mr. Romeo. It won't suits you.
Rudra ; I have made protein shake for you . May I
Sumo looks at Rudy's eyes ….."Do dil mil rahe hein magar chupke chupke "plays
He feeds parathas and shake to Sumo
Rudra : Sumo
Sowmya ; Haan rudy [ sowmya gets a phone call ] Oh My God!! I need to go now
Sowmya turns and Rudy holds her hands from behind.
Rudra : You won't hug me sumo ? Don't be so rude , my heart is paining and I
Sowmya looks Rudy's teary eyes and weeps in tears
Sowmya ; Rudra I am so sorry . I wished to celebrate my special day with you and now my wish got fullfilled .I will remember this best special moment . But I need to leave now. Please forgive me if possible.
Rudra ; Sumo
Sowmya collides with door. Rudy holds her and they look each other's eyes
"Aise bhole ban kar hain baithe jaise koi baat nahi
Sab kuch nazar aa raha hai, din hai ye raat nahin
Kya hai kuch bhi nahin hai agar
Hoton pe hai khamoshi magar baatein kar rahe hein magar chupke chupke " plays
Rudra ; Will we meet again ?
Sowmya : I don't know Rudy. Good bye.
Sowmya leaves
SCENE SHIFTS TO A HOTEL 
Shivaay : Anika mein baap banne waala hoon
Anika : Yeah Shivaay . Now I can't wait any more to welcome Junior Billu
Shivaay : Billu hee kyun ? I need little Jhansi Rani
Anika : Think well. You can't handle two Anikas well
Shivaay : Yeah , now how can I sleep in bed when both will kick me right and left ?
Anika : What ? Shivaay when I kicked you ? Kuch bhi
Shivaay ; Oh Hello You starts doing kungfu during your sleeps. My nights have become sleepless
Anika ; Is it ? Then what about the snoring sounds which I heard while you sleeps ?
Shivaay : Okay calm down my darling Mrs. Oberoi [ Shivaay lifts Anika in arms]
Anika : Aap bhi naa ek number ke Billu hein . Hotel mein koi aise karta kya ?
Shivaay; Mein apni wife ke saath romance kar raha hun . Iss se kisko kya problem ho sakte hein ?
Anika : Junior billu ko hein .
Shivaay : Bilkul nahi. Woh toh banega Super Ishqbaaz, Is it ?
Anika smiles, Shivaay holds her and kisses at her forehead
Oh Jaana plays ..
SCENE SHIFTS TO RIKARA
Gauri started going through the script . Om watches her by standing at a corner
Gauri turns back and sees long waving hair of her soulmate hubby .
Omkara : What ? Focus on your work
Gauri : Aapke baal. I mean it's disturbing me
Omkara : Okay then I will leave
Gauri : Where ?
Omkara : Mmh …..I will go to garden area and once you finishes your work I will be back.
Gauri : I didn't mean it,
Omkara : Just now you said I am disturbing you
Gauri : Woh Your hair. When your long hair waves in the gentle breeze it makes me to feel something mmh
Omkara : What ?
Gauri : Omkaraji you are a shayar naa. You understands it well
Omkara : Mausam suhana hein , dil se dil ko milaane kaa yahi
Gauri : Enough. Now you will stare me with you gol-gol eyes and I will be like …..I don't know
Omkara smiles and get closer to Gauri .He holds her hand
Omkara ; Gauri you looks so beautiful today. I couldn't take my eyes from you. I didn't have the intention to disturb your work, Okay ?
Gauri ; You felt bad
Omkara ; Not at all. I am happy to see my wife growing up at her career. It fills my strength also. I love you my Chirayya
Gauri : I love you too Omkaraji
Gauri hugs Omkara
Oh Saathiya plays ……
AT KAPOOR HOUSE 
Swethlana ; Sowmya where were you ? I warned you not to go there , but you break the promise
Sowmya ; Didi woh bas rudy
Swethlana : Do you think I am a stupid ? I can see your changing face . Let me remind you you are not supposed to love that duffer Rudra Singh Oberoi , Do you get that ?
Sowmya : Ji
Swethlana ; You are useless. I send you there few months back with a plan that by making friendship with oberois you can kill them one by one. But nope . You fialed it miserably and became an average college girl who fall in love with that coward Rudy.
Sowmya : Didi please. Stop it. It's my last happy moment with rudy. My last birthday with Rudy. I want to make it as memorable and that's why I went there.
Swethlana slaps Sowmya .
Tanuja : Swethlana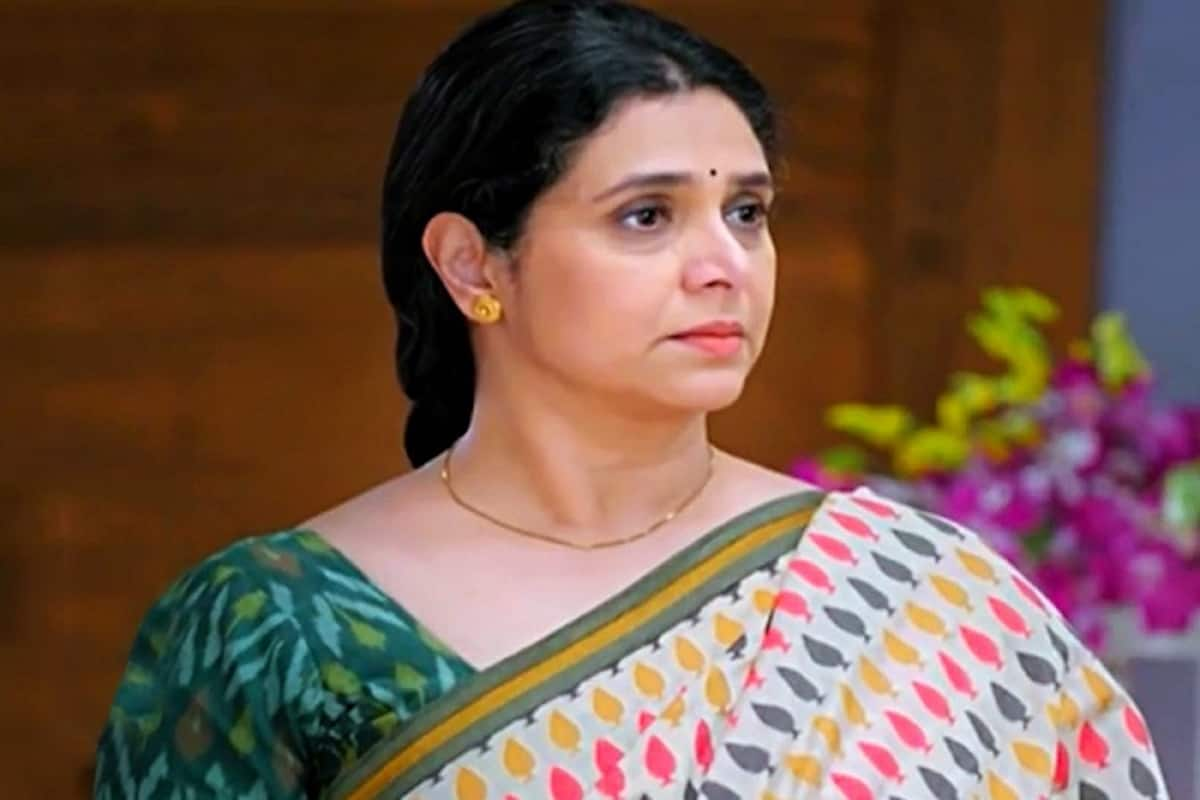 Swethlana ; Maa
Tanuja : Why you slapped your sister ? Is this way I have bought up you ? You can scold her but don't slap her. Sowmya go to your room
Sowmya ; But maa
Tanuja : Go inside. Is that clear
Sowmya rushes inside and locks her room
Swethlana fumes in anger
PRECAP : SACHIN FINDS A GIRL