Tose Naina Jabse Mile..Part 11(Ending) RiKara SS(RuMya parallel lead)

Warning: A non-numeric value encountered in /mnt/nfs/home/ftpusers/tellyu/public_html/wp-content/themes/publisher/includes/func-review-rating.php on line 212

Warning: A non-numeric value encountered in /mnt/nfs/home/ftpusers/tellyu/public_html/wp-content/themes/publisher/includes/func-review-rating.php on line 213

This SS is ending here.Plz give a detailed comment on the last part.Plz do write ur favourite character,favourite scene,favourite jodi n why u liked them.
Tose Naina Jabse Mile…Since My Eyes met Yours …Part 11 Reunion and wedding
All were waiting for Omkara in the dining table.
Om came for his meals.
Om:Hi everyone…
Jhanvi:Have food Om.
Om sat to have food.
Shivay:When are you leaving for Bangalore?
Om:Evening 8 0′ clock flight.
Anika:All the best for your exhibition Om.
Om:Thank you Bhabhi.
Rudra:You will rock bhai.
Soumya:Ya.. Bade baalon waale bhayya has magic in his hands that whatever he makes will be magical and beautiful.
Everyone smiled.
Om finished his food and got up to go.
Pinky:Eat more Om.
Om:No need.My stomach is full.
Om walked off.
Pinky:Om is not eats properly.
Shakti:Pinky..it's Om is not eating properly.
Pinky:Ya…that's what.
Shivay:Om smiles at us.But he is not happy inside.
Anika:With Gauri's exit Om's happiness also left.
Rudra:We should have allowed Gauri bhabhi to leave.
Soumya:If Gauri bhabhi was here bade waalon wale bhaiyya would have been so happy.We all would have been much more happier.
Jhanvi:Why should we say about Gauri leaving?We are only responsible for Gauri leaving.We blackmailed her emotionally to leave.
Tej:In that moment of frustration I wanted Gauri to leave.I thought without her Om's life would be dangerless and happier.But without Gauri Om is empty even when he is happy.
Pinky:The biggest mistake I did was making Gauri leave.
Gauri's mother:You all don't blame yourself.As a mother I was supposed to stop Gauri.But I did'nt do it.So I am the one who is at fault.
Shivay:Instead of blaming ourselves we should find out Gauri.
Shakti:Shivay is right.
Tej:I also tried a lot to correct my mistake by searching for Gauri.But till now we could't find about her whereabouts.Om is also searching for her madly.
Shivay:We searched for Gauri only in North India.What if she is in South india or abroad?
Rudra:But will she go to South India or foreign country?
Shivay:It can be possible.
Tej:Then we should search there too.
Shakti:Ya..right.
Omkara's exhibition in Bangalore…
All were praising Omkara's art work.
Media people surrounded him.
"Who is your inspiration to create such beautiful things?
Om was reminded of Gauri.
Om:My love..the one who sacrificed everything for my happiness without knowing that my happiness relies on her.
Om turned off his face and looked at the paintings emotionally.Those were the paintings he made on Gauri.
The credit for the paintings goes to the real painters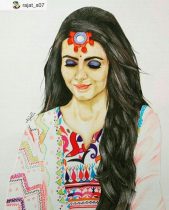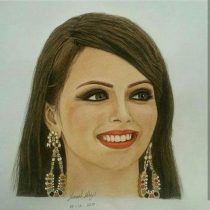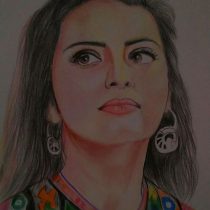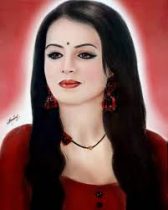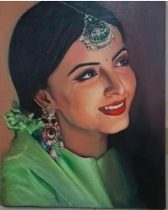 He said in his mind:Where are you Gauri?If you were with me now…you deserved to be with me as still you are the one who helps me to create beautiful art work by visiting me in my dreams.Please come back Gauri…
A small flower shop…
A beautiful girl is shown giving flowers to kids.
A man was looking at flowers.
She:You want to give flowers to your beloved?
He blushed:Yes.
She gave him red roses:Give this to her.She will love it.
The man:Thank you so much for helping me.May your love be fulfilled.
She became emotional as she was reminded of Omkara.She is none other than Gauri who is living now in Bangalore.She has a small flower shop there which is on huge demand.
Omkara's car passed by.Seeing the flower shop he got outside and walked towards the shop.Gauri saw him with a shock.
Gauri:Omkaraji is here.Oh Sankarji.
Gauri tried to hide behind some flowers.Om came inside and was looking at other flowers.Gauri walked out of the shop with relief.
Gauri's eyes became teary.
Gauri:You should not see me Omkaraji.But I miss you a lot.
Suddenly she heard a voice from behind.
"If you miss me then why do you stay away from me?
Gauri turned back only to get shocked to see Omkara.
Tu hi aawaragi
Tu hi hai zindagi
Tu hi juda
Om:You think if you hide yourself I won't see you?You know why I came to your flower shop?Because I saw you in the shop.
Gauri could not believe it.
Tu ibtada meri
Tu inteha meri
Tu hi mera jahaan
Tu hi juda
It started raining.It looked as if the rain was depicting their emotions.
Om looked at her emotionally.
Tu mere rubaru
Har sheh mein hi tu hi tu
Tu pehli arzoo
Tu hi juda
Om:Why are you trying to avoid me Gauri?Why did you leave me?
Gauri was weeping:Omkaraji..you know everything…I have cheated all of you.
Dil ne kaha tha na tadpega
Phir aaja dil dhadke kyun jaaye
Khwaabon ne tay kiya tha thoda
Phir aaj kyun palat woh aaye
Om:I know.But I know that you are not a cheater anymore.More than that I know how much you love me.
Gauri was stunned:Omkaraji..
Tujhmein likha hoon main
Tujhse juda hoon main
Tu mera rog hai
Tu hi dava
Om:You yourself confessed your love to me.Your voice had truth in it.
Gauri was again stunned.
Tu hi hai aashiqui
Tu hi aawaragi
Tu hi hai zindagi
Tu hi juda
Om:Gauri..you remember ..you confessed your truth and love to me when I was in ICU.You thought I was unconscious.But I had heard everything you said..each and every word.
Gauri could not believe it.
Om:I was too weak to respond.But when I opened my eyes I wanted to see you first.But you left me.Why Gauri?Why?
Gauri burst out crying.
Gauri:Because I was not able to face you.I was guilty as I was responsible for your condition.I realized that I am a bad omen for you.I could give you only pain in return of your love.And I thought you would hate me and I would'nt be able to bear the hatred in your eyes.
Om cupped her face in his hands:Gauri…only that evil Kaali was responsible for my condition.You never tried to hurt me.In fact you left all illegal activities for me.You are not a bad omen,but my biggest inspiration to be a good artist.You are the one who inspires me to make the best art works.If I am in this position it's because of you too.How can you think that your Om can hate you?My love for you is true.When someone loves someone so deeply how can hatred come between?
Gauri looked at him tearfully.
Aadhi hai rehguzar
Poora hai aasmaan
Aadhi hain manzilein
Aadha jahaan
Om:You know how much I searched for you?Finally I found you.Please come with me Gauri.I can't live without you.
Gauri was weeping.
Tera hoon jaan le
Rooh se baandh le
Baahon mein thaam le
Kar de zinda
Gauri:But will your family accept me after what I did to them?They hate me.
Om:They might have been angry with you for some time.But that was momentary.They regret letting you go.They still love you and they are also waiting for you.
Gauri asked him in disbelief:Really?
Om:Yes Gauri.Believe me.Everyone is searching for you.Please tell me will you come with me?
Gauri nodded tearfully.
Om smiled.
Har sheh mein tu..
Chappe chappe mein tu
Khwaahish mein tu
Om:Promise me that you will never go leaving me alone.Please don't break my heart again Gauri.Please..
Gauri burst into tears:Omkaraji…
Kisse kisse mein tu
Har din mein tu..
Fikron zikron mein tu..
She embraced him.He encircled his arms around her .
Tu hi hai aashiqui
Tu hi aawaragi
Tu hi hai zindagi
Tu hi juda
Gauri:I will never leave you.Life without you was equal to death for me.
Om:For me too.I love you Gauri.
Gauri:I love you too Omkaraji..
Tu hi hai aashiqui
Tu hi aawaragi
Tu hi hai zindagi
Tu hi juda
Rain witnessed their union with a smile.They melted in the romantic rain drops.
Tu hi hai aashiqui
Tu hi aawaragi
Tu hi hai zindagi
Tu hi juda
-dishkiyaoon.
Omkara took Gauri to Oberoi Mansion.
Om:I have informed everyone about your arrival.
Gauri was tensed.
Gauri's mother opened the door.
She was so emotional that she hugged Gauri:Gauri beta…
Gauri:Maa…
Mother:If you dare to go again I will beat you with the stick.
Gauri wept:Sorry Maa..
Gauri saw all the Oberois smiling at the door to welcome her.
Jhanvi:Come inside Gauri…
Pinky:Oh my Maata!Gets inside Gauri.
Shakti:Pinky..It's get inside.
Pinky:Whatever.
Shivay:Dad…we will correct mom's English later.First let us welcome Gauri.
Pinky:Yes ,you rights Shivay.
Shakti thought:I can't bear Pinky's English.
Tej:Om..hold Gauri's hand and come inside.
Kalyani:Holding hands only after marriage.
Everyone laughed while Om and Gauri blushed.
Anika:Then come inside without holding hands.
Everyone laughed.Om and Gauri got inside.Jhanvi and Pinky received them with a lit lamp.Anika fed sweets to Gauri.
Anika:Not for you Omkara as it's Gauri's welcome ceremony.
They smiled.
Suddenly all of them became emotional.
They all folded their hands and apologized:Sorry Gauri.
Gauri became upset.
Gauri:Why you all are saying sorry?I am at fault.Not you all.I am the one who did mistakes.I deserved hatred from all of you.
Kalyani:Don't say like that Gauri.All matters is how you are now.You are pure now.
Tej:It's my mistake that I did'nt try to understand you.
Pinky:Sorry for misunderstanding you.
Shivay:Our love for Om made us so blind that we saw only your mistakes and not your good side.
Jhanvi:In between we realized that we lost a gem like you.
Rudra:But Om saw only Gauri Bhabhi's good side.
Anika:That's called true love.
Gauri and Om smiled at each other emotionally.
Suddenly Gauri noticed Anika's baby bump.
Gauri:Such a sweet news when I entered the house itself.I am so happy for both of you.
Gauri hugged Anika and Shivay.
Gauri noticed that Soumya is not seen there.
Gauri:Where is Soumya?
Rudra became dull.
Rudra:Her course got over.So a few days back she went back home.Once in a while she visits us.
Kalyani:She will return only after her marriage with Rudy.We will welcome her grandly as a bride then.
Shivay:Rudy and Soumya had decided that only after Om and Gauri get married they will get married.
Gauri was shocked.She looked at Rudra emotionally.
Gauri:What kind of demand is this Rudy?What if I had'nt returned.
Rudra:We knew that you would be back.Because you both love each other so much that you both can't be away from each other for so long.One day you had to return to your Om bhabhi…
Gauri smiled emotionally.
Shakti:Now we should delay at all.We should conduct both weddings together.
They:Ya…cool…
All were excited.
Om and Gauri were very happy.
Rudra rang up and told Soumya about Gauri's return.
She was surprised.
Sou:Wow..I am so happy Rudra.
Rudra gave the phone to Gauri.It was a video call.
Soumya:Gauri Bhabhi…
Gauri:Soumya…
Soumya:Bhabhi..I can't tell you how happy I am to see you back.I wish I was there.Then I would have given you a tight hug.
Rudra:No Soumya..don't hug her tightly.With your over weight if you hug her she will be crushed.
Soumya:Shut up Rudra.Don't talk in between our conversation and disturb us.
Rudra and Gauri giggled.
Soumya came to OM to see Gauri.
Seeing Gauri she ran to her and hugged her.
Soumya:I am so happy to see you in real after a long time.
Gauri:Even I am really happy Soumya.
Soumya:We will not let you go away again.
Gauri smiled.
Om and Rudra were looking at Gauri and Soumya hugging each other.
Om:I wish I was Soumya.If so I would have got Gauri's hug.
Rudra:I wish I was Gauri bhabhi.I would have been hugged by Soumya.
Jhanvi overheard this and controlled herself from laughing.
Om and Rudra imagined getting hugged by their beloved.
Jhanvi went near Gauri and Soumya.
Jhanvi:I think you both should stop hugging each other.Otherwise those 2 boys will burn in jealousy.
Om and Rudra got embarrassed.
Gauri,Soumya and Jhanvi giggled.
Rudra went near Soumya with chocolates.
Rudra:Hey..see what is this Sumo…
Soumya controlled her desire to have chocolate.
Soumya:Why are you showing me these chocolates?You won't allow me to have these chocolates.
Rudra:I bought these chocolates in the happiness of Gauri bhabhi's return.A kind of celebration.You are also a part of this celebration.So you can have these chocolates. I will not stop you.
Dil vil chahat -vahat mein milti hein tension full
Acche khaase bande kee batti ho jaati hein gul
Yeh shikwah sakh tumhara bematlab hein bilkul
Kabhi banke toh dekho tum kisi simran kaa rahul
Soumya was surprised:Really?These chocolates are for me?
Rudra:Yes.


Soumya:So sweet of you my dear sweety.
Yeh risk kyun…mein loon…phalaa…fande mein kyun daaluun galla…aah…aah…
Aaah…Aaah…Aaah…Aah…
Apne upar itna… tum…Pachtawoge Jab
Main ho jawungi goom…Bas tum dekhte hee raho…
Soumya was about to take a chocolate.Suddenly Rudra stopped her holding her hand.
Soumya became dull.
Soumya:See..I like I said you are stopping me from eating chocolates.
Rudra:No..you can have chocolates..but not with your hand.
Soumya:Then?With spoon?
Rudra smiled:No.With my hand..like this…
He fed her chocolate with her hand.
She smiled.
Arrey… pachtane walon mein
Hum hote nahi samar…
Lagi huye hai dekho…Hein …Hottie naughty ki hero…
Sabse Upar jayengi…Ek din jab har bulbul

They had a lot of fun together.
… Bacha ke mujhko rakho kyun ho naa aisi gul…
Yeh risk kyun …mein loon…Phallah…Fande mein kyun daloon gallah…
Aah…Aah…Aah…Aah…
Dil vil chahat vahat mein…milti hein tension full
Acche khaase bande kee batti ho jaati hein gul…
Aah…Aah…Aah…Haan…Aah…Aah…Aah…(IB)
After a few days…
Omkara Gauri and Rudra Soumya sat on the mandap together.
Tej:Jhanvi..don't you think we should also get married along with them?
Jhanvi blushed:Tej…have some shame.My sons are getting married now.
Tej:Ok..then I will imagine our wedding.That's the only option to get married.
They both giggled.
Pinky:Shaktiji..I wish we were on the mandap with them.
Shakti:We are already near them Pinky.
Pinky:Oh no..I meant as a bride and bride groom.
Shakti:But how is it possible?We are not the bride and bride groom.
Pinky:But I feel like sitting there with you as your bride and get married again.
Shakti:Sorry Pinky darling.Today it's not possible as these 2 couples have to get married peacefully.But don't worry…we will get married again on our wedding anniversary.
Pinky was excited:Really?Thanku..
Shakti:Pinky..it's thank you..not thanku.
Pinky:Oh Shaktiji..at least now stop correcting my English and focus on the wedding.
Omkara Gauri got married.
Is Lamhe Ko Rok Dooo..
Ya Main Khud Ko Iss Mein Jhonk Dooo..
Kya Karoon, Kya Karoon, Kya Karoon..
Is Lamhe Main Kuchh Bhi Jaanu Na..
Naina Naina Laage
Naina Naina Laage
Naina Naina Laage
Naina Naina Laage
Om-Gauri said cutely:Rudy Soumya..now it's your turn…
Rudra Soumya smiled.
Rudra-Soumya got married
while Om Gauri threw flower petals at them.
Gauri:They are such a sweet jodi.
Om:Like us.
Gauri Om shared a sweet eye lock.
Tose Naina Jab Se Mile..
Tose Naina Jab Se Mile..
Ban Gaye, Silsile..
Tose Naina Jab Se Mile..
Tose Naina Jab Se Mile..
Ban Gaye, Silsile..
Tose Naina Jab Se Mile..
Rudra and Soumya smiled at each other sweetly.
Om and Gauri looked at each others eyes with lots of love.
O Sud-Budh Khoyi, Hai Khoyi Maine..
Haan Jaan Gavayi, Gavayi Hai Maine..
Haan Tujhko Basaya Hai Dhadkan Mein..
O Saawre..
Om held her hand.
Om and Gauri said together:With you…always.
O Sud-Budh Khoyi, Hai Khoyi Maine..
Haan Jaan Gavayi, Gavayi Hai Maine..
Haan Tujhko Basaya Hai Dhadkan Mein..
Saawre..
Tose Naina Jab Se Mile..
Tose Naina Jab Se Mile..
Ban Gaye, Silsile..
Khud Ko Khokar Tujhko Paya
Is Tarah…
They embraced each other romantically.
Tose Naina Jab Se Mile..
Tose Naina Jab Se Mile..
Ban Gaye, Silsile..
Tose Naina Jab Se Mile..
Tose Naina Jab Se Mile..
Ban Gaye, Silsile..
Tose Naina Jab Se Mile..(Mickey Virus)
The End

Warning: A non-numeric value encountered in /mnt/nfs/home/ftpusers/tellyu/public_html/wp-content/themes/publisher/includes/func-review-rating.php on line 212

Warning: A non-numeric value encountered in /mnt/nfs/home/ftpusers/tellyu/public_html/wp-content/themes/publisher/includes/func-review-rating.php on line 213