Tore Apart (Kaira FF) – TRUTH AND SADNESS (EP26)
💫"A ship is always safe at shore
but that is not what it's built for"💫
Both were completely broken after the truth came in front of them with a jerk. They weren't able to digest it that till five years… Five years there daughter was alive. Obviously, it was a happiness but not more than the grief , sadness and shock they got after reading that letter. The were one of the most unlucky parents who missed their daughter's childhood, her cute antics.🥺🥀🍂
Thoughts still roam around for "How will be there daughter?" "Is she really alive or not?" "If she is, then why they had to suffer for years and their lil daughter?" " What had that poor soul did that god gave her such a big punishment of keeping her away from her parents?"😥🌷
Just then a wave of realisation hit Kartik that in his sadness and grief he was rude to Naira. He wipes his tears and started finding her but her but didn't found her in whole house and when he realises that may be because of his words she left the house. He drove the car finding Naira around and at last he found her sitting in lawn with tears continuously falling from her eyes.Seeing her
Iike this tears made through his eyes also but he holds himself for her as he knew that she needed him. He goes and hugged her.
Kartik – I am sorry Naira. I was harsh with you. I am really sorry
Realising his presence she wiped her tears.
Naira – Kartik! No it's fine. I understand.
For few minutes , both sobbed in each other's arms showing their grief and sadness. After sometime, both wiped each other's tears.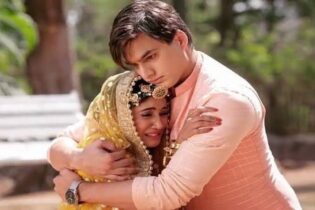 Naira – Kartik! Do you think that our daughter will be alive?
Kartik – Naira for this we have to meet Nurse Leela.
Naira – I will not leave her. Because of her we had to spend more than five years without my daughter.
She said getting angry.
Kartik – Haa!
Suddenly Naira looked at Kartik teary eyed.
Naira – Kartik humari beti kaisi dikhti thi?
She said in a broken voice.Listening this tears formed in his eyes also.
Kartik – She.. she looked like you… Our chotu sherni.. I can still feel her touch Naira.
He said wiping a lone tear escaped from his eyes.
Naira – Kartik! Let's go home. Kairav must be finding us.
Kartik – Yes.
~~
Kaira enters the house and found no one. Just then Kairav came and hugged them.
Kairav – Where did you go?
Naira – Nothing Baby. We had some work.
Kairav – Ok. Mumma I am sleepy please make me sleep.
Naira – Yes Baby. Let's go.
Naira and Kairav leaves from there.
After sometime,
Kartik came in his room and saw Naira and Kairav sleeping peacefully. He goes towards Naira and caressed her hairs. He kissed on her forehead which broke Naira's sleep.
Kartik – I know Naira how difficult it was for you to accept this truth and I shouted on you. I am very very sorry.
Naira open her eyes shocking Kartik and hug him.
Naira – I also know Kartik how difficult it is for you so don't be guilty. I understand you and your feelings.
Kartik – You are awake?
Naira – When you kissed my forehead my sleep broke.
Kartik – Ohh Acha.
Naira – Kartik I think we shouldn't delay it anymore. We should go to Nurse Leela's house.
Kartik – Haa Naira.
Both hugged each other and remembered the time they spend with a lil girl whom they found crying.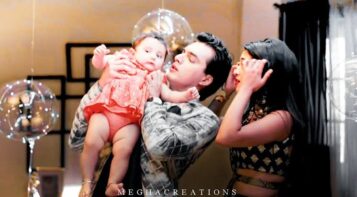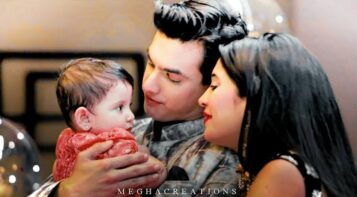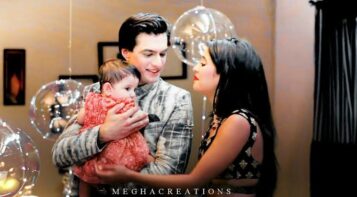 Next Day,
Morning,
In car,
Kaira left for Leela's house without telling anyone at home.
Naira – Kartik what do you think? Is this address or that letter is right?
Kartik – Yes , May be. Who will do this prank on us and why?
Naira – Yes.
After sometime, they reached Leela's house. They rang the bell and a man came and open the door.
Man – Ji!?
Naira – Actually we want to meet Nurse Leela.
Man – Acha. Naira Madam and Kartik Sir?
Kartik – Haanji.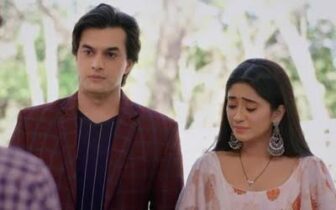 Man – Ji aaiye.
Kaira entered the house with the man.
Man – Leela! Naira Madam and Kartik Sir has come.
Just then Leela enters. Kaira looked at her angrily.
Leela – Ji vo… Haa. Aaiye baithiye.
Kartik – Just pls tell us that where is our daughter?
Leela – In the letter , I mentioned may be. I really don't know where is she? She is alive or not.
Kaira looked at her shocked.
Naira – Ye aap kya keh rhi hain. Aise kaise. Vaise kya hum jaan sakte hai ki aapne humare bacche ko kyun aur ab ekdum se saalon baad apko yeh baat kaise?
Leela started crying.
Leela – I am sorry. I am very sorry. I know I did very wrong. I know you must thought that why I told you this after five years. Actually I am suffering from cancer and I don't have many days left. I lived with the guilt till now but now I want to die peacefully. I am very very sorry. Pls if possible forgive me. Pls. I am sorry.
Kartik – Pls tell us in detail.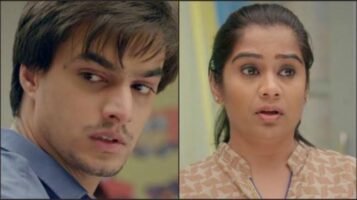 Leela – 5 years back , Actually my child wasn't well and doctors asked me for money for Operation but I didn't had so much money. One day , I find all about a child trafficking group in our hospital I was about to complaint about them but they told me that if I will help them, they will give me high rupees so I shaked hands with them. When I was in duty, your daughter took birth , and I child trafficked her and told you that she died and you guys also believed and didn't ask for any questions. But now when I was living last days of my life, I thought to tell this to you before dieing. I can't say but may be your daughter is alive and may be not also.
Kaira were hell shocked after whole truth came in front of them.
Kartik – How dare you! You didn't think about that child once. You are also a mother na. You didn't thought what a mother go through when she can't even see her child once.. when she can't even touch her, feel her. I can't stay here anymore let's go Naira.
He said turning towards Naira with tears but something again shook him. Naira wasn't there.
At Naira's Side,
She was walking on the road aimlessly. Tears were continuously making there ways through her eyes. She was at utmost shock after the truth Unfolds.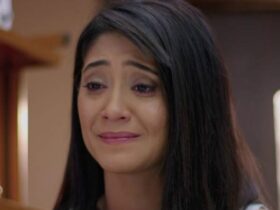 Just then a car came in full speed towards her but she didn't noticed it as she was still lost in her daughter's thoughts. Kartik came there and the sight shook him again.
Hey Guys!! Sorry for late… Got busy with family functions… Here's your episode… Hope you like it… Sorry for a cliffhanger 😜