Tore Apart (Kaira FF) – I AM THE REASON FOR HER PAIN (EP12)
Hi guys!! I am Really very very sorry that I am uploading late!! Pls forgive me… Do comment your views and support me like this… Thank You So Much ❤️❤️
Everyonene was sitting in there rooms gloomy. They got Kartik back but how? When they started accepting the truth , they got him back as a shocker. 5 years they spent without him. He spent without them. They never thought they had to face this. He was alive.. one time… Only one time… He should have come… Where was his trust gone 5 years back… Who will believe that this was the only Kartik who trusted Naira during Raghav's case.
This was the only thing each and every family member was thinking sitting in their respective rooms…
Abir entered the Goenka house, he knew that today everyone get to know the truth and someone needed her the most was Naira. Mishti already told him before leaving the house that they are going to tell them the truth and tensed atmosphere of the house also shows the same.
He goes upstairs and found naira's room locked. He knew that she must be crying inside. It was really normal for him. Whenever , he came she must be in her room crying clutching Kartik's picture.🥺💔
He tried alot but the door didn't open. He tried calling her.
Abir – Naira di. Di pls open the door. Di see I have come after such a long time. Naira di.
Listening to his voice everyone came out of their room leaving children.
Manish – What happened Abir?
Dadi – When did you came?
Abir – Dadi I came just now. Naira di isn't opening her door. I tried alot and even she is not replying.
They tried alot and at the end the door opened. Everyone was shocked seeing her unconscious lying on the floor. Kartik runs towards her.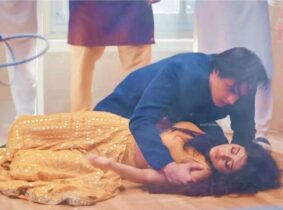 Kartik – Naira open your eyes. Naira. I am really sorry for what I did. Naira open your eyes.
Manish call the doctor.
Manish – Kartik don't need to panic. It's normal. Place her on bed.
Kartik gets angry.
Kartik – Papa how can you say that it is normal. How can she faint like this?
Dadi – It's nothing in front what we faced in 5 years.
Kartik – What do you mean by that?
Manish – What will you do after knowing? You never cared for her.
Kartik – Papa pls tell.
Gayu – She tried to suicide alot of times in these 5 Years after she thought that you died.
Kartik was at utter shock after listening this.
Manish – But you shouldn't think about her…
He said sarcastically…
Before the argument gets heated. Doctor enters. Kartik layed her on bed. Doctor checked her.
Doctor – I told you before also. I am telling you now also. Pls keep her happy. Her reports says that if she takes more stress , clot will form in her brain.
Everyone gets shocked. They knew that Naira's happiness lies in Kartik only. He was back but the shock she got it will take time to heal.
Abir – You all can go in your room. I am here with Di.
Kartik was about to speak something when Abir cut him off.
Abir – I don't want to argue with anyone
Everyone left from there.
Kartik goes and sat in the garden. Just then Kairav came to him and sat with him.
Kairav – Papa
Kartik – Yes Baby.
Kairav – Papa which was the secret mission you have gone for?
Kartik gets confused.
Kairav – Has it ended? You will not go anywhere now.
Kairav – Papa you know when I used to talk about you to Mumma she always used to cry. I told her alot of times not to cry. But she used to say that she missed you. Papa pls do not go away from Mumma. She gets very sad and seeing her sad I got sad.🥺💫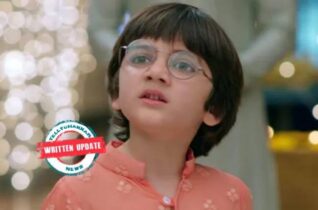 Kartik feels guilty.
Kairav – Papa Luv Kush Bro called me. I will go.
Saying this he left the place and two cute children entered.
Krish / Vansh – Mamu/ Big Bro.
He looked at the two and smiled thinking how cute this trio is.
Kartik – Krish Vansh.
Both came and hugged him.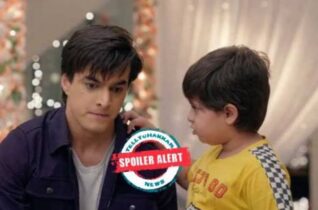 Krish – Mamu we missed you alot.
Vansh – Yes but not more than Naira masi And Kairav.
Krish – Yes Mamu. Whenever we talk about you both always gets sad.
Vansh – You know Big Bro whenever father's day used to come , Kairav used to make cards for you at keep it in his cupboard.
Krish – Yes , even Naira bua doesn't know about it because he thought that she will get sad and miss you.
Both told Kartik how these years were spent without him.
Naira started regaining consciousness and find out Abir behind her.
Abir – Unknowingly , I also hurted you.
Naira – What do you mean by it?
Abir told her how he got to know the truth and he and Mishti collected the proof from Mihir Kapoor.
Naira – Are you mad Abir? I should Thank You. You supported me in these 5 years. You brought the truth out. Thank You Abir.
Suddenly they heard a voice.
They look behind and saw whole family standing there.
Swarna – Naira is right Abir. What you did was right.
Dadi – Haan. Thank You Abir.
Abir – No dadi Don't say like this. Naira di is like a big sister to me and I can do everything for her.
Abir – One more thing I would like to tell but I know it's not the right time but you should know. Me and Mishti love each other.
Mishti was about to apologise to Naira just then Naira cuts her and says
Naira – I don't want anyone's Sorry anymore. It doesn't matter. Things have already happened. I am really hurt that the person whom I loved the most and my own sister's also doesn't trust me.
Saying this she left her room. Everyone knows that her anger was completely justified after what she suffered coz this misunderstanding.
Manish – Samarth tumne bhi kisi ko nhi bataya.
Samarth bows his head down.
Akhilesh – Bhaisahab sahi keh rhe hain. Vaise to tum choti se choti baat batate ho aaj itni badi baat 5 saal tak chupayi.
Scene Freezes on some angered and some guilty faces.
Precap : Kaira CONFRONTATION
Rishabh's Entry. Marriage?