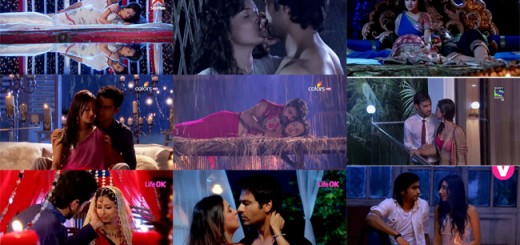 Love scenes were initially a taboo on big screens too, but now with the times changing and the mindset getting broader, the small screen too is giving their actors a fair chance to explore their sensuous acting abilities and showcase their best abilities in making people fall in love with their intense love moments, which would remind people about theirs, by their real looking emotions popping up. We have mentioned a few remarkable love scenes and you can share your choice. The dates are marked with the show name, as you may watch or read the detail updates associated with this romantic episode. You can refresh your memories too.
Iss Pyaar Ko Kya Naam Doon 2 has the most sensuous consummation scene between Astha and Shlok. They have taken their love to a great height, by their mutual trust, understanding, care, concern and togetherness. Astha and Shlok look a great couple and are one of the favorite couples on screen. The show has witnessed their love journey which was very beautifully graphed and gave us some memorable moments. Avinash and Shrenu look super hot together and the love scene between them was an eye delight. It happened after Astha won Shlok's heart by her goodness, post Aditi and Swati's chapter. Shlok understood not all girls are the same and accepted Astha's love, giving her the full rights of his wife. Their consummation episode was aired on 19th May 2014.
---
Pavitra Rishta showed the breezy romance between Ankita and Naren. Ankita had risked her life by sitting in the car and igniting fire to it, to make Naren react and get him normal. She could have burnt, but she took this risk just to make Naren fine. The experiment showed great effects and Naren became mentally normal. The love grew much stronger between them, and the jungle scene lead to their hot picturized consummation. As he asks her to change her wet clothes and offers his shirt, becoming self nude. Ankita and Naren got closer romancing and counted the kisses marks in the morning. This jungle scene came in 28th March 2014 episode of Pavitra Rishta.
---
Jodha Akbar had the grand scene in the king's palace, when Jalal comes to meet Jodha, and finds her being angry as she has seen him being closer to his first wife Ruks. Jalal tells her what she means to him, how she has turned his stone heart into a soft one. People will always remember their love story and will know how Jodha changed him into a human from a cruel king. Their discussion leads to some arguments, then annoyance and finally consummation of their marriage. Jalal and Jodha has a long running love scene, which was a bit slow, but sensuous. Jodha looked stunning and Jalal created an aura around himself. It is one of the memorable love scene of Indian Telly. Their consummation scene was aired in 26th May 2014 episode.
---
Beintehaa showed Zain and Aaliya's love scene starting with a romantic kiss in the rain, as they got covered up in her saree. Zain then takes her to a decorated house and she is surprised to see all the decorations. Their love finally gets out of all hatred boundaries and they consummate their marriage. The scene was very passionate and covered more than half of the episode. It was a slow and romantic one, very well picturized and the chemistry between Harshad and Preetika was simply hot and fabulous. They added many stars to the scene by bringing in beauty in their love and glorifying it. This episode was aired on 27th June 2014.
---
Rangrasiya stars the angry Major Rudra and his lovely wife opposite to him in nature Paro. Every couple in all shows have some different place, to keep their one the unique. This show showed the couple romancing in a small hut, where Rudra gifts her a saree. She responds saying she likes it and quickly gets into it. Ashish has shed his angry man image with this romantic scene and became a lover boy, who emerged a winner by making this scene memorable. He plays the mouth organ to make her smile, and paces up to reach her to make a romantic touch. Paro keeps moving far and he does not stop to chase her. He gets her and they make love, which showed their rocking chemistry in the show for the first time. Why do the girls not get anything else to wear, as Ankita and Paro don their husband's clothes in such scenes. Still they look cute and super hot. Even though Paro is no more in the show, this scene will surely remain in fans' heart. Their love scene was aired in 22nd July 2014 episode.
---
Ek Nayi Pehchaan is more about saas-bahu (Sharda-Sakshi) relationship, but still Karan and Sakshi scenes is one of the reasons for this show's success. Karan married Sakshi against his wish, but slowly they became friends, and then lovers, thanks to Sharda. Their consummation scene was one of the most memorable scenes from the show. It started with them getting wet in rain and then Karan lifting Sakshi and taking her to their room. Their love scene episode was aired on 22nd May 2014.
---
Gustakh Dil has the much awaited love scene between Lajjo and Nikhil, in Nikhil's grandpa's home. It was beautifully showcased, with no semi nude hero. The couple had some kisses and hugs, shown aesthetically. This is one of the cleanest love scene, keeping in mind that Lajjo is from the small village Sonvarsa and there are certain limits to romance in such orthodox. Nikhil and Lajjo has shared their intimacy being laid back, because of their customs and still managed to make it enter this list of best love scene. The couple also had one more, under the sky, outside Lajjo's home, which was a romantic scene just close to consummation. Lajjo's innocence and Nikhil's honesty are always seen in their love. Their love scene was aired on 21st April 2014.
---
Tumhari Pakhi: The song Bairi jiya starts playing and one gets the feeling that something is going to happen between Anshuman and Pakhi. The couple has made their love very special by the long wait of 18 years. The love scene took place when they were in a dating period, and romancing like BF and GF. She dresses in a beautiful saree and Anshuman gets a high. They get closer and the lovely chase and run begins. When he gets her finally, she gets some stomach pain by food poisoning planned by Tanya, and their consummation stops there. They finally consummate in Singapore, where Pakhi contests in the C4 competition and its her final round the next day. Not knowing about the result, she gives away herself to Anshuman, forgiving him for all wrong blames on her. The Singaporean love scene is good, but Indian one was more romantic and pleasing to the eyes. The couple have united by their souls. Their consummation scene came on 24th April 2014.
---
Dil Dosti Dance , as the name says, is all about heart, friendship, and dancing. The show has many couples, but the popular ones are Swayam-Sharon and Rey-Kriya. Swayam and Sharon were close in beginning, but there was a time when they had differences. However, all differences got sorted when a negative character of Ruhi entered the show and tried to make Swayam hers. After Ruhi's exist, Swayam and Sharon started their romantic journey. Their love scene came when Swayam met Sharon on a road and Sharon's car broke down. It started raining and they went to nearby house which was empty. They created bonfire and the environment was perfect for a love scene. They got close and had some very close moments. Their scene ended with a kiss. This scene was aired in 18th July 2014 episode.
---
There were many other such scenes in past, but these are our picks from recent time. Vote, comment and let us know which scene(s) you enjoyed the most.