To become one – character sketch(1)
Oberois are one of the biggest business mens in the world. they does all types of businesses.. They are setteled in Mumbai

Rishabh singh oberoi (Ronit roy)
Rishabh is fully businessman. He always does things wich are profitable. But never choose anything upon his family. Have  a younger brother.

Ghuman Rishab singh oberoi (Monica bedi)
Ghuman is a typical housewife.A strict mother.She is Rishabh's wife and they have 2 children

Dharam singh oberoi( Amar upayadhya )
Younger brother of Rishabh . Married to sakshi . He also does the family business. A fun loving father.

Sakshi dharam singh oberoi (Simone sigh)
Dharam's wife . An enturpener. She owns a fashion house named 'kalpanik'. She is more a frendly type to the childrens. Have 1 child

Shivaay singh oberoi (Nakul mehta)
A arrogant business man. Eldest of Rishabh and ghuman Married to Anika. But hates her a lot as the marriage was done against his wishes..

Anika shivaay singh oberoi (Surbhi chandna)
A simple . orphan girl. who has married to shivaay.. she was sponsered by the oberoi's in her studies. To fullfil her duty towards them she got married to shivaay. Anika tries her level best to continue her marriage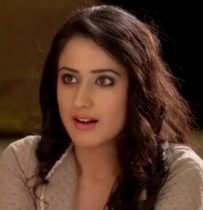 Aarohi singh oberoi ( Alisha panwar)
One and only daughter of the family.. after two generations. Daughter of Dharam and sakshi . Everyone pampers her a lot.. she is a happy go girl who enjoy's her life fully

Abhay singh oberoi (Avinash mishra)
Youngest of Rishabh and ghuman.. Is continuing his college.. A flirty attituded.

Siddharth khurana( Ravi dubey)
He is Rishab's close friend's son.. They are setteled in London. Siddharth is in india dew to his new assignment. He is aarohi's best friend and his hobby is photography

Pankhuri shivaay singh oberoi ( Disha parmar)
Shivaay's first wife. She and shivaay had a love marriage but after two year she died in an car  accident .