# 8
Their first meet
Heyy guys, thanks for all the support from the previous episode! I'm glad ya'll are liking my FF. Please keep commenting and supporting in the comments section. There will be more of flashbacks now.  I had uploaded an OS yesterday called Guilty, do chk it out if you haven't. The previous episode's link and the OS  👇
https://www.tellyupdates.com/guilty-os-riansh-immj2
https://www.tellyupdates.com/the-twisted-game-of-destiny-aryan-and-kabir-ep-7-immj2-riansh-fanfic/
They were against her when she married Vansh. Vansh left from the hall before any of the family members would ask the same question they asked, to which he had no answer. The family had no idea about their fight on Riddhima's death. Angre ran behind him to check on him while Riva pulled Rivan to their room for a secretive talk.
Riva: Did you see what happened down there? There's a major reason for their fights, which includes Mom. (while closing the door)
Rivan: Yea you're right! I mean didn't you hear them saying that Riddhima died because of you? When did Mom die? She's alive! (pacing around the room)
Riva: (in deep thoughts but jumped up when she figured something out) I got it! I think I got it! Look bro, they said Riddhima, meaning Mom died because of you. They were blaming each other! So, meaning everyone in this family thinks that Riddhima has died whereas she's alive! So, it means someone tried to separate them, mom and dad didn't separate willingly! They told the family that she was dead while told some other thing to mom. Interesting… Very Interesting!  (excited)
Rivan: Hold on sis! We can't just put our theories out in the open! We need to get more of information to prove what you're saying as I do kind of believe your theory. We need to ask Mom her reason, while here we try and find out more of the secrets.
Riva: yea you're right. We need to get to work by tomorrow. (hi fiving him) We also need to find out about that secret room! There's definitely something there that attracts Dad there, every time he's sad.
In the secret room
Vansh: (before entering) Angre, stay right there. I will go alone!
Angre: Ok Boss! (he left while Vansh entered the password and the door flung open)
Vansh: (in the dark room) It has been 18 years and 4 months since you have gone. Everyone believes that you're dead but I never admitted it. Deep down my heart I sense that you're alive! But just that you're far away! (with tears in his eyes) I can't live without you! I CAN'T. I JUST CAN'T! (he shouted) How could you leave me? You never thought about your Vansh? We had promised each other, hadn't we , to never leave each other's side! You left in two years! You broke it! (he broke down, and fell on his knees, just then his fingers brushed the switches on the wall. The room was lit bright) Sweetheart, we had seen many dreams together, but where were you? We couldn't fulfil them! (he looked on the wall, where it was filled with Riddhima's pictures, some alone and some with him. On the other side it had tallies representing the number of days he suffered without her) I suffer every moment. Your brothers; Aryan and Kabir, blame me for your death! One can die for someone in love but love can't kill. They were always against us, they never accepted our love, our marriage! It would have shattered you if you knew all their antics to separate us. Why did destiny play with us? (going to flashback) I still remember how our relationship had started, hatred. (he had a faint smile) I've never told you this, but the day I saw you, I had fallen for you instantly! I hadn't seen you clearly but I got mad about you.  I looked for you everywhere when you were just beside me.
FLASHBACK: ST. Teresa College Mumbai.
A tall, handsome boy entered the college in his Black Royal Mercedes, driven by his driver. He was accompanied by a group of cars, which consisted of well-trained bodyguards. He was a son to a rich father! He got down the car and bid adieu to the driver and started approaching the corridor with a few men following around him, safeguarding him. He was the only son to Ajay Rai Singhania, Vansh Rai Singhania. He walked with full attitude in his casual attire; a black leather jacket with a tee shirt and pants.  White sneakers covered his feet. He had shades on, covering his deep brown eyes. A smartwatch around his wrist while his other hand busy in holding his bag.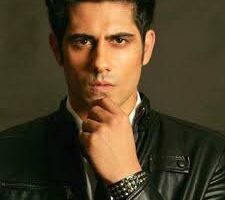 All the girls around there went crazy seeing him. He enjoyed all the attention smirking. Proud at his own style and attitude he walked up to the registration desk, allowing his guards to take over the formalities.
As he waited, there entered a red Ferrari. It stopped when a boy came out to open the door for a special person, a girl. He assumed him to be her boyfriend. She stepped down holding his hand. She wore a short dress that reached her knees. Grey and black in color with one-sided off shoulder sleeves. She wore black ankle boots and walked with style.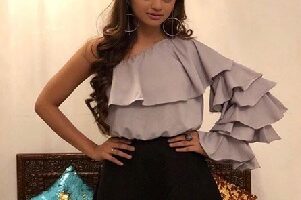 Another man came out and hugged her along with the other. They whispered some things in her ear and left, leaving a few bodyguards behind her. Vansh stood there to see her face, he felt attracted towards her and was longing to see her face. Her long hair blew over her face, blocking him to see. His trance was broken by his bodyguard when he arrived with his badge and registration form. Even though he hadn't seen her face, he was attracted to her, he had fallen for her.  He was curious to know who she was, he didn't care about the riches she had, all he cared was that he wanted to meet her.
He walked towards his class, excited to start college. He wished that the girl he saw was in the same class. As he was rushing to the class he bumped in to a girl who was rushing for the class as well. She glared at him for not watching his steps. Vansh got irritated by her, he was about to speak but she left in hurry, picking all her items that were thrown around. He ignored and went to the class. He entered the class and approached his seat. He mingled with everyone present there, introducing themselves and becoming friends. He then noticed that the seat beside him was empty. He asked one of the students about the seat, but none knew. He was lost in the unknown girl's thoughts. When it was disturbed by a tap on his shoulders. He turned to notice a girl sitting beside him, and it was none other than….
Vansh: You! Uhh I have to share my bench with you! And you (to the girl) couldn't you have walked carefully outside there?
Unknown: Excuse me! You could have too! Stop putting the entire blame on me. (she made a face) Well what's your name? (curious)
Vansh: You don't know me? Huh I'm the Vansh Rai Singhania!
Girl: Ohh okay. Nice to meet you!
Vansh: Not so nice to meet you! Your name?
Girl: Really not so nice to meet me right? Fine too bad. (making a face)
Vansh: Not that I'm going to lose something!
Professor: (entering the class) Riddhima Raichand! Is she here?
Vansh: What Riddhima Raichand studies here? OMG then I bet the one who descended the Ferrari in the morning was her! After all she's the daughter of the richest business tycoon, Manav Raichand! (he was loud for the girl beside him to hear)
Girl: (thinking) Wow! This Vansh is quite knowledgeable. (blushes) Looks like he's interested in the Ferrari girl. But he's very annoying, always high on attitude!
Professor: I repeat, is Riddhima Raichand here?
Riddhima: Yes sir, I'm here!
Vansh: (turning everywhere to look around) She's here! OMG! She's with me. But I can't see her! (he sort of whispered) (turned on his side to see the irritating girl standing) Why are you standing? (talking to Riddhima) He called out for Riddhima Raichand!
Riddhima: So who do you think I am? I am Riddhima Raichand.
Vansh: What!! (shock)
I hope you enjoyed reading this. The more the response the earlier I will post 😜 Please let me know how you found it in the comments section. Please keep supporting like you all always do.
Question: How do you think Vansh would react?
Let me know in the comments section about this question.
❤Parita❤