The Reason Of My Life …… chapter 7
Hi… it's me, Ruwani here ???. I disappeared again didn't I? I know I'm a hopeless writer. But what to do ??? got too busy. Now the moment I finished writing this part I wanted to post it. But something is wrong with TU. I think a maintenance problem ??? so it's getting a bit more late. And finally… here I am ???.
A big thank you for all do you who liked/disliked and commented on the previous part ???. Aafiya, Samidha, Anee, Tanvi, Poori, Dimple, Amnaa, Dhruti, Aayu, Vanu & Anu…. I'm sorry I couldn't reply to your comments ??? I'll surely do for this part though. And Anu… I'm so sorry, I saw 3 of your comments in my posts I couldn't reply on any of it ???. Now on with the story….
Previously on "The Reason Of My Life"
Till today we saw… Veer ditched Sanchi on their wedding day and Kabir married her. Initially she thought Kabir helped him and was angry with Veer. But Veer brainwashed her and made Kabir a villain in front of her eyes which made her hate Kabir. She accidentally got to know that it wasn't Kabir bit Veer who betrayed her. Knowing the bitter truth of her love, she was mentally shattered. With the help of Kabir, Kusum and her two best friends Pragya and Isha she managed to get a little of her strength back. To get her out of her depressed state, they sent her with Kabir to Darjeeling. In Darjeeling, the story changes a bit and she enjoy her stay there visiting many places. And she get a chance to know about Kabir as a person, not as her strict senior.
(If you missed the last part or want to read it again, click down below ???)
https://www.tellyupdates.com/the-reason-of-my-life-chapter-6/
Today we start from there.
***********************************************
"Sir, if you wanted to go hiking, we could've come a little later na. Why did you wake me thus early!! ???" Sanchi whined as she walk.
"We're not hiking Sanchi"
"Then what are we doing climbing this mountain?"
"Stop complaining and walk faster!!"
"I'm still sleepy!!"
He took a hand and went up the hill. "We have to hurry! Otherwise we'll miss it!!"
"Miss it? What sir? What can we possibly miss at this early in the morning?"
"Arre meri maa… stop whining!! You'll see it when we go there! Now come!"
"Where are we anyway?"
"Tiger hills"
After some time they reached where he's trying to take her.
"Its still dark na sir. Why did we came here? ???"
"You are acting like a child Sanchi…"
She crossed her arms in front of her with a frown and wondered what made him bring her here so early in the morning.
"Now close your eyes"
"Huh?"
"You should close your eyes before see it!"
Sanchi stood there clueless of what he's saying. Giving up trying to make her understand, he went behind her and closed her eyes with his hands.
"Sir what are you-"
"Sshhh… be quiet! Wait a little more…" He whispered softly. After a minute and a half, "Now open your eyes… slowly…" he removed his hands from her eyes.
She opened her eyes little by little. Once her eyes were fully open, she was awed ??? with the sight before her.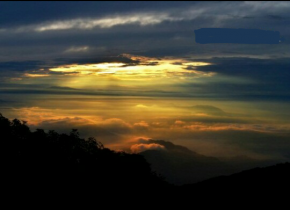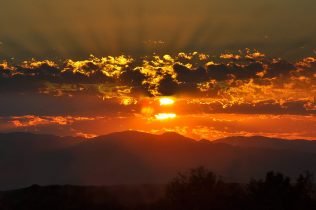 "Beautiful…… ???" It was the only word she managed to let out.
"Hmm…" He was happy to see her reaction. But more than that, he just couldn't take off his eyes from her. She was watching the sunrise but with the way those first rays fell upon her face made her look so beautiful that he was adoring her as a part of nature, with love. Suddenly turning around, she broke his trance. He looked away quickly but not quick enough. She caught him looking at her with some emotion she couldn't understand and decided not to say anything about.
"Thank you for bringing me here sir!! This is an unforgettable moment!! I've never seen something so beautiful like that!!" ???
"Just a moment ago you were complaining! And now, you're thanking me? Make up your mind Sanchi…" ???
She took her phone out and took some photos. She saw Kabir staring at the scenery that goes miles away. **He looks like he's a part of the nature looking away the scenery like that!! ???** She clicked a photo half-consciously. She didn't know what made her do it. Looking back at her phone she saw what she took a picture of. For some unknown reason she didn't want to delete it. She wanted to tack another picture with both of them but don't know how to ask. "Sir?"
"Hmm?"
"Main… woh… woh… main…"
He turned to see why she suddenly started stuttering. "Main woh kya?"
"Canwetakeapicturetogether?" She said in one breath but alas!! Even she didn't understand what she just said, so how would he? ???.
"What?"
"Can we… take a picture together?" She asked as softly as she can ever speak.
"Hahahahaha ???" he took her phone from her hands while laughing. "Why not? ??? come here". He clicked their selfie with both of them standing next to each other and the beautiful scenery behind them.
"Thank you-" she was going to take her phone from his hands but stepped on a rock and was about to fall. He caught her right on time and an amazing thing happened ???. Unknown to them a photo got clicked when he stopped her from falling. They climbed back down after spending some more time there.
It was their last day in Darjeeling. They walked around the streets, bought souvenirs to take back home and finally, next morning, they're ready to leave. They thanked Raghu bhai for taking care of them. Sanchi was looking out of the window with a sad smile as Kabir drove.
"What's wrong Sanchi?"
"Nothing"
"Nothing?"
"It's just… it's just I miss this place already!! The past week was the best time I had in a long time… without problems, without drama… I was the Sanchi I used to be… I wish if we could've stayed a little longer…"
Knowing she's not expecting him to respond, he kept listening to her.
"When we go back, everything will come back. I have to go to the hospital… I can't hide forever… But… thank you sir. Thank you for bringing me here… it really helped me a lot! Thank you for everything you're going for me!"
For a brief moment, he looked at her. "I thought we were friends" he said raising his eyebrows.
"We are!" She said in surprise.
"Then why this thank you? ???"
She returned his smile and stopped her thanking speech.
Holding the steering with one hand, he laced his fingers with hers. It was a simple gesture. None of them looked back at their connected hands. But one of them was thinking how would she face the next day and one was thinking how he spent past week. It surprised him how she make every second he spend with her, memorable. But he fears, in the end he'd be left only with these precious memories.
……….2 days later……….
Kabir left for a 3 day conference in Switzerland and Sanchi's… well let's see what she's doing.
It's a pleasant morning in SDCH. Everyone is busy in their work. A father and son walked through the corridors having a happy conversation.
"I'm so happy today Veer! Finally that Sanchi chapter is over and today I'm announcing you as my successor for this hospital..!"
"You know I have no interested in all these. I'm happy with my job as a doctor."
Anand Malhotra looked dejected. "Why are you saying like this my son? All this belong to you! You have to take care of this after me. Why not get some training on that!"
Veer nodded and entered the conference hall with his dad. Board members have already seated there with tensed expressions.
"Good morning everyone! ???"
Everyone turned to Dr. Malhotra's greeting.
"Why are you all looking at me like that? ???" he was still smiling.
"Because of me…!"
A familiar voice which he did not wish to hear, came from the other side of the room. The head chair of the table where the other board members were sitting, slowly turned around.
"Sanchi?" Both Malhotras gasped in shock.
"Good morning Dr. Malhotra!! Dr. Veer!! ??? How have you all been? Must have been missing me right?? ??? so here I am!! ??? oh!! What're you doing standing over there? Come, take a seat!!"
"SANCHI MISHRA..!! WHAT ARE YOU DOING THERE?" Dr. Malhotra lost his temper to her sweet sarcasm. But she was unaffected.
"Don't yell too much Dr. Malhotra… your BP will rise!! It's not good for health na ???. Veer, tell your papa. What if he fall I'll?? ???"
"What are you doing Sanchi?" Veer asked again expecting an explanation.
"Oh!! Sorry na, I forgot to tell you! I'm the new dean here ???" she replied excitedly.
"WHAT?? WHAT RUBBISH IS THIS?"
"Dr. Malhotra, calm down. Yelling won't do any good. Before you arrive, Dr. Sanchi was explaining us about her rights on this hospital." – board member 1
(That the hospital's land is on Sunil Mishra's name and all… hope you remember that part. I'm not gonna write it again. If you don't remember, the imagine as Sanchi too is an owner of SDCH. ?)
"So we have decided to give Dr. Sanchi here a chance. A chance to prove us that she too can handle this hospital like you." – board member 2
"You can't be serious!! She's just an intern!!"
"Why Dr. Malhotra? You called this meeting today to let us know that your son will take over after you. Hes an intern too. So why can't we give Dr. Sanchi a chance?" – board member 3
"She's lying! This hospital doesn't belong to her!!"
"We have checking the documents Dr. Malhotra… and Dr. Sanchi, as we said earlier, we'll give you a month, means 30 days. It's hard to expect improvements in such a short period of time, but we expect you to maintain the hospital as it was till now. If anything happened that might cause trouble, this deal is cancelled and you will be rusticated from this hospital. Agreed?" – board member 4
"Yes sir! Thank you! I will do my best! ???"
"Okay then, we'll leave now. But don't forget, we'll be keeping an eye on how you work. And we're informing the medical council too!" – board member 5
All the board members went finishing the meeting leaving Malhotra father, son duo and Sanchi. Sanchi was still sitting on Malhotra's chair, twirling side to side, with an ear to ear grin ???.
"How could you stop this low to get the hospital Sanchi?" Veer asked still unable to digest what happened in the meeting.
Sanchi's face turned sympathetic. "Aww ???… you think I stopped low? Then what do you call for what you did with me? That marriage drama? That's better than this? Veer… atleaset I didn't backstabbed you like you did."
She said so casually though it still does hurts her very much. For a moment Veer felt the guilt but not for long enough. "So this is revenge then?" His time was demanding.
"You can name it whatever you want. But for me, it's justice! ???"
"Justice my foot!! ???" Came Anand Malhotra's enraged voice. "You and your mother both want to snatch my hospital from me!!"
Sanchi stood up and walked to him taking slow steps. She stopped right in front of him. "If you put it that way Dr. Malhotra, yes. That's exactly what I'm going to do. ??? I will snatch this hospital from you and you will be left with nothing! But don't worry!! The bars in the jail is waving at you ???. You'll soon get a boarding pass for there ???."
Veer stood there shocked at the way she was behaving. But on the other hand Dr. Malhotra wasn't quiet. He yelled at her. "YOU THINK YOU CAN DO THAT? ??? YOU'RE JUST AN INTERN!! OK THEN LET'S SEE HOW YOU DO ALL THAT, SANCHI MISHRA!!" ???
Sanchi laughed loudly??? and kept a finger over her lips. "Sshhh Dr. Malhotra… lower your voice! this is a hospital!!" She whispered quietly as if he's an idiot ???. She didn't stop there and continued with a playful smirk. "Besides, I'm not just the intern now. I'm the Dean of Savitri Devi College and Hospital… ??? Dr. Sanchi Mishra Kapoor…!"
***********************************************
So that's all for today. Sanchi's the Dean now. What she'll do next? And where's Kabir? What will he do when he get to know what's happening in the hospital? Will Veer let Sanchi work as the new dean? What awaits her in the future? Keep reading to know that ???!!
I'm so happy that some of our old writers have returned ???. Annie, Neha and Abilasha. Good to see your articles back ???. And sorry I didn't comment on the stories for past days bit I did liked all of them coz they were so amazing!!
Ok enough chit chat!! So if you like today's part press the like button and if you don't like it press the dislike button and feel free to say anything through your comments either it's good or bad ???. I'll come back with "Some Colours Of Life" next and until then, take care… bye! Love you ???