The Reason Of My Life …… Chapter 6
Hello ??? what's up? Here I am with the next part… thank you all for reading my ff… liking it… and giving your views on it… it seems like all of you like this ff more than my other ff even though when I posted intros you all wanted that one ???. Anyway that ff have a long way to go. It's just the beginning of that and this one started from the show. So yeah! It'll take time!! Now… let's go to read today's part, shall we?
Previously on "The Reason Of My Life",
"Dinner is ready for you, saab!" – Raghu
"Raghu bhai, you need to stop calling me saab. You're like an older brother to me!" – Kabir
Raghu smiled. "Ok fine. So finally you got married na? She is really beautiful"
Kabir stared at Sanchi, who was still wondering around, admiring everything. "She is. From every side, she's beautiful, but…"
Raghu noticed his eyes distant. Like there's some problem between the two. He even wondered why they're staying in two different rooms despite being married but then thought it's none of his business. **Maybe this small vacation can solve the problems between them** patting kabirs back, he went to arrange the table.
*********************************************
Coming here was indeed really good for Sanchi. She was enjoying a lot. First day she had a hard time to sleep because of nightmares. She wake up getting scared and silently cry on her bed. Kabir caught her. He woke up in the middle of the night and thought to check on her. "Haven't I told you to tell if you have any trouble?"
"I didn't want to wake you. I'm already troubling you a lot. So how could I-"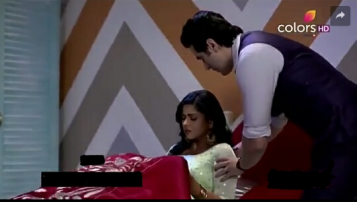 "Sshhh… it's alright… you can tell me anything." He sat beside her and stroked her head. It seemed to calm her. "Now go back to sleep. You must be tired after the long journey…" She fell in to a deep slumber in no time.
When she woke up next day, she felt different. Like she woke up to a new world. It wasnt just the change of location she was. There was something else that she was unable to understand that made her so refreshed. She was amazed how well she slept after having a bad dream. She tip toed to Kabir's room wondering where he was. She found him sleeping soundly. **He must be very tired ???. He even stayed up because of me last night…** she was sad thinking about him. Deciding to do something for him, she went to the kitchen after getting freshen up.
She found Raghu bhai there making breakfast. She greeted him politely and made tea for Kabir. She carried it to his room, only to see him still sleeping. **What should I do? Should I wake him… or what? Hmm….**
He was waking slowly while she was thinking what to do. Seeing him she greeted with a smile. "Good morning sir!"
Kabir looked bewildered. "Wh-wha-what?"
"Um…. good.. morning..?" She said again unsure.
"Am I dreaming? Maybe I fell from the bed and got my head hit somewhere… ???" he muttered to himself sleepily and closed his eyes again.
She laughed heartily ???. His eyes snapped open at the sound and looked at her mesmerized. "I'm definitely dreaming!!"
She pinched his arm.
"Hey!!"
"See… You're not dreaming. Now here, drink your tea before it get cold" she went out giving his tea. She sounded like she was doing this everyday.
"What happened to her? Did she fell from the bed? ???" he wondered out aloud sipping his tea. "Not bad, this tea is actually good!"
They had breakfast and went sightseeing. Sanchi was enjoying everything more than she thought she would. It's hard not to, because everywhere is so beautiful. There were many eye-catching places. They used the Darjeeling-Himalayan railway. The place was so beautiful at the same time with a high historical value.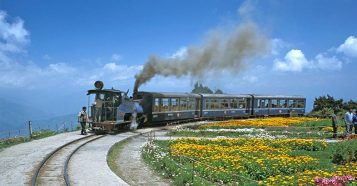 "Well this is the Darjeeling Zoo. You might've heard, this place is famous for snow leopard, Himalayan wolf and red panda" Kabir explained as they went through.
"Hmm… Himalayan wolf… it looks like a dog, dont you think?"
"Yeah it seems like that ???. Look over there. Thats the snow leopard!"
"Wow… they look very graceful..!"
"Seriously Sanchi? ???"
"Yeah sir! Just look at the way they are standing! And they're so cute too! ???"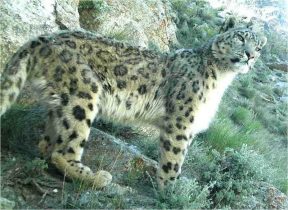 "Cute? You'll see how cute they are if they decide to have you as lunch" Kabir said shaking his head to sides.
Sanchi looked somewhat frightened and got away making him laugh. "Let's see those pandas now!" She said trying not to show him her sudden fear for snow leopards and their food ???.
"Ah! Those little guys! You'll definitely like them ???"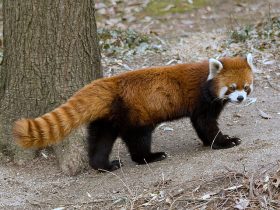 "Awwwww!!!" Was her reaction the moment she saw them. "Sooo cute!!! ???"
"Told you you'd like them!"
"How did you know?" She asked smiling broadly ???.
"All girls like them!" He replied with a shrug.
"All girls?"
He glanced around nodding. She too looked around to see many girls around. She frowned ??? but when she looked back at the cute red panda, right in front of her, her face immediately turned to a smile.
"Now lets go and see your relatives" he suggested after a while.
"My… relatives?"
"Yeah, monkeys are that way ???"
"??? Did you just…"
He tried not to laugh at her expression.
"Monkeys are too small to be your relatives. You're related to gorillas!! Hmph!!" She muttered under her breath.
Unfortunately, he heard her. "What did you say?"
She was alarmed ???. "N-nothing!! Lets go and see my so called relatives!!" She added sarcastically and walked ahead. He followed her laughing at her antics ???.
Their days were happy. Every night Kabir stayed with Sanchi till she fall asleep. It really helped her to sleep coz she didn't have anymore bad dreams. Seeing new sides of him, she was warming up to him little by little.
"Where are we going today?" She asked during breakfast.
"Still thinking…"
"Why don't you two go to the Mahakal Mandir?" Raghu bhai suggested.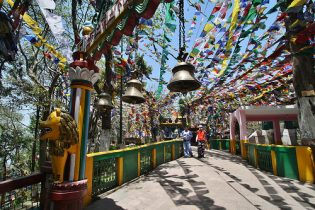 "They say this place creates miracles"
"Really?"
They went inside and prayed.
**I did many hurtful things and yet, this man helps me in my life. I may not be able to be a good wife to him, but please… give him all the happiness he deserves in his life!! Make all his wishes come true!!**
**She isn't going through a good phase of her life. Please… give her the strength and courage to look forward. Bring back that genuine smile that she always carried with her through every situation!!**
Both bent down to take blessings from the Lord. Unknowingly Kabir's hand dipped in red colour powder when he took blessings. He was wiping his hand while they were climbing down the stairs. Some kids ran past them, almost knocking him down. Sanchi lost her balance. He caught her right on time. (Not in a romantic pose)
"Are you ok?"
She nodded. "Thank you sir" She noticed him looking at her with his eyes widened. "What's wrong?
He slowly managed to say few words. "Your forehead…" Then he looked back at his hand.
She saw the red colour on his hand and touched her forehead and looked at her hand. She too had her eyes wide. The temple bells rang with the wind. A priest came to them. "Lord has blessed you two with a happy married life!!" He too blessed them and walked ahead with a smile. Both Sanchi and Kabir looked at each other and looked away.
At night, she thought to make something for dinner. But when she came, she saw Raghu bhai sitting on a chair anxiously. "Raghu bhai, are you alright? Any problem?" She asked kindly, sitting beside him.
"Nothing's alright ma'am! Woh sir ne-"
She stood up in a second. "Why? What happened to him?" She was almost panicking.
Raghu smiled seeing her care towards Kabir. "Don't worry choti madam ji… He's in the kitchen making dinner!"
She sighed in relief and sat back. "Okay… wait what? ??? What do you mean he's making dinner?" She was alarmed.
"??? so you too know he's a disaster in kitchen?"
"??? yeah, when once I went to his house for dinner, he was bathed in flour!! ???" she said reminiscing past events.
"I offered to help him but he threw me out of the kitchen and told me to sit here and not to disturb him! And not to let you go there too!" Raghu said with a shrug.
"So Raghu bhai… for how long do you know Kabir sir?"
"Kabir… sir?…"
"Ah! It's just he's my senior at the hospital. I still couldn't get out of that habit" she covered up quickly.
"I know him for more than 20 years. He was a little boy when he first came here with his parents. Every year they came here for a vacation. They rented this cottage. My parents were the caretakers of here. That's how I know him. For couple of years they didn't come. Then four years ago he appeared suddenly and bought this place. It was his dream to become a doctor since he was a kid. Now look at him, one of the best surgeon of India. I was jobless at the time he bought this place. He helped me to find a job and asked me to take care of here too when I have time. He pays me more than necessary so I could give a good education for my children." He talked about Kabir fondly, with utmost respect. Making her admired him more and more. "No matter how higher he reached, he's a kind hearted person. He try to show others that he's not but he can't hide it when he loves someone. Like you. When he's with you, he's happy and he can't hide it!"
She got thinking about what he said last.
"CLAAAAAAANNNGGGGGGG!!!!!!"
A loud noise came making them both jump to their feet. Both of them looked at each other.
"What was that?" – Raghu
"Let's hope he didn't blew up the kitchen just now" Sanchi replied rushing to the kitchen.
"Sir, what was that?" She asked trying really hard not to laugh.
"I could tell you if I knew" Kabir replied defeated. "How do you people cook? I just don't get anything!!" He sounded very upset ???.
"Raghu bhai, it's alright. We'll manage dinner. You should go. Your wife must be waiting for you to come for dinner." Sanchi said kindly.
Raghu knew she's trying not to upset Kabir more than he already is. He nodded and went home.
She looked around the kitchen to figure out what he was trying to make but she was clueless. "Sir, what was it you were trying to make?"
He let out a huge sigh. "You can't even find what I was making! See how hopeless I am in cooking!!" She didn't say anything and waited for him to answer her question. "I was trying to make parathas ???"
"First let's clean this place a bit ok?"
She started to clean the mess he had created and after finally finishing it, she kept some bowls and ingredients on the kitchen counter. "Okay…. So now let's make parathas!!" She said excitedly but he looked hopeless. "Don't worry sir! This time you'll make it right!! I'll help you!!"
"Alright… but if this mess up again, I'll never step in to a kitchen!! Much less I won't even look at the kitchen!! ???"
"Let's decided that later. Now first, we need flour"
(Sorry to say but I'm not a person who can cook. So if whatever I right is wrong, just disregard it ???)
Kabir was working with Sanchi's instructions. He was kneading flour.
"No sir, not like that. You should do it like this…" She was putting pressure on dough holding Kabir's hands. "Now add-" She looked up to say something but suddenly got lost in his face, which was turned away concentrating on cooking.
He looked away from the bowl wondering why she stopped in the middle. "What should we add next?"
His question made her come back. "Um… this and that!"
"Okay…"
Now they have put the first paratha they made on the stove to get cooked.
While waiting, Kabir saw Sanchi and started to laugh suddenly ???. She got more confused when he fished out his phone and took a photo of her. "What??"
"See for yourself! ???"
Her phone beeped with a message from Kabir. Her cheeks reddened in embarrassment. "Sir please!!!! Delete it!! ???"
"No way!! ??? You look kinda cute in a way ???"
"What!! How can anyone look cute with flour on your face ???!! Please sir!! Delete it na!!"
"Nope! ???" He went to put another paratha to get cooked ignoring Sanchi's whining. He didn't notice her coming behind him. He felt a soft hand touching his cheek. "What-"
Then she took a photo of him and started to laugh ???.
"Oh no you just didn't put flour on me!!" He tried to catch her but in she ran out of his reach. Both ran around the kitchen, Kabir wanted to catch her for putting flour on his face and Sanchi was trying to save from his revenge. Somehow he caught her hand.
"Parathas!!" Both exclaimed at once and ran to save it form burning.
Finally they finished cooking Kabir looked at the plate doubtfully. "Sanchi… I don't think this is edible…"
She had an incredulous expression. "Why on earth would you say that?"
"……"
"Sir… are you doubting my cooking skills? You may be my senior in medical field but I'm your senior in kitchen!!" Her arms were crossed and she was getting upset.
"No! Not at all. You're a great cook! It's just… I can't help but to doubt my cooking skills… ???"
"Don't worry! I'm sure this will be the best! ???"
He rolled his eyes at her ???.
She took a piece of food and ate it. Her eyes widened ???.
Seeing her expression, he got disheartened. "I knew it's bad!!"
Sanchi slapped her head. Swallowing her food, she took another piece. "You know what sir?"
"Wha-" he was stopped in the middle when she stuffed his mouth with food. He gave a deadly glare which she ignored and ate another piece. "You should taste it yourself and decide…" She answered her own pervious question and continued to eat.
Both enjoyed their food, they made together ???.
"See… I told you na sir… this will be tasty!! ??? We should do this again!!"
"What?"
"Cooking together!!" ???
He gave her a halfhearted smile and nodded slightly, seeing her excitement. **I don't think you'd be there for a next time ???**
*********************************************
Well that's all for today. About the places I've written here… please forgive me if anything I wrote is wrong ???. I just took help from Google and changed some things the way I want. And same goes with the food seen. I don't know how to make paratha ???. And I was too lazy to find a recipe. So I just wrote whatever came to my mind.
That said, I have to wake up early tomorrow… got lectures ??? so I'm going. Bye!! Love you ??? and don't forget to give me a like and a comment if you have more time, before you go back ???.