The nights that we spent together (Season 2) Chapter 5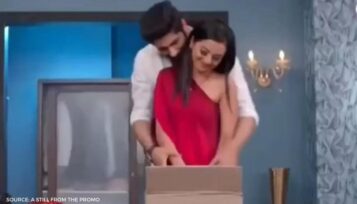 Scene shows Riddhima and Vansh seating themselves in car.
Riddhima :Comeon Vansh …how much time you car takes to start?
Vansh:This is saying that stay here,your Riddhima is looking killer .Tell your mom to postpone the meet.
Riddhima:Very funny ha? Start it else your mom will really eat us raw.
Finally they reached VR Mansion.
Standing in front of gate,waiting for them to be opened,her heartbeat was raising,she was used to this uneasiness whenever she met anyone. But this time it was high,perhaps she was ,not yet ready to face relationships ?
He could feel her panic.
"Should I hold your hand tight?"
This brought a smile to her face and she adorably denied.
Suddenly they opened the gate from inside,
She lifted her eyes to find an adorable smile welcoming her.
Vansh:Siya Raisinghania,my sister.
Riddhima:Ab I know this much ha
Siya finally hugged Riddhima
Vansh:You are getting happy as you are getting maried,get aside
Siya:Ofcourse mere bhai ki shaadi hone wali h
She took Riddhima inside.
Then Ishani smiled towards them,
Vansh:Ish..
Riddhima:Ishani Raisinghania.
Vansh smiled and nodded,
Vansh:And here it is. Mrs Uma Raisinghania
Uma:Vansh's mom.
Riddhima greeted them,the incessant gaze of his mom was somewhat ,unmanageable for her.
Uma:I have thought that firstly we will be sitting in drawing,but you are that much late that ,come have dinner first.
Vansh:Mom it's not her mistake. I started getting ready in front of her mirror.
Riddhima didnt like his mom's expressions, they were like if Vansh is trying to defend her for false.
During dinner ,he was witnessing that Riddhima was yet not that comfortable.
Vansh:If you want then we can take dinner to my room?
She was shocked as how caring he was,not caring about the glares of his mom,she smiled a no at his care.
After Dinner ,Uma sent Sia,Ishani back to their room,
Uma:Comeon Vansh,she is going to be my daughter in law ,I wont eat her raw.
Vansh smiled when Riddhima nodded him yes,
Vansh:Fine…meet me in yard after your talks,I will show you my night flowers,that I planted.
Saying so he left,and Riddhima was left alone in hall with Uma.
Uma left the hall for a second,Riddhima turned towards the photowall,
Was feeling quite relaxed seeing Vansh's photograph.
His things are also that soothing?,she asked herself.
"Will you love him even after his betrayals?",Riddhima turned to Uma ,who asked this question, Riddhima was not understanding ,what she meant?
Uma: Vansh's dad ,had an affair with a woman, still when he and his lover died,in an accident,I raised their child Ishani ,same as Vansh and Siya.
Vansh might have told you ,he was with some girls for some years,he could earlier not differentiate between love and attraction, so spend nights with others too. Are you able to love him despite of all this?
This made Riddhima jerked ,
Whe had no idea that he had done that?
"Riddhima..I have a past,…
Riddhima why are you not understanding I am not ablefor your love,
Riddhima leave me alone yaar …"His words were echoing in her mind.
How many times he tried to stay away from her,repeatedly he tried to tell her about his past,still she always denied ,"I dont want to know your past",how proudly she used to say.
Still,Uma's words were somewhat making her doubt on their relation too.
What if this will too prove to be mere attraction?
These questions were not allowing her to feel her surroundings and she left the house.
For whole night, Vansh kept her finding like mad. Finally when ththe nifht still remained ,he found her ,sitting besides the bridge,,continuously staring the night flowers of river side.
He had no words.
His face had got completely wet,by tears and sweat.
When she looked at him in moon light,
The fear of losing her ,was so clear on his face,that brought her a smile and she needed no explanation to anything.
"Ri…he was losing out of his breath. Exhausted enough,couldnt stand further, sat besides her,although having no courage.
"I am sorry ,I came without informing.I just needed time to think over your mom's question."said Riddhima.
Vansh: "I always….tried to tell you..but the faith you had in me…I did..I didnt wish to lose you…I felt i will die without u,still trùst me…I did my best to tell you "and he ended up crying.
Riddhima: I myself never allowed you to say.Tell your mom ,
"That it is love. Not attraction,and will always stay as pure love ,because, I trust you,you wont ever betray ".
Both ended up with a beautiful smile and their tears glittering in moon light.
To be continued….
With this pace ,if maintained,i will wrap up this season within two weeks after meeting my goal of atleast 15 episodes. Keep supporting.