The Mysterious Culprit: Vyom or someone else? Chapter 30
The next chapter start with
Queen Rati: Tara… Stay within your limits. You are speaking about my family.
Tara: God knows best, Queen, but I want your betterment only. My job is to inform you what can happen, the rest is in your hands.
Queen Rati: No, your job is not to give me any advice, especially in the case of my family. Your job is to obey the order, and especially to obey the orders of Queen Sharanya. You are appointed for her, not for me.
Tara: Okay, Queen.
Queen Rati: Now, come to the point. Why did you come here?
Tara: I have come here to tell that my sister, Mala is unwell so she can't come for a few days. So, in place of her, can I…
Queen Rati: No…, I can manage without Mala. Now, your priority is Queen Sharanya and her child. So it is better if you stay with her. And tell me, why Mala fall ill most of the time? Why can't you take care of her? She is your real sister. Sometime, after seeing your attitude towards her, I think both of you are not sisters.
Tara: No, Queen. She is indeed my real sister. But that doesn't mean that I will always serve her as a maid.
Queen Rati: Therefore, you cannot understand the bond between sisters. Leave all this. I can't make you understand all these things. It is not my cup of tea. Ask the servant to take this cradle to Queen Sharanya's room. And you also go with me.
Queen Rati and Tara walk towards Sharanya's room.
In Sharanya's room,
Everyone was enjoying the sweet talk of Hridoy and the bond between Hridoy and Shaurya. A guard informs Vyom and Iravan that Yuvraj Udayveer is calling them both. Vyom and Iravan leave from there.
Iravati: Jiji, why didn't you tell me that you don't have cradle for my baby?
Queen Rati then enters the room.
Rati: What do you have to worry when I am here?
Sharanya: Jiji?
Rati: Hmm, this is the cradle for my little Prince.
The servants bring the cradle inside the room.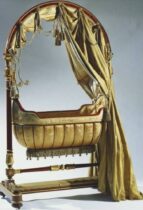 Iravati: Wow!!! Such a beautiful cradle.
Sharanya: Yes jiji. This is truly incredible.
Tara also enters the room.
Tara: Because it is decorated by Rani Rati herself.
Sharanya: Really, jiji?
Rati nods her head positively.
Hridoy gets out of bed, runs and sits sadly on a couch placed near a window.
All three queens notice Hridoy's behaviour. Rati goes to him and gently place her hand on his head.
Rati: What happened, my son? Did anyone say anything to you? You can tell me openly. I will definitely punish that person, whether that person is Iravati or Sharanya. Tell me?
Sharanya and Iravati look at each other in surprise and then smiles at Rati and Hridoy's conversation.
Hridoy: I don't want to talk to you either. Nobody cares for me anymore. Now everyone will play with Shaurya and only bring gifts for him.
Rati (hugs Hridoy): No dear, there is nothing like that. Look what I have brought for you.
Servant came inside with a gift. Hridoy become happy and ran towards the servant.
Hridoy: Badi maa, is this my gift?
Rati: Yes, my son. These are your new clothes of your favourite colour.
Hridoy (happily): Really?
Rati: Yes my child.
Hridoy hugs Rati tightly. Sharanya and Iravati smiles noticing their bond.
Sharanya (loud enough, so that Hridoy can listen): Iravati, I was thinking of cooking Hridoy's favourite carrot pudding. But now I think he doesn't need that.
Hridoy hears and shouts 'No'.
Hridoy: Maa, I want pudding too.
All three queens laughed at his answer.
Sharanya: Okay my dearest son, I will cook specially for you.
Iravati: It's okay, jiji. But not now. Now you have to rest. You do not need to worry about him.
Sharanya: Okay Iravati. My son has asked for something from me and I am not so weak as to not meet his demand.
Rati: Quit Iravati, when it comes to the Hridoy, Sharanya does not listen to anyone.
As Iravati stands up and moves towards Hridoy, she feels nausea. She runs out of the room when she feels nauseous. Rati and Tara run after Iravati. Sharanya also follows them. Rati and Sharanya smiled.
Sharanya: First she stumbled and now she vomited.
Rati: I think not only Sharanya but from now onwards, Iravati too needs to rest.
Sharanya: I think Iravati is expecting. Tara, go and call Daimaa, so that she can confirm the news.
Iravati: No jiji. Not now. I will call her later.
Rati: But Iravati..
Iravati: Please jiji… I feel good now.
Rati: Okay, if you are saying that. Sharanya, the celebration is going to start soon. Be ready.
Sharanya: Firstly, I will prepare Carrot pudding for Hridoy. Then I will be ready.
Rati (smiling): As you wish.
In kitchen,
Sharanya is preparing the pudding. Tara enters the kitchen.
Sharanya: Tara please bring that special juice from my room.
Tara: Okay, my Rani.
Tara enters the Sharanya's room and smirks carrying the bottle.
She look outside the room via window. Rani Rati is present near the window.