Hello dear silent readers..here is the next episode.
Maya and Keerthi settle in Maya's friend house..
Keerthi:di..i need your answer.
Maya:what's it Keerthi?
Keerthi:who is Arjun? Why did he say that you disappeared after proposal day?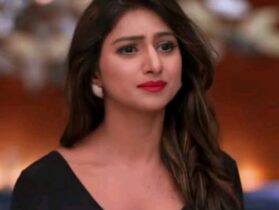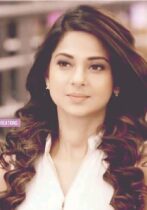 Maya:ohh..that.. actually me Arjun and saanjh were close friends. As the days passed..i fell for Arjun. And one day i proposed but he told that he loves saanjh..so i got broken and ran away. You know why i came back to home From hostel..this is the reason. I know i should not force him to love me but i can't pacify or stop my heart of i stay as friend..that's why i stopped talking with him permanently.
Keerthi:ohh..that's sad. But i have hope that you will find your true love soon..
Maya:even for you too..
They both smile and..
Maya:Keerthi..after half an hour iam going for an interview. So pray for me that i should get selected..
Keerthi: don't worrry..you will surely get selected.
Maya:why don't you also go for a job?
Keerthi:iam not interested di..i will do tailoring work at home atself.
Maya:ok..
Sometime later Maya goes for an interview and her turns comes and she goes inside the cabin and gets shocked seeing Arjun..
Maya:Arjun?
Arjun:welcome miss.maya Raichand.
Maya suddenly gets angry remembering Ashwin..
Maya:iam just maya..so stop calling me with surname.
Arjun gets confused but doesn't show it off and..
Arjun: Maya..destiny doesn't let us separate.. do you understand it?
Maya:mister..i came for professional job..not to talk about personal matters. So shall you..

Arjun:ohh..i see. I know you are very talented so i dont want to ask any questions for interview. You are selected directly but just answer me one personal question..
Maya rolls her eyes and..
Maya:fine..ask.
Arjun: why did you run away that day before i completed my sentence? I just told that i love saanjh but i dint tell you that i don't love you..
Maya gets shocked..
Maya:what nonsense? Do you think yourself as love hero by loving two girls at a time?
Arjun:rubbish..why will i do that cheap work?
Maya: then what?
Arjun gets up and he comes closer to her in the chair..
Maya:a..Arjun..what are you doing?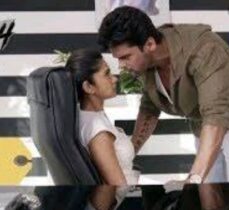 Arjun: i love you and i only loved you. If i tell that i love saanjh then won't you stay for sometime upset like heroines? I thought to pull a prank for sometime to have some fun but you ran away.
Maya gets shocked and gets upset..
Maya: you..you duffer..i..i really hate you. Because of you i suffered all these years supressing my feelings. You know how difficult it was for me to forget you?
Arjun: finally did you forget me then?
Maya:my love is true..so how can i forget even if i try?
Arjun holds his hands on ears and..
Arjun:then forgive me for pranking you..from now we shall start afresh baby.
Maya:baby?
Arjun:yes.. darling..
Maya: darling?
Suddenly arjun looks at her eyes deeply and..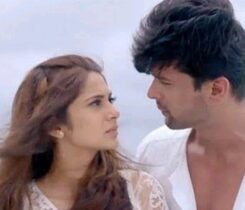 Arjun:yes..i can call you in any name as i want because you are my lover..
Maya:but i dint become your lover yet as iam angry on you now..
Arjun does situps funnily while maya laughs..
Maya:ok.. don't do drama. But if i need to forgive you..you should do something which melts my heart.
Arjun jumps in joy..
Arjun:ohh..wow..that's very silly thing for me to impress you.
Maya:then let's see..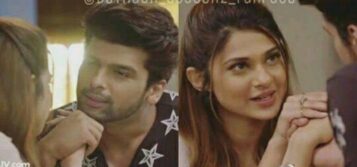 Arjun:fine..
Maya goes while Arjun smiles..
THE SCENE FREEZES.
The next day everyone goes to college and Prerna and naira gets seated..
Prerna:did you complete the assignment?
Naira:i started but i dint complete yet.. tomorrow is only na submission so iam doing freely.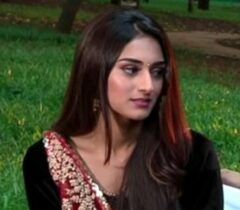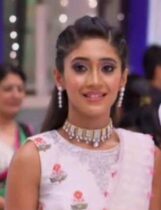 Prerna:ohh..but i never started. Today i should go and complete soon..
Naira:i will help you through phone.. don't worry.
Prerna:thanks..
They were talking and giggling while komolika and her friend comes by..
Komolika:hey..hi..bookworms..p
Naira:oii.. don't talk anything about us orelse i will show who we are.
Komolika:haha..haha..you are talking as if you are stung hero..if you can then come for arm wrestling.
Naira:why not? I will show my power..
Naira and komolika does arm wrestling and naira wins..
Naira: do you think that iam a fool like you? A foolish girl like you can never win in anything..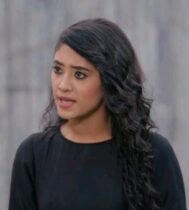 Naira and Prerna laughs while komolika gets irritated and komolika bites her teeth in angerp
Ridhi:komo..calm down. You just lose not defeated..
Komolika gets stricken with her words..
Komolika:yes..you are right. I dint get defeated then why should i worry? This stupid naira…see what I'll do for challenging komolika.
Later the college gets over and komolika secretly exchanges naira's water with wine and laughs..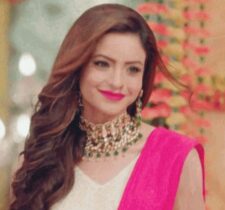 Komolika in mind:now she is going to get ashamed in front of everyone..in college and in roads too..haha..
She goes away as if she doesn't do anything.
Prerna:naira..come lets go..
Naira:just a minute na..I'll complete this and come.
Naira completes her work and she drinks the wine thinking it to be water and..
Naira:ok..come now let's go..
Naira and Prerna were walking on road and suddenly naira feels something strange and..
Naira blabbers:Prerna..Prerna..
Prerna:haa..tell me..
Naira suddenly laughs and..
Naira:wh..why are you looking moreeeee.. beautiful than me?
Prerna gets confused..
Prerna: what?you also look beautiful only..
Naira:rrreeeaaalllly??? Thennn..many guysss proposed you alone then why dint they propose me??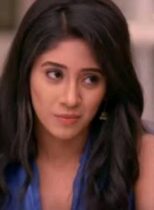 Prerna gets shocked😶 at her actions..
Prerna:naira..many guys proposing doesn't matters. One who is destined by the god and one who loves truly shall propose us..that's what we needed.
Naira:then who is my true love?
Prerna:god knows..
Naira makes puppy face and..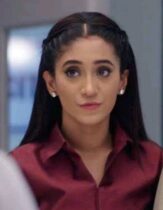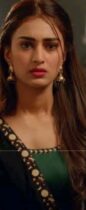 Naira:then ask that god to send him to me..i feel my life boring..
Prerna in mind: what happened to naira? Why is she behaving like this?
Suddenly naira pulls Prerna..
Naira:to get rid of the bore..come lets dance..
Prerna:naira..this is road..
Naira:what road? Is dance is prohibited in road? Did any government say this?nai hena??
Prerna gets confused at her behaviour..
Prerna:yes..nai..
Naira:then come..
Naira pulls her for dance while she hesitates and after sometime they were crossing a building which burning with fire and naira sees it and makes a puppy face..
Naira:woww..this building is looking different..a red and orange flaming theme.. awesome..I'll go inside and enjoy for sometime..
Naira leaves prerna's hands and she jumps inside the building shocking Prerna..
Prerna shouts:nairaaaa…

THE SCENE FREEZES.
Teni was walking on the road and suddenly a group of men kidnaps her shocking teni..
Teni:hey…idiots and fools leave me..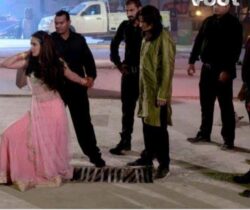 1 guy:are we kidnapping to leave you? Just shut up and come with us..
They kidnap her in a car and drive..
Teni stares everyone and..
Teni:you crocodiles..
The goons gets shocked..
2 guy:hey pretty lady.. everyone uses the word monkey or donkey but you are using different one..nice.
Teni:shut up you ugly fox..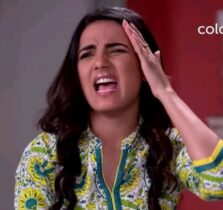 The guy gets shocked while the other goons laugh..
3 guy:hey Vivaan..i think you aren't perfect for this pretty lady as i already told you that you are ugly. And now she herself said it..she will romance only with me..
3rd guy gets close to teni and..
3rd guy:hena miss.pretty lady?
Teni bites his index finger which was touching her cheeks while the guy screams..
3 guy:aaaaahhhhh..
Teni:do you think yourself great mister? If you want to romance me then why are you shouting for a small bite? I will romance only those who are strong enough..
The other goons starts gossipping..
Guy 4:mam..iam strong..you can romance me..
Guy 5 beats him and..
Guy 5: you are fit for nothing..you just know to do drama. So don't act smart here..mam i am very strong..so we can romance.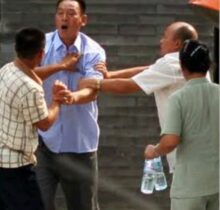 The goons starts fighting themselves for teni while teni gets an idea and..
Teni in mind:now see what I'll do..
Teni hits driver's head while he loses the control and hits the car in tree..
Driver:ouchhh..
Teni gets down the car as the goons was busy fighting themselves for teni..
Teni :these goons are fools..they are not even fit for goons..nonsense.

She runs away from there while the goons realises that they got fooled..
Guy 1:it's all because of you..
Guy 2:shut up..you started with your silly talk.
Again they start fighting..
THE SCENE FREEZES.
Keerthi was working in kitchen for evening breakfast and suddenly she finds ketch up missing as she was preparing sandwich..
Keerthi in mind:ohh noo..there is no ketch up here. Ketch up without sandwich won't be nice..I'll better approach neighbour for it.
Keerthi goes to neighbourhood and she rings the bell and naksh opens the door as it is Singhania house and he gets smitten by her beauty..
Keerthi:wohh…woh.. actually..i..i need ketchup. Can you give it if you have?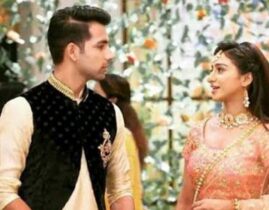 Naksh stares her as if she is the only girl who is looking beautiful while..
Akshara:naksh beta..who is it?
Keerthi gets confused seeing his stare and..
Keerthi:excuse me..
Naksh comes out from his stuck..
Naksh:yea..yeah..i..am sorry..woh..
Keerthi:it's okay..can you give me a ketch up please?
Naksh:why not?please come in..
Keerthi goes inside while akshara comes there scolding naksh..
Akshara:hey diggu..iam asking 1000 times but no reply. Who rang the bell?
Naksh shows Keerthi and..
Naksh: actually she came here asking for ketch up..so iam going to take her and give.
Akshara:ohh..fine. go and take her and give and i will talk with her sometime.
Naksh:ok..
Naksh goes to take ketchup while akshara talks with keerthi..
Akshara:i have never seen you in this area before..
Keerthi: actually now only we came here to my sisters friend house. So..
Akshara:ohh..then where are your parents?
Keerthi gets shocked and the words which was told by Ashwin rings in her ears..
"Because you are not my daughter"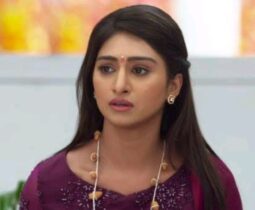 and how he confessed his revenge also runs in her mind and gets sad..
Keerthi: actually..woh..woh..they are in Jaipur..
Akshara gets confused on her shakiness but doesn't show it off..
Akshara:ohh..ok. nice to meet you..you can come here if you need anything or even if you are bored.
Keerthi: ok aunty..you are so nice.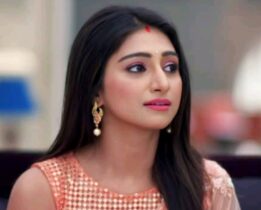 Akshara smiles..
Keerthi:by the way..aunty iam stitching clothes so if you want to stitch anything.. please do come to my house aunty.
Akshara:ohh.. sure beta.
Naksh walks towards them and he walks looking Keerthi mesmerized and suddenly he hits the wall..
Naksh:oouuuchhh..
Akshara and Keerthi looks at him..
Akshara:hey duggu.. what happened?why did you hit the wall when we are standing here?
Naksh stumbles: actually.. actually woh my brain got stuck in something..
Akshara and Keerthi giggles while naksh admires her cute smile..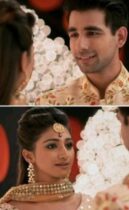 Then naksh gives ketch up to Keerthi and Keerthi goes while naksh goes to his room smiling..
THE SCENE FREEZES.
next episode promo:- kartik and naira share a moment. Prerna faints. Teni troubles Neil. Naksh admires Keerthi.