The Days Of Love And Friendship AdiYa RiKara AnuPre SS Part 2

Warning: A non-numeric value encountered in /home/ftpusers/tellyu/public_html/wp-content/themes/publisher/includes/func-review-rating.php on line 212

Warning: A non-numeric value encountered in /home/ftpusers/tellyu/public_html/wp-content/themes/publisher/includes/func-review-rating.php on line 213

The days of love and friendship Part 2
Anurag:Actually I want to confess to you something.
Prerna:What?
Anurag:I was in a relationship.
Prerna:We all are in relationships with our parents,siblings,cousins and friends.What's the big deal?You are not the only person who is in a relationship.
Anurag gave her a weird expression.
Anurag:I mean I was in a romantic relationship with a girl.
Prerna was stunned.
Prerna:Oh..ok.Then what happened?
Anurag:We are not together anymore.
Prerna:Why?
Anurag:The destiny separated us.
Prerna:Oh ok.Can I ask you something?
Anurag:Yes.Sure.
Prerna:Are you a virgin?
Anurag was shocked.
Anurag was shocked:What question are you asking?
Prerna:Why?Only a man can ask a woman whether she is a virgin or not when he comes to see the woman with the marriage alliance?
Anurag:But I did not ask you whether you are a virgin or not.
Prerna:Ya..you did'nt ask me.But you are free to ask me.Ask now.
Anurag:What?
Prerna:Come on..ask me whether I am a virgin or not.I am ready to answer.
Anurag was losing his cool.He thought:What kind of a girl is this?Usually girls do not like this question to be asked.But she wants me to ask her this question.
Prerna:Why are you not asking me?I am waiting.
Anurag was getting irritated:I don't care whether you are a virgin or not.So l am not interested to ask you this question.
Prerna:If you don't care whether I am a virgin or not that means you are not a virgin.That's why you are least bothered about it.
Anurag lost his control:What the hell!For your kind information I am a virgin.Ok?
Prerna smirked:Ok,that's enough for me.But see how your face changed when I questioned your virginity..
She burst into laughter.
Seeing her laugh unknowingly Anurag also burst into laughter.


Anurag:Anyways you are a special type.I have never seen a girl like you.
Prerna:I know that you think that I am crack.
Anurag smiled:May be.


She pouted.Anurag suppressed his laughter.
After some time Anurag-Prerna went to the drawing room where everyone was sitting.
Mohini:Onu….what do you say?Ready to marry Prerna?
Rakesh:Prerna…now what do you say?
Anurag:Actually we both decided that.. we need a few more days to take the final decision.
Moloy-Mohini became dull.
Prerna:After all this is marriage.We should think well before jumping into a conclusion.Right?
Veena-Rakesh became dull.
Moloy:Yes..I think the kids are right.We need to give them more time.Let them think well.We will inform the decision soon.
Rakesh:Sure.We will also inform the decision.
They all smiled and bid good-bye.
Veena:Prerna…Anurag is such a nice boy.You can think well.But dont think of rejecting him.
Prerna:Maa…It was his decision to take more days.Dont blame me.
Prerna walked away.
Veena:This girl…
Aditya and Omkara went near Prerna asked her:How is the boy?
Prerna blushed:He is nice.
Aditya-Omkara smiled:Wow!
Aditya:That means it's yes from your side.How fast you changed your decision about marriage.
Omkara:Till he came you were ready to say no to him.Now you are saying yes.
Prerna blushed:He is so cute.How can I reject him?
Aditya-Omkara teased her:Oh ho….
She smiled.
Prerna:He is short tempered.But I am alright with it.
Aditya:Anurag is short tempered?
Prerna:Very much.He was always getting irritated.
Omkara:But why?
Prerna explained to them about their conversation.
Omkara and Aditya started laughing.

Aditya:You are really crazy.When a boy comes to see the girl with a marriage alliance which girl will ask him to question her virginity?

Prerna:I will ask.Because I am different from others.
Omkara:No wonder Anurag asked for more days to take a final decision.
Prerna:May be.
Aditya:But Prerna..are you sure about this alliance?
Prerna:You both know that I was not mentally prepared to get married.But anyways for my parents I have to get married.Anurag is good.Then why not?
Adiya:But he had a girl friend before.
Omkara:But Anurag said that openly without hiding it from Prerna.
Prerna:Yes.I loved his honesty.He could have hidden it from me.But he did not do it.He is good at heart.
Aditya:But still there was a girl in his life before.He is a second hand.You deserve a one woman man.
Prerna:Then what about you?You also deserve a one man woman.Then why are you loving a girl who has a boy friend ?
Aditya was embarrassed while Omkara laughed.
Omkara:Because love is blind.Right?
Aditya smiled.Soon the trio started laughing.
Prerna:But even though it's yes from my side I don't know whether Anurag will agree to marry me.First of all he was annoyed by my behaviour.


Omkara:If he agrees to marry a nut like you he should be awarded something.
Prerna:What?
Prerna started beating him with a pillow.They burst into laughter.
Zoya came back home tired.
Aditya gave her a cup of tea.
Zoya:Thank you so much Aditya.I really need this tea to be fresh.
Adi:I knew that you needed this.Thats why I made this for you.
Zoya:You are a true friend who understands what I want.
He smiled.
Adi:How was your job interview.
Zoya showed him thumbs up.
Adi:Really?Congrats Zoya.
Zoya:You know why I got the job so easily?Because you are my lucky charm.
Adi smiled.
Zoya:By the way did the boy come to see your Prerna?
Adi:Yes.It went quite well.
Zoya:Means the wedding is fixed?
Adi:Not yet.But it may get fixed.That's what I feel.The boy is very nice.
Zoya:That's nice.


Adi-Zoya kept chatting and both fell asleep next to each other.


In the morning….
Zoya opened her eyes and got shocked to see Aditya lying close to her.Aditya opened his eyes.He was also shocked.
Adi:Zoya…please dont misunderstand me.I don't know how I fell asleep next to you.I am sorry.I did'nt intend to..please trust me.
Zoya:Oh come on Aditya.Relax.I told you…I trust you.Even if we both sleep on the same bed you will not touch me in a wrong way.I know that.So don't worry.
Aditya looked at her emotionally.
Mere dil ko tere dil ki zaroorat hai
Mere dil ko tere dil ki zaroorat hai
(Bepannah).
The next day…
When Prerna reached home Rakesh and Veena hugged her happily.
Veena:We are very happy Prerna.Anurag is ready to marry you.
Prerna's face got blossomed:Really?
Rakesh:But are you ok?
Veena:Dont break such a nice alliance Prerna.
Prerna:No Maa.I really liked Anurag.


Veena-Rakesh were surprised:Really?
Prerna blushed:Yes.
Prerna hugged them.All were happy.
Anurag-Prerna exchanged rings.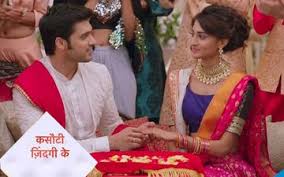 Prerna:I doubted whether you will decide not to marry me as I am crazy.
Anurag smiled slightly.
Prerna:So I guess you will be able to tolerate my craziness after marriage also.Right?
Anurag smiled simply.
Anurag said in his mind:I am just marrying Prerna for my parents.Whether she is crazy or characterless I don't matter.
Prerna:By the way you look very handsome now.
Anurag:Thanks.Even you look pretty.
Prerna:Thanks.Actually the credit goes to Nikita didi.
Anurag:Who is Nikita didi?Is she your cousin?

Prerna:No.She is my beautician.
Anurag:Oh.
Prerna:We both discussed for hours to decide my engagement look.
Anurag was stunned:What?Hours to fix this look?I can't believe it.I took only 2 minutes to decide my engagement attire.
Prerna:But girls need more time for dressing up.Right?
Anurag:Ya…right.
Anurag thought:If everyday she takes hours to dress up life will be in hell.
Aditya-Omkara came near them.
Adi:Hey…you both have to dance now.
Anurag:Dance?
Omkara:Of course yes.Your first dance.First dance is always special.
Prerna blushed.
Prerna pulled Anurag to the dance floor shocking him.
Anurag thought:This girl is hyper active I think.She took the initiative to dance with me as if we are madly in love with each other.
Prerna was dancing romantically with Anurag.
Saathiyaa, saathiyaa
Pagle se dil ne yeh kya kiya
Chun liya, chun liya
Tujhko deewane ne chun liya
Dil toh uda uda re aasman mein badalon ke sang
Yeh toh machal machal ke gaa raha hai sunn nayi si dhun
He thought:Oh God!She is dancing so romantically as if I am her lover.
Badmash dil toh thag hai bada
Badmash dil yeh tujhse juda
Badmash dil meri sune na zid pe ada
Badmash dil toh thag hai bada
Badmash dil yeh tujhse juda
Badmash dil meri sune na zid pe ada
Prerna looked at him.Immediately he put a fake smile on his face and danced with her.
Acchi lagey dil ko mere har teri baat re
Saaya tera bann ke chalun itna hai khwaab re
Kaandhe pe sar rakh ke tere katt jaaye raat re
Beetenge din thaame tere haathon mein haath re
Yeh kya hua mujhe mera yeh dil fisal fisal gaya
Yeh kya hua mujhe mera jahaan badal badal gaya


Badmash dil toh thag hai bada
Badmash dil yeh tujhse juda
Badmash dil meri sune na zid pe ada
Badmash dil toh thag hai bada
Badmash dil yeh tujhse juda
Badmash dil meri sune na zid pe ada
Aditya and Omkara imagined dancing with Zoya and Noor.
Neendhein nahin chaina nahin badloon mein karwatein
Taare ginu ya main ginu chaadar ke sarwatein
Yaadon mein tu khwaabon mein tu teri hi chaahatein


Jaaon jidar dhoonda karoon teri hi aahatein
Yeh jo hai dil mera yeh dil suna na keh raha yehi
Woh bhi kya zindagi hai zindagi ki jis mein tu nahin

Badmash dil toh thag hai bada
Badmash dil yeh tujhse juda
Badmash dil meri sune na zid pe ada
Saathiyaa, saathiyaa
Pagle se dil ne yeh kya kiya
Chun liya, chun liya
Tujhko deewane ne chun liya
Dil toh uda uda re aasman mein badalon ke sang
Yeh toh machal machal ke gaa raha hai sunn nayi si dhun


Badmash dil toh thag hai bada
Badmash dil yeh tujhse juda
Badmash dil meri sune na zid pe ada
Badmash dil toh thag hai bada


Badmash dil yeh tujhse juda(Singham).
Omkara was standing inside the bus as there was no bus.A burqa lady came and stood near him.


Omkara thought:Why this lady is standing near me as if she has no other place to stand?
She looked at him.
Omkara thought:Her eyes look familiar.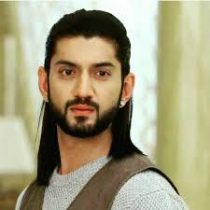 Burqa lady tried to tell him something by opening her mouth.
But suddenly the bus reached near the beach.Omkara got down.The burqa lady followed him.

Omkara found it weird.
Om thought:Why is this lady after me?
The burqa lady kept looking at her.


Om:Why are you following me?Why are you staring at me?Who are you?
The burqa lady unveiled her face.

Omkara could not believe his eyes.
Om:Noorji!
Noor:Yes.
Om:Why did'nt you tell me that you are Noor?
Noor:I was going to say that.But before that the bus got stopped and you got down.You thought that I am following you and got scared.You are so filmy.
She chuckled and Omkara was embarrassed.
Noor:By the way why are traveling by bus when you can afford expensive cars?
Om:Though I had all kinds of luxuries my dad never liked me taking brush and paint.I loved making sculptures.But in my dad's eyes those sculpture did not even have the value of the smallest toys in a shop.I was always frustrated.But even though you are devoid of these luxuries you are so happy.You are enjoying life in simplicity and I realized that human beings can find happiness in simplicity.So I also decided to enjoy an ordinary man's life.To be frank i am really enjoying my present simple life.
Noor smiled.
Omkara looked at her deeply:You are my role model Noorji.From you I learnt how to make myself happy.
Thank you Noorji.
Noor looked at him in disbelief.A sweet eye lock took place.
They walked along the sand chatting.They made their feet wet in the waves smiling.

Warning: A non-numeric value encountered in /home/ftpusers/tellyu/public_html/wp-content/themes/publisher/includes/func-review-rating.php on line 212

Warning: A non-numeric value encountered in /home/ftpusers/tellyu/public_html/wp-content/themes/publisher/includes/func-review-rating.php on line 213