The Boss is always Right! – "MayRa FF" (Episode 1)
Hey guys, this my 3rd FF. This will be a short FF. It's on popular Jodi of Beyhadh 2 – Maya and Rudra . Jasminerahul asked me for this FF and Iam dedicated it to her. Please do support me. I hope you would like it . Please do give your suggestions and opinions about the episode. I have tried to add some pictures, hope it works.
Episode 1 :-
Inside Train, 7am Morning , Mumbai.
Train is moving close to Mumbai station. A man walks to the coach. He tries to wake up someone and says- " Hey , man. Wake up". A man is sleeping on lower breath who has covered a quilt over his face . He takes the quilt and gets up hurriedly. But his face is not revealed. He takes his bags out and he walks towards the door. Train reaches the station. He looks outside. His face is revealed. There is a mixture of emotions in his eyes. He is excited, curious and happy.
He stands near the road looking outside. He ( thinks ) – " Finally, I have reached my dream place, Mumbai". Someone pushes him lightly. This young man says – "Oho! Brother you are planning to make my first day in Mumbai into my death day ?" Random man- " Why don't you get down and enjoy the crowd? " . The young man gets down with his luggage. He walks outside while observing people around him.
He takes a taxi . Taxi driver helps him in keeping his luggage in Dickey. The young man gets himself comfortably seated in soft cushion seat. Driver starts the car. The young man opens the window and looks outside. He thinks- " Till yesterday it was my dream to come here . Today it is fulfilled, Iam in Mumbai . The city of dreams ! I hope that I could make my identity from here. Rudra Roy, You will be able to do it. Stay positive!!" Driver- " Sir, Are you here for the first time?" Rudra- "Yeah , How did you know?" Driver – " Its been 20 years since Iam driving taxi in Mumbai. These eyes will never go wrong in identifying people who come here for first time . Their eyes do have a spark of hope , excitement and curiosity . I have seen many". Rudra gets impressed. He smiles. Driver- " Sir, I hope your dreams get fulfilled here". Rudra – " Thank you so much, Bhaiya". Rudra gets back into sightseeing.
After a while , taxi stops near a apartment . The apartment is little old . It has 12 floors. Rudra pays off the driver and takes his luggage . He goes inside and talks to watchman. Rudra shows some paper regarding his stay at that apartment. He then gets call and he gives it to the watchman. Once watchman have a talk in the phone, he lets Rudra get in. Rudra goes inside and gets into the lift. He press 5. It is his floor number. Rudra always believed that 5 is lucky number for him. Even here he choosed 5th floor eventhough he had another option of 2nd floor was due to same reason. Rudra reaches his floor and get out of the lift with his lift.
He rings bell at flat number 500. A young guy opens the door. It is his flat mate from now . Rudra gets in and gets him settled in one of the room . They just asked each others name. The guy's name is Iqbal . He shown him the room and given some basic details. Before Rudra could ask him anything further , that guy went to the other room. Rudra decides to call his mother. Rudra dials her number. Rudra ( on call)- " Maa, I reached my flat . Iam all ok. How is everything there? " His mother's voice – " Beta , take care of yourself . Here everything is same. Anyway you should work hard. You are there with a purpose and you should make us proud ". Rudra cuts the call and turns little emotional.
He lives here with 3 people on sharing basis. Affording a single occupancy flat is too costly in Mumbai. Thus sharing is the best option. This is a 2 bhk flat. There is two beds in one room . There are other facilities like TV, Small Fridge, 2 Cupboards in the living area , A water purifier, AC in each room.
Rudra freshen up and he gets ready. The guy who received him is sleeping in the other room. Rudra is thinking to go out. Since he didn't want to disturb the guy , he writes a note and keeps it aside him. Rudra leaves the room.
He gets down and goes out. He sees a hotel nearby. Rudra is feeling hungry. He decides to have something to pacify his hunger. He haven't had anything till now. After having his breakfast, he is relaxed. He goes back to home. He change his dress into home casuals . He rest himself to the bed allotted for him. He couldn't have proper sleep throughout the train journey. He sleeps till 4pm. He was so tired. When he gets up , he gets to see Iqbal doing some work on his laptop. Rudra tries to befriend him.They have a small conversation. Rudra gets to know that Iqbal is working in a call Centre. He has night shifts in this month. He is originally from Delhi. Iqbal helps him by cooking something to eat . Iqbal makes him understand, where everything is kept.
By 6.30 pm , Iqbal leaves for his work. Other two comes to home by 7.30pm . Rudra meets his other 2 flat mates – Karan and Tony. Karan works in a advertisement agency and Tony works in construction company. They all get together well. Karan and Tony are very carefree people. They assure him that they can go out on Sunday for seeing the real Mumbai. After having dinner, Rudra goes to sleep. Tony is his roommate.
Next Day , Morning.
It's a Saturday, Karan and Tony leaves for their work. Rudra have breakfast and decides to explore the places nearby.
Rudra start from mall near his residence. He goes to different shops . He finds himself in a other world which he never seen before. He is trying to catch up with space . He finds that time flies like a jet in Mumbai. Everyone is busy with their work. People dress different, most of them are wearing modern clothes. For anyone who comes from a small town , these things are really new and curiousity is at another level too. He saw many couples walking together hand in hand with each other. It was rare in his town. He did some shopping like some eatables , some essentials, 2 shirt, 2 pair of socks , etc. He found that mall charged too much for his small shopping. He just walked to different areas near by. After having lunch , he decided to go back. Way back to his new home wasn't easy, he forgot the route . Thus he had to take an auto. Even auto driver took advantage of his situation and took him home through a long route. Rudra had to pay more than he expected.
Next day,
Rudra, Karan and Tony go out together as they planned before. Iqbal doesn't join them as he has go out with his girlfriend. Rudra finds them as a really good company to hangout . They visit Gateway of India , Marine Drive, Elephant island . Rudra really likes his outing. They have great fun. They come back. All of them are tired . After freshen up , they goes to sleep .
Next day , Morning.
It's Monday, today Rudra has to join his office. Rudra gets up early and gets ready. He wears a light blue formal full sleeve shirt with a tie and black pant . He wears. a watch. He is very enthusiastic and excited to go. Karan and Tony smiles seeing Rudra's energy. Karan – " We were also like this on our first day, but all changed after that. Now we are praying to god to give us some luxury , so that we need not work ". Rudra – " That's because you both don't know how you feel when you are not able to do any job after being well qualified ". Tony – " So you are in Full mood to work. Fine. All the best, Man". Karan has took the charge of dropping Rudra to his office as he is new to city. Karan has a bike. Both Rudra and Karan leaves together in bike. Karan drops Rudra in his office and wishes him all the best . He leaves.
Rudra look around his company. Rudra is fascinated by just seeing the building .Company's name is Quadra Infortek . It's leading IT firm in Mumbai. It glass building and it's huge .
Rudra – " Oho My God! This building looks superb . Iam really lucky to get a job here. I will do my best". Rudra touches the step for having a good start. He steps on the stair but stumbles upon and falls down. A security sees and comes to offer help. Rudra feels embarrassed. Rudra fakes a smile and says – " Iam fine, thank you ". Rudra gets up fast. Security goes back to his position. Rudra ( thinks ) – "I hope this is a good sign, Bappa please give your blessings . Rudra! Stay positive ". Rudra shows his appointment letter to security and gets inside. He takes lift to reach his office. His office is at 5th floor. This becomes a relief for him.
Rudra reaches his floor and gets out from the lift. He goes to reception and shows his appointment order to receiptionist. She looks it. Then another man is coming there. Receptionist- " Hey , Rajeev ! Come here na". He comes to her. Rajeev smiles at her – " Hai , Anjali. What's up?" Receptionist- " Nothing new. Listen , meet. Rudra Roy. New employee. Your Maya Ma'am's new executive assistant ". Rajeev's eyes glitters with happiness. Rudra smiles at him. Rudra and Rajeev shake their hands. Rajeev looks him .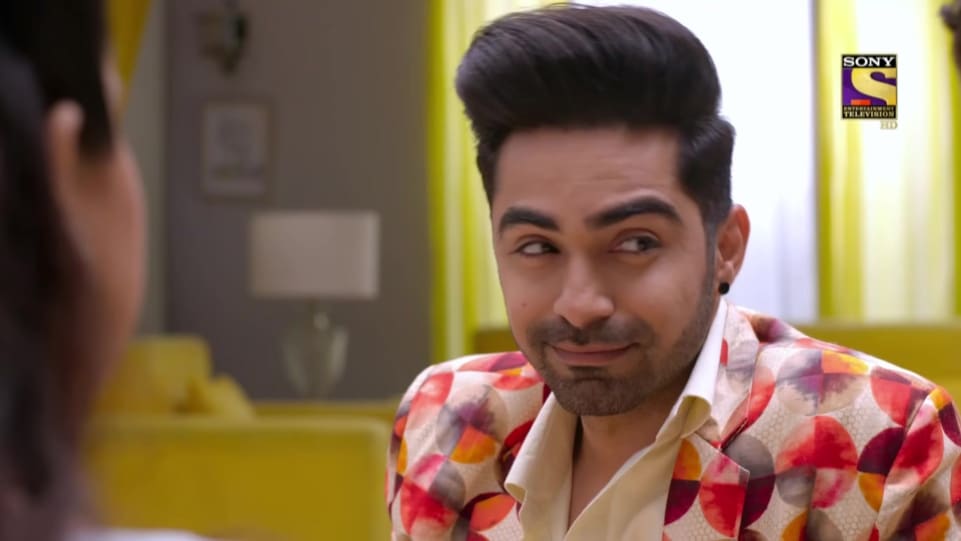 Rudra – " What happened? " Rajeev – " Nothing! Come in ". Rajeev takes him inside the office section. Rudra looks around and finds everything nice. Rajeev takes him to waiting area near their CMO Maya Jaisingh. Rudra doesn't notice that. Rajeev – " Please be seated. Maya Ma'am will come soon". Rudra – " Ok". Rudra sit down in the couch. Rajeev- " Where were you working before? " Rudra – " Actually… This is my first job". Rajeev ( Lower Sound) – " Poor guy, First job ! " Rudra see Rajeev speaking to himself . Rudra – " Are you saying something?" Rajeev – "Nothing. Since it's your first job don't get worried for petty issues. Only people with strong willpower can stay here". Rudra feels little weird . Rudra – " Means… Is there any problem?" Rajeev gets tensed and tries to hide real meaning . Rajeev – " I mean , only people with willpower can reach success. It's your first job. You will get to learn many things and you will learn different things everyday. It will be a roller coaster for you ". Rudra gets shocked on Rajeev's statement. Rudra ( with tension) – " What Roller Coaster? " Rajeev ( fake smile)- " I mean that your life will be interesting. That's it . Don't misunderstand me ". Rudra gets relaxed and say – " Ok fine . Actually I was really nervous. Now I feel better. By the way , How is our boss?" Rajeev- " Volcano!!!" Rudra gets look him with shock. Rajeev – " Volcano of talent! That's what I mean. I compare things differently ". Rudra – " It's moreover strange comparisons". Rajeev ( in mind)- " I feel bad for you but Iam helpless. Even I have to get some peace". Just then a lady comes to Rajeev. Lady – " Rajeev, she's here!" Rajeev gets shocked and runs fast. Rudra gets surprised seeing his reaction.
Entrance of the building,
A black car stops infront of their office. A lady in white formal dress gets down.


Her accessories are minimal yet classy. She is full of attitude and confidence. Her style is apart from everyone. Rajeev comes to her and says – " Good morning, Ma'am ". She wishes him back. She gives him her files and bag . He holds and takes her inside to their office.
In office,
Every employee wishes her good morning. Rudra is looking at some newspapers. Maya notices him but he smiles at her. He didn't realize who she is. He gets back to reading newspaper. She gets into her cabin. Rajeev follows her. He then looks at name board of her cabin and reads (casually) – " Maya Jaisingh, CMO" . Suddenly he realizes that she is indeed his boss. He gets up in tension and his regrets on his stupidity of not wishing her. Rudra – " How dumb Iam ? My first impression!! I hope she doesn't count my stupidity ". He gets tensed.
Rajeev comes out with a tensed face. Rudra stops him. Rudra – " Can I go inside? ". Rajeev- " Ok ". Rajeev goes. Rudra knocks on the door. He opens it slightly and peeps in and ask – " May I come in?"
Maya is talking to someone and she signs him to wait for two with her hand. But he mistakes it as her permission to get in . Maya (on call ) – " I have told you before.. that Iam not interested to have further talks .. Hold a second .." . Maya then see Rudra inside her cabin. She looks on . Maya (serious tone) – " What are you doing here?" Rudra gets tensed and says – " Ma'am you asked me to come in when I asked you for permission ". Maya – " I told 2 minutes, now clear off ". Rudra gets panic and he stumbles upon the chair. Maya finds it strange. Rudra is about to leave . Maya's call gets disconnected and she stops him. Maya – " Hey, you come back". Rudra comes back . Maya – " Take your seat". Rudra settles himself in a chair. Maya – " Who are you ?Why you here?" Rudra takes a deep breath and gives his appointment letter. Rudra – " I got this appointment letter from this firm". Maya takes it reads it. Just then Rajeev comes there in a hurry with a cup of tea . Maya gets angry seeing that Rajeev came inside without asking her permission . Maya shouts – " What the hell is this Rajeev?" Rajeev gets shocked . The cup of tea slips from his hand and falls down. It makes her cabin floor dirty. Maya gets more angry . Maya – " You idiot! What the hell have you done ". Rudra gets scared. Rudra ( in mind ) – " What's happening? Bappa!!" Maya – " Clean it , Rajeev". Rajeev- " Sorry Ma'am. I will do it now". Rajeev goes outside . Rudra looks him. Maya see him looking Rajeev. Maya – " Hey!". Rudra turns to Maya . Maya ( in normal tone ) – " So , you are my new assistant? ". Rudra nods 'yes'.
Scene freezes…