Thapki Pyaar Ki Review : Innocent and fresh take on 'How to Undo any hurdle in life'
Colors' new show Thapki Pyaar Ki presents a sweet story, seen after a long time on TV. The show name means Pat of Love, and brings the social message of not humiliating any person possessing any problem. This show focuses on the life of a girl Vaani, who got the name 'Thapki' by her stammering problem. Thapki means a pat, like people pat on back to make someone sleep, or a pat when someone stammers ….or patting on tv remotes to make it work. The concept of how this stammering problem get converted into strength of the protagonist makes the story.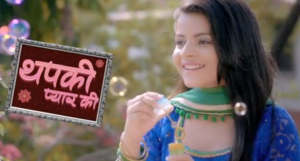 The show covers the ups and downs in Thapki's life. Her supportive parents and siblings make Thapki's life a perfect one. Her parents try to get her marriage fixed and find an alliance Diwakar, who turns out to be shorter than Thapki. However, Thapki thanks him for coming in his life and later, the marriage halts by Diwakar refusing to marry her in the mandap. Thapki gets strength and gives him a lesson, thus going on a new journey to make her career dreams fulfilled, and giving time to herself. Her life turns speedy when she gets a trainee post offer from her favorite News Channel 365, where her idol journalist Dhruv works.
Main Characters:
Vaani Chaturvedi/Thapki: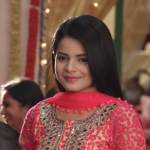 She is sweet, lovely, caring, humble, honest and has all the good virtues a girl could possess. She is just flawless and depicts great values given by her parents. The only thing that comes in her way to get accepted by the world heartily is her stammering problem. She tells everyone that she is not lagging from heart and mind, but just her tongue. She regards herself lucky to get world's best family. Vaani's beauty lies in her innocence and her slow speech does not hinder her from achieving her dreams.
Poonam: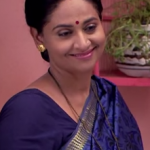 She is Thapki's mum and shows great strength when Diwakar denies to marry Thapki in the mandap. Poonam also supports Thapki and prays for her marriage and dream fulfillment. She can't see a tear in Thapki's eyes and has given her good values to be caring and good towards everyone. Poonam is Thapki's good friend who shares all her stories and gives advice to her when needed. She moves with Thapki to Noida to help her settle in her new job.
Krishnakant: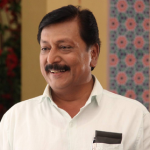 He is Thapki's dad, who can do anything to see a smile on her face. He is regarded the best father by all his children. He is a property agent by his profession, and worked honestly all his life. He has sent his son Varun abroad for studies and also spent a lot in Thapki's marriage by taking loans. He sells his shop to repay the loans and hides this matter from Poonam and Thapki. He has done all the duties for the family and stayed strong in tough times. He always inspires and encourages Thapki.
Aditi: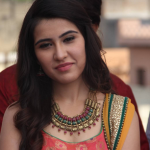 She is Thapki's sister, who is her best friend and a support for her. She is bold and beautiful. Aditi answers people when it comes to give them a bold sharp reply. She can't see Thapki getting humiliated for her stammering problem. She knows Thapki has a golden heart. She advises Thapki to take the Noida job and be close to her idol Dhruv. Aditi and Thapki share a good bond and hangout at cool places to spend quality time.
Shubh: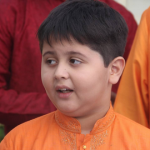 He is Thapki's younger brother, and has been doing all duties of a good brother, in Varun's absence. While Varun talks to Thapki and encourages her after her marriage cancelling, Shubh does a great work by applying in News 365 on her behalf. The family gets happiness when Thapki receives an offer letter from the channel. Shubh is adorable and very naughty kid. Shubh misses ?Thapki after she moves to Noida and regularly updates her about their dad and Aditi.
Dhruv: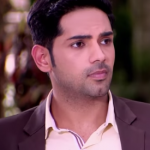 Dhruv is Thapki's dream guy whom she idolizes and wants to meet some day. Her dream comes true and she meets Dhruv in the channel office. Dhruv is from a rich family, and works for his passion. He wants discipline, determination and most of all honesty from his staff. He finds these qualities in Thapki and starts getting impressed by her. He sees her good virtues, when the rest of the world just sees her stammering problem.
Sakshi: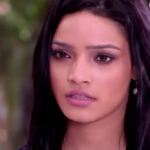 Sakshi is Dhruv's assistant and does duties of scheduling his duties and also managing the office staff. She has always kept Dhruv's trust in her work, but after Thapki's entry in the office, Sakshi starts getting in his bad books. Thapki gets more noticed for her work than Sakshi, which makes the latter go against Thapki. Sakshi is a trouble maker and keeps Thapki away from impressing Dhruv more. She gets insecure when Thapki is around.
Vasundara: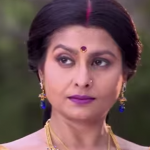 She is Dhruv's mum who has her own set of rules for the choosing her rule. Her intro scene shows how she judges people by their speech. She feels the one who stammers or takes time to talk definitely has thief in their heart. She considers slow talkers to be losers in their lives and dislikes such people. She controls her other bahus strictly and even punishes them to be hungry for a day, to make them honest and possess good values. She is strict lady, who values good worthy people of rich class.
Cast:
Jigyasa Singh as Thapki
Shivani Tomar as Aditi
Shakti Singh as KrishnaKant
Ankit Bathla as Dhruv
Jaya Bhattacharya as Vasundara
Srishti Maheshwari as Sakshi
Story So Far: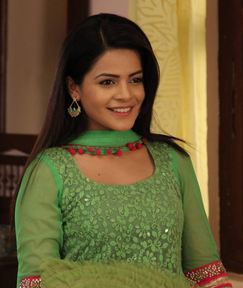 Vaani is introduced in the first scene and then her stammering is shown. She looks a gorgeous girl next door, who has much goodness in her heart. She can't hurt anyone and regards her father is her mentor. Her family wants Vaani to get married. Vaani is given a nickname Thapki by everyone, because of her stammering. They get a proposal from Mishra family, whose son Diwakar is short by height. Mishra has been finding a girl for Diwakar since two years. He failed to get any single proposal and thinks Thapki will be good for Diwakar. Mishra sees Thapki's stammering and asks big dowry from her family. Krishnakant and Poonam mend their principles for Thapki's happiness. They agree to give dowry and spend a lot of money by taking loans. Diwakar meets Thapki and his short height does not matter to Thapki, whereas her stammering looks a big problem to Diwakar.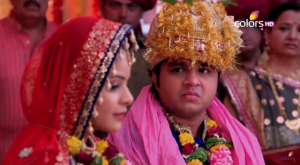 Diwakar refuses to marry her, but eventually agrees as Krishnakant will be helping him in opening a new business shop. Mishra makes Krishnakant spend a lot in the marriage. Diwakar's friends make fun of him seeing Thapki, who can't speak any sentence without stammering. Diwakar recalls the humiliation he is facing because of Thapki. The marriage day arrives and Diwakar sits in the mandap. Thapki looks adorable and sits with him. The pandit asks them to take marriage vows and repeat saying after him. Diwakar's mind has all the insults playing in his mind. Thapki starts stammering while saying her marriage vows. Diwakar shockingly tells everyone that he will not marry Thapki. Everyone get a big shock by his denial right in the mandap. Thapki shatters and breaks down in tears. Krishnakant begs to Diwakar to marry Thapki and is ready to give anything. Thapki takes a stand seeing her parents begging the guy's family. She calls Diwakar short by his mind and gives a good lesson to the Mishra family. She shows them the door and keeps her dad's respect.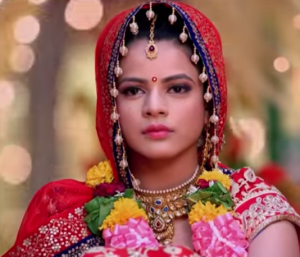 She acts strong infront of everyone and cries out of their sight. She removes all the decorations in the house and tries to make the situation normal. Krishnakant and Poonam worry for the loans they took up for Thapki's marriage. Shubh informs Thapki about her job offer in News 365 channel, which happens to be the same channel where Dhruv works. Dhruv is a news reporter, who brings true stories in the world's eyes. He shows inspiring stories and also encourages people to come forward and help the needy. Thapki regards him as her idol and takes up the job in Noida. Poonam goes with Thapki to support her, while Krishnakant sells his shop. He does not say the financial crisis to them to relieve them of worries.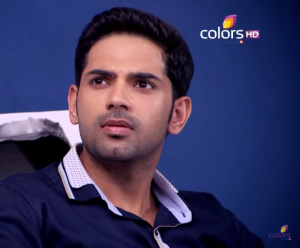 Thapki reaches the news 365 office and faces many troubles by Sakshi and staff members. She meets Dhruv and is stunned seeing him in reality, than on tv. She impresses Dhruv by her GK and talent of observation. Sakshi and Vivek feel insecure of their place in office by Thapki and make all the staff member humiliate her for her stammering. Thapki does not get discouraged and thinks its part of her new journey, where she has to turn her weakness into her strength. She crosses all the hurdles in her way and gets to know Dhruv more. While Sakshi cancelled her appointment, Dhruv hires Thapki for her talent. Dhruv and Thapki get locked in the control room and spend some time, which make them familiar further. Dhruv's mum Vasundara is a strict woman, who shows her rich class and ethics in the temple by controlling her sister in law's bahus Rachna and Suman. Thapki is opposite of the description Vasundara gives about her to be bahu.
Our Take: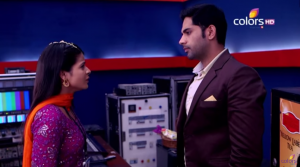 The show brings the right message, that no one is perfect in life and everyone has some weakness, which depends on them to take it as a drawback or an inspiration in life. The show depicts the lives of people who cross all the hurdles in life by taking everything positive. Colors Channel have always been bringing such social messages in light by its shows. The story is moving at a good pace, with not much dragging. The title song music is nice to listen. It is a good attempt to showcase the people who stammer, and their life journey. One can sit and relax watching this show, as the actress Jigyasa Singh makes it worth watching by her innocent portrayal of Thapki. The male lead Ankit Bathla is convincing as Dhruv. The supporting cast is real to life. Jaya Bhattarcharya graces the show by her immense near to perfection characterization of Vasundara. The show has good bits which makes it a light hearted show. One can connect with Thapki's struggles and like her instantly.
Overall: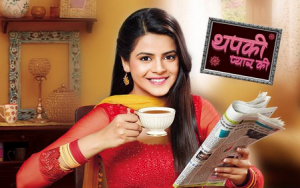 The show brings a fresh concept. It made a great start and worth watching if anyone wants a break from regular shows and did not get anything good in the recent new shows. Thapki Pyaar Ki is really from the heart which makes the viewers love Thapki for her 'keep trying' attitude. Thapki Pyaar Ki is a good take for inspiration to succeed, by overcoming all hurdles. It shows nothing is impossible when you get a pat of love. It has a delightful concept which makes Thapki Pyaar Ki an add on in the TV journalism concept shows.
Our Rating:
3.5 out of 5
Feel free to post your reviews in comments below. All off-topic comments will be deleted.