Thankyou Zindagii (Ashlok Horror FF) – Episode 1 (Meet Shlok and Astha)
Hello readers, THANKYOU ZINDAGII is my second fan-fiction on Horror Genre. It is based on the couple Astha Shlok Agnihotri – Shlok Agnihotri. I am dedicating this fan-fiction to Jasminerahul. Though the show is on Horror Genre, there is a big space for misunderstandings in family, trust in love, romance and importantly unspoken true bonds.
The first episode starts with,
27 October 2019 (Diwali), Udaipur,
The day starts for Agnihotri family at almost 4AM. Everyone are present in the hall. Kavya (Shlok's niece) is shouting, "Please dad, let me sleep for sometime. Its deepavali. I feel sleepy." Sojal(Kavya's mom and Shlok's bhabhi) – "No, beta. You must take oil massage. Wait for some time. Let me apply oil to your father and then I apply to you." Agnihotri family men are sitting next to eachother with sleeveless to get oil massage. Anjali (Shlok's mom) applies oil to Niranjan (Shlok's dad) and she massages him. Niranjan whispers, "You're so gorgeous, Anju." Anjali blushes. Kavya is crying. Varad (Sojal's husband) – "Sojal, you apply oil to me later, first apply to her. She is crying." Sojal – "Please Varad. I should massage you first." Jyoti (Shlok's 'single' sister) comes there and plays with Kavya. Soon, they started to crack jokes on eachother. And the hall becomes cheerful.
Astha and Shlok comes there. Niranjan turns his face aside. Anjali gives oil bowl to Astha without speaking anything. Kavya hugs Shlok – "You're so late, Chachu. We are started to get massages. Now only you wake up." Shlok caressed her hair. Jyoti hugs Astha – "Bhabhi, its not too late, Water is boiling outside. It would be correct if you start massaging." Astha smiles. Astha takes a chair and asks Shlok to sit but Shlok – "Shall we go to garden?" Niranjan – "Yeah, better you go. Sir's privacy is affected here." Astha compells him to sit here. Anjali – "As soon as he got married, he is running behind wife's words." Shlok takes Astha to garden.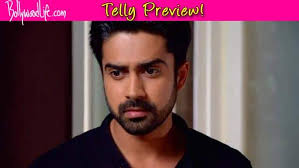 Shlok – "Don't worry, Astha. It is their nature." Astha smiles – "First have your oil massage." Shlok sits on a chair. Astha starts massaging his hair.
(Khairiyat pucho, kabhi to kaifiyat pucho
Tumhare bin deewane ka kya haal hai
Dil mera dekho, na meri haisiyat pucho
Tere bin ek din jaise sau saal hai)
Then she starts massaging his body. He is lost in her massage. He kisses her hands. Astha – "Hey, my hands are oily." Shlok – "So what, Machines are working beacuse of oil. Do machines feel embarrased because of oil?" Astha – "Worst comparison."
(Anjaam hai tay mera Hona tumhe hai mera
Jitni bhi hon dooriyan filhaal hain
Yeh dooriyaan filhaal hain Ho…
Khairiyat pucho, kabhi to kaifiyat pucho
Tumhare bin deewane ka kya haal hai)
Then Shlok gives Astha an oil massage.
(Dil mera dekho, na meri haisiyat pucho
Tere bin ek din jaise sau saal hai) – Chhichore
Shlok and Astha were the college mates turned love birds who improved a stage by getting married secretly ten days before diwali. But Shlok's parents could not accept Astha as she is from a poor-family and she has sent her parents to orphanage house. But Astha did it for a reason. The jealous neighbours are taunting Astha for getting married in a highly reputative family by loving Shlok. Shlok is the second son of Niranjan who has just completed his studies. Occasionally, Sojal, a gossip queen with big heart, dislikes Astha but supports her sometimes. Jyoti and Varad are supporting their love marriage. Varad is a responsible man handling his father's business at present. Jyoti started her college life who i s lovely sweet girl of twenties.
Eight in the morning. The family members are wearing new dresses and shining because of oil bath. Shlok and Astha aren't wearing new clothes. Durga Pooja is going on there.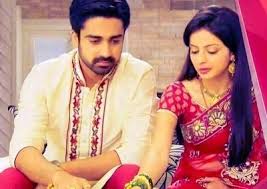 Sojal is reciting Aigiri Nandini lines. Suddenly she forgets the lines. Astha helps Sojal and completes the mantra. The family members smiles. After the pooja, Sojal – "Astha, why were you wearing old dress?" Shlok thinks, "If we buy, you'll taunt that we are living with parents money lavishly." Astha – "Its new dress, Sojal di. My mom bought this for me." Sojal – "Shlok, what about you? I have seen this dress many times you wear this." Niranjan interrupts and says, "Shall we have our breakfast or will you have your politcs here?" The family gathered to dining table for breakfast.
Astha, Janvi, Sojal are decorating the pooja room for upcoming Krishna Pooja. Shlok hides behind a pillar and throws flower on Astha's back. Astha didn't mind. Shlok continues. Astha gets irritated and turned back. Its Shlok who is visibly hiding behind the pillar. Astha – "You wont esacpe from me." Shlok runs to his room and Astha follows. Shlok is lying on his bed. Astha fakes anger, "What do you want?" She stand near bed. Shlok – "I want a kiss." Shlok pulls Astha's hand and she falls on Shlok. They share an intense eyelock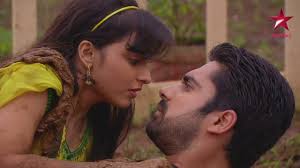 (Dil Mein Ho Tum Aankho Me Tum
Pahali Nazar Se Hi Yara
Dil Mein Ho Tum Aankho Me Tum
Pahali Nazar Se Hi Yara
Ye Ishq Ki Hai Sajisein
Lo Aa Mille Hum Dobara
Dil Mein Ho Tum Aankho Mein Tum
Pahali Nazar Se Hi Yara) – Why Cheat India
Astha releases herself from Shlok's arms and go to pooja hall.
Many guests come to their house. They are having a big Krishna Pooja. Ashlok welcomes them.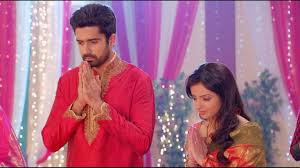 Many are gossiping about Shlok-Astha's run away marriage. Niranjan's friend says to Niranjan, "I know you are big business tycoon, but how come your son marry a low class girl? I think she would be a curse." Varad replies to him, "Uncle, He married the one whom he loved. How could she be a curse? Because of some filthy-minded people, the society is rubbish." Niranjan stops Varad and sends him. Anjali is thinking, " I should not support Shlok's decision of marrying Astha. She is from poor-family and moroever she sent her parents to old-age homes." Astha comes near Anjali. "Mom, What shall I cook for night?" Gloomy faced Anjali replies, "Try to stay from kitchen and even from my son."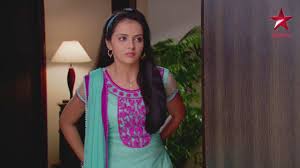 Anjali's guilt makes her cry and leaves crying. Jyoti comes there, "Bhabhi, don't worry. They will accept you soon." Shlok says, "Nothing could make them accept us. We might have married without their permisson because it is our privacy. They are not at all treating as humans"
At night,
Shlok and Astha packed their bags. They are looking at their house. None of them are there to bid them farewell. Anjali is lying on Niranjan's arms and crying, "Please, don't say them to go." Niranjan cries and says, "Its his wish to go. I don't care."
(sajana ve… sajane ve..
chupke se ahista… ho raha hoon lapata
uljha sawaalo mein.. ab tere hi khayalon mein
kaisi yeh chahat hai
roke yeh na ruke
ek pal na raahat hai
dhadkan gawaan chuke
iss pyar ko kya naam doon
oh yeh hai kuch alfaaz kyun
iss pyaar ko kya naam doon.. kya naam doon
iss pyar ko kya naam doon
iss marz ko kaise sahoon
khudaya ve…khudaya ve) – IPKKNDEBP
Varad, Sojal and Jyoti are waiting outside and hugs Astha-Shlok and bids them a teary farewell. A taxi comes inside. Shlok-Astha enters inside. Astha lies on Shlok's shoulder and car leaves the Agnihotri mansion. The screen freezes with cracker's view.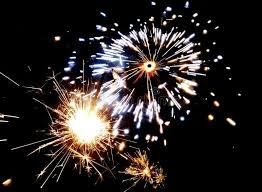 To be continued…
This is the premiere episode. You might have felt that guilt of parents in this ff and also the thirst for respect of Astha-Shlok. Shlok feels that, "Where there is no respect, there is no place of bonds." But their family feels, "One must adjust with the family to strengthen the bonds." Astha is completely stuck with these two. But whose thinking is right? Soon, the story progress towards the horror element and another one special element. Many characters are yet to be introduced. Leave your views in comments. Your suggestions and advises are most welcomed