Teri Meri Baaki Hai Kahani Twinj SS Shot 9
Teri Meri Baaki Hai Kahani Twinj SS Shot 9
.
The Episode starts with twinkle and kunj crying joining their hands while vir Alisha abhimanyu and amaira left giving them their privacy …
Twinkleeeee I am so sorry I promise to be with you always but I left you in so much sorrow you know twinkle I used to get nightmares daily that you are in so trouble but I didn't used to get what it is I tried searching for you but it was too late none had the clue where you left I am sorry twinkle please forgive me for not being able to protect you for not being their for krish kunj added joining his hands since the time he got to knew the whole truth their was something inside him paining deeply …
While twinkle nodded in and holds his hands more tightly …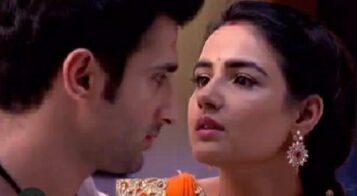 No kunj it was not your mistake I was the one making you do it but you know at that time I just wanted everyone to be safe that's why I had to be Harsh with you I should feel apologetic twinkle added while kunj hugged her both of them clearing their differences …
Soon the duo looks at each other and wipes their tears …
No more crying firstly you are looking so weak now I'll be with you and this time I'll not let you go even for a second away from me kunj added ..
But kunjjjj I am no more your that fierce twinkle I had lost everything …twinkle added …
And you will gain back everything twinkle don't loose hope you had to fight you had to fight for me Krish our family please twinkle if you leave me this time I won't be able to stand again I can't stand loosing you this time kunj added …
I can't promise you that kunj but I'll try I'll try for you for our baby for our family twinkle added while kunj pecked her forehead ..
That's like my queen now you see we will fight this battle and complete our story kunj added ..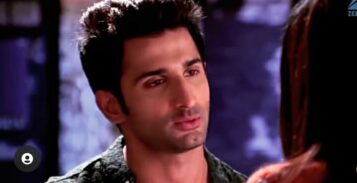 Yeah twinkle nodded too while kunj took her downstairs where everyone else was present ..
While Abhimanyu and Vir was discussing twinkle case and amaira Alisha was making dinner twinkle saw Krish was sleeping in his baby cot she went their and caressed his hairs while kunj smiled too painfully seeing him and held twinkle hand not leaving it for a second …
See kunj how cute he is na twinkle added she couldn't take off her eyes off Krish it was so difficult for her to send him to kunj that time but she had to do it knowing kunj worse condition …
Yessss ofcourse why not he is cute and sooooo damn handsome because he got his charms from kunj sarna …he added lightening up the conversation ..
Huh self obsessed always handsome kunj sarna twinkle mimicked him while both giggled …
Kunj too sat beside twinkle and looked at Krish ..
That's why I used to thought where krish got his tantrums from kunj said …
Kuch bhi 😏😏 twinkle added …
What kuch bhi that's the truth you see him after waking up he will make everyone dance on his tunes kunj added
Huh 😳 he is such a quite baby twinkle added ..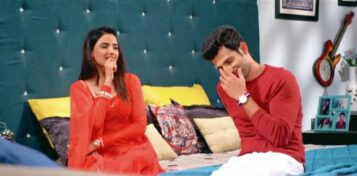 Quite aur twinkle kunj sarna ka baby ??? Like seriously twinkle kunj added faking a laugh while twinkle looked at him sternly but it felt good listening to twinkle kunj sarna from his mouth after a long time but even felt good knowing that she is the only women he ever had in his life ..
Now if you both are done with your chit chat session shall we all proceed for dinner amaira added while twinj looked at her …
Yeah let's go kunj added getting up and giving his hand to twinklee while she too stood and they went from their and joined others on dinning table …while Abhimanyu was nervous …
I will leave will meet you all tomorrow he added trying to go …
No no bro why getting so formal vir added while kunj too nodded
Yup you are also a part of our family now sorry I didn't met you before kunj added and met him again while amaira smiled …
Come lets have dinner he added taking abhimanyu while all of them sat ..
It felt so good seeing everyone together today hope mom and dad(kunj chacha chachi) join us too Alisha added …
Everyone agreed and had their dinner while kunj didn't left twinkle even for a while he got overprotective for her while everyone was shocked seeing his this shade …
Soon all had their dinner and heard Krish crying ..
Oh tantrum queen woke up kunj added while twinkle hits him with elbow ..
Amaira brought him while he was just crying and kunj was showing twinkle ..
Huh twinkle added taking him while Krish was still crying …
No Krish not again kunj added
What ? Twinkle asked confused while amaira and Alisha laughed ..
Now kunj and Vir get ready Alisha added
Huh tiny sarna you aren't doing this good they both said and dance infront of him to which he got quite and started enjoying while twinkle and abhi was shocked and laughed too while Krish too giggled ..
Gandaaa ladka kunj added pulling his cheeks and kissing him ..
It's time for his dinner Alisha added ..
Yeah now me and Alisha bhabhi is done with this tantrum queen now twinkle bhabhi you only handle him amaira added getting his feeder while twinkle got emotional and she fed him while he too had his food and everyone smiled seeing that ..
Soon it was night and abhimanyu left from their while kunj took twinkle and Krish with him …
Again he slept kunj added ..
Yeah twinkle added putting him on bed ..
Now you also take your medicine kunj added giving her while twinkle took it and after sometime dozed off to sleep ..
Kunj looked at them and smiled MY LIFE he whispered and went from their switching off the lights …
He reached in the study and saw vir and Alisha their …
Did they slept ??? Alisha asked ..
Yup kunj added ..
I know bhai it is hard for you but you had to stay strong all the while as I told you before also their is a risk ..vir added
Yeah I know vir do anything but I want my twinklee fit and fine kunj added ..
Yeah bhai we will try our best and your twinkle will be fine hopefully but you had to stay positive all the while …vir stated
Hmm kunj said ..
So what have you decided ??? We will go for treatment or surgery ??? Kunj asked ..
That you have to decided bhai her condition is worse though she is not saying that but she is bearing alott we will continue with the medicinal therapy for few days as surgery is very very risky and their is very few or none chances of her survival vir told kunj clearly he didn't wanted to give any false hopes and wanted kunj to be prepared for anything …
While kunj got quite for a while then nodded …
She is my queen she will fight back I know that and I trust you both too so do anything 🙂 kunj added ..
Thank you bhai vir added hugging him then they all went from their …
Kunj went to his room and saw them he recalled vir words ..
Be positive kunj nothing will happen to her Nothing he added pecking her forehead and went to the other side of bed their was a constant smile on his face that his family got completed today but their was a fear too of this dream again getting broken 💔💔💔
With the fear and smile both he left everything on God hoping that the new day will bring a ray of sunshine in his life …
Next morning :::
Kunj was the one to get woke up early today with the voice of Krish while twinkle was still sleeping due to medicines effect …kunj took Krish and went outside and gave her to amaira while he got freshen up and prepared breakfast for twinkle …
Soon he went back to his room and sat beside her …
Twinkle wake up kunj added stroking her hairs while after few minutes she got up and looked at him …
Kunjj twinkle added
Good morning kunj said ..
Good morning twinkle too added and looked here and their
Where is Krish ??? Twinkle asked
He is downstairs with amaira as I didn't wanted him to disturb my wifey kunj added winking at her …
Huh no why will I get disturb by him twinkle added ..
Ok get up now have your breakfast …kunj added
You prepared it ??? Twinkle asked ..
Yup kunj added giggling …
He helped twinkle while she got freshen up and had breakfast by his hands while feeding him too …both were done ✅
You stay here I'll get Krish kunj added ..
But I can come downstairs na twinkle added
Yeah but I don't want you to exert yourself by up and down kunj added and went from their …
Twinkle looked on for sometime she decided to go downstairs and stood up when she felt her vision blurry and sat on the bed holding her head ..
Soon she heard kunj and Krish voices nearing and composed herself …
Kunj came inside with Krish who jumped on bed in twinkle arms …while kunj smiled playing with them all the while noticing twinkle …
It was few days and Krish bday was nearing as the time was not proper during his birth they decided to celebrate it on good note ….and everyone got excited and ready for it …
It was just family members kunj twinkle Alisha vir Abhimanyu amaira also raj and arjun visited them …
Soon everyone cut the cake while Krish was damn happy seeing everyone pampering him and Twinj was happy seeing him happy they all rejoiced and enjoyed alott ..
Days were passing by their was no improvement in twinkle she was getting weaker day by day …she also started showing more symptoms …
One fine day they all were at sarna mansion while twinkle condition got worse and she fainted shocking everyone even blood was coming out of her nose vir and alisha tried bringing her back to conciousness seeing her not responding they shifted her to hospital …
While kunj was in stress seeing her like that and he asked vir and Alisha to opt for surgery …
I can't see her like this vir please do anything make my twinkle fine kunj said with frustation …
Bhai calm down ok we will go for surgery vir added calming kunj …
But it's risky abhimanyu added shocked …
We had to take the risk vir added ..
But what if anything happened to her ?? Amaira asked worried ..while everyone got quite ..
We will not loose hope babaji won't do injustice with me and her …I know that kunj added with teared eyes …and signed on consent form …
While he went back to twinkle and saw her unconscious and many machines connected to her she was now stable and was resting …
I don't want to loose you twinkle I can't see you struggling daily that's why I have taken this decision …kunj added holding his hand kissing her back of hands ..while his tear drops fell on her hands waking her up …
Twinkle looked at him with her skin turning pale her eyes got baggy due to lack of sleep and so much of hair fall her nerves started popping out due to weakness …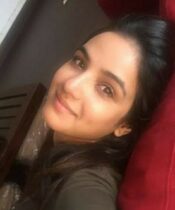 Kunj what happened twinkle asked him in weak voice …
Twinkle I have decided to go for surgery kunj added while twinkle smiled faintly ..
You ..are losin..g your w..ill ??? She asked…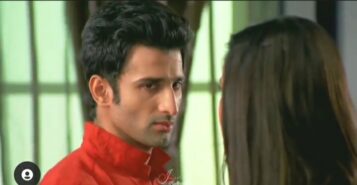 Nope I still had trust in babaji that he will make you fine at any cost for me kunj added ..
But kunjj their.. is very ch..ance twinkle added
I don't care I'll take the risk even if their is 1% chance kunj added …
Ok but promise me y…ou will be happy in life no matter wh..at will be the …outcome of this surg…ery twinkle added
Twinkle kunj added …
Plsss kunj or else I won't listen to you she added ..
Ok fine and you also promise me that you will also give your 100% kunj added ..
200% twinkle winked at him while both smiled painfully…
You know twinkle I love you and i can't live without you mannnhhh kunj added sighing tears brimming out of his eyes ..
I know twinkle smiled and I lov..e yo..u m…ore she added …
They decided to go for surgery asap while vir and alisha was mentally preparing themselves ….evn leela arrived their and was at home with Krish …
I want to meet everyone twinkle told kunj …
Ok he added he called all of them…
While leela too was shocked seeing her ..
Meri bachi she cried holding twinkle hand 😭😭I can't see you like this twinkle I can't she added ..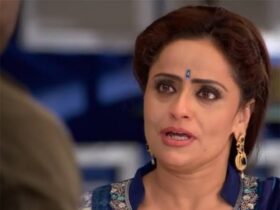 Maa don't worry whatever will happen it will be good please take care of yourself abhimanyu and Krish twinkle added ..
Abhi why are you standing their quite haan ..you have to bring a bhabhi for me remember 🙂 twinkle winked at him while he nodded ..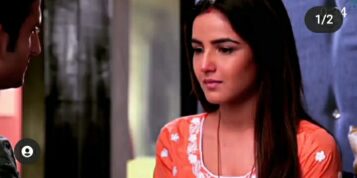 You get fine soon then you had to dance in my wedding and also help me in Choosing a girl and spoiling my bachelor life abhi added while both of them giggled …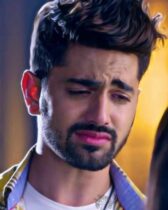 Vir Alisha I thank both of you for taking care of me from these many days please look after kunj too 😭 I know you guys amaira will take care of Krish like you weere doing from so much time twinkle added …
Everyone was emotional while kunj was standing beside her holding her hand …
And ammu I love you 😬 I won't ask you anything because I know you will be always their for me twinkle added while amaira nodded …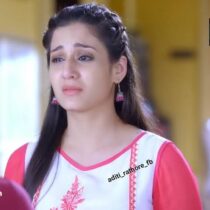 Now don't get senti 😬 I'll come back soon if babaji grant me time to dance on your head guys twinkle added while everyone giggled ..
And mr kidnapper I am wishing to get kidnapped by you again in another birth twinkle winked at him while kunj nodded
Then again you will take advantage of me he added ..
Ofcourse I'll twinkle too added while she hugged Krish tightly …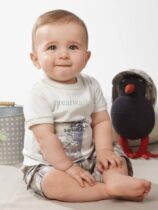 And you Mr chotu sarna tease your papa bua chachi chachu mama nani everyone ok don't let them miss me she added kissing his cheekhs ..
Muma..ma Krish spoke making everyone shocked ..
What did you said twinkle added ..
Mum..ma he again spoke while twinkle hugged him and tears fell off her eyes…
I love you baby she added …
Soon everyone left and twinkle was shifted to OT Vir Alisha and other surgeons joined them ..
Soon they went inside and started the surgery ….
.
Next scene ::::
Randhir and rt both were in jail while akash was finding about twinkle and Abhimanyu and he got to knew from his sources that they are in mumbai and he went to inform the same to randhir and rt in this few months both were feeling something different in them though their Revenge fire was still on …
We had to get out of here any how rt added ..
Yes that's what I am thinking from many days don't know where is this akash why he hadn't done our work yet randhir added angrily ..
The fire alarm started in the jail while everyone was terrified seeing the fire spreading …
We had to take out everyone asap the fire is increasing inspector spoke ..
But carefully none of them should escape other policeman spoke ..
Yeah i am talking to another department so that we can shift them their temporarily inspector added ….
It was night time and fire was increasing rapidly and it wasn't in control while the prisoners were shifted to another jail ..
Rt and randhir too sat in the police van and went with others smirking while in between their route …
A car stopped infront of police van and shooting started from other side while they police were looking after the goons rt and randhir both escaped from their and ran towards the forest …
Finalyyyyyy both brother screamed with joyyyy ..
Well done akash they added smirking devilishly …
.
Next scene ::::
The surgery was going on whole night passed in that while no one was ready to leave from their ..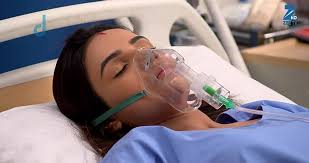 Kunj asked abhi to drop leela Krish and amaira home as Krish got scared seeing everything …while he somehow managed to convince amaira and leela to go back home and come tomorrow morning ..
while Abhimanyu took leela amaira and Krish and kunj stood their impatiently….
Whole night passed by and doctors came out and kunj and abhi who returned sometime back ran to them…
How's twinkle ???? Kunj asked ..
We had operated her now she is under observation we can say anything only after 48 hours …vir added ..
Yeah these 48 hours are really crucial for her if she wakes up then it's a good sign if she doesn't we may loose her another doctor told …
Vir looked at kunj and asked him to be patient enough to deal with the situation …
While kunj knees felt weak hearing them and he was just praying for twinkle to get fine anyhow …
The same message was delivered to leela amaira who was at home and everyone just indulge themselves in praying ..
Time was passing slowly and kunj was getting impatient each n every second …
While someone was following abhimanyu but he was too lost in twinklee to keep a check on anyone …
He didn't even got to knew about randhir and rt escape ..
Did she woke up ??? Kunj asked the nurse the nth time in the same day …
No sir we will surely inform you if she wakes up nurse spoke while kunj sat on the chair back dejected …
Their were not allowing anyone to go inside …
While a day passed and twinkle had no improvement …
Abhimanyu got the call from amritsar informing him about randhir and rt ..
Whatttt ???? But how can they escape he added shocked while kunj too looked at him …
What happened ?? He asked abhi
Wo papa and rt chachu escaped from jail abhi added worriedly ..
Why can't they let us stay in peace kunj added angrily and called arjun and raj ..
Go home and take care of everyone don't let anyone go out and make sure everyone stays safe kunj added ..
But kunj don't worry they won't know about us abhi added ..
I can't take risk abhi because of them I had lost my family once kunj added …
While Abhimanyu can understand his condition he even felt more angry …
Few hours passed by abhimanyu and Vir asked kunj to go back home and come later but he wasn't ready to leave twinkle for a second …
Soon the time passed and everyone was loosing their hope while kunj saw the time tears fell off his eyes while Moving towards the ICU
Finally with heavy steps and again asked the same question to vir …
Di..d she… Gain..ed conc..iousn..ess ???? Kunj asked stuttering …
Vir looked at him with painful eyes and nodded in no with a heavy heart …
No bhai 😭😭😭😭…
SHE SLIPPED INTO COMA
To be continued 💔
______________________________________
Heeeyyyyyaaaaa people what's uppppppp
Yeah I know it's long since I updated last
Was caught up with some works and didn't got time to write it …
So here is the most crucial shot of the story 😬
Twinkle slipped into coma ?? Will she be fine back ????
Thanks to all who commented on last and also for your patience ..
Chapter decided to presha and kiya 😜
Ignore errors no proof read ..
Bye see you soon with the next …
Take care 💞💞
Sayonara …