Tere mere darmiyaan…Between you and me…Omkara Gauri Ishana OS

Warning: A non-numeric value encountered in /home/ftpusers/tellyu/public_html/wp-content/themes/publisher/includes/func-review-rating.php on line 212

Warning: A non-numeric value encountered in /home/ftpusers/tellyu/public_html/wp-content/themes/publisher/includes/func-review-rating.php on line 213

Tere mere darmiyaan…Between you and me…
A mental hospital…
Dr.Omkara Singh Oberoi was not a psychiatrist,but a friend to all his patients.He treated his patients like his friends or Kindergarten students.Everyone loved his company.They loved sharing everything with Omkara.
Once Omkara's school friend Shivay came to meet him.
Omkara was surprised to see him:Hey Shivay….What a pleasant surprise!Meeting you after a long time.
He hugged Shivay in excitement.Shivay smiled painfully.
Omkara noticed it:Why you look upset Shivay?
Shivay:Because my mind state is like that Omkara.
Omkara:What do you mean?
Shivay:I did'nt make a friendly visit.I came here with a purpose.I need your help.Will you help me?
Omkara:Of course yes.Tell me..What help?
Shivay:My sister Gauri is not mentally stable now.
Omkara was shocked:Gauri?
Shivay:Ya.Gauri was in love with a singer named Mukund.
Gauri met Mukund's band members.There she met Mukund's friend Nikhil.
Never she knew that he had a bad eye on her.Once he tried to misbehave with Gauri.Mukund tried to save her.But Mukund was brutally murdered by Nikhil.Seeing that horrifying incident in front of her ,she lost her mental balance.Her mind did'nt have the strength to accept the fact that Mukund is no more.
Omkara was shocked.
Omkara:Where is Nikhil now?
Shivay:He is in the jail now.Omkara…I request you.Please make my sister normal.
Omkara held his hand:Shivay…relax.Let me see Gauri first.
Shivay:She is in the car.I will bring her now.
Shivay brought Gauri from the car.
Gauri was calm,quiet and expressionless.
Omkara looked at Gauri:Your good name?
Gauri was quiet.
Shivay:Tell your name.He is your doctor.
Gauri said slowly:Gauri Sharma.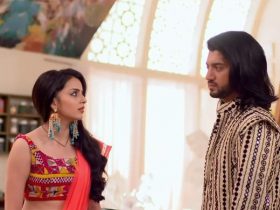 Omkara:Nice name.I am Dr.Omkara Singh Oberoi.Your new friend.
Omkara shook her hands.She was least bothered.
Gauri got admitted in the hospital.
Omkara:Gauri is not in a serious condition.
Shivay:No Omkara.When she hears rock music which was Nikhil's department she gets violent.
Omkara:Oh…But I promise you that I will make Gauri normal.
Shivay smiled tearfully.
Omkara played rock music.Gauri started becoming restless and started throwing things.She started destroying things.Omkara came inside.Gauri took a broken show piece and towards Omkara screaming.She tried to stab him.Omkara held her hand tight stopping her from doing that.He snatched the show piece from him.
Gauri roared:I will kill you.
Omkara raised his voice holding her hand tightly as she tried to slap him:Gauri…
Gauri got scared.
Omkara:I am not Nikhil.I am your friend Omkara.Nikhil is in the jail.He won't come.
Gauri looked at him in disbelief.
Omkara:Yes Gauri…he won't come.You are safe here.Trust me.I won't let anyone harm you.
Gauri burst into tears and embraced him.
Kaisa Ishq ye kaisa Junoon hai Maahi
Beqarari mein tu hi karar'
Omkara was stunned.
He embraced her back caressing her.
Tu reh ke bhi door, mujh mein hai rabba
Jaane yeh kaisa hai pyar
After some days…
Omkara came to visit Gauri.Omkara was wearing a blue shirt which Mukund loved to wear.She felt that Mukund was coming towards her.She caressed his face imagining him as Mukund.
Gauri said emotionally:Mukund…you came?I knew that you will come to me.
Omkara was stunned.
Gauri:I will not leave you.I want you.
She embraced Omkara.Omkara was stunned.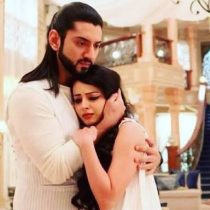 Omkara:Gauri…I am not Mukund,but Omkara.
Gauri walked backward with a shock.
Omkara:Gauri…Mukund cannot come back.Please try to understand.
Gauri cried bitterly.
Omkara caressed her head:Relax.
He fed her medicine and water.
Hum hai deewane, tere Deewane
Hum hai deewane, tere Deewane
Months passed by…
Gauri's condition started improving.
Omkara took all his patients for picnic.Gauri enjoyed a lot.She laughed a lot and played games with others.
Omkara watched it with a smile.
He was lost in her sweet innocent smile.
Hum hai deewane, tere Deewane
Hum hai deewane, tere Deewane
Omkara:Gauri…you look very pretty when you smile.Always keep smiling like this.
Gauri:I will smile always if you are with me.
Omkara smiled.
Hum hai deewane, tere Deewane
Hum hai deewane, tere Deewane
It was Gauri's birthday…
Shivay came there and celebrated her birthday with cake.Omkara and others too joined them.
Shivay went back hugging Gauri.
Gauri:Om…
Omkara was surprised to hear her call him Om.Only his mother calls him like that.
Omkara:Om?
Gauri:Ya.You said you are my friend.So I can call my dearest friend anyway.Right?
Omkara smiled:Yes.It sounds sweet.
Gauri smiled.
Gauri:You did'nt give me any birthday gift.
Omkara:I was going to give you a gift.
He gave her a dress.
Gauri:Wow..it's beautiful.But this is not the gift I want from you.
Omkara:Then?
Gauri clutched his shirt:I want you Om.
Tujhse hai hasi, tujhse udasi
Kashmakash hai rabba
Omkara was stunned:Gauri…
Gauri:I love you Om and I can't live without you.
Omkara was shocked.
Roothi hoon phir bhi raazi
A beautiful girl entered:Omkara..
Omkara:Ishana…
Ishana:I thought I will make a surprise visit.You got surprised?
Omkara:Ya.
Ishana embraced him.Omkara was worried about Gauri's reaction.
Gauri was shocked.
Omkara:Gauri…this is Ishana..my fiancee.
Gauri who got shattered felt that her world was going to break.
Ishana:Omkara…so this is Shivay's sister Gauri about whom you told me?
Omkara:Yes.
Ishana extended her hand:Hi Gauri..I'm Ishana.Let us be friends.
Gauri ran out crying.
Ishana:Omkara..why did Gauri behave like that?
Omkara was silent.
Gauri who could not bear Omkara Ishana's closeness.She hurt her hand with rose plant's thorns in the hospital compound.
The attender came and told Omkara:Dr.Omkara…Gauri hurt herself.
Omkara was shocked.He ran towards her.
Omkara:What is this Gauri?
Gauri:Leave me alone.How does it make difference to you.You have Ishana.Right?Go to her.
Omkara:Stop it Gauri.
Ishana over heard it.
Omkara gave first aid to Gauri.Gauri was looking at him and admiring.
Kya karoon, mein bayayn
Tere ishq pe jaan Kurbaan
Omkara:Don't repeat it.Otherwise I will get angry.
Gauri:Sorry Om.I lost my control.
Omkara:Gauri…just because I am committed to someone else you injured yourself.Don't hurt yourself.I can't bear it.
Omkara Gauri shared an emotional eye lock.
Kya karoon, mein bayayn
Tere ishq pe jaan Kurbaan
Ishana was watching it from behind.Omkara saw Ishana.
Ishana ran away.
Omkara:Ishana…
He followed her.Gauri felt sad.
Gauri felt sad:Because of me Om's love life should not be spoiled.
Omkara caught Ishana's hand.
Omkara:Ishana…
Ishana:At least now you tell me what's happening.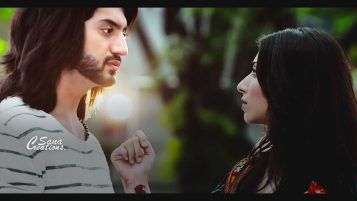 Omkara:Gauri loves me.
Ishana felt sad.
Ishana:So knowing that we are engaged she hurt herself?
Omkara:Yes.
Ishana:She loves you madly.Then why don't you accept her?
Omkara was shocked:Ishana?
Ishana:Omkara..I know that you never loved me.Ours is an arranged alliance.But seeing how you took care of her …you know I saw love in your eyes for her which I never saw in your eyes for me.
Omkara was shocked.
Ishana:Omkara…please don't suppress your love just because of our namesake engagement.Don't think that you are hurting me.I will be hurt only if you keep lying to yourself that you don't love Gauri.And I will make my parents understand the matter.
Omkara held her hand and said emotionally:Thank you so much Ishana.You are an Angel.
She smiled tearfully.
Omkara went near Gauri.
Gauri looked at him painfully.
Gauri:Sorry Om…I over reacted.I promise you that I will never repeat it And I will never come between you and Ishana.I forgot that I am only a mental patient who does'nt deserve my doctor.
Omkara put his finger on Gauri's lips:Don't say anything more Gauri.First you listen to what I want to tell you.
Gauri looked at him.
Omkara:Don't call yourself a mental patient.Within some more days you will be perfectly alright.If you had not hurt yourself I would have sent you back with your brother.
Gauri was surprised and happy.
Omkara:Becoming a mental patient is not anybody's fault.I hate the people who ridicule them.
Gauri smiled emotionally and thought:This golden heart of yours only made me fall for you.
Omkara:You too deserve love Gauri.You did'nt come between me and Ishana as I never loved Ishana like that.
Gauri was stunned.
Omkara:I have loved only one girl in my life.Without my own knowledge she conquered my heart.
Gauri asked him emotionally:Who is she?
He cupped her face in his hands:It's you Gauri.
Gauri could not believe it.
Hum hai deewane, tere Deewane
Hum hai deewane, tere Deewane
They shared an emotional love filled eye lock and got into an emotional embrace.
Hum hai deewane, tere Deewane
Hum hai deewane, tere Deewane
Omkara told Shivay about marrying Gauri and Shivay hugged Omkara nd Gauri happily.
Shivay:I am so happy that I can't express it.
Ishana's birthday party….
Ishana had told her parents about breaking up with Omkara.They planned to inform everyone about calling off the engagement at the party.Omkara and Gauri too came for the party.
Gauri had worn the dress Omkara gifted on her birthday.
Omkara could not take his eyes off her beauty.
Kaisa Ishq ye kaisa Junoon hai Maahi
Beqarari mein tu hi karar'
Omkara:You look so pretty Gauri.Sweet like honey.
She blushed encircling her arms around his neck:Thank you so much my dear Om.You are no looking like a doctor today,but a dashing model.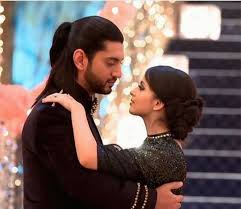 He smiled:Really?
Tu reh ke bhi door, mujh mein hai rabba
They both shared a sweet romantic eye lock.
Jaane yeh kaisa hai pyar
Ishana cut cake and served it to everyone.
When she gave cake piece to Omkara he wished her:Happy birthday Ishana.May you meet your soul mate this year.
Gauri:Happy birthday Ishana.
Ishana:Thank you so much Omkara and Gauri.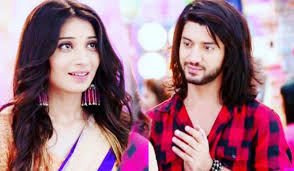 Rock music was played.Gauri was reminded of Nikhil and felt uneasy.She walked to another room not being able to bear it anymore.Ishana noticed it and followed her.
Ishana:What happened Gauri?
Gauri:Nothing Ishana.
Ishana:Are you alright?
Gauri:Yes..I am.Ishana…I am sorry.
Ishana:Don't say sorry to me Gauri.For that you have not done anything wrong.
Gauri:Thank you so much.Because of you only I got Om.
Ishana:No Gauri.Omkara was never mine.He belongs only to you.
They both hugged each other.
Ishana:By the way though I am the birthday girl you look like the birthday girl.Looking very Pretty.
Gauri smiled:Thank you and you too are looking pretty.
They smiled.
Suddenly somebody hit on Ishana's head.Gauri was shocked.
Gauri screamed:Ishanaaaaaaaaaa!
Ishana fell down murmuring:Gauri…
Gauri:Nothing will happen to you.
Suddenly Ishana died.
Gauri screamed.Suddenly she saw the killer's face.It was Nikhil.
Gauri:Nikhil!You?You killed the innocent Ishana too in front of me?You are an animal.
Nikhil:Yes Gauri.Because of you I got jailed.I am going to get capital punishment.You thought you can live happily?Never.Now everyone will misunderstand that you killed Dr,Omkara's fiancee Ishana.
Gauri was frightened.Nikhil left laughing.
Everyone arrived hearing Gauri's scream.All were shocked to see Ishana's dead body.
Ishana's parents and Omkara screamed:Ishana!
Her mother Preeto:My Ishana….On your birthday itself you left us…
Harik:This girl only killed my Ishana to get Omkara.
Gauri cried:No.Why would I do that when Ishana united me with Om?
Harik:Because you are mad.
Gauri cried bitterly:Nooooooo…
Omkara:I trust Gauri.She is not mental like before.I am sure that she can't kill Ishana.
Harik:First you dumped my daughter.Now even after she got murdered you are supporting this mad girl?Shame on you.
Omkara:I will prove that Gauri has not killed Ishana.Gauri…tell me who killed Ishana.
Don't be scared.I will rescue you.
Gauri who was crying fainted in Omkara's arms.

Through CCTV camera Omkara found out that it's Nikhil who killed Ishana.He was caught again and brought to the jail back and he got hanged.
Gauri was crying thinking of Ishana's murder.
Omkara caressed the scared Gauri:Nikhil has been punished for the murder and it's been proved that you are not the culprit.I knew that my Gauri cannot kill anyone.
She embraced him crying.
Hum hai deewane, tere Deewane
Hum hai deewane, tere Deewane(Madhubala – Ek Ishq Ek Junoon).
Shivay came to the mental hospital.
Omkara:Now Gauri is alright.You can take her home.
Shivay's happiness had no bounds.
Shivay:I am so happy that I can't tell you anything.
I don't know how to thank you.You made my Gauri normal is going to give her a life by making her your wife.
Omkara:Don't thank me.I am thankful to the destiny to make me meet Gauri and make us one.
Shivay smiled.
Gauri was haunted by Nikhil killing Ishana.Shivay and Omkara entered her room.
Omkara:Gauri..see who has come.
Gauri looked at them.She felt that Nikhil was coming near her with an evil smile.
She started throwing things at Shivay.She took a show piece and broke it.She took it to stab him:
Nikhil…if you come near me I will kill you.
Shivay and Omkara were shocked.
Shivay held her hand:Gauri..you are mistaken.I am your Shivay bhai.
His words fell on her deaf ears and continued to attack him.
Omkara snatched the broken show piece from her and shouted:Stop it Gauri.Nikhil is no more.
Gauri fainted in Omkara's arms.
Shivay burst into tears:My Gauri is again like before.Oh my God!What a fate!
Omkara's tears rolled down his cheeks.
Omkara was shattered completely with Gauri's condition turning worse again.He lost hope and confidence.
Omkara told Shivay:You take Gauri away.She deserves a better psychiatrist.
Shivay:Who else can cure her other than you?
Omkara:I am loser who could'nt cure my beloved.So I request you not to spoil Gauri's life by keeping her with me.
Shivay felt upset:Omkara….
Omkara wept silently.
Shivay took Gauri back.
Omkara stopped working as a psychiatrist as he himself felt that he was not capable of it.
Omkara and Gauri cried thinking of each other.
Gauri saw Omkara in front of him.
Gauri:You came?I knew that you will come to me even if I am mad.
Lafzon se jo tha pare
Khaalipan ko jo bhare
Omkara cupped her face in his hands emotionally:I can't be away from my Gauri for a long time.
Kuchh to tha tere mere darmiyaan
Rishte ko kya mod doon
Naata yeh ab tod doon
They embraced each other crying happily.
Ya phir yoon hi chhod doon, darmiyaaan
Benaam rishta wo..
Suddenly she realized that she was hallucinating.She wept.
Omkara murmured in his sleep:Gauri..Gauri…are you alright?I miss you.
Suddenly he felt Gauri's hands on his face caressing him.
Gauri said emotionally:I am here with you.I also miss you.
Benaam rishta woh, bechain karta jo
Ho na sake jo bayaan, darmiyan
He woke up.
Gauri cried:Why did you leave me ?
Omkara:For your betterment only I left you.
Gauri:But I want you Om…
Darmiyaan Darmiyan
Darmeyaan Darmeyan
Kuchh to tha tere-mere darmiyaan..
She pulled him into a heart wrenching embrace.
Darmiyaan Darmiyan
Darmeyaan Darmeyan
Kuchh to tha tere-mere darmiyaan..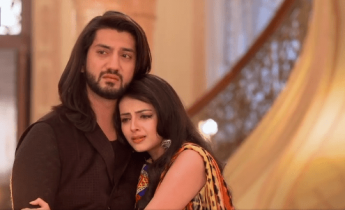 He realized that it was his imagination.
Omkara:I am becoming insane.
2 years later…
Shivay visited Omkara.Omkara looked weak and pale.
Shivay:Omkara…
Omkara looked at him emotionally.
Shivay:I know that your eyes are enquiring about Gauri.She is normal now.
Omkara was very happy.
Shivay:She could not adjust in any other mental hospital.She wanted only you as her doctor.
I could not force her also as she is very stubborn.So she continued taking the medicines you prescribed.So you only cured her Omkara.
Omkara became emotional.
Shivay:She wants to meet you.She has been crying daily craving to see you.She wanted to be normal to be with you.
Omkara:I also long to see her.But…
Shivay:Gauri has come along with me to see you.
Omkara was surprised.
Shivay went out where Gauri was standing.
Gauri:Bhai..did you see Om?
Shivay:Yes.
Gauri:How is he?
Shivay:Come inside Gauri.You can meet your Om now.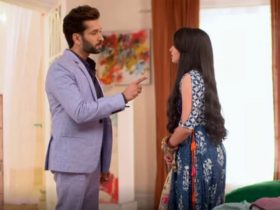 Gauri smiled tearfully.
Gauri came inside.
Their eyes met each others.
They looked at each other emotionally.
Omkara:Gauri…
Aankhon mein tere saaye
Chahoon to ho na paaye
Yaadon se teri faasla haye
Jaake bhi tu na jaaye
Thehri tu dil mein haaye
Gauri wept:Please Om…don't distance yourself with me.I can't bear it anymore.
Roothi hoon phir bhi raazi
They both wept and got into an emotional embrace.
Hasrat si banke kyun bhala
Kyun yaad karta hoon
Mit-ta hoon banta hoon
Mujhko tu laayi yeh kahaan
Shivay smiled tearfully.
Gauri:Promise me that you will never leave me.
Omkara:I will never leave you Gauri.I am sorry.That time I felt helpless and defeated.
Benaam rishta woh..
Benaam rishta woh, bechain karta jo
Ho na sake jo bayaan darmiyaan
Gauri:You are the best psychiatrist Om.Please be back to your normal life.Start working in the hospital again.
Omkara was silent.
Gauri:Won't you listen to your Gauri?
Omkara nodded.
Darmiyaan Darmiyan
Darmiaan Darmeian
Kuch toh tha tere mere darmiyaan
Gauri became so happy that she embraced him.
Chalte thay jinpe hum-tum
Raaste woh saare hain gum
Ab kaise dhoondein manzilein
Raatein hain jaise maatam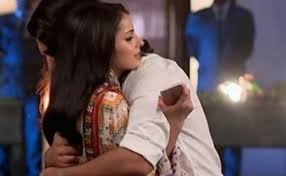 Gauri:We will never get separated again.
Omkara:We will always be together.
They smiled tearfully.
Aate hain din bhi gumsum
Roothi hain saari mehfilein
Itna satao na, yoon yaad aao na
Ban jaaye aansoon hi zubaan
Omkara started working as a psychiatrist again.
Omkara Gauri got married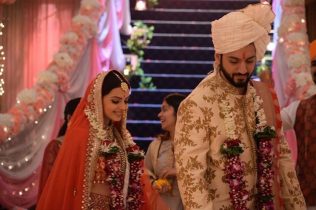 and started a new life.
Benaam rishta woh…
Benaam rishta woh, bechain karta jo
Ho naa sake jo bayaan darmiyaan
Darmiyaan Darmiyan
Darmeyaan Darmeyan
Kuch toh tha tere mere darmiyaan
Haaye..
Darmeyaan Darmiyan
Darmiyaan Darmeyan
Kuchh toh tha tere mere darmiyaan(Jodi breakers).
The end

Warning: A non-numeric value encountered in /home/ftpusers/tellyu/public_html/wp-content/themes/publisher/includes/func-review-rating.php on line 212

Warning: A non-numeric value encountered in /home/ftpusers/tellyu/public_html/wp-content/themes/publisher/includes/func-review-rating.php on line 213