TERE HI ISHQ MEIN…. (EPI 6)
Next day…
Naksh wakes up holding his head as he didn't get a good sleep as he was a little uncomfortable… He looks towards keerti but she was not there…
Just then she enters from the washroom giving him a board smile..
Naksh :Why are you smiling at me..
Keerti : Hoo.. Its my face my lips.. i will smile.. i will laughout loud.. its my choice..
Naksh : Stop smiling at me.. keerti..
Keerti understands her smile irritates him.. So she laughs even more broadly..
Naksh gets down and looks at the mirror.. he doesn't find anything at his face..
Keerti laughs again… This time Naksh gets so angry on her.. He pinches her near to the wall holding tightly in hands..
Naksh : There is a lot of attitude in you.. smile now Keerti Goenka..
Keerti :Naksh..you are hurting me…
He lets go off her…
Keerti runs till the doorstep of their room and calls Naksh… he turns to her..
Keerti :I think you have forgot… Its not keerti goenka.. Its Keerti Naksh singhania..
Naksh suddenly remembers something and calls Yash..
Naksh :Yash.. I wanna meet you as soon as possible…
Yash :Kya hua bhai.. you soundes nervous.. Is everything fine between you and bhabhi..
Naksh : I will talk to you about that once i meet you…
Yash :I'm not in town.. i will reach by day after tomarrow..
Kartik enters his room.. Naksh gets shocked seeing him..
Naksh :k..Kartik… you here..
Kartik :Naksh.. Dadi is calling you for breakfast….
Naksh :I am coming..
They both goes down and sits for breakfast.. Keerti , Suwarna and surekha was serving breakfast..
Suhasini : Keerti.. you also sit with us…
Suwarna : Have some more Paratha Naksh..
Naksh : NO..
Keerti :Ma.. He eats only 2 kn morning..
Dadi : Then you should force him… Don't let your in-laws say that you are not taking care of him..
Naksh :No.. Dadi. she is taking good care of me..
Naksh exclaimed suddenly.. thinking what he said .. others laughed.. keerti got happy too..
Kartik :So Naksh.. even are you two leaving back to Mumbai..
Naksh :Soon..
Keerti : Akshara maa.. said that we will go after Teej..
Surekha : Ha.. After two days its Teej..
Naksh excuses himself as he finished his dinner..
Dadi : Keerti… you should go to your in laws… today itself.. and be there helping them in Teej preparations..
Keerti :Ji..
Dadi :Tum fast rakh rahi ho na..
Suwarna : Yeh kaise sawal hai..Maa..
Keerti :Ha.. ofcourse.. I am..
Naksh messages keerti to meet him at the lawn..
Surekha :Kiska.. message hai..
keerti : Naksh..
All :Ohhhhhhh😊😊😊😊…
Naksh was waiting for keerti at the lawn..
Keerti :Naksh..
Keerti turns towards him..
Naksh :Look keerti… I heard what dadi said.. and i don't want you to or.. i won't force you to keep fast for me…
Keerti :But.. Naksh what if I also wants it…
Naksh :Its your choice… and i will always respect that… Keerti , I am going to office.. for that meeting.. i said.. I will pic you in evening
---
As Naksh went and kartik keerti luvkush amd mansi were spending their quality time with eachother at it was about evening… Keerti was finding words to fill up her siblings mind that she is really happy and Naksh also loves her so much… Keerti lies about his care for her and all… While her siblings believes her fully.. Suwarna and surekha were also sitying near hearing all these
Suwarna : Thankgod keerti got Naksh as her husband… he really cares for her a lot..
Kartik :Don't eye her life…. as you eyed my mom and dad's.
Suwarna gets teared. Manish was hearing this..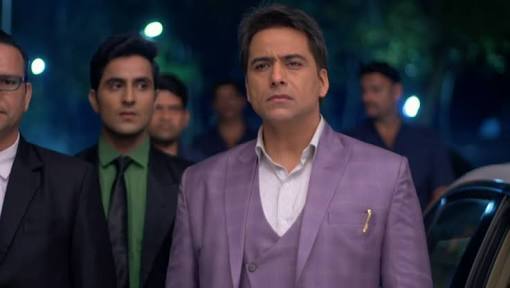 Manish : STOP IT.. KARTIK.. Is this the way to talk to your mother..
At the sametime Akhilesh informs the employs to go..
Manish : You should say sorry to her…
Kartik : Let me clear something to you.. She is Not my Mother… and she will never be… She is the one who… grab my mother from me… I only hates her…
Suwarna was really hurt as.. she goes from there silently. Kartik also goes to his room in anger…
Mansih was sad about kartik's behaviour..
Keerti runs to suwarana… and saw her sitting in the floor crying.. Keerti runs to her and hugs her tightly..
Suwarna :I am not a good mother.. I couldn't be a good….
Keerti : No… No.. maa you are the best . … You are our mother.. my mother… its just that kartik needs sometime..
Dadi enters her room…
Dadi : Keerti .. go and get some rest.. I have to talk to her all alone..
Keerti goes..
Dadi :Suwarna … tumhari bhai ka phone aaya tha..
Suwarna :What did he say..
Dadi : As usual he was begging to make you meet with him..But you remember that you promised me…that you won't meet him right..
Suwarna :Ji.. and till now … i haven't meet him.. I am afraid.. that a day will come when he will pass by my side and … i won't be able to recognise him…
Dadi : I know its… difficult for you..
Suwarna : Its not that difficult… because its for kartik my son…
Dadi and suwarna hugs eachother…. Suwarna gets shocked seeing keerti there…
Keerti : What happened maa.. why are you scared..??
Dadi : I told you to get some sleep otherwise you will feel tirednes.. and your in laws.. may say that we didn't takecare of their daughter-in-law…
Keerti : Dadi.. i was just … i forgot my phone.. thats why..
She takes her phone which was in suwarna's bed… while she sees Naksh's message..
The messgae conveys " Sorry keerti.. i had to go to mumbai as some political problems are raising up in the company.. i will reach back that moment i finishes it… Tomarrow Mom& Gayu will come to pick you up.."
Keerti looks at Dadi..
Dadi : Kya hua..
Keerti shows the message..to dadi..
Dadi : Its okay… beta its your duty to undetstand his situation being his wife.. If you make some adjustment your life will be happy
Keerti : Ummm….
She rins to her room.. and lies on the bed closing her room in a bang.. and
replies to his message : Hope you will be here on karwachawth…
Tears escapes from her eyes..