TERE HI ISHQ MEIN…. (EPI 14)
Naksh was near the ICU ward…. He was restless and thus scared.. Just then he saw Kartik running towards him.. folkowed by Naitik ; Manish and Akhilesh..
Kartik hold on to Naksh collor…
Kartik :What actually did happen to my sister.. I want to know…
That was it Naksh broke down completly.. Naitik and Manish holded him.
A nurse comes out of ICU..
Manish :Nurse… how is the patient inside.. i'm her father..
Nurse : She is critical.. first youvplease go and get these medicine..
Akhilesh grabs the medicine notes andvgoes..
She is critical.. the words which nurse said was echoing on Naksh's ears…
Naksh :No.. No.. Papa.. nothings gonna happend to her.. she .. we have taken the vows for being with eachother once.. she can't… just…
kartik understands what Nakshbis going through.. thus he hugs him..
Kartik :Yeah.. she is strong nothings going to happen..
A few hours later …..
Doctor comes out of the ICU…
Doctor :Keerti is better now.. we can shift her to ward… But ….
Kartik :But what sir…
Doctor :There is a chance that.. a chance of memory loss..
Naksh : No…
Doctor : I'm sorry .. some medicines may effect that way… we never know.. if she is lucky there is a chance is …
Manish : We hope.. for the best..
Akhilesh ; Kartik and Mansih moved to meet keerti.. Naksh was stopped by his father.. He looked at Naksh..
Naitik :I know its hard.. and for me too. Usually your mother was the one who is good in handling things like this.. I just wanted to tell you that.. suppose.. suppose.. she has forgotten you.. i want you to stay clam atleast infont of.. her.. You understood right…
Naksh :Yes.. Papa…
Keerti was shifted to her room. Manish , Kartik and Akhilesh ; Naitik & Naksh was there with her..
She slowly opened her eyes…
Kartik sits besides her..
Kartik :You are fine. thankgod..
Keerti :Kartik…
Naksh : Keerti…..
Keerti looks at Naksh.. in a confused way…
She slowly closes her eyes…
All looks at the nurse who was there..
Nurse :Its may be due to the effect of sedation..
Doc :Don't worry Mr.Naksh.. she will be fine and you can take her home.. and its better in unconsiuous state.. as …
Naksh :Yeah doctor.. we will… Papa lets take her to our home….
Manish : No… we will take her to goenka mansion..
Kartik :Yeah.. Naksh.. may be thats the better way..
Naksh was heavliy heart broken thinking about her condition…
Akhikesh by the time called everyone and they were at Goenks mansion… waiting for keerti to arrive…
Naira and gayu were doing pooja along with Suhasini ji ; Kaverji and Devyani ji.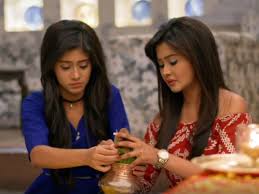 Soon they arrives.. Keerti was unconsious and was in her strechter a nurse was acompanying her.. They set her room anf she was layed there..
Mansih and Naitik explains what ever doctor said to Them… All were in shock..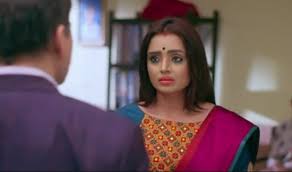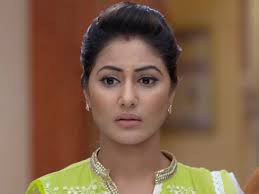 Kaveri :Hai.. bhaghvan what is a this.. you gives us one happiness and takes another way..
Gayu : Why are you saying.. things like that.. nothing.. is hoing to happen..
Naira :Ofcourse.. Bhabhi can never forgrt bhai..
Nurse :Keerti has gained her consiousness.
Naksh runs to her room…
Keerti again looks at him confused.. Following him comes Kartik..
Keerti :Kartik… (Kartik goes and sits near her)
Kartik : You are ok.. right??
Keerti points her fingure to Naksh..
Naksh smiles..
Keerti :Who..is.who is he..??
Naksh smile turns dull… He was confused.. he felt like dead.. Soon Suwarna and other goenka's came there.. and keerti got engaged with them..
Naksh silently came out of the room.. He eyes were filled… Akshar holds on his shoulder.. and that was it for him to breakdown..
Goenks's Pacify keerti and asks her to take rest. They didn't know how to react either.. because on one side.. it was keerti's recovry and happiness on the otherside Naksh was heartbroken..
Livingroom..
Manish : I don't know.. what to say at this time.. i am completely helpless..
Naira : Uncle can't we explain… her.. the things happened their marriage and everything…
Akhilesh :No.. No.. Naira that can be harmful for keerti's health and things could go worse..
Kartik :Yes.. naira..
They all hear a voice of a car starting and was shocked to see Naksh left..