TERE HI ISHQ MEIN…. (EPI 11)
Keerti was just staring Naksh..
Naksh :Tara.. i have told you.. that i am married.. and Keerti is my wife..
Tara : I understand Naksh.. but the reason i am here is because of her … She .. she was the one who called me yesterday.. and said that you need me the most.. and will only be happy with me…
Naksh looks at Keerti who was finding difficulty to hide her tears..
Naksh takes Tara to the lawn..
Naksh:  Tara..You please leave..
Tara :Why Naksh.. what just happened..
Naksh :Manythings have happened after your banish.. I never thought that i will love someone again in my life … but..
Tara : But.. what Naksh.. tell me…
Naksh : I didn't realise when it happened.. but the truth is … i love keerti.. i didn't realise.. it untill.. i saw her hurt.. unconsiouse.. in my arms.. but now i am sure and i will ..  give her all the happines. … i can.. and I'm sorry Tara..
Tara : No.. naksh.. don't be sorry.. I was the one who decided to stay.. away from you.. i hurted you the most.  even though it was only for you..  But keerti was there for you.  I can also see the love she has for you.. its..
Naksh :Tara.. i….
Tara : I can understand your feeling..  don't feel gulity of me.. You did right bu saying.. this truth.. And one thing.. I never belevied in this next and pervious births.  as you know.. if something like that really.. exsist.. then i am promising you.. i will love you in that.. but not as Tara.. but as keerti..
She gives her a tight hug…
Tara :We will be friends right..??
Naksh :Yes…
Tara :Did you told her… about your feeling.. and all..
Naksh :No..
Tara : You're impossible Naksh…
Naksh and Tara walks into the livingroom and finds keerti with her luggages.. they both geys shocked…
Keerti holds Tara's Hand..
Keerti(stammeringly) : T..Take… go..good care of him… I wi..will so.soon send the divorce.. papers…
She turns to go.. but someone holds her hand.. and it was Naksh.. She looks at him.. in shock..
Akshara and others arrives at the sametime and was shocked to see the trio..
Karishma :Oh.. my.. god..
Akshara :Tara.. Maa..
Devyani holds her..
Tara takes Naksh's hand and hands it over to Keerti..
Tara :From now.. my Naksh… is yours.. only yours.. as you said..  you love him.. he also loves you.. Just give him.. a chance..
All was relieved after hearing that..
Tara walks to the elders and takes their blessing..
Tara :I will leave india.. after a week.. It was so nice meeting you all once again.. and Aksharamaa.. (she pauses for a second) sorry Akshara aunty..
Akshara hugs her… then Naitik..
She soon leaves from their..
Keerti hugs Akshara and cries out her heart..
Naksh also hugs Naitik.. Naksh had got a missed emotion of happines and satisfaction in his heart and mind..
After a while..
Kaveri : Karishma.. tomarrow itself.. we have to go to mandir.. and do a pooja for Keerti and Naksh..
Karishma :Sure..Badimaa..
—– Keerti was in her room arranging .. her dress.. Naksh comes and stands near her..
Naksh :Do .. yo..you need some help..
Keerti :No… i am fine..
Naksh :Keerti.. please.
Keerti : What Naksh..???
Naksh: Youa re avoiding me.. the whole time.. after you saw Tara from the first moment.. But.. now that.. i am ready to give a chance to our wedding… then why you are ignoring it..
keerti :Explain me.. Naksh.. why you wanna give tjis marriage a chance..
Naksh :Because… I lo..
Keerti : Because you…
Keerti was sure that Naksh will not reply for this question so she went back to what she was doing…
Naksh :Because.. Keerti.. I LOVE YOU..
Keerti was shocked and numb.. hearing this ..
Naksh :And i really wanna give this a chance.. I will try at my best.. i just need you…
He was about to hug.. but stops as he thinks.. she won't like it.. but to his surprise..Keerti hugs him…
Keerti :Promise.. me.. you will be mine for ever..
Naksh :Um.. i will be keerti's Naksh.. forever..
Keerti :There is a new day.. waiting for us..
Naksh :And i promise you that.. from that .. new day.. i will bring all the  happiness for  you..
Naksh hugs keerti.. And she also reciprocates.. to it…
—— 2 weaks passes—–
Keerti was so much comfortable with Naksh in this 2 weaks.. and there relation was never the same.. Naksh always made keerti feel special.. Eventhough Suwarna and mansih used to call her.. she never mentioned the things which she had to go through them.. because she never wanted his head to bow down even infront of her own family…
Naksh at the sametime was little upset.. of hiding the truth to keerti's family.. about each and everything.. He was also not at all satisfied .. with the surprises he have given her.. He wanted to give her something big..
A fine evening… keerti was continuously trying to call Naksh.. but his phone was not reachable.. she was tensed..
Gayu :Chill bhabhi.. bhai would have got some emergencies…
Keerti: If something is like that.. He should have informed.. me..
Keerti was being restless.
Devyani :I told you that… keerti will change Naksh..
Karishma : Yeah.. Bhabhi ma.. Which naksh who always wanted to stayed in mumbai..  He is now with us.. Its.. like a dream..
Keerti comes to Akshara..
Keerti :Maa.. Did he told you anything.. its ..
"KEERTI" a sound roared.. it was noneothee than  Manish..
Manish :Keerti.. I thought that you will never keep secrets from me.. But you did..
Keerti :What are you saying.. dada and what type of sceret..
Akhilesh :Don't act as you don't know..
Naitik :Akhileshji.. Mansihji what are you talking about…
Mansih :Tara.. Naksh's GF..
Keerti :She is his Ex..
Mansih : How could you live with that person.. who had kept someone in mind while marrying you.. while taking vows with you..
Just then Naksh enters.. He was at guilt..
Akhikesh :You won't stay here anymore.. and have to come with us..
Keerti goes and stays near naksh holding her hand…
Keerti : I am sorry.. i won't be able to live without him..
Naksh : You have to keerti..
Keerti was shocked.. her eyes turns teary and all the others are shocked.. As naksh sees keerti's teary eyes.. He cups her face..
Naksh :Until.. our marriage..
All : What???
Keerti :What are you saying Naksh..
Naksh : Keerti.. i always thought to keep you happy.. and that's the main reason why.. i had done all those stupid things.. But i was not satisfyed.. i was feeling as if.. there are things.. which i missed.. Then i realised.. that.. it was nothing else.. but our marriage..
Keerti :So…
Naksh : So.. i jusg want to relive all that moments i missed… for that.. I had to tell all the things to your family… I think god was with my side.. they understood me..
Keerti :What if they didn't…
Naksh : I am sure that you won't leave me..
He holds her close…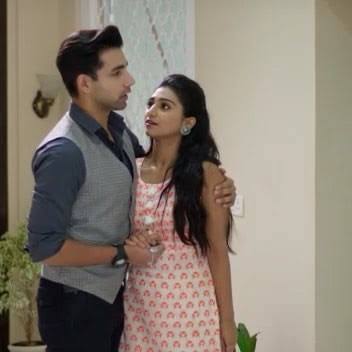 Naksh :Mumma.. pappa.. Dadi.. I hope you all are okay with my stupid idea..
Mishti :stupid Idea.. bhaiyyu.. this is the best one.. It will be fun..
Naksh :Mumma..
Akshara : You did right… Dugghu.. i am proud of you..
Naitik hugs Naksh..
Keerti goes to akhilesh and mansih..
Keerti :Dad , Chachu.. I am really.. sorry i couldn't even understand tgat you guys will stay besides my side.. and .. i am really sorry.. i kept this sceret..
Mansih  Its okay.. keerti beta .. dad loves you..
Akhikesh :And i'm confused… that the keerti who used to fight with kartik.. on little things.. is now so much mature..
Manish : Keerti pack your things ..
Keerti : But why dad..
Mansih :I can't allow you to stay in your in-law's till the marriage finishes..
Karishma :True.. it will be so much fun… Anaya & vikram and Nanu.. could attened there wedding.. at the first time.. but this time we will make all up to it… I'm so excited..
Gayu   But Naira..
Naksh : Don't worry… She will reach by tomarrow..
Keerti :Dad.. kartik..
Naksh : He is also comming.. so…
Keerti packs her bags… and she takes blessings from Elders..
Naksh kisses her.. as she is going.. to her own home..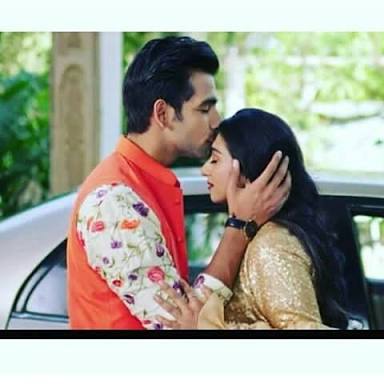 Gayu (coughs) : The marriage has not yet happened Bhaiyaa…
Keerti leaves…
——-GOENKA MANSION..
As keerti enters she is surprise to see the whole mansion was getting ready for something..
Mansi ; luv-kush ran towards keerti and hugged her..
Dadi :Suwarna get the aarati plate the.. dulhan is here..
Suwarna.. does her aarti and welcomes her..
keerti: What is this all about…
Surekha : Its another surprise from Naksh..
Keerti looks at them confused..
Mansih : Tomarrow is your engagement..
——— SINGHANIA SADAN—
Akshara : Kya..
Devyani :Tomarrow..
Gayu : Bhai.. youre joking.. rigt…
Karishma :Oh.. my got i haven't even got an appoinment for beauty parlour…
Naman :Karishma.. beautitions also have there limitations..
Karishma :So funny…
Rajshekhar :But.. what about others.. Rajshri ji ; Vishwambar bhaisabh.. Ananya..
Devyani : Ah.. Rose is in US with her mom..
Kaveri :Are you not tensed munna..
Naitik:I am sure.. he have solitions for all that..
Naksh :Ecxept.. Rose and her mom.. everything is sorted..
Mishti :I think.. my bhaiyyu.. is dying to get married….