Hello my wonderful readers here comes the next episode 
Recap: Sirat recovers. Akshu starts to crawl. Rhea's plan flops
Goenka Villa
Sirat is back from the hospital. Everyone treat her like their family member and pamper her. Naira brings Kachoris to the living room where Sirat is seated
Naira: Sirat..have these hot Kachoris..I have asked the doctor and he said you can eat anything 
Kartik who is outside with Naksh and Rohan rushes inside 
Kartik: Nair yaar..kachoris…why didn't you call me
At the same time Kairav too runs there
Kairav: Muma…kachoris…wow thank you so much muma
Dadi: How did you both come
Kairav and Kartik in unison: We got invitation through the smell
Everyone laugh out loud
Rohan and Naksh too come inside and they start eating 
Kartik: Waise Sirat..what happened that day? Only if you tell that we can find Ranveer
Sirat: Woh….Ill tell you Kartik ji
Flashback
Sirat wins the match and she is very happy.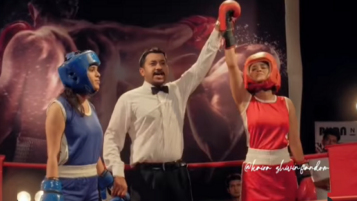 She goes to Rohan
Sirat: Dushman…Im going for an important work…Ill meet you  in the evening inform coach sir
She runs out happily and finds Ranveer waiting for her. She runs to him and hugs him
Ranveer: You won right?
Sirat: Haan…
Ranveer: Ab chalo mere saath
Sirat: Kahan? Whats so urgent that you wanted to meet me immediately after the match? 
Ranveer: To give you the gift for winning 
Sirat: Whats that gift?
He takes out mangalsutra from his pocket. Sirat is surprised and she has tears in her eyes
Sirat: Ranveer..this…
Ranveer: Yaar Sirat papa is not accepting our relationship and you are also struggling with that Mukesh. If I marry you Ill shift over with you and Maudi. Then we will have a happy life
Reality 
Sirat starts to cry saying this. Gayu hugs her
Gayu: Sirat dont cry its not for your health. I know the pain of losing someone who promised to marry us and give us a happy life…but you don't worry Ranveer will be back to you
Sirat wipes her tears and continues
Flashback
Ranveer and Sirat get out to the street happily. Suddenly they are blocked by Mukesh and gang
Sirat: What are you doing here
Mukesh: Till you are alive you will keep creating problems for me
He aims a gun at her
Sirat: My mother ran with you and killed my father now you are going to kill me you blo*dy idiot
Before she could process Mukesh shoots at her but Ranveer pushes her and takes the bullet in his chest. Sirat is shocked she runs to Ranveer and takes him on lap, Mukesh and Gang see someone at a distance and run away
Sirat: Ranveer…ranveer…..Mukesh Ill not leave you…
Just the someone hits Sirat on her head. Ranveer who was half conscious shouts for Sirat
Reality 
Sirat: Its his shout and face which I remember as the last memory
Naksh: Then there is someone else who attacked Sirat and took Ranveer
Rohan: If we ask Mukesh we will know I guess 
Akhil: Will he say?
Kartik: We must make him say
Naksh: Kartik you are hurt..you stay back. Ill go with  Rohan to meet Mukesh. We will handle him and come
Naksh and Rohan leave from there.
Dadi: Sirat you shift to My room with your maudi
Kartik: Dadi aap?
Dadi: Haan mein..Swarna do the needful
Sirat is taken to Dadi's room. Naira makes her settle there and goes to Kaira room. She is suddenly hugged from behind by Kartik as she is about to enter the room
Naira: Kartik…kya hai?
He lifts her in his arms
Naira: What are you doing?
Kartik: What..? You are entering after so long thats why Im doing my ritual
Naira: Tum bhi na
He enters the room and lets Naira down
Naira: You are hurt Kartik dont be playing around like this
Kartik: Nothing will happen to meeeee
He slips and is about to fall. Naira holds him
Naira: Haan…until Im there nothing will happen..but if not
Kartik steadies himself and pulls her closer
Kartik: What if ur not? You are not going anywhere 
Naira: Arrey..waise nahi…I thought of visiting maika for a few days
Kartik: Ill also come with you then
Naira: Kabhi peecha nahi chodoge?
Kartik: Naira…mein yaha kabhi sath nahi chodne ka baat kar raha hoon aur tum
Naira hits him
Naira: You made me forget my work in your talks. I have to take Sirat's medicine with me
She is about to go Kartik holds her hand and pulls her, she twirls and comes to him
Kartik: You remember Sirat's medicine, my hurt but forget your medicine 
He leaps and takes her syrup, he pours it in the cap and takes it near her , she makes a face
Kartik: Dho bachon ki muma aur harkat bachon jaisi..if Kairav sees you doing this he wont have his medicines
He makes her drink it
and turns her towards him and kisses her forehead
Kartik: Good girl..ab jao..kaam karo..or else you will say Kartik because of you my work got delayed 
Naira walks away leaving a smiling Kartik who falls on the bed. The scene freezes 
Precap: Payal Function and a new entry