TALES OF THE HEART | EPISODE 16
TALES OF THE HEART
EPISODE 16
The epsiode starts with Bihari giving a parcel and letter to Bondita.
Anirudh- Who's letter is it?
Bondita- My best friend's, Aakash Chatterjee.
Anirudh- oh!.. what male friend?
Bondita- Yes!  Any problem??
Anirudh- N..ooo..nooo..
Anirudh leaves and Bondita laughs on his jealousy.
Bondita opens the letter.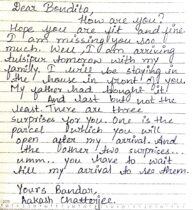 Bondita reads it and get happy. She keeps the parcel safely in her room. She got busy in preparing food for his family.
Anirudh fumes in anger watching Bondita preparing food for his best friend.
Next  day, Aakash arrived. Bondita rushes to him and hugged him. Anirudh pulls Bondita from the hug. Bondita and Aakash laughs.
Bondita- First give my my surprise.
Aakash laughs and calls someone from the car.
Aakash- Aajao (come)
A lady with a baby boy came towards them.
Bondita- Sakshi !!!
She goes and hug her.
Bondita- Whoese child is this?
Sakshi- Aaksh and mine.
Bondita- When did you get married??
Sakshi- After you left london, my father forcefully wanted me to marry someone else. So, me and Aakash eloped.
Anirudh felt relieved after he got to know that Aakash is married and has a child too.
Anirudh- Welcome. What's his name?
Aakash- Saksham Chatterjee.
Bondita- wow, nice name. By the way, what's  his age?
Aakash- 1 years old.
Bondita took Saksham in her arms and started to play with her. Anirudh falls relieved after watching Bondita smiling whole heartedly.
All does their breakfast.
Aakash- My Sherni, bring the parcel. We will watch it together.
Bondita- Yes my Bandar, I am eager to watch what's  in it!
Bondita brings the parcel.
Bondita- CD ?
Aakash- yes! I have captured some moments from our convocation ceremony in it.
Bondita- When?
Aakash- When you were busy diverting someone's mind.
Anirudh- Why she needs to divert anyone's mind??
Aakash- let's see.
(It will show all Bondita running in bridal gown and some peoples are behind her and how she confirms Lee's parents for her marriage. She forgot about convocation ceremony so she runs there. She gets the degree)
Anirudh- Bondita, you forgot about convocation? How careless.
Bondita bites her tongue and holds her ears.
Bondita(making a cute pout)- Sorry.
Here, Anirudh melts in her cuteness.
Anirudh- It's ok!!
All of them enjoy their time and Aakash and Sakshi left for their home.
At night, in Anidita's room,
Anirudh hugs Bondita from Behind.
Bondita- Pati Babu, I want to tell you something.
Anirudh- What baby??
Bondita- I want a child. Should we try for another child?
Anirudh smiles.
Anirudh- Yes,  but are you ready for this?
Bondita- Yes..
Anirudh comes closer to Bondita.  They spent their beautiful night with pain and pleasure. (Let's give them some privacy🤭)
In a room full of Bondita's photo.
Man- oh Bondita, how are you? I know you are married but I want you.. I will try every possible way to snatch you from Anirudh. You only belongs to me. Every girl in college had crush on me but you were the first one to reject my proposal. This made me love you more. I will soon make you mine. You will only be mine. Joseph Willam's Bondita.
He smiles evily.
Precap- A car came and walked out in front of RC Mansion. Joseph thinks of his plan to separate Anirudh and Bondita. Will he able to separate them? Or he will end up with his Popat??
HOPE YOU ARE DOING WELL. I HAVE TAKEN A LONG BREAK FOR MY STUDIES. MY TODAY'S WORK HAD BEEN DONE AND I AM BORED , SO I WANY TO SURPRISE  YOU WITH THIS ONE.
~Shreee❣