Taking Revenge with my Husband & Devarji. A Riansh TS by Tanya K (Part 2)
Hi guys, I'm back with 2nd part of this TS, hope you'll will like it. So
TS Starts from Last scene:
VANSH: I have a surprise for you all.
He said and indicated towards the main gate. Everyone looked towards the gate and was totally shocked including Riddhima to see Police at the main gate. Police get side to give space for some one to come. A young man came wearing a black tshirt with black shirt and blue jeans. He entered inside while all the Rai Singhania's were shocked to see him except Vansh and Riddhima. Vansh was smirking while Riddhima was confused.
DADI: VIHAAN!!!
The man was none other than Vihaan.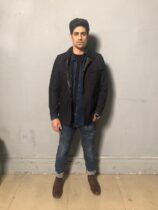 He went to dadi and took her blessings. He hugged Vansh and Ishani. He went to Riddhima and stand in front of her.
Riddhima looked at Vansh and then at Vihaan she was so shocked to see Vansh's duplicate that she fainted in Vansh's arm. Vansh shouted her name and took her to their room while everyone followed him. Vihaan stayed at the hall and looked at Kanupriya with hatred in his eyes. He signaled to the inspector to wait here only.
He also went towards RIANSH'S room. And saw that Riddhima was lying on the bed unconscious and pale face, while Vansh was rubbing her hands with teary eyes and doctor was checking her.
After sometime doctor looked at all Rai Singhania's.
DOCTOR: Nothing to worry about she just fainted because of sudden shock and not eating anything properly from many days. I'm giving you some medicines gave them to her and please take proper care of her. She will gain consciousness after 2 hours.
Saying this she gave medicine to Vansh and went from there. Dadi caressed unconscious Riddhima's head softly and kissed her forehead and went from there while everyone followed her.
Vihaan & Vansh went to the hall and told the inspector to arrest Kanupriya. While everyone was confused.
DADI: But Vansh what they did Vansh?? Why are sending them to jail??
INSPECTOR: Mrs. Indrani Rai Singhania, we are arresting them because they killed Mrs. Uma Rai Singhania, Mrs. D Souza and Miss Ragini mittal. They even tortured Mrs. Riddhima and tried to kill Miss. Siya.
Saying this they arrested Kanupriya and took them to the police station. Dadi was so shocked that whom they considered their daughter in law is the murderer of their real DIL. She collapsed on the floor and cried bitterly. Vihansh ( Vihaan + Vansh ) went towards them and hugged Dadi and consoled her.
Vansh signaled Ishangre to take dadi to her room, they nodded and took her with them. Vansh went to Riddhima while Vihaan went to his room.
After 2 Hours.
Riddhima waked up & rubbed her forehead and looked at her surroundings. She looked at Vansh who was sleeping beside her in sitting position like a baby holding her arm. A smile crept on her lips, she kissed his forehead lovingly.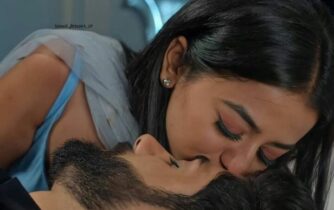 She caressed her forehead softly and looked at him with tear in her eyes and smile on her face. Vansh slowly opened his eyes and was surprised to see Riddhima staring at him. He also looked at her and they shared an cute and romantic EYELOCK.
After sometime Riddhima broked the eyelock and hugged her and started crying bitterly.
RIDDHIMA: I didn't betrayed you Vansh. They manipulated me. I'm sorry Vansh, I didn't betrayed you.
Vansh's heart was piercing seeing his SWEETHEART like this. He stroked her hair softly. He broke the hug and made her face him and cupped her face. While Riddhima looked at his eyes and stared at his black orbs.
VANSH: I trust you Riddhima and I know my Sweetheart can't betray her Vansh.
Riddhima's heart danced with happiness after knowing that her love trust her. She again hugged Vansh.
RIDDHIMA: I know Vansh that you trust me but I want to tell you about my past. I want our relationship to be as clear as a mirror no lies between us.
VANSH: Sweetheart I told you naa that I trust. And your past doesn't matte…..
Before he could complete his words Riddhima putted her finger on his lips.
RIDDHIMA: Please Vansh, I want to tell you and I will tell you. Please listen to me and don't interrupt me ok!!
Vansh nodded at her like an obedient child.
RIDDHIMA: Good, now listen!! Vansh in an orphan's life there is no one to love them and care for them. In my whole life I craved for love, until Kabir came in my life and showered his love on me, cared for me. He gave me love for which I was craving in my life. I want to spend my life with him and I proposed him. But he asked the price of my love and it was to spy on you. I was broken but as I was blind in his love I agreed and came in your life & VR MANSION as Siya's physiotherapist. Then you started doubting at me and forced me to marry with you. I told to Kabir that let me leave from here but as he was so mad to send you behind bars he asked me to marry you for the sake of his love. And I agreed to marry you. In starting you were a Monster, a beast for me but when I started knowing you, I started falling hard for you. You were very caring and loving for me and you made me believe and trust you. And for Kabir it was a mere attraction of my. I broked my every relations with Kabir on Karwachauth because I want to start a new beginning with you. But on Karwachauth someone send me a video of yours in which you were aiming a gun on Ragini. I want to prove you innocent. And I went to save Ragini when you jumped from cliff. But Kabir killed Ragini and when I came to save you, you also jumped from cliff. That day I lost you, I was totally broken, I couldn't save you. I'm sorry Vansh.
She buried her head into his chest more while tears were continuously flowing from Riansh's eyes. Unknown to them Vihaan was also listening to her. Vihaan went inside to Riddhima and Vansh. Riddhima looked at Vihaan and Vansh while both smiled at her. 
RIDDHIMA: Vansh I'm seeing two Vansh. What is happening to my eyes.
She rubbed her eyes while Vihaan and Vansh laughed at her. And she glared at Vansh. And Vansh glared at Vihaan while Vihaan kept his finger on his face still giggling.
VANSH: Riddhima nothing happened to your eyes. And there is no two Vansh, instead he is my twin brother.
VIHAAN: And your Devar ji, bhabhi ji
He said with naughty tune and winked at her.
RIDDHIMA: Vansh but you never told me about him.
VANSH: He lived in London and he forbidden me to tell you because….
VIHAAN: Because I want to surprise you and want to see your reaction while seeing a duplicate of your husband. And I must say your reaction was really hilarious.
Vihansh started laughing while she looked at them with cute annoyed face and cute pout. Vansh pecked her pout while Riddhima widened her eyes and Vihaan closed his eyes.
VIHAAN: Vansh bhai, I'm here have some patience.
Saying so he chuckled at them pressing his lips while Riddhima blushed.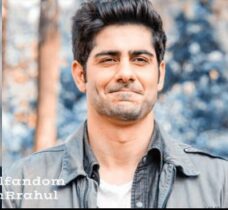 VANSH: What can I do Vihaan?? My wife & your bhabhi is so beautiful that I can't control myself.
He said making Riddhima crimson red. Vihaan giggled and left from there muttering ENJOY. Here Riddhima hit Vansh with her small fist. He rubbed his arms while Riddhima laughed. He started tickling her while she was pleading him to stop. After sometime he stopped and they both fall upon the bed panting heavily & shared an EYELOCK. Vansh kissed her forehead, cheeks, jawline respectively.
And embraced her in his arms and slept cuddling her closed to his heart. They both were feeling solace after so many days and were going to sleep peacefully after so many restless nights.
Riddhima slept while thinking about a new start with her love. And Vansh slept thinking about punishing his and his sweet heart's culprits. He made her more close to him and place a soft kiss on her forehead. Riansh smiled and slept.
PRECAP: Rihaansh ( Riddhima+Vihaan+Vansh ) punished their culprits. Riansh's romance. Vihaan proposed someone.
That's it for this part hope you'll liked it. Do tell me how was it & to whom Vihaan will propose.
YOUR AUTHOR
TANYA❤