Swaragini: my side story (episode 21)

Warning: A non-numeric value encountered in /home/ftpusers/tellyu/public_html/wp-content/themes/publisher/includes/func-review-rating.php on line 212

Warning: A non-numeric value encountered in /home/ftpusers/tellyu/public_html/wp-content/themes/publisher/includes/func-review-rating.php on line 213

Hello guys..first of Neetu and Nive..yes ragsan got engaged indirectly in 25th episode of Two hearts..and Rikashini dear…in that episode only I have mentioned that Ragini's groom is Rohit..so here goes
Ragini faints..Sanskar gets tensed..
He takes her into his lap..
Sanskar : Ragini what happened…maa.did she eat anything?
Sumi: she ate Sanskar but due to vomiting she must have felt weak..
Guests start gossiping..
Lady 1: fainting and vomiting looks like she is pregnant..these r pregnency signs.
Lady2: haa ..waise she was married to that laksh and was with him na as his wife..
Sanskar gets angry listening to them…before he could say anything.
Laksh: not a word against Ragini…just get lost from here..
Laksh calls doctor..
Doctor Checks and comes out..Sanskar was very tensed. The
Sanskar: doctor Ragini?.is she alright..everything is fine na..nothing to worry right?.
Doctor: nothing to worry Sanskar..be calm..
Sanskar and others relax .
Doctor: it's was due to heat stroke..that's it..she is not pregnant as u expected…
Sanskar looks confused…everyone is shocked..
Sanskar: what r u saying..
Doctor: don't worry..she is still virgin.
All the ladies look on embarrassed…while gents don't know how to respond…
Swara: what r u saying doctor
Doctor: I did pregnency test on Ragini as Sanskar told me..also I did virginity test..as Sanskar wanted to check if Ragini is virgin or not…
Ragsan: what????.Sanskar turns around to see Ragini standing near the door with anger and shock..
Sanskar nods his head in no..
Ragini: Sanskar?…
Doctor goes
swara faces Sanskar..
Swara: how dare u Sanskar…how can u raise finger at Ragini's character Chii
Sanskar : I..ii.( he was too shocked to answer)
Shekhar holds his shirt collar
Shekhar: how dare u..u all Maheshwaris want to make fun of my daughter …first Ur brother played with her feelings and now u want play with her life.
Sanskar: uncle listen to me..
Dadi: chii how did u raise Ur Kids dp ji.…
Sanskar: dadi please believe me..I will never do this with ragini
Ragini was still thinking..
Swara: what to believe Sanskar..if Ragini was pregnant the scene would have been different…
DP: ram see Ur son left no stone unturned to embarrass us..
Suji: I am sure something is wrong bhaisa.
Everyone starts blaming Sanskar..
Ragini: STOP IT(she shouts loudly)..just stop it..I don't have energy to take anymore..just stop it..
She breaks down..
Sanskar comes forward to hold her but she show him her palm to stop..
Ragini: stop Sanskar…let me talk now..
She gets up..
Swara smirks remembering paying those ladies and doctor..
Swara(in mind) : drama started just popcorn is missing…
Sanskar (in mind) : believe me angel..I didn't do anything..
Ragini looks at sanskar
Ragini: stop.it Sanskar..u have given me enough strength that I can fight my own battles.No need to give any explanation because even if I see u asking that doctor to do those tests I won't believe them..( she holds his hands and kisses them)I trust my love..I trust u more than myself..I may be wrong but my Sanskar will never be wrong..
Swara looks on shocked..even others look on shocked while RP ,sujatha,laksh and adpari looks happy.
Ragini was still holding his hands and ragsan were looking at each other…sanskar was emotional..Ragini looks at him lovingly…both were just alone..
Swara: great Ragini this guy raises his finger on Ur character and Ur believing him..do u have self-respect?
Sanskar breaks eyelock and looks at swara angrily…but Ragini still smiling holds his chin and makes him lol at her again..
Ragini: I told u na..no need to bother..we r in love Sanskar ..and u say na love is only about u and me..so ignore them..
Swara : saw baba for her he is more important than.us..
Shekar: Ragini he doubted on u and we r supporting u..but u believe him more?.is he that important?
Ragini holds Sanskar's hand more tightly…
Ragini.: yes papa he is more important to me..I will tell u why.. remember papa when laksh said he wants to.marry swara….no one saw my pain..all wanted swara's happiness..even though Sanskar wanted revenge he was always there for me when my own family didn't bother about me…u wanted to make swara get all the love she was missing but inspite of being with me u never cared for me..what about me..at that time..Sanskar took ur place to pacify me..when no one supported me after knowing my truth Sanskar stood by me…when u people left me to die Sanskar saved me.when whole world was cursing me.sanskar held.my hand…at every point of my life Sanskar stood up as a pillar..he is more important for me.
Shekhar and dadi look ashamed
Tears rolled down Sanskar's eyes..
Ragini looks at DP
Ragini: bade Papa Ur pointing at papaji na.then u tell me when laksh doubted swara then u didn't say anything…when aadasrh bhai cheated on pari bbhabhithen were u not embarrassed..my Sanskar has always been a reason to be proud not to be ashamed..
Dp bends his head
She goes to Sujatha and RP
Ragini: maa.i want to.marry Sanskar..and I need only Ur permission ..
Sujatha places her palm on Ragini's cheek..
Sujatha: I always envied aadarsh and laksh thinking.my Sanskar has nothing but he has a gem like u..thank u beta..
RP blesses her
Everyone ask for forgiveness
Sanskar hugs her tightly…as if she is being pulled away from him.
Sanskar: thank u Ragini ..I thought I lost u…thanks for trusting me.
Ragini: we can cry anytime ..but pehle shadi karle..
He holds her hand..
Sanskar : come.
Ragini: areh see my make up is spoiled ..my wedding I should look specia..u all go I will come
Sanskar kisse her forehead and and leaves followed by everyone.
Swara was also about to leave. But Ragini stops her ..
Swara: haa…
THUD….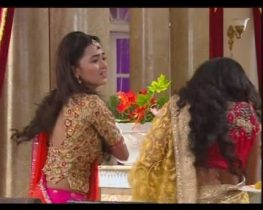 Ragini slapped swara..
Swara : what ..
Again THUD..
Ragini slaps her again.
Swara: r u mad..
Ragini : yes..if u do this cheap tricks again then I will make sure u turn mad.
Swara: what r u saying..
Ragini holds swara's neck..
Ragini : don't act smart..till now u have hurt us I was quiet but today u Crossed Ur limits..u are asking for my self respect na..I have printed it on Ur cheeks..Next time if u do any such thing..then u don't know real Ragini..accidents will start to happen in your life.
Ragini goes there…
Ragini is seated in the.mandap
.they take pheres
Sanskar: angel I really don't know the meaning of there mantras but I promise.i will stand for u till my last breath..
Ragini looks on emotionally..
Marriage is completed..
Swara comes there ..her cheeks were swollen..
Laksh notices them
Laksh : now I understand ..it's Ur dirty trick..u deserve these slaps..
Swara fumes..
Ragsan look at each other with lots of love..holding each other's hands.
Precap: Ragini's first rasoi..swara's cheap trick.
Hope u like it..I am very happy..yeah RLHN is ending but doll is doing another project ..she is getting lot of offers that one show has not ended she got another offer..I am so happy .if tevar work together I will be very happy…I pray for that..

Warning: A non-numeric value encountered in /home/ftpusers/tellyu/public_html/wp-content/themes/publisher/includes/func-review-rating.php on line 212

Warning: A non-numeric value encountered in /home/ftpusers/tellyu/public_html/wp-content/themes/publisher/includes/func-review-rating.php on line 213