Right after getting a tight slap from KT Pratigya felt now there is no use of convincing him to hear his story. She thinks about her dad .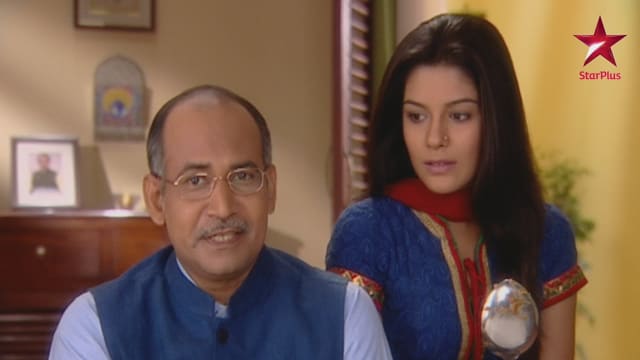 Saxena : Throughout 21 years I stayed as a junior artist only, Beti. I was behind the hero and none of the directors realized my talent. Pratigya don't think about the rejections which you have been facing whenever you goes with your scripts. You made your own identity by creating short films and it's not less than any acheivement. Something big is certainlly awaiting for you, when it comes don't leave it as opportunities are less and competetions are high.
Pratigya : I will make you to come forward to the stage Paapa definitely this film industry will recognise you one day. It's my promise.
Thinking those moments her eyes went teary and she wiped her tears . She started packing her bags. Dharmendra arrives there and looks her.
Dharmendra : Are you leaving in middle itself ? The battle has begun just now only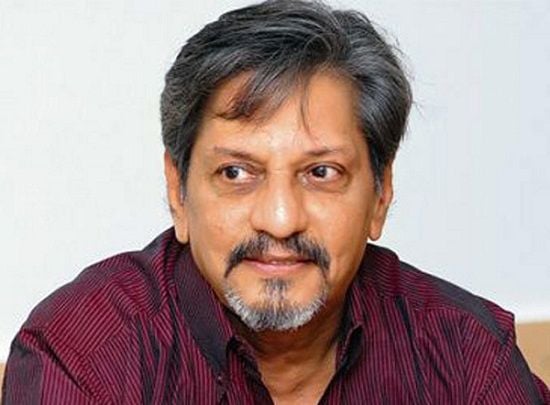 Pratigya : I don't understand why you are not trying to change your son ? His own family is maintaining distance from him which is making him more arrogant and he continues doing these kind of activities.
Dharmendra : He has become Gangster KT who is  the leader of all gangsters in UP. Now I can't see my son's glance in him.
Pratigya : Humanity is existing in him I have witnessed that one in his eyes.
Dharmendra : I know he hasn't become a gigantic creature , infact what he is doing now is his anger and the fire which is burning inside him.
Pratigya : Uncle can you please tell me what you knows about him ? I seriously wants to know it.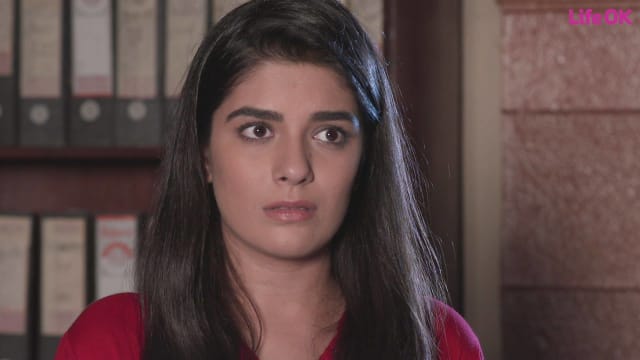 Dharmendra ; Like every guys KT also loved a girl deeply. Her name was Shivani. He gave all happiness to her and one day the animal inside his deeper soul waked up and he stabbed knife at Shivani's body and she died on the spot.
Pratigya gets shocked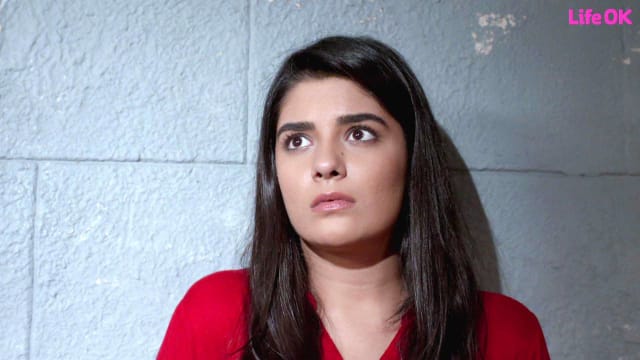 Pratigya : What ? KT killed his own lover Shivani ? I am not able to believe this. How can be so rude ?
Dharmendra : If you are brave enough to know more truth then ask those fellows who are staying with KT. They will tell you the whole strory
Next day 
Pratigya started following Kallu who was going to a dhaaba . At a point Kallu felt some one was following him. Kallu throws a knife towards Pratigya. Pratigya screams , but a hand hold that knife and it was none other than Rahul.
Pratigya : Thanks Rahul for saving me.
Kallu : Rahul she was following me. Pakka yakeen hein humein yeh chokri press reporter hein
Pratigya : No Rahul. I swear I am film director only. I was following him because I want to know about KT for making film
Rahul takes his gun and looks her in full of attitude
Pratigya : Rahul trust me Please, I was about to leave after getting slap from your bhai KT yesterday. But KT's dad told me something shocking which I couldn't believe yet. He said that KT killed his lover Shivani by stabbing knife at her body
Rahul : Aeeey !! How dare you say this nasty thing about my bhai ? I will pull your skull out of your head,Girl
Pratigya : Then someone please tell me who is KT ? Who was Shivani ? What happened to her ?
Kallu : Rahul don't trust this girl. She might be plotting something to trap KT
Rahul : She is telling truth and Maanvi only bought her here . She really don't have any intention to trap us. See there is no spy mike, camera, pen , laptop,tab ,weapon -nothing is in her hand. So we can trust her.
Kallu : Then it's fine. KT can't kill anyone, Shivani bhabhi was his soul .
Pratigya ; That means KT married Shivani , she is his wife ?
Rahul nods his head.
Rahul  : I will tell you what made Krishna to become KT. It happened 4 years back when Krishna completed  college education and he was searching for job. That time Krishna's dad was facing financial struggle . His salary was not enough to fullfil needs of his family which included Prabha [Krishna's mother] ,Krishna, his sisters Nethra and Maanvi.
Pratigya : Nethra ? Krishna had one more sister Nethra ?
Rahul : Yes. Nethra was his elder sister . She got married to Sajjan singh and that was the biggest mistake which Dharmendra Ji did. Every one knows him as a famous business dealer who gives money to needy but instead of it he keeps papers of their house, property or something which is valuable. He had another face and that was of a gangster's . If he didnt get the debts back he use to kill people who borrrowed money from him without mercy after snatching everything from them. For Prabhaji's treatment Dharmrndra borrowed some money from him. Prabhaji was bedridden for so many months when she faced cerebral hamerroage and the treatement was very much expensive. As Dharmendra was not able to return money Sajjan singh entered his home and threatened him. Suddenly his eyes went on Nethra and a crooked smile came at his face.
Saxena : Sajjan ji please give me some time.
Sajjan : Master saab kyaa hein kee hamri biwi bohut pahele hee swarg chali gayee aur ik bitwa hein joh bilkul nikamma hein. Ek beti hein joh sunti nahi hein hamri baat. Unke dekhbhaal ke khaatir koyi chahiye kee nahi,Tohri badi bitiya se hamri shaadi karwa do bas , saare ke saare karz se chutkara milega .
Krishna gets very much anger after hearing this.
Krishna : How dare you talk like these before my Paapa ? You shameless creature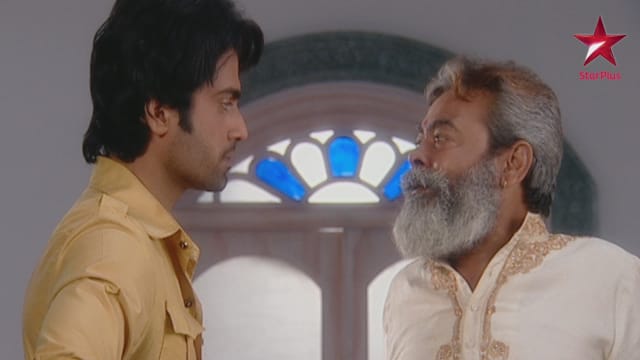 Meanwhile his son attacks Krishna. Krishna in anger slaps him and both of them had an immense fight. Sajjan also involved in fights.
Seeing all these Dharmendra gets scared. Krishna takes a photo frame from wall and places it on Sajjan's son's head.
Krishna : You and your Paapa should leave right now , Other wise I will break this at your head
Sajjan : Paise liye thee tohre baap , uss paisse kaa kya ? Paise nahi mile isi liye sood sameth vasool kar raha hoon, Tohri badi behan hamri jindagi hein. Hum cheenkar le sakte hein, par professor saab ke khatir ruke hein. Hamri shaadi karwa do bas. Ek bhi paisa nahi maangenge hum. Kal jo huwa woh dubara yaad dilawun
Nethra : Hum shaadi ke liye thaiyar hein
Dharmendra  : Beti
Krishna : Didi what are you doing ? Why you are going with this gangster ?
Nethra : Krishna Maa is sleeping inside , she doesn't know anything. She needs better treatement. You should take her to Mumbai. And regarding me already this gangster had molested me when I was returing from temple. At this village before the public he misbehaved with me and I screamed for help. But no one helped me as every one fears a gangster who is capable of doing anything. He grabbed me to his body and torned my clothes, I screamed a lot but none of us helped me. This whole village is under his control. He was forcing himself to me and he stopped it when he saw Paapa. It happened yesterday evening only. Krishna now I had no option rather than marrying this creature. Whole world has seen his attempt to rape me and I have no choice.
Krishna : Didi, please. I don't understand why Paapa hide this truth from me ? Didi I am always with you and you don't need to worry at all. We will go to police and
Nethra : Which police ? Do we have any system of law and order in UP ? The corrupted politicians , gangsters have made them as their puppets Krishna . Police will say if you put a complaint then your daughter's self respect and name will be destroyed forever, do you want that ? Paapa and I went there and they mocked at my state of conditon and asked me to stay inside home only. They can't assure safety of women in this village , Krishna. I hate this system. Now before he could snatch our home from us let me burn myself in his burning fire .
Krishna : No didi, please don't do that.
Nethra : Krishna Maanvi is too small . She is just 14 years old. Let her study somewhere else and she should never come back here. This village is not capable of proetcting a girl . She should come back when the fear of Sajjan should go from here and for that a power needs to be risen up and you can be that power Krishna. You can be that power Krishna.
Dharmendra : No Nethra
Nethra : Paapa you go inside and stay with Maa. Take Maanvi also with you. She should not watch it.
As Dharmendra goes inside with Maanvi, Nethra goes near Sajjan singh,
Sajjan : Hamri maal abb hamri hatheli mein, Varmaala laa de
One of Sajjan's man brings a garland.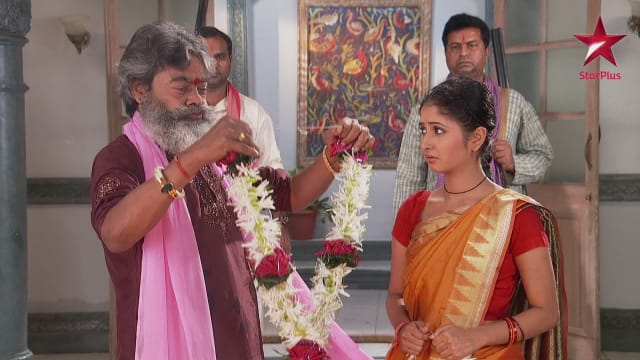 Krishna's eyes become redish in tears and anger.
Krishna : Didi please
Nethra : Krishna I have decided to burn myself in fire , don't stop me.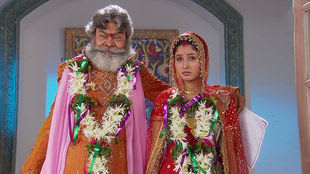 Sajjan puts garland at her neck and also puts sindoor at her hair line.
Sajjan : Ho gayi hamri shaadi
Krishna weeps in tears
Scene shifts to Haweli
Shivani : Paapa I really hate you , don't you feel ashame to do this ?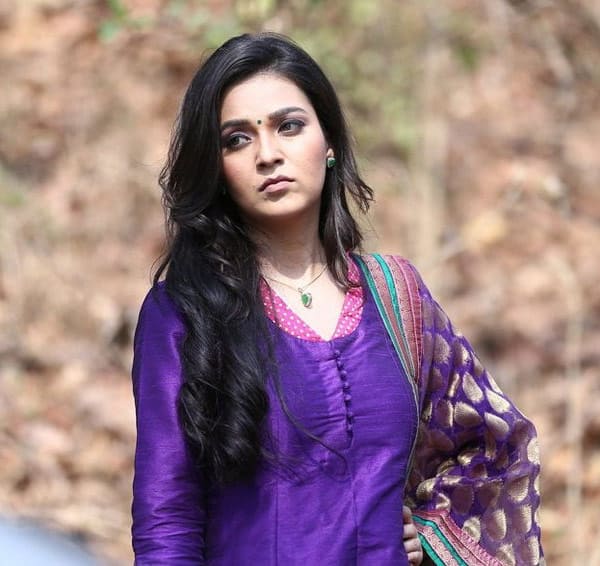 Sajjan : Tohri nayi Maa hein yeh
Shivani : Already you did so much attrocities and I am forced to bear you as my step father because of my Maa only. But today you cheated my Maa also ? How can you do this to my Maa ?
Sajjan : Chup, why you are weeping on those body which is not alive now ? She died two weeks before and her story is over.
Shivani ; Behan, I don't know at what circumstances made you to get marry this demon,whatever it is I am appologizing to you on behalf of him. It's a shame that my Maa married him without knowing his true face .  After Paapa's death she stayed with me for 3 years and at that time I was just 6 years old only . She took the decision to marry you  believing that you will look after me very well. But you was just behind my Maa's money only and when my Maa came to know that my Paapa didn't died in accident as you was the person behind his death , you killed my Maa also.. Your sins can never be forgiven and today  what you did has crossed all limits , Sajjan .
Sajjan : Bohut jaban chala diya , Ratan sabak sikha lo isse
Ratan : Ji Bawuji
Ratan brings a hammer in his hand, Shivani gets scared when she sees the hammer.
Shivani ; Don't beat me with that , Ah…..She screams and fells down
Sajjan : Take her to the dark room and lock the room.
Nethra ; Why she got scared and what happened to her ?
Sajjan : Tohri yeh himmat humse sawal karte ho ? Jaa jaake tayyar hoke aa….Aaj toh suhag raat hein hamre, Jaa….
He pushed her to a side.
On the other hand Krishna was much affected with the happenings. He decided to bring back his sister from Haweli.
Dharmendra : Krishna beta where are you going ? And why are you holding knife ?
Krishna : I will kill that gangster and bring Nethra didi back to home.
Dharmendra : Beta, don't do it. He is dangerous and you can't defeat him. He has deadly weapons and if anything will happen to you and Nethra then what will I do ?
Krishna : Paapa , don't stop me. The battle has begun , now it will never stop.
Dharmendra : Krishna but you don't know how to fight, before those goons you will fail.
Krishna : I am not feared of myself anymore Paapa, but Sajjan Singh would not grab any girl of our village , for that I am going to take this knife.
Krishna walks away. Dharmendra looks him.
Krishna looks at the entrance of Haweli.
Krishna : If I goes through this way his mad bodyguards will catch me. At any cost I have to enter inside and what should I do.
Suddenly he sees the side fence and he slowly jumped through the fence . He sees two men carrying a girl to the store room of outhouse . They put her there and locked the room from outside.
Krishna : Oh No !! Sajjan Singh doesn't leaves any girl. He has captured another girl also. I need to go and save her.
Krishna walks there and as they were two only Krishna was able to attack them . He hit their heads with stone and opened the door. He got inside and sees the girl lying at the floor. He made her to lie at his lap and sprinkled water drops at her face.
Krishna : Udiye, please
As soon as the girl wake up she started crying …..
Shivani : He will kill me just like the way he killed my Paapa , He will beat my head with that hammer….
Meanwhile Ratan enters there.
Ratan : Shivani !!
Shivani : Please help me. This man will kill me, Please save me
Krishna's face turned red in anger. He fights with Ratan and manages to beat him .
Shivani : Thanks for saving me , your good name
Krishna : I am Krishna , Krishna Thakur
Shivani : I am Shivani …Just Shivani …..Shivani Dutta kahun yaa Shivani Singh
Krishna : Matlab
Shivani : The man whom you beated now is my step brother only.
Krishna : What ?
Shivani ; Sajjan Singh killed my Paapa , then he married my Maa pretending as a good friend of my parents . He was actually the business partner of my Paapa. But Sajjan cheated him and we came to know all truth very much later. When Maa refused to sign on some property papers he killed her and made the thumb impression on My Maa at those papers. He is that much cruel and now he has bought a girl here . He said he has married her.
Krishna : She is my elder sister .Nethra
Shivani : What ?
Krishna ; I want to get inside the haweli. But so many goons are rounded and it's not possible for me to deal with each and every one.
Shivani : There is a secret way to enter inside the haweli. I will show you , Come.
Krishna : Ji
Shivani and Krishna goes through the subway of the outhouse and finally the way's last basement  opened straight inside the room of Sajjan Singh at Haweli. Krishna knocked the basement and hearing the sound Nethra opened it.
Shivna climbed upwards and Nethra gets relief to see her brother.
Krishna : Didi maine kaha naa , Aapko kuch nahi hoga, Mein aa gaya hoon naa
Shivani  : Aap jaldi se Krishna ke saath jaayiye , Waqt kam hein. Iss se pehale koi aapko dekh le aap jaayiye  , Please
Nethra ; Thanks. Tum bhi chalo
Shivani ; Pehale aap donon jaayiye. Nethra didi please hide at some where in the subway. You can find some sacks and there you will be safe.
Krishna : Shivani is right , didi.
Nethra get into subway.
Krishna: Chalo Shivani
Shivani : I can't come with you Krishna.
Krishna : I won't go without you.
Shivani : Krishna try to understand
She couldn't continue more as a bullet was piereced at her back as it was from a goon who was standing outside. Shivani fells down
Krishna's anger went peak level , he beat that man and put him to a side.
Shivani : Krishna !!! Aah
Krishna ; Shivani
Krishna lifted Shivani in his arms . He covered her back with a shawl and entered through the subway itself.
Nethra : What happened to her, Krishna ?
Krishna : Some one gun shot her didi, bullet has stuck on her back.
Nethra ; Chalo Krishna we will take her to hospital.
As they were crossing out they were surrounded with a huge gang of Sajjan Singh and his goons.
Sajjan : Sher se uski shikar cheenne ko aaye ho Laachar Kauwaa
Krishna : Control your tongue Sajjan .
Meanwhile Nethra tooks a pistol in her hand .
Nethra : Sajjan Pistol chalana humein bhi aata hein. Unn donon ko jaane do . Tum jab kapde badalne gaye tabh humne isse udda liye Sajjan . Unn donon ko jaane do warna iss pistol kee pehali goli tere khopdi mein lagenge.
Sajjan : Jaane do unn donon ko
Goon : Lekin saab
Sajjan : Bola naa
Krishna looks Nethra in teary eyes and also looks Shivani. As her breath was going up Krishna rushed outside.
Nethra couldn't hold pistol for long as a goon hit her head  with wood again and again. She fell down and finally she closed her eyes.
Sajjan: Iske saath suhag raat chaaha thaa , kahe khoon kharaba kar diya ? Abb isse kahin phenk do paas waali pahad se neeche . Newspaper mein khabar milne chahiye pahahd se koodkar ladki ne aatmahatya kee , Samjhe ?
Goon : Ji saab.
AT HOSPITAL
Doctor : She is fine, Krishna. By god's grace she is alive as bullet has been removed. You can meet her.
Krishna : Thank you doctor
Shivani : Krishna
Krishna : Shivani how are you feeling now
Shivani : This life is given by you , it's valuable for me and I feel much better now.
After few days Shivani was discharged from hospital. He took Shivani to his home.  Krishna gets to know about Nethra's death.
Dharmendra ; Hamari nethra itni bhi kamzor nahi hein kee woh aatmahatya kare
Krishna ; Paapa I will not leave him .
Dharmendra : All happened because of me as I borrowed money from him and wasn't able to return it. Krishna now don't go there and don't mess with Sajjan.
Krishna : No Paapa, I can't leave him.
Dharmendra : Tumhein meri kasam
Krishna : Fine . As far as he won't trouble us I will not do anything. But if he again create a problem then I will not stop myself from taking knife.
Shivani ; How is Maa , Uncle ?
Dharmendra ; Doctor has told me to take her to Mumbai for better treatement. Krishna I am thinking to leave this place.
Krishna : But Paapa
Dharmendra : I will take Maanvi and Prabha with me . You both take care .
Shivani : Ji Uncle.
Dharmendra packs everything.
Maanvi hugs Krishna
Krishna : Bacchi, don't worry, I will come soon .
Maanvi nods her head.
Dharmendra with Prabha and Maanvi goes to Mumbai. Shivna started making  a friendship among them.
Krishna : You organized my cupboard
Shivani : Kyun, Accha nahi hein ?
Krishna : Nice, It's good.
Shivani smiles.