Special one in our life #based on true story# (season-1) episode-23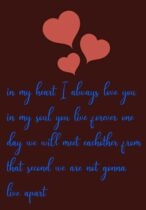 Ram get shocked by seeing those card.
He went close to it and read it aloud.
Ram :- 
In my heart ❤️ I always love 🌹 you 💞. In my soul, you live forever . One day we will meet together 💑 from that second 🕓 we are not gonna apart 💔.
At the same time Rithikha entered into the room……..
Rithikha :- how much do you need to change?
Ram :- this card?
Rithikha :- it's a gift, from a person who is very close to my heart.
Ram :- rithu I had remembered some work. I am going!
Rithikha :- but!!!!
Before she could say anything, he left.
At dining table.
Ram was leaving………
Tanu :- hey ram! Where are you going?
He doesn't pay attention to her words…..
Harry :- hey ram!
Vikram :- what happened to him?
Rithikha entered into dining room.
Vikram :- what happened to ram? Why he left from here?
Tanu :- we are calling him, but he didn't pay attention to us!!!!!
Rithikha :- relax! Calm down!!! He told me that he had some work.
Vikram :- but!!!!!
Rithikha :- I am not going to hear anything know.
They all enjoyed their meal.
They all came out and relax themselves.
Tanu :- vikram! Call ram.
Vikram :- I had tried but he wasn't picking my calls.
Rithikha inner feeling :- why does I am feeling, something bad is happening with him. Why I am feeling strange? Please ram, just pic the call man!
They all enjoyed for sometime then they all went to their homes.
But still Rithikha was feeling bad about ram. She was trying him to call but he was not answering.
Hey I know today's update is very short but please don't mind, I will try to make next one lengthy.
No precap