SICKNESS OF LOVE [ FOUR SHOTS FOR ANSHUMAN AND PAKHI -SHOT THREE ]
Pakhi : Please take me from here Anshu, I don't want to live in this hell.
Anshuman : Come Pakhi
Anshu extends his hand towards her. Before she could held his hand a bullet gets pierced on Anshu's shoulder. Anshu screamed in pain and fell down .
Pakhi ; Anshu!!
Pakhi gets shocked to see Kripesh holding the gun.
Kripesh : The object which I desire is mine only and whoever tries to snatch it I will kill him.
Kripesh came near Pakhi and grabbed her hand
Pakhi : No !!! Don't do it.
Anshu wasn't able to tolerate this misdeed anymore. He took the flower vase from the table and throws it behind Kripesh's head. His backhead severely got wounded and he fell down.  Anshu screamed….Pakhi , Run…..
Pakhi : We will go together, Anshu . I won't go without you.
Pakhi turned towards Kripesh : I am not an object, I am a human being and I won't be a puppet in your hands any more.
Pakhi rushed near Anshu and covered his hand by tearing the pallu of her saree. With the help of Pakhi Anshu wake up from the floor. They started running from there as they know the shekhawat nivas other people can harm them. Finally they managed to escape from there and on the way Pakhi was covering her face too with the ghungat. Because being a widow if any villager will see her with Anhsuman things can become worse. Anshuman and Pakhi reached in a forest area which was little far away from the village. Blood was clotting severely from Anshu's hand .
Pakhi : Anshu blood is not stopping.
Anshuman : Pakhi without taking out the bullet from shoulder this blood will not stop clotting.
Pakhi : But how ? We are in forest and there is no big hospital in village.
Anshuman : Pakhi you can do it.
Pakhi : Me!! Anshu!!
Anshuman : There are some people who are inhabitants of forest . May be there are one or two huts in this area from which you will get hunting knife.
Pakhi : No!!!! I can't do it.
Anshuman : You can , Pakhi. I am not able to run anymore. Please Pakhi ….Do or die but I want to live a moment with you before dying
Pakhi : No Anshu!! Please don't say like that. You released me from that hell. Nothing will happen to you. I will do something.
Anshuman leans his back on the tree .
Pakhi : I will come soon ,Anshu
Pakhi runs towards the interior jungle and finds some hunters who were organizing their weapons. She saw the fire has been lightening in wooden sticks .
Pakhi thought to call them , But she feared if some one will enquire anything about her and Anshu . Without making noise she took a knife slowly and burned it slightly at the fire. She took the water jug too from there and rushed near Anshu.
Pakhi : Anshu!!
Anshuman : I know Pakhi you will come . Come on , do it.
Anshu tried to remove his shirt but pain was severe. Pakhi removes his shirt and looks him. With trembling hands she placed the knife in his shoulder. As soon as she started stabbing knife , Anshu screamed and kept his other hand at her leg in pain.
Pakhi removed the bullet with much effort and cleaned wounds with water. Anshu was feeling severe pain . She tied the part with his shirt itself. With much pain Anshu fell down at her lap . Pakhi kept her hand in his body . He held her hand and looked them.
Anshuman : Even though the gun shot was so painful before your pains my pain is nothing.
Pakhi : I got freedom by making you blood shedded . I can never forgive myself for doing this .
Anshuman : Don't think so, Pakhi. Pakhi I waited for this moment long. Those moment when you was restricted from meeting me years back I realized how much hard for me to stay without seeing you. I use to roam near haweli to see a glance of yours near the window or at balcony . I tried to enter inside but either my baaba or bdai maalkin stopped me and I got beated many times. Those things doesn't made me to feel pain . The real thing was when I saw your life being spoiling before my eyes and I am tied in conrstraints and I was unable to do anything for you. That  cruel shekhawat nivas people ,  Did they used to torture you always ?
Pakhi didn't say anything. Anshu finds scars at her legs and knees . He closed his eyes in pain and held her towards his body.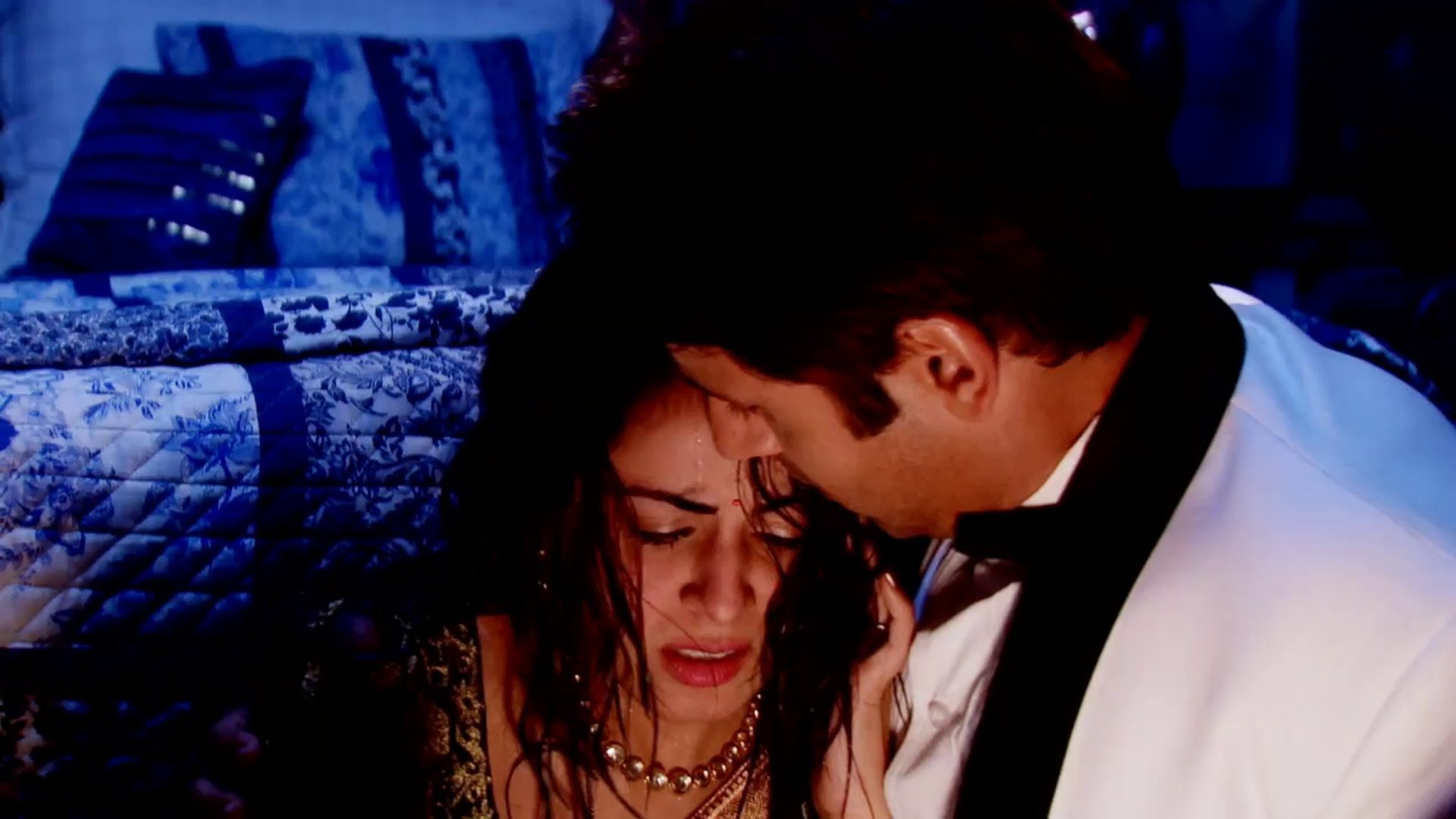 Anshuman : I am sorry Pakhi , I came very late to release you from there.
Pakhi : Anshu !! You beared all pains for me. I don't know how to thank you for making me as free ? I feels like I got my childhood back. That childhood days when we both used to play , we both used to talk and enjoy a lot.
Anshuman : Pakhi held me always like these , if you are with me , I can go to any extent fir facing the worst battles.
Pakhi held Anshu's palm towards her cheek and cried in pain. They both hug each other emotionally
Slowly both of them fell asleep at that night .When the morning sun rays fell down Pakhi gently opened her eyes and find that Anshu was still sleeping.
Pakhi : Anshu, when you are sleeping like a kid in my lap, I feels so peaceful.
She gently waved his forehead. Anshu too opened his eyes and looked her. Anshu wake up from there.
Anshuman : Pakhi we can't stay here long . This is forest and there can be wild animals.
Pakhi : I have seen some people who are much cruel than these animals . I am not feared of any animals now , Anshu.
Anshuman ; Pakhi
Pakhi : This forest, lake, plants all are beautiful. Please Anshu like the way we use to roam at beautiful gardens of our village can we both walk and enjoy again ? It's been years I haven't kept my feet out of the Haweli. Please Anshu ….Please
Anshuman smiled and nodded his head.
Pakhi and Anshu started going through the deep jungle
They gets happier seeing some birds , rabbits and little deers.
Anshu : Pakhi while enjoying the natural scenario in childhood we use to sing a song which was taught by Teacher Ji at our school.
Pakhi : Of course Anshu. I do remember it.
Anshu started singing ….
Mhh….mhhh…..mhhhh…
Bhawre ne khilaya phool phool to  le gaya raj kunwar
Bhanvre tu kehna na bhul
Phul tujhe lag jaye meri umar
Bhanvre ne khilaya phool phool  to le gaya raj kunwar
Pakhi also joined in singing . She was singing with teary eyes as if she was expressing all her hidden desires , pain in those lines
Wo din ab na rahe
Kya kya vipada padi phul
Par kaise phul kahe
Wo din ab na rahe
Honi yaho anhoni jane ise vidhata
Chute har shinghar
Gira tuta galhar har naata
Shesh phul mila gaya dhul
Me kya kya dukhan sahe
Wo din ab na rahe
Bhanvre tu kehna na bhul
Phul dali se utar gaya idhar
Pakhi was about to fell down as her leg slipped at the muddy area
Anshu rushed and held Pakhi . They both share an emotional eyelock
https://www.youtube.com/watch?v=9SRtXOmV8rU
Anshu again continued the song …..Sukh dukh aaye jaaye jaaye
Sukh dukh aaye jaaye jaaye
Sukh ki bhukh na dukh ki chinta
Preet jise apnaaye
Sukh dukh aaye jaaye
Meera ne piya vish ka pyala
Vish ko bhi amrit kar daala
Prem ka dhai akshar padh
Ke mast kabeera gaaye
Sukh dukh aaye jaaye
Bhanvre tu kehna na bhul
Phul guzre din gaye guzar
Pakhi got relief after hearing those motivational lines from Anshuman.
They both started walking happily together and sang the rest lines
Bhanvre ne khilaya phul
Phul to le gaya raj kunwar
Bhanvre tu kehna na bhul
Phul mera sundar saral sudhar
Bhanvre ne khilaya phul
Phul to le gaya raj kunwar
Tu hi mera sundar saral sudhar
Phul ko le gaya raj kunwar
Tu hi mera sundar saral sudhar
Phul ko le gaya raj kunwar
They managed to reach out of the forest and as soon as they entered village the whole villagers were assembled with stones and sticks to beat them. They was taken to the public gathering of Panchayat. Ratan Singh was not only a landlord but also Sarpanch of the panchayat, Pakhi and Anshu's hands were tied in ropes. He looked both of them in anger.
Ratan : Pakhi you are an unsavoury woman to the entire womanhood of this village, You are a big sin.
Pakhi : Bawuji
Ratan : There is not any sort of relationship existing between you and me. Being a widow you have to be in your sasural only. You are not supposed to cross barriers of the house
Anshuman : Who are you to explain her what is right and what is wrong ?
Ratan : Anshuman!!! I have warned you many times but today you crossed all limits. You are roaming with a widow in streets . Don't you have any shame to keep an immoral affair with a widow ?
Pakhi screamed : No!!
Pakhi : Till now I have heard everything you said. But bawuji now I won't listen to you anymore. Anshuman loves me lot and I too love him a lot. Our relationship is sacred and it's not an immoral affair.