Which show are you excited to watch?

Warning: A non-numeric value encountered in /home/ftpusers/tellyu/public_html/wp-content/themes/publisher/includes/func-review-rating.php on line 212

Warning: A non-numeric value encountered in /home/ftpusers/tellyu/public_html/wp-content/themes/publisher/includes/func-review-rating.php on line 213

One of the most anticipated show Big Boss 8 is all set to hit the screen soon. Each year it comes with zeal as many new things are introduced and it always creates some kind of curiosity amid the viewers. Well with teasers of the new season are out, we can assume that the dashing actor Salman Khan being dressed like a pilot, the theme of this season can be that of an airlines. This year the flight readies to jet set with 12 first-class passengers who will need to carve their own paths, forge their own connections, accept the quirks of their seat-mates and survive in this airspace. The show starts 21st September 2014 on Colors tv.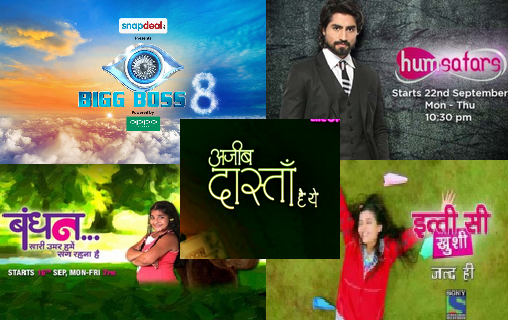 Ajeeb Dastaan Hai Yeh is a love story where Harsh Chhaya is essaying the role of a politician and Sonali Bendre will play his wife. Being a politician Harsh is unable to dedicate time for his family and so there are clashes between husband and wife. Apurva Agnihotri is essaying the character of Sonali's boyfriend, initially she will hate him but later situations will bring them closer. The promos are on Life ok.
Mere Rang Mein Rangnewali is the serial that will present a joint family with three generations staying together has 'Babuji' Alok Nath playing the patriarch head of the boys' family. The male lead will be played by The Buddy Project fame Samridh Bawa and the female lead by a newbie Pranali Ghoghare. The show is touted to be a complete family drama with a 'slice of life' story about young love. The show is starting on 6th October 2014 on the slot of Nadaan Parindey on Life ok.
Bandhan … Saari Umar Humein Sang Rehna Hai is a heartwarming story of two innocent souls and a very tender relationship that develops between the two – one based on the most basic emotion of love and affection for one's sibling, standing by each other through thick and thin and completing each other. The show will take the viewers through the innocent world of Darpan and her family set in the Dalma jungle. Always longing for a little brother, Darpan's dream comes true in the most unexpected way when destiny introduces her to Ganesha, a baby elephant … what follows is a journey of love & struggle in the big bad world for the unlikely siblings! The show is starting on 16th September 2014 by replacing Ek Mutthi Aasmaan on Zee tv.
Itti Si Khushi replaces Ekk Nayi Pehchaan which is going to end on 25th September. Itti Si Khushi (So Little Happiness) is the story of a young 15 year-old girl who had been in coma for 12 years when she met with a fatal accident at the age of 15 years. She comes back from coma and wakes as a 26 year old woman and knows that she has missed a big chunk of her younger years and wants to reclaim that lost time by living the life to the fullest. It is expected to start on September 29th at 8:00 PM slot on Sony TV.
Humsafars is based on a Muslim family owning a fashion house. Starring opposite Harshad will be newbie Shivya Pathania. Harshad will be seen essaying the role of an angry and arrogant man who is the owner of a fashion house. The show will go on air from September 22 and will get the time slot of 10:30 pm on Sony TV.

Warning: A non-numeric value encountered in /home/ftpusers/tellyu/public_html/wp-content/themes/publisher/includes/func-review-rating.php on line 212

Warning: A non-numeric value encountered in /home/ftpusers/tellyu/public_html/wp-content/themes/publisher/includes/func-review-rating.php on line 213