SHIVIKA TS- PART 1- MARRIAGE
Hey guys!!!! I know it's been quite a long time before I m writing.. This time I m trying my skills in ts… I hope u all like it…
---
Anika's marriage was fixed with Daksh. Anika Trivedi is a doctor by profession and quite rich too. But she has been unfortunate from the start. She has never seen her parents. Her mother died while giving birth to her while her father died in grief of his wife's death. She has been brought up by her big bro, her superman and her everything, Sahil Trivedi.
For her marriage she had invited all her friends till date. Though she was not quite happy with the marriage, she was doing it for her brother's sake.
Meanwhile, Sahil thinks that his sister is happy with the marriage.
And coming to Daksh, he's in full mood to break the marriage. He wanted money and he has gotten for a lifetime from his so-called fiancé Anika and her brother.
Shivaay Singh Oberoi is Anika's classmate and her biggest frenemy. They both hate each other from the bottom of their hearts.
On the marriage day, Anika is getting ready in her room with tears in her eye. As soon as Sahil enters, he sees Anika crying.
Sa: Anika, what happened?? Y r u crying??? ( on listening her brother's voice, she breaks down and hugs her brother and cries bitterly)
Ani: Bhaiya, I don't want to leave u.. I can't live without u..
Sa: Ani, wait.. First wipe ur tears.. U will have to marry someday.. So y extend the day??? Stop crying… please u r not looking good..
Ani: No one looks good while crying. U just go and check Daksh once…
Sa: Giving orders from now itself… I'll go…
Sahil on his way to Daksh's room meets Shivaay and both proceed to his room. on entering, they find the room completely empty and find a note on the dressing table. The note read..
Sahil,
Daksh here. I'll not say sorry for I never wanted this marriage. I only wanted money which I got and now I m off living my own life. So the marriage is cancelled and ask Anika not to blame herself for she is quite beautiful, hot and s**y but she's nowhere near my status. So bye Mr. Sahil Trivedi.
Hope not to meet u again.. Lots of love and hatred
Daksh….
Shivaay had just finished reading when Sahil immediately fell down and began crying badly. He was beating himself and blaming himself..
Shi: Sahil, control urself please..
Sa: What control?? Anika will be completely broken. She has never been happy in her life. Never did she ask for anything. And god also takes away all her happiness bcuz she doesn't ask for it also..
Shi: Calm down and control urself for Anika. First think what will u tell the guests and media??
Sa: I don't know. but I won't tell them that marriage is cancelled.. I will find a groom for her immediately..
Shi: R u crazy?? U r going to pick any one for ur sister… Just cancel the wedding right now..
Sa: U don't know the society Shivaay… they will blame my sister for the disappearance of Daksh.. No one will come later for her marriage thinking that she lacks some qualities that's y Daksh left her… I need to find a groom…
Shi: Wait I won't let u marry her to anyone.. If u won't mind, can I marry her???
Sa: ya sure… ( out of stress, he didn't even think once)
They go to Anika and tell her about the incident and ask her to marry Shivaay… Marriage happens and it's widely shown on TV.
Shivaay's parents on seeing this fume with anger and decide not to accept her as DIL of house…
When Shivaay and Anika reach home that night ( SHIVAAY LIVES IN SAME CITY), they find Pinky and Shakti sitting on sofa in a gloomy mood while Rudra was dancing with pleasure and welcomed them inside..
Pinky: Shivaay what's this???
Shi: Mom not now.. I m tired…
Shak: What tired?? U r marrying any random girl and expect us not to ask anything..
Shi: I only said not now…
Pin: go.. do whatever u want.. ( she and Shakti go in their bed room and Rudra to his own)
Meanwhile, Shivaay holds Anika's arms tightly and takes her to her room.. Inside, he closes the door and turns around.
Shi: Can't u choose ur to be husband properly.. Look bcuz of him and u, I m in such a great mess.. My parents r not happy and what am I supposed to answer to my girl friend Tia??? Gosh!! look at my life.. it's so complicated all bcuz of u.. Stop crying. ur crying is not gonna clear this mess. STOP PLEASE ( shivaay shouted)
Ani ( crying) : I m sorry.. U can divorce me whenever u want.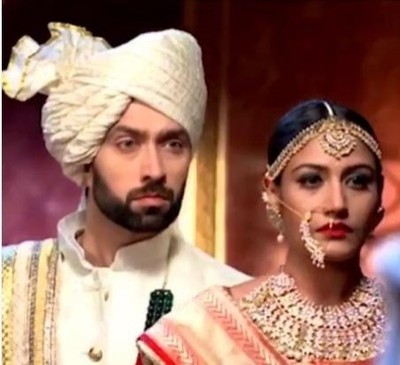 Saying this, she goes inside bathroom to change. But inside, she was crying bitterly and very badly. She changed, came out and indicated Shivaay to go. Meanwhile she laid a bed sheet on the floor and slept while crying. Shivaay on coming out saw her and turned around to sleep on bed. He was quite angry on her.
Next day, he woke up to find her talking to somebody and went closer to hear to who she was talking. She was instructing her staff members about different patients. She hanged up and went to bath. After that she went to pray to god. As soon as she returned, she saw everyone on breakfast table and took a chair to sit. But as soon as she took the chair, everyone except Rudra stood (including Shivaay).
Ani (in a sad tone): I m sorry.
And rushes towards her room and cries bitterly. She decided to go to hospital for it'll help her feel a bit relieved. She changed, took her bag and all essentials and was heading downstairs when she saw a girl coming inside.
Shi: Tia??
Tia: Shivaay baby, what's all this?? U married??
As she was speaking, she saw Anika heading downstairs and immediately went to her.. Before Anika could say anything she had a slap on her face.
Tia: How dare u?? U trapped my Shivaay baby… right?? How?? Did u blackmail him or force him??
Ani: No.. Neither of this happened. U can have ur Shivaay and don't worry he'll divorce me..
Saying this she left with no emotions on her face. She looked as if she was body who was breathing that's it…
author's note: This is first part of two part os… I hope u liked it.. Please comment and tell me how it was…