SHADES OF LOVE – (S-2 | SHADE-06) : NEW ERA

Warning: A non-numeric value encountered in /home/ftpusers/tellyu/public_html/wp-content/themes/publisher/includes/func-review-rating.php on line 212

Warning: A non-numeric value encountered in /home/ftpusers/tellyu/public_html/wp-content/themes/publisher/includes/func-review-rating.php on line 213

ISHQBAAZ – SHADES OF LOVE – (S-2 | SHADE-06)
---
PREVIOUS SHADE –
https://www.tellyupdates.com/shades-of-love-s-2-shade-05-good-news
---
SHADE-06

 :

NEW ERA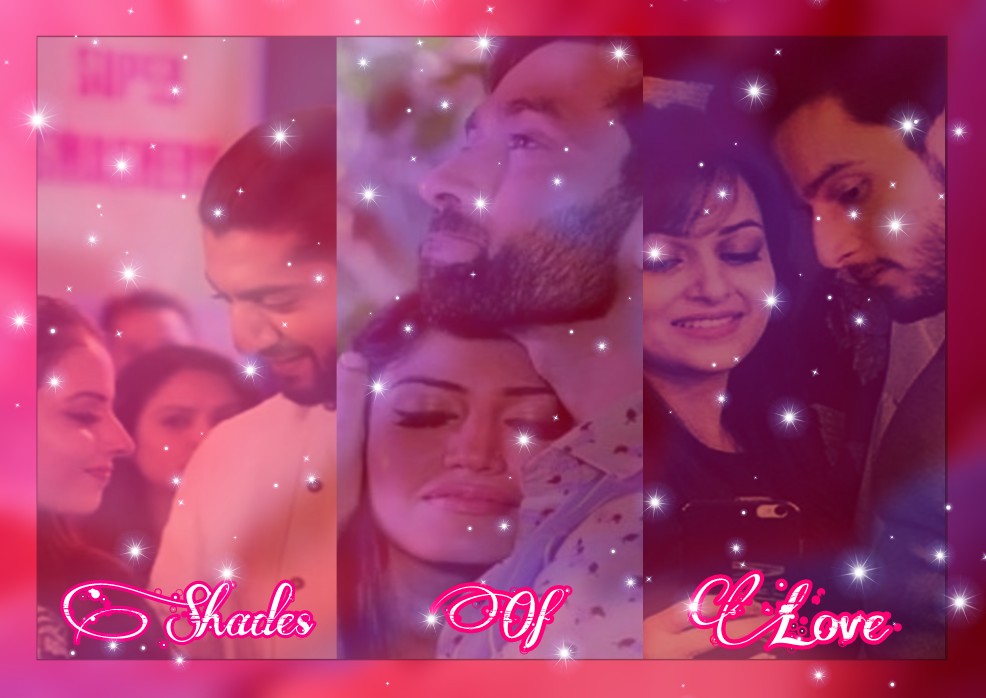 ---
10 YEARS LATER
2050
---
Imagine the year – 2050, Half century, The whole mumbai is completely changed in this new age. Starting from Skyscrappers, subways to new innovations like Elites (Flying cars), Quite greenery, Playingzones specially for kids and mumbai's famous Love Garden in a new avatar !…
@OBEROI MANSION
The episode starts with the Robo Cherry 2.0 opening the door…
Robo Cherry "Everyone, pls wake up, its morning !!"…
House alarming system rings waking up everyone !!…
Robo cherry "Dadi…How are you feeling today !!"…(American accent)
"Seriously cherry, i had a grt sleep…all thanx to your amazing massage !!"…Dadi replies who is donned in a beautiful blue and grey designer punjabi kurti and palazzos, she is wearing a foldable specs !!!…
Robo cherry "I am glad you liked my msg…tea !!"…?
"Sure"…?
"Okay tea is coming for you in 2 minutes !!"…
@UPSTAIRS
@RIKARA'S ROOM
Om is standing near the balcony and reading the news on air through ai (artificial intelligence)…He sipps tea !…His hairs are normally spiked (no zoolf), designer cream kurta and jeans…
Om "Its such a sunny weather !!…But this G is still sleeping, iska kuch nahi hosakta" ??
INSIDE,
Gauri is still sleeping, room light increases and gauri removes her eye mask and wakes up…Sunlight falls on her beauty and room walls gets transparent !!…
"Good morning world" she utters !!…?
"Hi G…How's ur sleep !" AI asks…
Gauri is shown blurred "It was so good…thanx to the weather, at the right time it became pleasuring cold…and also thanx to for switching on the sleeping tune !!"…
Her eyes are shown sparkling !…
AI "Thankyou…Your tea is nearer !!"…
Gauri "Where's my O ?!" ?
AI "Guess he is on balcony"…
Gauri "O…i think is soaking sunlight…lets check"…?
She steps her foot on the floor and the whole floor shines !!!…She rushes towards the balcony !!…
"O" She hugs Om from back and hugs her !!!…?
"So finally you woke up" he asks…?
Gauri "Yah finally"…☺
She is shown in a shiny red night suit, her hairs are flipped and curled with brownish shade, less makeup and quite beautiness !…
Om "G i think you should and change !…As you know well that whats today !"…?
"I know today is RIO's PTA meet right" Gauri confirms actually ?
Om "Again…again you forgot !!" ?
Gauri "O'cmon babe…its a sunny day pls dont be a spoilsport !!"…
"Are you behaving naughty" Om asks…?
He lifts up her and takes her towards the bed !!…
AI "Privacy mode on"…??
AI mutes and OmRi continues their naughtiness !! ??
They gets into a liplock on bed and the wall shows the wallpapers of roses and burning candles !…❤?
@HALL
Dadi, Nani, Pinky, Shakti, Jhanvi are on Dine table sitting and waiting for breakfast !!…
Pinky is wearing glasses and modern clothes, Jhanvi is usually in her ultramodern avatar !!…And shakti (I mean who cares ?)…
Pinky calls "Oh my maata, Vandana jaldi khaana laa bhoonkh lagi hai"…?
Shakti "Ssssh…Dont shout else neighbours will call cops and will get you arrested for noise pollution !!"…?
"???" Jhanvi laughs…
"Omm shakti ji…you are forgetting about our sound proof home technology"…
"Ohh God Pinks…I mean who call Technology these days, its Techie !" Jhanvi states ?
Vandana maid brings food for them !!!…
Vandana "Mam today i specially made, Dosa for you"…☺
She butters pinky !…?
"I hate Dosa…Vandy" Jhanvi fawns ! ?
Pinky "But i love it…aapko khaane ki zaroorat nahi hain…aap khao naa apne…Pastas & Pizzas !!"…?
Jhanvi "Eww…nope !…Vandana i wanna have a glass raspberry juice !!"..?
Dadi "But where are stars !!…I mean my grandchildren"…
Pinky "Chillar Party dikh nahi rahi waise !!"…?
"Ewwwish how downmarket pinks…Chillar party !!" Jhanvi fawns again…??
"Ohh pls Jethani ji…I cant speak like you sorry…forgive me !!" Pinks smirks…?
Shakti "Shutup pinks…i mean pinky…I think Chillar party…i mean"…?
"Shakti ji" pinky makes a puppy face !! ?
Shakti "I think they are doing any research again with somsy !"..
Pinky "Seriously Somsy so busy these days !!"…
Dadi "Who is somsy ?"…?
Jhanvi "My somsy mumms ??"..?
Dadi "You mean Soumya !!!" ??
"Yah…chill mumms its 2050" They all says !! ???
"??" Nani & Dadi looks on at each other !!!…
"And what about Rikara they didnt came on breakfast ??" Nani asks…?
"One minute Aunts" Jhanvi tells her and swipes in the air !!…She spots in the air display its written "PRIVACY" ??
Everyone gets ashamed and continues eating !! ?????
@RUMYA'S ROOM
Soumya in a cool jogging outfit running on turbo treadmill actively !!!…Raisha & Sohan (Rumya's Daughter & Son) , Rio (Rikara's son) are standing near the treadmill and staring at soumya/somsy's so called active run !! ???
CAST
RAISHA – ANUSHKA SEN
RIO – EKLAVYA AHIR
SOHAN – RUDRA SONI
Soumya asks "How much i lose weight ?!"…?
Raisha "Moms…its been only 5 mins" ?
Sohan "Moms…c'mon you are RSO'S wife !!…Pops is so quick and you are so lazy !!"…
Soumya "Sohan…tum log mera apmaan kar rahe hon" !!!…?
Rio "Dude…whats Apmaan ??" ?
Raisha "Let me check" ?
"Huh" soumya looks in disgust !! ?
Raisha "Okay Google !!…Whats APMAAN !!"…
"Apmaan…Here are the results" Google shows them tons of results of apmaan on air but not the translation !! ????
Soumya "What the heck you guyz are so illerate !!"…?
Rio "Oh c'mon ctmoms…we dont know the mean thats it…why are you scolding us we are so innocent !!"…?
Soumya "Whhatt ??" ?
Soumya loses her balance hearing there words ? and straightly falls on Rudy's arms who saves her at the right time !…??
Rudy "Thankgod…are you okay !!"…
Soumya "Yah i am"
Rudy "I am asking the treadmill babes"..?
"I am fine…but she's quite healthy" Treadmill answers !! ??
Soumya "Is this a shitty joke…put me down you SPD !!"…?
"Okay" he throws her on bed !!!…
Rudy "Nope …EP…Eight packs !!"…?
Soumya "Ohh yeah ! Congs for your amazing eight packs arrival !!"…?
"Then chahs pls show us your eight packs" Kids requests !! ???
Rudy "Ofcourse youngstas" ?
Rudy unbuttons his shirt and shows them his burning physique !!! ?
Soumya thinks "Rudyyyyyy" ?
Kids touches his packs…???
"Arey gudgudi hoti hain" rudra tells them ?
Soumya smirks and spots an egg near and throws it on his eight packs !! ????
"Ewww…yuckkk !!" kids fawns !!!…
"Somssss !!" Rudra disgusts !! ??
"??" She smirks !!…
@HALL
"They are on the way…woooo" Pinky shouts !!…
"Omg !!" Jhanvi gets excited !!…
Gauri "Superb…they are gonna have a amazing welcome !!"…
"Yeah" OmRu…
Dadi "They are coming back after 2 years !!!" ??
@OPEN GROUND
An amazing ultramodern chopper is shown in the sky !!!…One couple and two young kids !!….The couple is holding each other's hands and sipping non alchoholic drinks !…
Bodyguard "Sir…we are landing to mumbai within 5 minutes"…
"Coool" he replies whereas the lady smiles staring at the ground !!..
Lady "Look at the ground…its looking so tiny"
Man "But not beautiful like you"…?
Lady "O pls" ☺
..

..

…………

..

….
The chopper lands on the ground !…Firstly all the bodyguards comes out and controls the media !!…
Bodyguard "Sir, you guyz can come down now"…
That man gives his palm to his wife and they kids holds their kids and steps at the ground !!…
Media clicks photos through their 360° degree cameras !!…
Girl reporter "And you are watching NV News guyz…You can see that Mr SHIVAAY SINGH OBEROI & his wife Dr.ANIKA SINGH OBEROI with their son VIAAN and daughter ANAISHA has arrived in mumbai after staying for 2 long years in LA (Los Angles)"….
Shivaay is wearing a trendy long neck full sleeve black tshirt and jeans alongwith new hairstyle and beard and also a tiny platinum earring on one ear and a trendy specs…?
Anika is donned in a shimmering black long length down whose one hand is full sleeve and another hand is sleeveless, her hairs are reddish and she is looking quite s*xy !…?
Anaisha [RUHANIKA DHAWAN] is wearing a white designer crop top and jeans, her hairs are straightened?. Viaan [SHIVANSH KOTIA] is wearing a white jumpsuit and having a cool hairstyle !…?
They walks towards the Elite (Flying car)…Bodyguards stops the media reporters to have any kind of interview as they are tired as of now…
@OBEROI MANSION
Shivika and their kids arrives and gets a warm welcome !!!…
Shivaay "Wooooo" ?
Anika "Ohhh yoyo" ?
*LAFZON KA RISHTAA NAHI IN BGM PLAYS*
They gets hugged by the family members and seeks blessings, Kids had a group hug !…ShiOmRu had a hug and AniRiMya too…????????????????
AI clicks their picture and saves it naming "O'Fam moment" ! ❤?????
---
---
PRECAP-
Anaisha "Popsy this is wrong !!"…?
Shivaay "Okay i..i just cant"…?
Anika & Gauri "What happened !!"…??
Anaisha & Viaan "We want Popsy to do pushups like Rudypops" ??
"??(shivaay)?"
---
---
OKAY I KNOW YOU ALL HAVE GOT A BIG SHOCK SEEING SUCH A HUGE HUGE CHANGE ?? BUT IF EVERYONE IS YOUNG IN THIS AGE THEN I DONT THINK THERE'S ANY PROBLEM !! ??…SO BE READY TO WITNESS MORE FUN, MORE ROMANCE, MORE FAMILY TIME, MORE HUMOR ?
ANYWAY, IT TOOK ME 4 HOURS TO MAKE THIS MEGA EPISODE…PLS PLS DO COMMENT & SHARE YOUR LIKES GUYS !!…ALSO PLS PLS PLS COMMENT BELOW & TELL HOW'S THE TOUR OF 2050 ??…AND HOW IS THE NEW MONTAGE DO COMMENT..I WILL UPDATE AFTER A GOOD RESPONSE SO READ AND ENJOY…TAKE CARE
LOVESSS
RIANA
?

Warning: A non-numeric value encountered in /home/ftpusers/tellyu/public_html/wp-content/themes/publisher/includes/func-review-rating.php on line 212

Warning: A non-numeric value encountered in /home/ftpusers/tellyu/public_html/wp-content/themes/publisher/includes/func-review-rating.php on line 213