Sarojini is the new show on Zee tv. The story is set in the village of Uttar Pradesh. It traces the journey of Sarojini. She is a strong and independent girl. She is fearless and does not bend to anyone. She gets married to her love Somendra, who happens to be Dushyant Singh's son. Dushyant is a dominating corrupt politician who rules the state as well as his home. He disrespects women and regards them to be servants for men. Dushyant is disliked by his father Gajanand, who can't bear Dushyant's torture on poor people. Gajanand's prayers get answered by Lord, when he wishes some angel to come in their lives and stop Dushyant's evil. Sarojini enters their lives and she will be ending the patriarchal rule of Dushyant.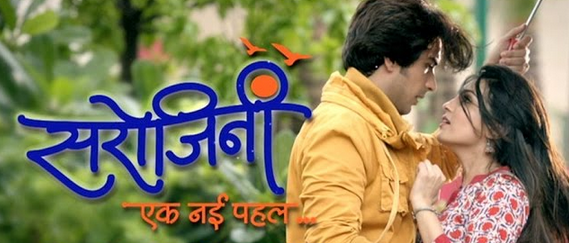 Sarojini is a brave girl and determines to go against her father in law Dushyant. Dushyant is known for his manipulative nature and planning, while Sarojini is known for her daring nature. She refuses to bend infront of him, and follow his wrong traditions. Sarojini believes that change happens from home, and takes the challenge to balance her inlaws home. She tries to end Dushyant's evil and bring respect and love in the family. She uses her education power to stand against Dushyant.
Main Characters:
Sarojini: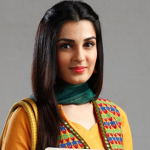 Sarojini is a simple, obedient, disciplined and smart fun loving girl, who is not scared of anything. She is known for her bold nature. Her daring nature makes her unique. She gets noticed by Dushyant, by getting into an argument with him at the signal. She takes a stand for the right, and does not mend her ways infront of injustice. Sarojini is called the other name of courage. She is straight forward and speaks her mind, without any fear.
Somendra: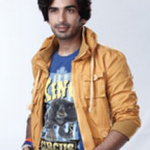 Somendra is Dushyant's younger son. He is a charmer and can bowl over any girl. He is a spoilt brat, but good at heart. He can't make anyone sad and likes daring girls. He meets Sarojini by destiny and likes her instantly. He is not in Dushyant's control. Dushyant still loves him and pampers him more than Bhaskar. Dushyant has big plans for Somendra. Somendra wants to become Sarojini's friend and win her heart.
Dushyant: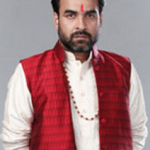 Dushyant is an evil powerful man. He is a very corrupt person and his ego makes him disrespect even his parents and wife. He scares everyone in his locality as he is a famous politician. He does not respect woman and deals with his wife as if she is his maid. He is not loved by his family, and he does not care seeing their annoyance. He dictates terms to everyone and wants everyone to be his puppets. Dushyant feels his daughter Indira is a blessing for him. He has locked her in her room, so that he always gets benefit of her good luck.
Arundhati: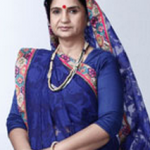 Arundhati is Dushyant's mother. Her husband Gajanan feels Dushyant is a curse for them. Arundhati is good hearted woman, but she is strict towards the women in her home. She sometimes complains about her bahu to Dushyant. She then regrets to see Dushyant punishing his wife. She does not support Dushyant in his evil always. Gajanan feels helpless seeing Dushyant's evil and prays Lord sends someone to teach Dushyant a lesson of his life.
Keshav: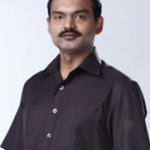 Keshav is Sarojini's uncle who takes care of her. He works for Dushyant as his finance manager. He supports Sarojini and has sent her to Delhi to pursue her higher education. He is a good natured and a humble man. He is scared of Dushyant knowing all his evil doings. He likes Sarojini's daring attitude and believes she will believe a change some day. He is her caretaker and wants to give a good life to orphan Sarojini. He fulfills her dreams and sends her to study B.Ed, so that she can become a teacher as per her dream to bring a change by moulding the coming generation.
Swara: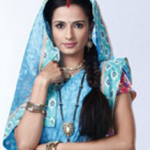 Swara is Dusyhant's elder son Bhaskar's wife. She is bounded in work at her in laws and never turned back to see her parents. She is educated and well mannered woman. She has lost all her confidence after her marriage and has turned into an object to face Dushyant's humiliation. She is not happy in her laws, but loves her husband. She is a dutiful wife and supports Bhaskar always.
Cast:
Shiny Doshi as Sarojini
Mohit Sehgal as Somendra
Pankaj Tripathi as Dushyant Singh
Minakshi Verma as Arundhati
Purva Parag as Nirjhara
Ketki Kadam as Indira
Salina Prakash as Swara
Nitin Goswami as Bhaskar
Rakesh Pandey as Gajanan Singh
Sushil Bonthiyaal as Keshav
Story So Far: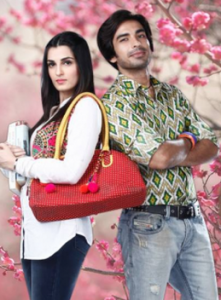 Sarojini is shown with high spirits. She is the girl who stands against evil and injustice. She is studying B. Ed and wants to become a teacher. She is a middle class girl and stays with her uncle/Mama ji Keshav and his wife Pyari. She wants to contribute in family expenses and manages the home duties well. Somendra is shown studying in same college. He is a spoilt brat and loves to live his life his way. He depends on Dushyant for managing his necessities. He sits with his friends passing time and throws a paper airplane. Sarojini is struck by it and scolds him a lot. She shows her daring side which impresses Somendra a lot. He asks her to scold him even more and starts liking her. Dushyant is shown where he is described as a torturing member in the family. He is very dominating and beats up Bhaskar, knowing he has stolen something.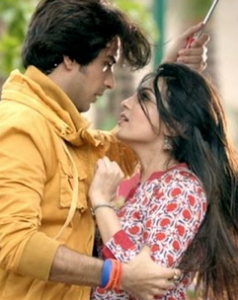 Keshav takes care of Sarojini and they share a friendly bond. Keshav does not make her feel that she is an orphan. Sarojini visits some place and comes across Somendra again. He insults her friend Mayank and teases Sarojini. He says he has got after her now and will also trouble her. Pyari taunts Sarojini that she is orphan and is worried to give dowry in Sarojini's marriage. Somendra and Sarojni meet at college and argue. She tells her friends about his bad activities. He starts teasing her again. Indira is held captive in the room by Dushyant. It gets mysterious to know the reason of why he has locked her. She wants to see the world and does not know anything how the family runs. Dushyant disrespects his wife and shows cruelty.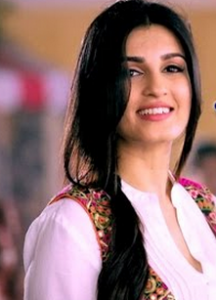 Sarojini goes to police station with Mayank and files FIR against Somendra. The inspector promises he will take strict action against Somendra. He does not find Somendra and leaves from the college. Somendra comes in the college after police has gone. He starts humiliating Mayank and tells Sarojini that Mayank is useless and will not be able to take care of her. Somendra decides to get Sarojini in his life at any cost. Sarojini tells Keshav about Somendra troubling her. He says he is always with her and she does not need to worry. Pyari says Mayank will take care of Sarojini. Sarojini says even Mayank is scared of Somendra and is often insulted too. A letter comes for Dushyant from Somendra's college. Dushyant decides to go Delhi to meet his son Somendra. He meets Sarojini there and does not like her. Sarojini joins the school and is close to her dream of becoming a good teacher. She meets Somendra again, and he sits in the class as her student.
Our Take: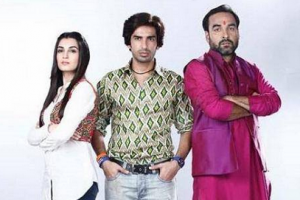 Shiny Doshi and Mohit Sehgal rock the scenes with their awesome chemistry. Mohit's fans can rejoice to see him after a long time. Even Shiny's fans will be seeing her in a new role and will love her as Sarojini. Shiny is perfectly cast as Sarojini, having that poise, elegance and attitude needed by the character. Mohit is superb as Somendra. He is a charmer who sways the screen by his presence every time. The show does not dip when the lead couple are shown. Their chemistry and sweet arguments manage the show to fly. The scenes shot at home and showing family bearing Dushyant's dominance fill the spaces. The cast is good in their roles. Dushyant is played by Pankaj Tripathi. Pankaj is effortless in his role and holds strong screen presence, reminding some of the strong villains of the small screen's hit shows.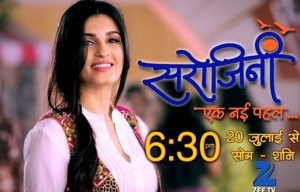 The show does not have anything fresh concept wise and till holds potential of winning huge audience by the pace of the story and rocking lead actors. The show is going ahead with good pace and is not dragging to show depth of each character. That is a plus point that it does not get boring. Somendra and Sarojini's scenes are the highlight of the show. But the USP remains the connectivity with the audience. The show will connect with every girl, as they would relate to Sarojini.
Overall: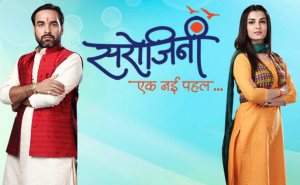 The show has the concept on women empowerment and the role of education in a woman's life. With Zee TV airing long running shows, Sarojini will be a fresh take with a nice concept. It can be watched by the entire family. It has few inspiring elements which can be noted. The subject drives a good social change and will be focusing on heading families with equal rights. Zee TV's show to create social awareness and pass social message will surely make Sarojini a role model for women to drive their lives with their self esteem and independence. Overall, it is a good family entertainer depicting positive approach towards life.
Our Rating:
3 out of 5
Feel free to post your reviews in comments below. All off-topic comments will be deleted.