Sanam teri kasam – Ragsan ff TS (Part 1)

Warning: A non-numeric value encountered in /home/ftpusers/tellyu/public_html/wp-content/themes/publisher/includes/func-review-rating.php on line 212

Warning: A non-numeric value encountered in /home/ftpusers/tellyu/public_html/wp-content/themes/publisher/includes/func-review-rating.php on line 213

– Hiii guys I m priyanka hope you didn't forget me…..i m here with two shot ff on ragsan….i hope you will like it for sure…….in my last os I got less comments……….but I m glad that for whom wrote she liked it……..and others who appreciated me….thank you to all…….
I hope you will like this one also…….
First part
After 5 years …. he has come back to his motherland INDIA homeland Mumbai ……. It's been quite a long time since he visited Mumbai .. As he steps out of the plane and sees the beautiful blue sky , all fond memories of his past life; from his childhood to his college days become vivid in front of him……
5 years……… a long time, but now it seems just only yesterday he went to USA leaving behind everything in India….. His home, his affectionate parents, his friends, family everything specially his life his love ragini ragini basu….
He smiles remembering the time spent with her………..he goes in flashback……
Flashback 5 years back…
Sanskar mahewari the elder son of sujata and ram prashad maheswari……..
Sanskar loves his parents a lot ………….and shares a deerp close bond with his younger brother laksh maheswari…….and uttara maheswari his sweet little sister……..
Otherside was basu family……..
Ragini was the only daughter of shekar basu and sharmishtha basu………she was pretty girl and respect , Barbie doll and everything for her patents…
Ragini loves her parents a lot……..her world contains only her parents, swara kapoor her bestie and lastly her love her life sanskar maheswari…..
Ragsan were in passionate love from their school days…….they love each other a lot…….they can do anything for  each other………
There love blossomed more and more everyday………..
But destiny was not in there favour…..
As soon as sanskar parents got to know about them………they were against there raltion……as ragini was from bengali family……and maheswari's had great respect in the society……..
Sanskar parents and ragini's parents took their children with them……making them apart……….while ragsan were not ready to leave each other….they hold each other hand tightly……..but there parents separates their hand……

Both ragsan cries for each other……..
Later sujatha took oath from sanskar to leave to USA for higher studies…. Or else she will kill herself…..
As sanskar loves his mother a lot…..he had to unwillingly go to USA leaving behind his lady love…….
While the day of leaving sanskar wrote a letter to ragini……asking her to wait for him…….till he returns….then they will live happily………
Sanskar asked laksh to pass the letter to ragini………..but sujata took the letter and throws it….infornt of sanskar………..
Sanskar becomes teary eyes………….and unwillingly leaves from there… for USA……….
Flashback ends…..
Sanskar who come out of car heading towards maheswari mansion……was teary eyes remembering his past life……..
Sanskar'pov- ragini I had come…….now ragsan will be together forver..and ever………no one can separate us now……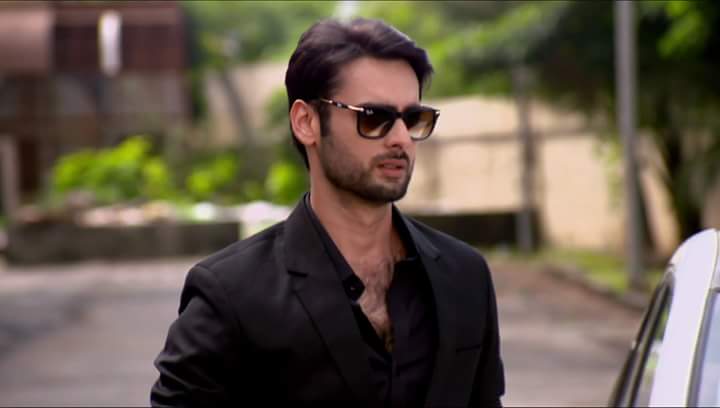 Otherside a girl is shown…..in orphanage……….
Girl is playing with little kids…….kids are enjoying with her……a little girl comes and pecks her cheeks………
From behind swara comes and calls her ragini…………so the girl is ragini……
Ragini turns and faces swara with a big smile……..
Swara- ragini your wait is over ………sanskar had came………
Ragini smiles broadly listening to his name……….
Swara teases ragini….and ragini blushes……..
Ragini remembers the day sanskar left for USA….
Flashback
Ragini requested swara to help her meet sanskar once last time………
Swara with help of laksh took ragini to airport….
But they were not allowed inside as they don't have ticket………they saw sanskar coming with his father……..
Ragini sees sanskar from far………and gets teary eyes…..
Laksh tells ragini sanskar loves her a lot……..and asked her to wait for him…….till he returns….
From that day ragini kept waiting for her sanskar….
In between her parents died……..and she became orphan…….she now lives in orphanage…….but her bestie swara and laksh and the kids in orphanage….never ever let her feels the absence of her parents…..
Flashback ends…
Ragini smiles through her tears………….
Otherside in maheswari mansion…….sujata welcomes her son……who returned after 5 years..laksh and uttara hugs sanskar…
Ram also comes…..whole family spend a quality time…..
Next day laksh took sanskar to ragini……..
Ragini gets ready to meet sanskar………..
They both were excited to meet each other…..swara teases ragini…..ragini blushes…
Wait of 5 years came to end………finally two lovers are meeting….
Sanskar enters the orphanage……ragini's heartbeats starts rising……..
Ragini- sanskar….
Ragini happily runs down through stairs….to meet her love……
While sanskar looks here and there to catch a glimpse of ragini…….
Finalyy ragini and sanskar comes face to face……
For 1 minute they stare at each other…..soon they start coming towards each other……..ragini could not wait anymore……she runs and hugs sanskar……..sanskar hugs her back….they both get teary eyes….sanskar kisses ragini's shoulder……..while ragini breaks the hugs and touches sanskar's face……sanskar cups her face……….both touches each other forhead………..ragini kisses on sanskar's cheeks and hugs him again………..
Swalak sees them………and gets teary eyes too seeing their love for each other…..
Laksh- ahmmm ahmmm……bro we are also there…..
Listening to this ragsan parts away little embarrassed……….swalak laughs seeing them……..
Laksh- so sanki bro…….when will you make ragini…..my bhabhi…….i also want a bhabhi with whom I can spend my whole day teasing her…….eating her handmade foods…….and many more thing…….
Ragini blushes……….swalak laughs…….sanskar side hugs her…….
All four spend a quality time together……..
…………………………………………………………………………………………………………………………………………………………………………………………..
At night……sanskar decides to talk to his parents about ragini……….
But still mr and mrs ram prashad maheswari……..still believes in lower class and higher class……..and for them……their respect in society is grater then their son's wish
Sanskar father staright away says…him to forget ragini….and he will look for a girl for sanskar……
Saying this his father starts going to his room……
Sanskar who was controlling his anger by this time………gets angry…….and shouts………
Sanskar- mr ram prashad maheswari………..i love ragini………infact I love ragini basu……..do whatever you want to do……..i will marry her only……….for you your respect is much more then your son……..so keep you respect and you so called high name with yourself………..from today I am not you son…….i m only sanskar………not sanskar maheswari….
Saying this he leaves from there……..
All looks on….laksh follows him…….
……………………………………………………………………………………………………….
Next day ragini and sanskar decides to marry each other ………..
Ragini was not happy that sanskar left his parents…….but sanskar askes her to not think about this matter and concentrate on their marriage……………
All marriage rituals like mehendi sangeet haldi engagement took place at orphanage only……….
At the of marriage………
Both ragsan was excited for their maariage……….
Swara makes ragini get ready as bride……
While otherside laksh helps sanskar……..
Sanskar was sitting in mandap……..preist asks swara to bring ragini……….
After sometime……swara comes out shouting…
Swara- ragini is not their……she left this letter for you sanki…
Sanskar takes the letter….and gets shocked…and breaks down…
Letter
Sanskar mahewswari ……I m sorry I cannot marry you…..
I m ragini basu…..and you are maheswari…….we had no match…we are not meant to be together……………..
5 years ago you left me………now its my turn………
Ragini basu…….
Sanskar's heart broked with this letter……….for whom he went against his family…….for whom he left everything…..whom he loved so much left him…..in marriage altar……
Sanskar falls down heart broken……laksh ad swara consoles him…….
Sanskar- ragini how could you do this to me……….i want my answer……..
Ragini is seen in bridal dress……..sad and heart broken………

The episode ends with ragsan face….
…………………………………………………………………………………………………………………………………….
Next one will be posted soon……its two shot ff………..
I hope you liked it……pls do share your views….i m eagerly waiting did you like it or not……….

Warning: A non-numeric value encountered in /home/ftpusers/tellyu/public_html/wp-content/themes/publisher/includes/func-review-rating.php on line 212

Warning: A non-numeric value encountered in /home/ftpusers/tellyu/public_html/wp-content/themes/publisher/includes/func-review-rating.php on line 213